Separate Mind: DJs Re-Take Control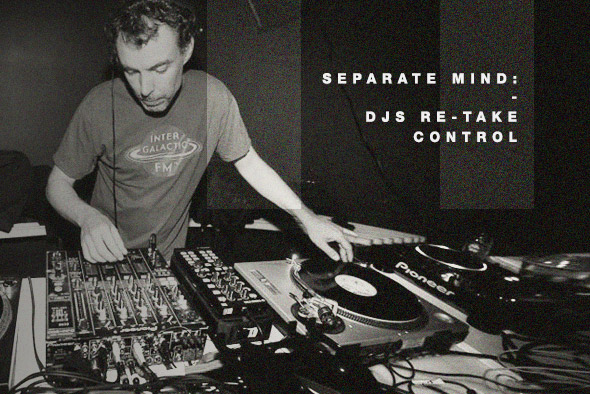 Richard Brophy speaks to Intergalactic Gary, Token boss Kr!z, Eli Verveine and Mick Wills about their placing as DJs in the current electronic music climate.

DJs have retaken control of electronic music. What was once at the centre of this culture is back to the fore, but this time there is a difference. While much of contemporary dance music traces its roots back to DJ innovations on Detroit radio, New York street corners and Chicago sweatboxes, the drivers of the modern underground – if such a term can be applied to a series of geographic clusters connected via the internet – are astute label managers and skilled selectors performing in small clubs, for online radio and in makeshift studios, uploading their sets for posterity to Soundcloud and other similar platforms.
The great irony is that while there has never been more digital data available to those looking for mixes, podcasts and live recordings, the role of the DJ as entertainer, educator and curator has risen in importance and enjoys the same status as a trusted music filter as influential magazines and feted shops. That's not to suggest that anyone with a cracked copy of Ableton and a questionable sense of morality with regard to illegal downloads can become an online messiah and enjoy Ron Hardy-like levels of adulation overnight.
Building such reputations take years if not decades, and online adulation is only the final part of the equation – in most cases a lot more effort has been exerted playing warm-up sets, curating labels and providing guidance to aspiring producers. However, once a DJ climbs to the top of the underground pile, their influence is profound. Trusted reviewers and store recommendations can only bring the end user so far, but hearing that Gesloten Cirkel B-side fading into a long-forgotten Italo jam during an Intergalactic Gary set in a basement bar reassures the purchaser to hand over their hard-earned money.
In some instances, DJs retain the role that they enjoyed since the '70s, namely introducing brand new music to their audiences as Ron Morelli's one-man mission to bring L.I.E.S. tape hiss-saturated fuzzy grooves to a global listenership has demonstrated. However, technology has also disrupted the traditional notion of the selector introducing only new music to their public; on a macro level this is audible in
the mainstream's new-found fondness for classic house, but drill down and spinners like Traxx (pictured right) are re-introducing older music – his championing of In Aeternam Vale releases is a good example (the fact that these records are released on Minimal Wave, which is curated with the passion  and care of a DJ rather than a producer who wants to own a label, is also worth noting).
Remaining in granular mode, tacit recognition for the long lost art of DJing and being a DJ only has also crossed over to the realm of production. Tracks from one of last year's best albums, Maxmillion Dunbar's House of Woo, were later revisited in the shape of the Woo Daps mixtape, whilst Galcher Lustwerk's mix of his own productions for the Blowing Up The Workshop site was considered by many to be one of this year's best LPs. Additionally, most dance music media now include unofficial mixes alongside commercially available CDs in their end of year lists. This writer's 2013 top 10 included two such unofficial selections mixes – an Intergalactic Gary podcast for Electronique.it and a live recording of Silent Servant at Honey Soundsystem – for the first time.
Surely it's only a matter of time before Paris Hilton starts her own EDM podcast series?
The other notable aspect of the DJ-only phenomenon is the fact that it traverses genres, with respected selectors representing styles as diverse as Italo, electro, hard techno and deep house. To tease out this issue, I spoke to some of the DJs who have become international names based primarily on their skills behind the decks. The first question that needs to be addressed is why they don't produce – surely this would be an easier route to becoming an international name?
John Scheffer, who DJs as Intergalactic Gary, believes that "people should get booked because they are good DJs, no matter if they produce or not". As anyone who has heard him play in a club or just checked one of the many of his online mixes can attest, Scheffer's explanation is a valid one. Intergalactic Gary mixes flow loosely and wind lazily and unhurriedly, from gloomy new wave and synthscapes to tight electro, tear-jerking Italo and gritty new school techno. It's easy to get lost in the Dutch DJ's expansive sets and it's no surprise that he adds: "most of my bookings come from people who run their own night and only book people they really want to hear. They are all music freaks and most of them have become good friends, that connection is pretty special".
The same could be said about Mick Wills. The German DJ has released music sporadically, but is best known for his explosive club sets, a Technicolor collage of Italo, EBM and Chicago jack. Wills' Demo Mix series has also served to further his reputation. Available to download online, he also gives away limited amounts of the mixes at gigs as carefully packaged mix CDs. Now at its 18th instalment, the series along with the German DJ's sets means he is one of the most respected underground names in Europe.
He says that he's "absolutely fine" with being known as a DJ because "I love discovering old and new music, hunting records and selecting tracks for my sets and mixes. I also love to share good music or what I think is good music with other people. It's always a special thing for me when I play in a club and people go crazy because of a track. It's the biggest and most honest compliment you can get as a DJ and it's proof for me that I have chosen the right way".

So why aren't DJs like Intergalactic Gary and Mick Wills (above) better known? Swiss house DJ Eli Verveine says that "something is going wrong" because producers who aren't necessarily good DJs get booked ahead of talented selectors. She says that she can think of only "a few exceptions who manage to be amazing producers and at the same time great selectors" and agrees that putting out records would make it easier for her to get booked as a DJ. By contrast, Wills believes that production would have a detrimental impact on his DJing, stating that "I would never be the DJ that I am now. And since I am a bloody perfectionist I think I would probably focusing on playing in clubs as a live-act and not as a DJ".
For Kr!z, the reasons for focusing on DJing have a lot to do with running a record label. The brains behind Belgian imprint Token, one of contemporary techno's most distinctive outlets, he says that he's a DJ first and foremost, and is "perfectly happy to be known like this. I do produce a little, but there's not much time left next to the label work and my day job, so it's extremely hard to focus. If you're working with other people's music 24/7, it's also hard to create a space for yourself and your own ideas".
He agrees with Verveine that having to release records to get bookings is a flawed approach. "Releasing records results in more visibility online, more followers, which is what a promoter will try and take advantage of", but warns that "the result of that are lots of great producers on stage, delivering bad DJ sets and good DJs delivering bad productions".
A lack of productions hasn't stopped any of these DJs becoming well known in their respective fields. The question is whether the internet has helped to make them stand out more. In some ways Kr!z is a traditionalist – vinyl is still his format of choice and he put out a mix CD last year  –  and he doesn't believe that DJs can build a reputation based on online mixes; "I don't think an online podcast is so interesting and I never judge any DJ by a podcast. In a way anyone can put together a selection of quality music. Trying to make a crowd a dance to a selection of nice quality music is much harder," he says.
Verveine would probably disagree. A veteran of the Swiss house music scene, her international reputation only started to grow when she recorded mixes for the mnml ssgs blog – one of the first online outlets to develop a series of mixes. Eli's smooth mixing and track selection, which teeters on the brink of deep house and techno, then led to further exposure via a podcast for Resident Advisor and then international gigs.
"That was fortunate," she says of the hook-up with mnml ssgs. "It started years ago when I posted a mix on my homepage. The guys from mnml ssgs found that mix and asked me to contribute a podcast. This was my first podcast and I'm still very thankful for this door opener as it helped a lot to reach a wider audience. It's hard to get attention without the spotlight of a widely read blog or website. A few DJs I can think of are amazing selectors with great mixing skills and deep knowledge in music history, but they struggle to be heard. Despite that, with a constant flow of quality, patience and luck, one day they will hopefully get the chance to prove their talent," she believes.
Wills also feels that the internet has made it easier for him to connect with people all over the world with his music and recalls how much more difficult it was to do this in the '90s; "It was unthinkable that someone in India was listening to my mixes. The only possibility to promote yourself as a DJ was to send mixtapes to clubs, organisers, journalists or other DJs. That's how I got my first requests to play outside of Stuttgart. With the internet, it became very easy to reach people all over the world. What is also a great is that you immediately get response to the stuff you do – and you easily get in touch with other people who are into the same kind of music," he believes.
While the internet can put the spotlight on a DJ like Eli Verveine, it is also true many cases it serves to augment a reputation built up through years of club DJing, label management, party promoting and other unglamourous, behind the scenes work. In Eli's case, she spent years playing support to visiting international names, Kr!z has worked for six years building up Token, and Intergalactic Gary, who still holds down a day job, has been DJing for years in The Hague as well as sporadically collaborating with I-F as The Paralaxx Corporation.
Wills is also a good example of a DJ who has spent years building up a reputation by putting in long hours to discover new and old music. Often times this involves behaviour that borders on the obsessive; "With pleasure also comes pain – It took me almost 25 years to become the DJ that I am. There is so much good music that should be rediscovered and you have to listen to a lot of stuff until you find something that is suitable for you. If you are passionate, it's no problem to spend time listening to new stuff, doing research, visiting record fairs, second hand record shops and flea markets. Not every DJ is that obsessed and since time is precious these days, it's much easier to copy than to create your unique style. First and foremost as a DJ you have to have your own style to define yourself from others. You should have the balls to play tracks that maybe other DJs wouldn't play, because they are afraid to confuse people," Wills adds.
Some of the people this writer spoke to agreed that in the digital realm, the role of the trusted DJ as a filter has become increasingly important to help steer audiences through the formidable volume of music. "This is an important role for sure as long as people appreciate the art and effort of the selectors," says Eli. "It's great to get your information quickly and have constant access to everything you need, but you need a filter otherwise you can not manage all this information."
Kr!z agrees but as an experienced club DJ, sounds a note of caution: "I always play music I like and I'll always try and play music different to what everyone else is playing, but not if it 'harms' the party. Your job is to make people dance and sometimes people don't want to be educated. DJs can be filters but for me the music needs to pass two tests: my personal taste and what the crowd needs at that place and time to move. Magazines and record stores don't have these limitations and can offer a wider range of good music."
"There is so much good music that should be re-discovered and you have to listen to a lot of stuff until you find something that is suitable for you."
However, Wills makes the point that acting as a filter has been central to the role of the DJ since time immemorial; "You can't play everything, so you have to filter. You have to decide what fits in your set and what doesn't, no matter if it's new or old. The main reason why I combine so many different genres is that I don't want to be stuck in one specific genre. It's a challenge to discover new and old tracks that were never meant to be played in a club. Maybe for some people in the audience I even open doors to other genres," he explains.
Scheffer agrees with Wills that fulfilling the role of curator is "your duty as a DJ, what makes a DJ interesting, and keeps you inspired as a DJ". However, by posting mixes online are he and other DJs merely contributing to the increasing levels of noise? "It's harder to get noticed because of the volume of mixes on the internet, but I think that people who are really into the music that you play will find you in the end," Scheffer observes.
This last point is also pertinent in relation to DJs who also run respected underground labels. In recent years, DJs like Ron Morelli, Ben UFO and Traxx – although the latter also has a respected production catalogue – join Zip from Perlon as DJs who act as ambassadors for the sound of their respective labels. Listening to a six and a half hour recording of Traxx from a club in Belgrade, it is hard to imagine any other DJ playing the kind of material that he spins – warped EBM, awkward post-punk and primal house – or to see records Nation has released in the past year by Nancy Fortune and Charles Manier appearing on any other label.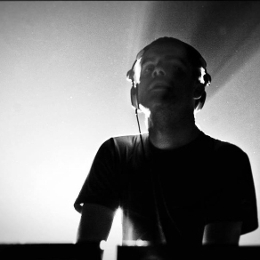 Kr!z (left) admits that he started Token because he was "missing some good new music to play out from my favourite producers; that was my main intention from the second I conceived it", while Eli Verveine believes that a label helps to provide an identity for a DJ.
"To succeed in this fast moving, electronic music world you need to have an overall package," she says. Surely it's not their aim to use a label to market themselves?
"No, authenticity and passion are key and a little bit of luck as well. The DJs you listed (Zip, Traxx, Intergalactic Gary) have this realness and are totally into it. But also most of them have a few releases, are running a label or have been doing this for years."
Like Traxx, Eli cites Zip and Ben UFO as DJs with a distinctive sound whose sets don't come across like a showcase of their labels' back catalogue; "They have a wider range of music. Both are aficionados, deep into music and they spare no effort to surprise. They developed their own style of DJing, independent of any label sound, but the fact that they run very particular labels surely helped them to gain recognition," she notes.
All of which brings us onto the impact that DJs retaking control is having on electronic music releases. With sales of mix CDs dwindling and vinyl keeping its head above water, do the Dunbar and Lustwerk releases herald a new type of hybrid release or will labels like Jealous God, whose records are accompanied by mix CDs (the latest of which is an engaging, off the wall affair from Ning Nong) take the lead? It's impossible to say for sure, but many consumers look forward to new mixes from their favourite DJs to entertain and guide them.
"In the age of the internet the importance of mixes is clearly increasing. If you wanted to listen to music or mixes before, you had to put on a record, insert a cassette or a CD or turn on the radio," Wills believes.
"It's not that people don't do that anymore, but with the internet it became much easier to listen to music and especially mixes. With one click you can download a mix of your favourite DJ and listen to it while you are in the car, cleaning the house or having a party with friends. And what is also important is that you can discover tracks you like that you probably wouldn't have discovered," he says. However, there is a balance to be struck and it's important not to put out too many mixes and to package them in the way that Mick Wills approaches his Demo Mix series.
As Kr!z notes: "It all depends on how frequently you post mixes and on how good they are. It's the same way with releasing music: do it less, do it better." For the next wave of Zips and Intergalactic Garys, that's the best piece of advice they'll ever get.
Richard Brophy
Eli Verviene photo courtesy of Miglen Belev