Jeremiah R – The New Wave EP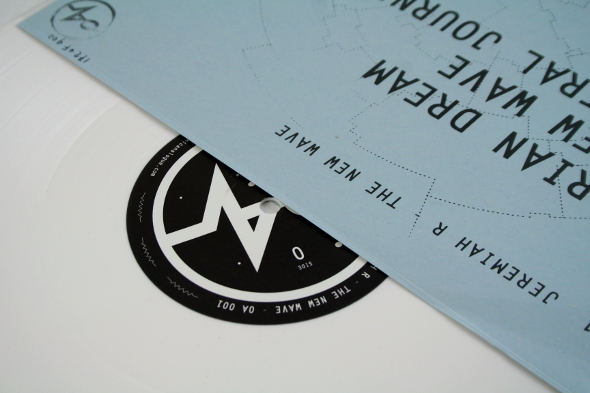 As the end of 2013 approaches, the inevitable post-mortems before the final whistle blows – does that make them pre-mortems? – may conclude that this was the year electro made a come back. While there is no doubt that so far, 2013 has yielded a lot of great electro releases, to suggest that there's a full-blown revival going on is wrong.
This is because the sound never went away. Granted, its popularity may have dipped or its profile waned, but it has never disappeared, always enduring, impervious to social media's 15 second sensations. Jeremiah R is a case in point. It's not a name that trips off the tongue or one that you'll find getting multiple retweets. The Rotterdam artist has only released one work prior to The New Wave, the ultra-limited edition 5th Dimension album back in 2011.
Listening to his second release, it's clear why electro will never be 'in' or 'out' but will always just be there. "Aquarian Dream" boasts all the classic Detroit sounds – shuffling 808s, woozy synths and subsonic tones – while the title track takes up the ERP/Convextion mantle, with ghostly, breathless melodies wrapped around steely drums. Both "Astral Journey" and "Memory" see Jeremiah head deeper than before, his reflective synth lines journeying through beatless spaces and then guided back to earth via tight claps and bursts of cold, metallic percussion.
The form's spiritual and creative father, Gerald Donald, reworks "Memory" under his Heinrich Mueller guise, limiting the melodies to only a cameo role and focusing on a tight angular rhythm, growling bass licks and breathless vocals. It's a story similar to one we have heard many times before, but because it is so effortlessly executed, it continues to amaze. So welcome to The New Wave, it's the same as the Old Wave and all those other waves before that.
Richard Brophy
Tracklisting:
1. Aquarian Dream
2. The New Wave
3. The Astral Journey
4. Memory
5. Read Only Memory (Heinrich Mueller Remix)