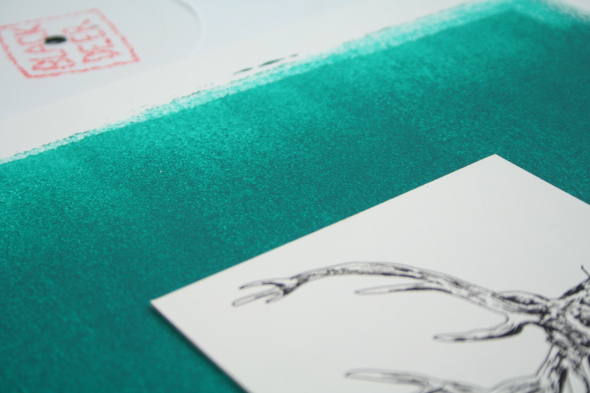 Detroit was represented strongly in this week's selection of records with plates from MGUN, Kyle Hall, OB Ignitt and Big Strick.

It's always a pleasure to see the name OB Ignitt emblazoned on a FXHE record as the somewhat mysterious producer always comes through with some ingenious track titles and his own singular slant on the Motor City bump. Both were in full effect on the suitably titled Mysterious 12″ which brandished productions such as "Celestial Salacious" and "Chocolate City" with the latter sounding like DJ Nature on amphetamines. MGUN's superb run of releases throughout 2013 continued with a debut for the long running Third Ear label that presented five of his most out there productions to date – no mean feat for a producer previously responsible for "Jijijijij$ijijijiji".
The man that gave MGUN his debut signed off his own impressive calendar year in style as Kyle Hall issued The Boat Party Bonus EP through his own Wild Oats label. Presented as an addendum to his debut album The Boat Party, the 12″ featured Hall's own refix of LP highlight "Flemmenup" along with two unreleased productions and "12 Doors," a frazzled techno collaboration with the Bologna-based pairing Nas1 which is a real highlight. The 7 Days Entertainment operation manned by Big Strick returned with the big one himself teaming up with his far too talented offspring, Generation Next, once more on the suitably titled Like Father, Like Son, which further cements their criminally under appreciated rep – the title track in particular is the most gently uplifting of deep piano jams. Rounding out the Detroit section, the superbly titled Yo Sucka label issued some ferocious archival electro from DJ Nasty that was originally intended for release by Aaron Carl (RIP) – head to "Black From The Waist Down" if you are in search of a roof raising production.
Moving on, the L.I.E.S. label caused plenty of nervous bank balance checking amongst the Juno Plus editorial team with no less than three records arriving this week. Subject of some unfortunate pressing issues that delayed its release, Samantha Vacation's eponymous debut on the White Label series came and promptly went, and its arrival was complemented by a wonderful new L.I.E.S. record from Torn Hawk. Beating OB Ignitt in the track title stakes ("Put That Crochless Thing On, Then Save My Life" should win an award) the four tracks continued Luke Wyatt's distinct path through "skewed after school special ADD Cali-speed freak bastard child drum machine/guitar lush not lushness". Finally, the Trust In Pain album from Svengalisghost and Lily 51717's Shadowlust project dropped, presenting a clammy and unsettling take on industrial electronics which exemplifies how diverse L.I.E.S. have become.
The much loved associate of L.I.E.S. known to many as Willie Burns continued to experiment as Black Deer, gracing the LA based Peak Oil label "operated by a number of Brians" with a self titled six-track collection that proved to be as compelling and engaging as previous releases under the name for Emotional Response and Rush Hour's 'No Label'. It was matched in the mind expanding stakes by The Middle Distance, the first of three planned Charles Cohen retrospectives from Morphine label hints the Philadelphian synth composer is one of the US underground's best kept secrets. The award for the thickest slab of vinyl this week goes to Ukmerge from Inga Copeland and the unheralded Gast, whose weighty and frazzled arrangements are the perfect foil for the typically distant vocals of the former Hype Williams artist.
The techno section was dominated by the arrival of several keenly awaited end of year long players, chief amongst them; Shifted's new album on Bed Of Nails. Initially, news that Shifted had elected to release Under A Single Banner on Dominick Fernow's label instead of his own Avian was somewhat surprising, though some time spent with the nine tracks will demonstrate the album is well placed amongst releases from Vatican Shadow, Violet Poison and Rainforest Spiritual Enslavement. Ever the busy label owner, Fernow also dropped a new album this week, with the appropriately titled Remember Your Black Day presented as the first album proper from his Vatican Shadow project.
Should you crave even more deathly textures in your techno we recommend A Fallen Empire, the debut album from Samuel Kerridge – read a more conclusive review of the Downwards release from Richard Brophy here. Keeping the focus on techno long players but moving away from the industrially minded end, the 'difficult second album' syndrome was effortlessly disproved this week by German producer Recondite and Kontra Musik stalwarts Jonsson/Alter. In terms of techno 12″s the third Objekt record from Objekt on his Objekt label stood out, whilst Neville Watson debuted on DBA Dubs with The Hot & Heavy EP which contained three tracks of searing techno that he's not really become known.
The Crimes Of The Future label helmed by Scott Fraser and Timothy J Fairplay kicked off in fine fashion with Spook Juke from Antoine Rouge, a 12″ that hinted the pair were looking to use this new endeavour as a chance to break free from the slo-mo house they've become associated with in recent years. Fairplay also returned on French label Astrolab, pairing up with Bodyhammer's Mathilda on a long delayed self titled EP which you should investigate for the Tiago remix alone! If you like house music and you like albums then you will like Family Vacation, the debut long player from Studio Barnhus co-founder Axel Boman which contains the expected levels of SB humour with the Theo Parrish-goes-Calypso vibes of "Bottoms Up" a stand out track.