Factory Floor – Factory Floor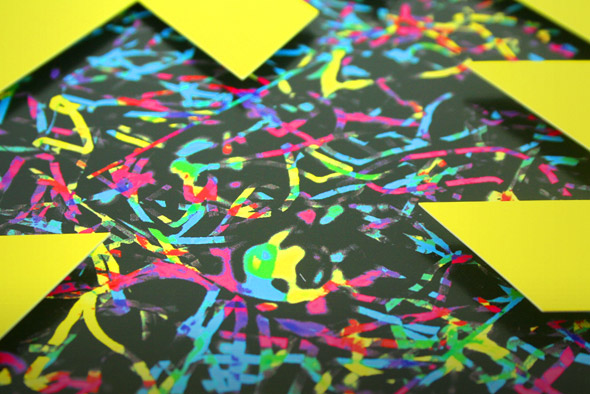 There's an authenticity about Factory Floor that's particularly alluring. They live and work in a cluttered warehouse space in Seven Sisters, surrounded by mounds of cassettes, loose wires, analogue synthesizers and homemade electronics. Their infamous performances frequently turn into intense jam sessions and hypnotic freak-outs. They're often found performing or curating shows at leading arts centres. And while others talk of being influenced by Throbbing Gristle, Peter Gordon and Cabaret Voltaire, Nikki 'Void' Colk, Gabe Gurnsey and Dominic Butler have, individually or collectively, worked with them (aside from the Cabs, but that's another story).
It's easy to cast them as this generation's answer to those fearless electronic pioneers; their dedication to their art is unflinching. Their production process – jamming, rehearsing, recording and producing simultaneously, before editing down 45-minute freak-outs into palatable, vinyl-friendly chunks – has echoes of their highly regarded predecessors. Of course, what they do musically comes from a similar space, both aesthetically and intellectually, but they're no imitators. Listen to a Factory Floor record, and it couldn't be by anyone else. Sure, there are echoes of the past – and you do get the feeling that they seem out of step with modern musical trends, despite their love of intense, dancefloor-friendly rhythms and affiliation with DFA – but their particular brand of next-level repetition rarely sounds like anything but Factory Floor.
They've been part of the musical landscape for a while now, first cropping up on our musical radar with their 2008 debut, the bleak, Joy Division-influenced Bipolar. It was in 2010, though, that they really began to make their mark, first with the paranoid intensity of A Wooden Box on Blast First Petite, and latterly with a pair of remix 12s featuring versions from Chris Carter (Throbbing Gristle, Chris & Cosey) and Stephen Morris (New Order, Joy Division). Then, in 2011, they finally broke through, delivering two killer singles: the Moroder-goes-Industrial stomp of Real Love (Optimo Music), and the similarly full-on, industrial-punk anthem "Two Different Ways" on DFA.
Given this success, it's perhaps surprising that Factory Floor is, in fact, their debut full-length proper (there have been a couple of mini-albums and extended EPs before this). That it's a cold, intense, occasionally bleak, otherworldly triumph is less of a surprise. We already knew Factory Floor were both unique and exceptional at what they do: this just proves it. Factory Floor is an album born from repetition, subtle shifts and hedonistic builds. At its most brutal – as on "Two Different Ways", the loose, ragged "Fall Back", or opener "Turn It Up", which slowly builds to a gasping, breathless climax thanks to some near-psychedelic drum machine cowbells – it's startling. Yet it's not all in-your-face industrial stomp.
Some of the album's greatest moments are, seemingly, more considered. There's a loving wonkiness to "Here Again", helped in no small part to the delay-laden dreaminess of Colk's instinctively strange vocals. "How You Say" is surprisingly fluid and flexible, with Butler offering sporadic jazz fills beneath darting electronics, whizzing noise and Colk's minimalist vocals. Then there's "Work Out", a surprisingly funky take on EBM built around squidgy synth bass, hot-stepping electro beats and Gurnsey's ever-impressive synthesizer work. Colk's warped, mangled vocal freestyling lends the track a curiously psychedelic feel, too; industrial funk, writ large.
It's this contrast between slamming, hypnotic intensity and cultured, eccentric experimentalism that makes Factory Floor such a rewarding and enjoyable listen. Weighting the album too far in one direction would have been too much. As it is, Colk, Butler and Gurnsey have got the balance just right. As a result, it's a startling and fittingly strong debut album.
Matt Anniss
Tracklisting:
1. Turn It Up
2. Here Again
3. One
4. Fall Back
5. Two
6. How You Say
7. Two Different Ways
8. Three
9. Work Out
10. Breathe I