Snow Ghosts get remixed by Roly Porter, Calibre and Kahn
Throwing Snow's new project will get some intriguing remixes thanks to Houndstooth.
The pairing of Throwing Snow and vocalist Augustus Ghost – aka Ross Tones and Hannah Cartwright – Snow Ghosts saw their debut album A Small Murmuration released on Fabric's Houndstooth earlier this month, and combined the pair's mutual appreciation for folk and metal to form a bleak, atmospheric type of pop music. Now Houndstooth have announced details of the duo's next release, an EP featuring the album's penultimate track "And The World Was Gone", and remixes from a particularly well suited cast of remixers in the form of noise and ambient producer Roly Porter, D&B veteran Calibre and Young Echo member Kahn.
In keeping with the diverse approach Houndstooth has taken since its inception, the EP offers three very distinct takes on the title track; Roly Porter's industrial rework which emphasises the darker corners of Snow Ghosts' sound, Calibre's rolling D&B version with a melodic quality akin to Rounds-era Four Tet, and Bristol producer Kahn, who takes the unexpected approach of turning in an surprisingly angst-ridden acoustic cover version featuring his own vocals. Needless to say, those expecting another grime banger in the vein of his material with Neek for Bandulu will be in for a surprise.
Houndstooth will release And The World Was Gone EP on 12″ and digital formats on August 26.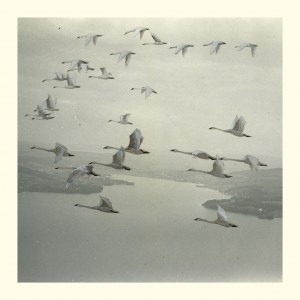 Tracklisting:
1. And The World Was Gone
2. And The World Was Gone (Roly Porter Remix)
3. And The World Was Gone
4. And The World Was Gone (Kahn Version)