Robert Hood: House Music's First Minister
Having just released his debut album as Floorplan, Robert Hood speaks candidly with Richard Brophy about its religious elements, life in rural Alabama and making machine music sound more human. 
Even down a crackling phone line to the deep south it's clearly audible. Robert Hood's voice resonates in the same way as his music. Deliberate words, functional sentences. No verbiage, every last syllable accounted for, each turn of phrase constructed to flow seamlessly into the next one. This is the maker of the world's greatest techno records, releases like Minimal Nation and Nighttime World that reduced the form to its barest and then rewired Detroit and jazz blueprints into a world of extreme possibilities, at times visceral and punishing, in other instances, dreamy and forlorn.
Discovering Hood's take on minimalism was like that first time you see one of Dali's melting clocks and realise that a door into an unexplored kingdom of riches has opened before you. This writer is in the presence of greatness, and yet Hood himself is so ordinary and humble, almost self-effacing. When I ask him about him how he's been, he simply responds:  "All is well, I have been travelling quite a bit and my family is fine, that's the main thing."
Maybe what keeps the Detroit producer so grounded is the fact that he lives a perfectly normal, low-profile existence when he's not battering clubs across Europe into submission with his incendiary sheet-metal techno. As he explains: "We live near the Gulf Coast [in Alabama], we've been there for 9 years. It's peaceful and quiet for the most part and it's a big contrast to Detroit. It's very rural, there's a lot of farming. To have the chance to rest up, to smell the green grass before I head out on the road, it gives me a fresh perspective. Life isn't as rushed as when I lived in the city," he believes.
Hood's move to a rural part of America seems to have helped his creativity. The master builder came crashing back with a mix for Fabric in 2008 and in 2010, he released his first artist album, Omega, after a seven-year gap. "Being here gives me a totally different perspective and I have a feeling of space – people are not living so close together. It helps me, it allows me to create at my leisure," he believes. "There has been a real surge in my creativity and my hunger to make music has returned. Living here doesn't have the sense of urgency you get in a big city. The pace of life is different in the city, people arrive fast, they shop fast, the young people are in a hurry. I guess it's the same everywhere, the way that speed freaks, the fast drivers are in a big city. Maybe people feel they need to hustle."
For Hood the 'hustle' was articulated in the music industry by the changeover from physical to digital distribution, and it coincided with him taking a step back from production.  "I guess when I took a break, distribution was changing with digital downloads," he says. "The way music was being distributed was changing and I wasn't feeling inspired by the scene. It was time to take stock of who I was. It was a catalyst."
Apart from the Hoodmusic series on Music Man, his big comeback release was the storming selection for Fabric. When the Fabric mix was released minimal house was the dominant soundtrack – what did he make of this sound that claimed influence from his own work? "Most of it lacked the important element: soul. A lot of people jumped on a bandwagon to be flavour of the month. If you look at artists like Prince or the Rolling Stones, the way they maintain their longevity, they are telling stories," he says. "I like to hear music I am inspired by, like an artist like Janelle Monae, who is really thinking outside the box. Whatever you are creating, whether it is gabba, house or disco, I think that it has to have a feeling. You can be Elton John, KISS or Stevie Wonder, but the question is always 'where is the emotion'? Show your anger if you are angry. That's why people loved Tupac; he laid his soul bare. It goes back to Marvin Gaye or Curtis Mayfield – what story are you telling?"
And yet after returning with the heady, hard techno of tracks like And Then We Planned Our Escape and the Omega album, Hood swung back to a more emotive form of expression. Last year, he delivered the soul-searching Nighttime World 3 album, which was inspired by Julien Temple's 2010 documentary Requiem For Detroit and which examined his hometown's trials and tribulations. Following a series of Eps, Hood has just put out his debut album as Floorplan, the disco, house and gospel-tinged Paradise. Hood believes that this album is a more personal affair than his techno release.
"My emotions were leading me in a different direction; I exhibited a different side to Rob Hood. I had always been into house and disco and I wanted to show a different dimension to my work, but not in a typical house way. I felt an urgency to start to lift people up with my music and I hope I was laying the groundwork with my techno music," he explains, referring to Nighttime World 3.
While Robert observes that "it's a different dimension to who I am", this is only true of his public persona. If anything, the ecstatic piano lines and celebratory gospel voices that prevail over the slamming disco and house grooves on Paradise are reflective of Hood's deeply religious upbringing. "I have my grandparents to thank for putting God and Christ in my life," he says, adding that "a typical Sunday in our house was having Martha Jean 'The Queen' Steinberg playing on the radio. She was a DJ on an AM station and she played gospel music, it was on all the time in the background. This is what it was like being young and black in Detroit at the time – watching people in church, listening to the preaching and music, but a lot of it went over my head as a kid."
Since he opted for a quiet life in rural America, this religious influence has come back to the fore. Hood now sees religion as a central part of his life and his latest album is part of the process of returning to his roots. "The gospel elements [on Paradise] go way back to the Church. My purpose in life emanates from the Church, so why not go back and funnel that creativity into my music," he states. "Here in the south there was slavery and it's where the civil rights movement started. I feel myself as an individual coming full circle. I have become a minister of the gospel, I am allowed to preach, but this music also allows me the chance to bring the gospel and its good news, to bring it to my audience."
It seems that after a period of spiritual disillusionment, the Detroit producer has been, to borrow a term from religion, 'reborn', and is ready to spread the good word via his Floorplan project. First of all though, he recalls the moment when his faith returned: "It's like I had a vision, it was like a sense of spiritual energy, although I didn't know what it was. Now the saga continues, with a much stronger spiritual foundation. I know how to tap into that source, I am connected to Jesus, to the Lord. When you are connected, you bear more and more fruit, when you become disconnected the creativity dries up and the vision dissipates, the branch dries and the fruit rots," he explains.
Certainly, there is no shortage of celebratory moments on Paradise. Hood fans will already be acquainted with the infectious, repetitive vocal sample and disco riff of "Baby, Baby", but there's also the gorgeous female vocal and seductive piano keys of "Never Grow Old" and ecstatic melody lines and propulsive percussion of "Confess" to contend with. In between, Hood makes reference to his techno background with the churning chords of "Change", the metallic drums of "Higher!" and the freaky laughter and eerie organs of "Chord Principle".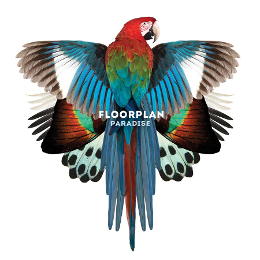 While it reveals a techno influence, there is no reference to the reduced visceral rhythms and waves of metallic percussion that characterise Hood's jarring minimalism. Paradise is an excellent album, but does Hood not feel concerned that listeners who want to be entertained may not accept the underlying religious influence? "Sure, not every one is going to get the message and I'm not going to look down my nose at anyone that doesn't get it. That's not the purpose of my message; I just want to spread love – for me, love is the message, but people have choices. I don't want to condemn people, Jesus never said that. He said to reach out and save our brothers and sisters," he says. "Religion is the law, it's more than just a spiritual experience, it's so much more power than that," Rob adds. "The hope in the music is all about God and no matter what you are facing in life, you have the holy Father looking out for you."
He maintains that the album is about "paradise and salvation. There is a paradise here on earth, you're talking to a living witness [laughs]. We can know joy on earth".
But Hood also lives in the real world and realises that bad things happen to good people all the time. How does this tally with his notion of 'heaven on earth'? "Things change when mankind is greedy and not sharing. There are all these bad things happening, homes are being repossessed, people are killing others and themselves and that's not what God intended. He doesn't say it will be easy and Satan has his time here on Earth as well. Believing in God allows us to see the difference between good and evil – God shows us how to deal with this and that's why you have the Holy Spirit, the comforter, who gives us the peace and strength to make it through. I mean, how did the civil rights families make it through when their kids and families were being killed? It was only with God's help that they made it," he asserts.
So does he see a parallel between his own celebratory expression of God's word as articulated on Paradise and the ecstatic release that people get when they go out to hear him play – or are the two experiences mutually exclusive? "Everything I do with this music is to reach out from my heart to your heart, from my spirit to your spirit, that's the idea. Your earthly body is just a shell, I am connecting through wires and MPCs and cables," he says, and claims that "we can dance the weekend away and still be faced with the same problems on Monday, but God will still be there. You have to balance it out – this music is from God, we can use it to spread love."
Hood also warns, somewhat darkly, that "you don't want to pervert the celebration of life. God – and most importantly Jesus – have given us all a purpose and a vision. There is nothing wrong with having a party and having a good time, but when we pervert that vision it turns into porn and sexual promiscuity."
Apart from his religious beliefs, the Floorplan album and the third Nighttime World album represent concerted efforts on Hood's part to make techno and house sound softer and more human. Coming from an artist who used to be a member of Underground Resistance during their early musically militant phase and who has released records that sound like an out of control jackhammer beating six-inch nails onto metal panels (Internal Empire for example), it's an unpredictable move. Hood is adamant that his ideas for the Floorplan album (and Nighttime World 3) was to "take it back to basics, back to the human elements of techno because for too long techno was like robots. Let's get the human core back in, it was about going back to simplicity".
He is also quick to defend dance music culture, which he feels is given short shrift compared to hip-hop or pop. "Techno and house has a strong culture, right down to the way that it makes people move and dance, and some of the greatest, strongest music I ever heard was instrumental music. I mean jazz music is instrumental and you can't underestimate the neuro-potency of minimal music. There is a strength in it that gets inside your psyche, it has hidden melodies that get inside your spirit. It's the hardest music to make – to say a lot with a few elements, that's an intricate process."
"It's like I had a vision, it was like a sense of spiritual energy, although I didn't know what it was. Now the saga continues, with a much stronger spiritual foundation."
However, he feels that underground electronic music has been ignored compared to other forms because of a failure on the part of its artists to create a narrative or to take a stand on issues. "That's another thing that's really missing – I look at jazz and hip-hop, say artists from New Orleans and they talk about Katrina and the aftermath, the effect on the city. I like to deal in reality, I don't want to escape from it. Techno and house music is a culture, it's up to us to let the world know it has something to say," he claims.
The other thing that Hood feels strongly about is his hometown. While he has not lived in Detroit for almost a decade, he still loves the city. "E.T. was always talking about home [laughs] and I feel the same way. It's in my heart and soul and when I visit I see the hopelessness there. Last time, a young guy came up to me to pump my gas for a few dollars and I could just see the desperation in his eyes," he recounts.
The city may be in distress because it got too dependent on the car industry, but Hood wants the situation to change and claims that Detroit is all about its people who he feels should be allowed to live 'a rewarding life'. "The problem in Detroit is that we got so dependent on GM and Chrysler that we forgot about the church, like the children of Israel coming to the promised land. In October, I am going to my church in Detroit as a minister," he explains. "I want to tell people there that we fight the good fight, that there is always hope, that it is not by chance you will make it through, it's by choice. Maybe some things will fall into your lap, but I'm not gonna be relying on chance, I'm gonna direct my own future."
Part of the city's recovery will revolve around its creative flair Hood feels, and he says that he is 'just thrilled' about the emergence of talented house producers in the city. "I am happy to see the new blood, it does my heart good and I am glad to see Detroit music is alive, the creativity is pouring out," he notes.
On the subject of creativity, Hood hints that the Floorplan album has given him the confidence to work with vocalists and develop his live show because he hadn't "used many vocal samples in the past." But he feels that his artistic fate will be dictated by a higher force. "I don't know, I'll just take it wherever my emotions, wherever that takes me. I'm not trying to be Skrillex, I'm just trying to be me and do whatever God tells me to."
And with that the interview concludes. I thank him for his time, he blesses me and my family and goes back to the quiet life in Alabama. Amen to that.
Interview by Richard Brophy
Robert Hood photos at MUTEK taken by Helen Luu and Shingo Shimuzu