Scratching The Surface: Itinerant Sounds for Summer Nights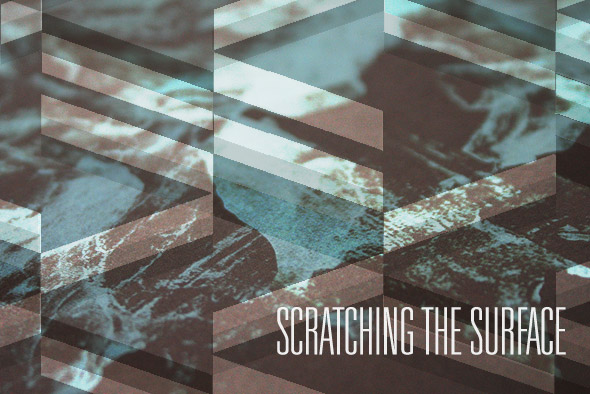 Scott Wilson looks at heat-warped kosmische, sweaty deep house, precise, cooling electronics and alternative takes on dub for hot summer's nights in this month's Scratching The Surface.
"If yr not driving around with a suitcase full of blow listening to the Palm LP yr summer is not at its full potential". So tweeted ex-Emeralds member and Spectrum Spools chief John Elliott a few days ago, in reference to Palm Highway Chase's Escape From New York, an album originally released in 2009 and given a physical and digital re-release by the label earlier this month. It's something of an anomaly in the label's catalogue; usually focusing on the experimental end of electronics, Palm Highway Chase is a Berliner producing synth music with a retro '80s feel. The album's name shouts the producer's John Carpenter influence loud and clear, but it's as much in thrall to Jan Hammer's Miami Vice theme and video game music like that of Sega's Outrun than Carpenter's brooding themes.
Unlike the dystopian future of Carpenter's film, the 'escape' of the title is more of an escape down a freeway in a stolen Ferrari with a suitcase full of drugs, the salty sea air rushing through your hair. It's also the kind of album you can't see existing in anything other than the hottest summer conditions. The increasingly damp and grey UK is currently being gripped by a three week heatwave the likes of which we haven't seen for some time, and more so than ever this year I'm noticing how the weather is changing my buying and listening habits; just as my body craves salad and barbecued fish in hot weather, my ears find themselves drawn to thicker textures to indulge my slower brain activity, alternated with cleaner sounds to create the illusion of coolness. As a result, this edition of Scratching The Surface takes the form of an alternative summer playlist to combat the mediocre house pumped out of boomboxes across parks and open spaces in metropolitan cities everywhere.
While Palm Highway Chase's music is explicitly influenced by '80s tropes (and isn't afraid to obscure them), the music of video artist and producer Luke Wyatt is a little more obtuse. His videos collect visual cultural detritus and overlay them to create something akin to a malfunctioning MPEG video; his music is similarly magpie-like, taking inspiration from rock, synthpop, house and disco, he creates a self-confessed "mulch" that takes the form of a muggy psychedelic soup, one that is almost the perfect aural representation of a humid summer's day as the clouds turn black and the storm rolls in. It's this mood that permeates Wyatt's latest work under his Torn Hawk alias, Cowboys (For Karen), released last week on No Pain In Pop. Ostensibly a remix album of Karen Gwyer's Needs Continuum album, Wyatt shapes Gwyer's originals into something almost unrecognisable; on "Gauze (Spread)" for example it's as if Wyatt has melted her originals down and then left the resulting soup to dry out on a hot day, turning her delicately balanced take on kosmische into something as misshapen yet beautiful as the scene depicted in Dali's The Persistence Of Memory. Like the eternal scene depicted in that painting, Wyatt's looping vistas sound as if they could stretch out to the point where the sea blends into the sky.
Listening to Wyatt's music in the summer makes you realise just how much heat it radiates; everything crackles with a heady static electricity created by its lo-fi production values. Ital's recent EP for Workshop has a similar quality; "Ice Drift (Stalker Mix)" opens with a high-pitched synth drone that sounds like the sunlight shining off a horizon of glass skyscapers; the furious "Pulsed" and the more downtempo "Slower Degrees Of Separation" both come on in beige, sandy tones, rippling like a mirage being witnessed in the desert. Workshop might seem like an unlikely home for the more experimental leanings of Ital, but his music is right at home on the label, offering his own take on the dusty house aesthetic Workshop have been cultivating over the past several years.
Of course music doesn't have to be lo-fi to create that illusion of sweatiness. If you think of modern "deep" house you're more than likely to be confronted with an image of increasingly tired takes on the early '90s sound of Kerri Chandler. It's a market like this that makes a record like Galcher Lustwerk's debut for White Material so utterly vital. White Material have been mentioned in the column before for their rough take on techno, but Lustwerk is a different proposition entirely, and opens the label's focus wide open. Much like Ital, he uses a paucity of elements with textures that shimmer lazily, but Lustwerk's approach is defiantly classic; his drum machine beats hark back to the earliest house music but sound more like a daydream. Both "Tape 22" and "Leisure" allow you to imagine panoramic vistas of the New York skyline using little more than a drum machine, synth, and Lustwerk's frankly incredible vocals. There's a sense of wistful familiarity in the way Lustwerk tells these stories of laid back Brooklyn life, but at the same time his style is so quite unlike anything else that its impossible not to recognize the talent at hand; the USA's East Coast house scene might have producers like Joey Anderson, Fred P and Anthony Parasole flying the flag for their own brands of house, but Lustwerk might just be on the verge of being bigger than all of them.
Given its predisposition towards the intersection between techno and noise, the next release on the L.I.E.S. white label series comes as something of a surprise thanks to its poppy disposition. Samantha Vacation is a relative unknown, but she's delivered one of the sunniest records for the label in its catalogue; even Terreke's productions are subdued by comparison. "Samantha's Vacation" seems to combine footwork and house into something more restless than both. Although not as fast as footwork, the constantly shifting chords and experimental approach that sees it moving through a number of discrete sections filled with humid dub textures make it more difficult to get a handle on than an RP Boo track. "Postcard From MSSR Perdu" initially comes across as more serene with its descending chord sequence and soft vocals, but the mid-point switch up into thudding kicks and heavy bass tones, which slow themselves down before overlaying quickened rhythms over the top is likely to cause total confusion. It's the kind of thing you could imagine Kassem Mosse doing in a live set; Samantha Vacation's love of pure tone and physicality over melody has much in common with Mosse.
Despite this, the closest approximation in form would be Mark Fell's most recent record as Sensate Focus. While previous efforts have seen Fell take the DNA of house and weave them into something highly experimental, 1.6 sees him and Vladislav Delay engaging with footwork, cutting up R&B vocals and welding them onto wrong footed rhythms that would likely clear the floor if played in the wrong club. On her Facebook page Samantha Vacation acknowledges Fell as an influence, but that's not to say her music isn't without its unique qualities, far from it – and although her material sounds like Fell's newest work, there's no way she could have heard it before hers was revealed. The precision tooling of these producers makes them particularly refreshing summer listening; their jagged rhythms and icy sheen are like the invigorating blast of walking into an air conditioned shop on a 30 degree day.
Operating on a similarly precise level is Katie Gately, the latest artist to be uncovered by Public Information, and her self-titled debut is probably the closest thing to pop music the label has released to date. Of course as you'd expect from a label who recently put out a collection of remixes of an early electronic music artist, it's not exactly conventional pop music. A grad student and sound designer at the USC School of Cinematic Arts in Los Angeles, Gately's music initially strikes you as having a similarity with RVNG artist Holly Herndon; on "Last Day" for instance, her fragile vocals and delicate harmonies are intermingled with harsh metallic scrapes, gunshots, sampled percussive tones, while "Stems" sees her voice dragged and stretched like a confused wraith across an abrasive bed of drone. However, where Herndon's music feels more concerend with the body, Gately's feels more in tune with the mind, and Gately's music succeeds at creating the sensation of pop music amongst much more challenging elements – something that Herndon doesn't do quite as well.
It's the combination of LA sunshine and deeply disturbing textures that make Gately's debut so compelling, as it is with the debut collaborative album on Ramp from Bristol's Young Echo collective. Comprised of a loose group including Vessel, Kahn, Jabu and El Kid, the group have become one of the most important forces in UK electronic music as individuals, and Nexus is their chance to show themselves as a unit. Interestingly, they have elected not to reveal which members were involved in which tracks, but if anything this makes more sense; their online broadcasts are always communal affairs that don't feel the need to highlight one member over another. Although it would be easy to simply classify Nexus as a logical continuation of Bristol's musical heritage – most notably in its use of dub – it's far more experimental than much of the music coming out of the city. Like Katie Gately's debut, the best tracks use vocals and melody in a beguiling manner while surrounding them with incongruous elements; the smooth arp and billowing chords of "Jupiter Rise" are tethered to the ground with irregular beats kept on a short string, "Nexus" is a whirlpool of discordant musical elements that have the monochrome mood of classic dubstep evaporating on a hot day. Everything on the album seems continually pulling in two directions, stuck to the ground but slowly losing all of its bodily moisture; the lyrical content of "Slow Jam" is backed with the constant hiss of steam while its beats root themselves into the dried out earth.
Nexus bristles with the effect of heat, but its not exactly the kind of thing you'd imagine yourself dancing to, despite the fact that little more screams summer than drinking a can of warm Red Stripe while dub blasts out of an obscenely large soundsystem. More appropriate to that kind of vibe are Young Echo members Kahn and Neek's steppas-influenced Gorgon Sound project, which released its latest EP last week. It's becoming apparent that Kahn is perhaps one of the greatest musical mimics of his generation; across grime, dubstep and garage there's pretty much no genre he can't recreate better than anyone else, and Gorgon Sound, though together with Neek, is no different. While certain criticisms could undoubtedly be levelled at both producers for this approach, I'm firmly of the opinion that when it's done by a pair clearly as knowledgeable about their source material as well (and as respectfully) as it is on tracks like "Rise" and "Medusa", there's little argument to be made against what they do.
However, the most intriguing dub-inspired records of recent times have come from the anonymous Itinerant Dubs project. Beyond the fact that they are supposedly a London-Berlin collaborative project, little is known about the project, but the music more than speaks for itself. "Itinerant Magic" and "Jack The Dub" from their first EP do that broken, propulsive marriage of techno and dubstep that Livity Sound have been pushing of late, but with its own scraggy aesthetic; half-formed vocals are buried beneath distorted kicks and twisting basslines, while "Monkey" places blasted field recordings deep within gnarled synths and booming snare shots. Their second EP, entitled Spirit In The Underworld, is even more revelatory; "Flipped Out Tango" and "Hypnotic Jungle" both see a madly oscillating bassline and rattling hi-hats combine to create something akin to a raw, analogue form of jungle music. The kind of dread that permeates dub is present and correct, but pumped through with a jittery caffeinated energy; full of youthful beans but liable to burn out at a moment's notice. The most accurate approximation of the sound I could come up with is that it sounds like The Analogue Cops jamming with Shackleton. Given the lack of people making bass-focused music as interesting and as vital as this, that's no bad thing indeed.
Scott Wilson