Killekill: Acid Ist Fertig
James Manning speaks with DJ Flush; head man at Berlin club night turned multi-faceted label Killekill, who also turns in a mix of the label's highlights to date. 
"Ring the Killekill/Random Noize Musick/Shitkatapult bell please," reads an email from Nico Deuster aka DJ Flush. He's explaining how to enter Killekill's Berlin headquarters. Several flights of stairs into a Friedrichshain office block reveal the unkempt workspace shared by these labels. Inside, Deuster hurriedly finishes a phone call and after a moment's wait, emerges from his office with the facial expression of someone who's just finished one job and ready for the next. During our interview, Deuster politely silences phone calls and ignores text messages, while describing his engagements with two Killekill labels, managing the bookings at Suicide Circus and their new Dark Series imprint, his role as head curator of the Krake Festival – a roving Berlin event now in its fourth year – and other anecdotes that trail back through 20 years of promoting techno.
By day Nico Deuster is a hard-working music industry nine-to-fiver. By night he is DJ Flush – a Berlin party boy and long time promoter and DJ. It's a Saturday night and James T. Cotton is in town to launch his Sonic Criminal EP (as J.T.C.) at Suicide Circus. Supporting is Nation's Traxx aka Melvin Oliphant III, along with Killekill associates Alienata, Stype and of course DJ Flush. Dancing behind the decks as he warms up for J.T.C. (playing WK7's "Avalanche"), Deuster shows every sign of enjoying a night out as much he ever did – maybe even more. Rewind two Mondays earlier and he was DJing with Hanno Hinkelbein and Axiom for his monthly Killin' Me residency at So36. "It's actually the oldest independent club in Berlin – the Dead Kennedys played their first German show there," Deuster points out.
In the '70s, So36 is a said to be a club regularly frequented by Iggy Pop and David Bowie. It's also credited as the world's first new-wave venue alongside New York's CBGBs. The club's weekly roll around has long been a venue for electronic music too, with DJ Rush once holding down a long-standing residency. "That stopped four or five years ago," Deuster explains, breaking down his love for Monday's at So36. "It's a nice place because there is a mix of people who have been going there for 15 years, to tourists who happen to be walking along Oranienstrasse, plus people from Killekill and other party crews that are involved."
After cutting his teeth throwing events and DJing in the clubs of his hometown of Heidelberg for three years, the magnetic pull of Berlin's music scene brought Deuster to the German capital where he's been catering to the city's party needs for 17 years. "It's my way of life and I enjoy it a lot," he says. Before Killekill was a record label, it was a party, and the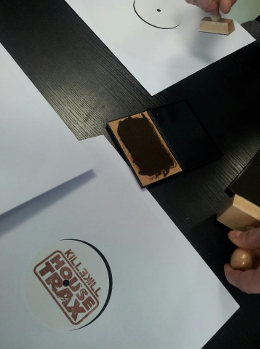 event is approaching five years of permanence since its inception at Berghain's Kantine in 2008. During Killekill's time there, Deuster was flooded with demos from labels and artists interested in playing his night, with one by Luca Mortellaro – better known as Lucy – resulting in Stroboscopic Artefacts' first ever label showcase. "I heard Luca's demo and I was like 'this sounds cool' and I said, 'yeah I'll put up this label night'. Their first nights were very empty – very empty. There were around 20 people on one night, but I did it anyway," Deuster says.
After two years of floating the event himself and "being drunk once a week, in middle of the week", Deuster moved Killekill from Berghain's Kantine to Suicide Circus and the now closed (but not forgotten) Horst Krzbrg. "The concept of the clubs are quite different, they are about the same size, but Horst seemed more educated in the musical way," Deuster says, sharing the sentiments of many Berliners sad to see the club gone. "I also like the name. Horst is just a regular German man's name – I liked this idea – so we put up Killekill Megahorst," he says (interestingly enough a Google search of the name results in Horst P. Horst, a German-American fashion photographer). The idea behind Killekill Megahorst was an eclectic one, hosting everyone from Alec Empire (Germany's equivalent to Trent Reznor) to Sven Weisemann playing an exclusive Detroit electro set, to performances by Jimmy Edgar, Tim Exile and Barker (minus nd_Baumecker) as his Voltek alias.
Suicide Circus is home to the majority of Killekill's events now, including their release parties and ACID IST FERTIG (Acid is Finished) night. "Our acid nights are one of our main focuses here in Berlin," Deuster explains. The distinctly 303-themed event calls upon bastions of acid sounds and harder techno styles, with Deuster booking unsung veterans like Mark Hawkins, Clemens Neufeld and Mike Dred (the latter an integral artist for the R&S sub-label Diatomyc), while bigger known acts like Blake Baxter, Adam X and A Guy Called Gerald have also played. "Horst was nice to have as a place to do things that we couldn't do at Suicide Circus – Suicide Circus is much more about straight techno and it's great to be there so regularly," Deuster affirms.
Within Killekill's ranks, perhaps the biggest advocates of squelchy sounds extracted from that small graphite box are Snuff Crew and Affie Yusef. The latter, a British producer originally from Southampton, is responsible for producing a long line of cheeky electro powered acid house trips since the early '90s. "He is a really quirky guy," Deuster says with a smile. "When I write emails to him and get his responses, I normally don't understand what they say on the first take, so I have to ask him three or four times 'what do you mean precisely?' and I get more text back, but I still don't understand what he means," Deuster explains, making known his correspondence with Yusef is always the endearing kind. Silencing his ringing mobile before continuing, Deuster quietly hints at Yusef's other pursuits "he is very creative guy and has a lot of projects nobody knows about – big names actually – famous bands and some other weird things".
Killekill's label division took flight in 2011 with the eclectic Best Of Best Of EP from Bad Cop Bad Cop. To celebrate the launch of Killekill's label, Deuster had an extra 25 translucent-orange records pressed, giving his daughter the fun task of individually designing each label with blotches of glitter and globs of paint. Looking back, Bad Cop Bad Cop's debut title canvassed a lot of what Deuster wanted to express with Killekill, "it left everything open," he says of the record. "I didn't want to start just another boring label," Deuster says. "I like dark techno especially, but in the club I enjoy having fun to this music, maybe it comes from my background of listening to a lot of punk and hardcore stuff – that was dark as well, but it always had a funny twist in a way," Deuster says.
This isn't to say however that Deuster doesn't take techno seriously – after 20 years of supporting it, how could he not? But it's the steady stream of faceless – sometimes poorly imitated – techno releases that Deuster holds no value; caustic in his words, "you just put on some black clothes and make a black record and then put some reverb on the track; it's another dark techno track…it's not how I see techno, it's what techno has turned into recently," he says, announcing techno music doesn't always have to be doom and gloom. "In the '90s – techno music from Warp or UR – was dark, but in a way it was optimistic and said yes to life rather than no."
Deuster's own optimistic techno expressionisms can be found in much of Killekill's humorous, dishevelled and mod-psychedelic graphics. He met Killekill's graphic artist Jakub Kanior (whose father – a copper cutter – helped design the original notes for the Euro currency) at his daughter's kindergarten. "He was doing small drawings for the school and I thought they were very good," Deuster says. "It's very funny because our designer has no connection to electronic music at all," Deuster says with a hint of mirth. "He didn't even know about Bar25 for example – like when someone said 'oh this design looks too much like Bar25' he would write back to me and say 'what is Bar25?' and I would say 'just forget it, keep going on with what you were going to do.'"
Last year Killekill launched its sub-label Killekill House Trax with Alex Cortex's Oh Yeah EP. As the label's name suggests, it's an avenue for Killekill to release its playfully fractious brand of house music, currently at three releases. "The Bad Cop Bad Cop EP has a housey track on it and a few others do as well, but at one point I thought it would be good to separate the labels, because it would be confusing to put out house tunes out on Killekill now," explains Deuster. An example of the illicit innuendo lacing much of Affie Yusuf's aforementioned musical cheek can be heard on "Affodil's Drugs Lesson" from his I'm Free EP, the sub-label's second release. It's a rough and slamming drum track with forward vocal samples taken from a Ben Stiller skit entitled Drugs Are Bad, where Mr Marcus – an ex-drug user – talks awkwardly to sixth graders about the dangers of substance abuse.
Sparing no room for mis-interpretation however, was Furfriend's banging hit "Geck", the duo's debut track taken from Killekill's celebratory release Killekill Megahits. Backed by masculine techno beats, a lewd dominatrix spiel explicitly regales the piece with phrases like "take it, easy, gonna jizz" and "when you suck, it's gonna rock"; the suggestive video made by the29nov films is also worth viewing. This is an approach the duo of Dingo Tush and Das Uberdog took to an even further extreme on the more recent Prayers For Perversion EP, featuring such lyrics as "you can do it anytime you want, even when the Pope's around", "Mother Mary likes it too, I wanna give it straight to you" and "your dad likes it".
Killekill Megahits marked a milestone for the label as it marked their tenth release, and the triple-vinyl bundle featured tracks from artists familiar to the imprint; Bill Youngman, Neil Landstrumm, Snuff Crew, Cassegrain & Tin Man, Lakker, James T. Cotton and Affie Yusuf's collaboration with Trevor Loveys. It also introduced Radioactive Man, DJ Stingray, Dadub and newcomers Furfriend and The Almost People to Killekill's party-squad, "Radioactive Man had played three times at Killekill nights, but never released anything. I thought it was a good idea to ask friends and artists if they wanted to contribute," Deuster says. Having worked with so many artists over the years, Deuster "wanted to have everybody involved with the label," but at one stage felt like the Megahits project was all too much and an inaccurate expression of Killekill. "Then we asked some new artists and eventually it was like a big puzzle completing itself and I am very happy with the whole thing – it's very representative of the label," ratifies Deuster.
An integral artist not to appear on Killekill Megahits was Alex Cortex. "We actually went to the same school (in Heidelberg), but he was two years under my grade, so I wasn't really aware of him at school," Deuster says. Alex Cortex was however Deuster's first port of call when searching for music to launch Killekill. "He sent two or three tracks in the beginning and I gave him feedback," Deuster explains, continuing, "he obviously liked what I wrote back and he sent more (music) and I gave him feedback again, then by the time I started the label I had 40-50 tracks of his."  Perhaps one of Cortex's most notable tracks for Killekill is "R-Byte", taken from the 2012 RAW EP. With a hint in the EP's title, the track's malleated back-beat drums mercilessly forge their way through a transmission of Morse code sequenced synth stabs that occasionally give way to a burpy vocal. According to Deuster, Alex Cortex has amassed an endless archive of unreleased music, dating as far back as 20 years. "It's amazing material and we are still working on releasing it," Deuster divulges, explaining two Alex Cortex EPs of both new and decade-old productions have been slated for a September release.
Outside of having (unknowingly) gone to school with Alex Cortex, Deuster shares a friendship or close working relationship with all of those at Killekill. "I've never made a contract with any of my artists – a gentleman's agreement – we are all friends and we all trust each other," Deuster says, adding nonchalantly "I also don't want to support assholes, it's quite simple." One of the label's most trusted artists – and close friend to Deuster – is Bill Youngman, with Deuster explaining he's been a fan of Youngman's music since his early releases on Scandinavia – a label that's home to a healthy portion of Killekill contributor Neil Landstrumm's music. "When he (Bill Youngman) moved to Berlin 10 years ago, I booked him for the first time," Deuster says. "I've also co-edited some of his tracks on the first release of my label (featuring a Sandwell District remix), so we spent a lot of time selecting material and talking about stuff," Deuster adds.
Adding to the building blocks of Killekill was Irish duo Lakker, who have so far given Deuster the gargantuan EP Spider Silk, the label's fifth release, while more recently the duo's Ian McDonnell released the Spoock EP through Killekill as EOMAC. "The EOMAC record was the first track I signed for Killekill," explains Deuster, but it wasn't until April this year that it saw a release. "I didn't think the label was at a good enough stage (in 2011), because he (EOMAC) was unknown and Killekill was too, so I said I'd put it back, so when the label grows, he can get some good exposure". It proved a wise move from a maturing label and with Lucy supplying a reductionist remix of the title track, Spoock enjoyed a brighter spotlight of attention than it may have received back in 2011.
Deuster discovered EOMAC and subsequently Lakker's music when chasing up track IDs from a mix sent to him. Smoking out McDonnell's productions, Deuster made contact with the Irishman, which allowed McDonnell to explain he was also part of Lakker with Dara Smith. "They sent me four tracks and three of them made the Spider Silk record," Deuster says. Another duo, or trio when on Killekill, is the joint force of Cassegrain & Tin Man. Combine these producers – Alex Tsiridis and Hüseyin Evirgren of Cassegrain and Johannes Auvinen aka Tin Man – and you have a fascinating concoction of Greek-American-Austrian synth-led, acid-laced big room techno. After receiving a demo of theirs, Deuster snaffled up what would be later become the Carnal EP on the spot, "I immediately loved all four tracks, I said I'll take them just the way they are – perfect," Deuster says.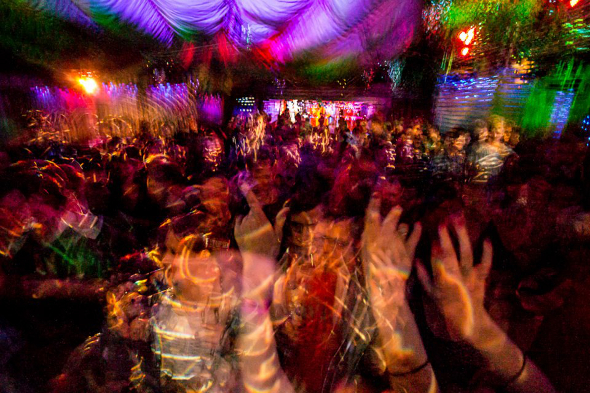 Cassegrain and Lakker also appear on Killekill's affiliate imprint Krake, the new label accompanying Deuster's Berlin mini-festival of the same name, which he runs in part-collaboration with Holger Hilgers. The first release was a 15-track CD and gatefold vinyl unit comprised solely of music by artists who performed at the growing festival in 2012. Entitled Krake 001, the compilation proved to be a diverse offering of techno from Perc, Alex Smoke and Swarm Intelligence, while live recordings taken from last year's festival of Dadub, Tim Exile and Ulrich Schnauss featured alongside bassy and experimental efforts from Pole, Bersarin Quartett, Barker and Kid606. Deuster also confirms Monolake, Dopplereffekt and Cristian Vogel have been booked to play experimental sets at this year's event, which runs for one week during August in various locations around Berlin, with its penultimate and crowning nights at Suicide Circus.
With our conversation now finished and interview over, it's no surprise to see the same smile of completion I saw earlier on Deuster's face return. With a phone full of missed calls and text messages in need of reply, a busy Deuster makes his way out of Killekill's HQ, eagerly en route to his next appointment. But when I try and reach him via email the next week, an unexpected, but justified out of office reply reads "please remain calm and get back to me after my holiday!"
Interview by James Manning
Krake Festival 2012 shot courtesy of Joi Bix
Killekill showcase mix by DJ Flush tracklisting:
1. Bad Cop Bad Cop – More Ravelike (taken from Killekill 001)
2. Alex Cortex – Oh Yeah (taken from Killekill House Trax 001)
3. Alex Cortex – Tackle (taken from Killekill 002)
4. Cassegrain & Tin Man – Sear (taken from Killekill 008)
5. Furfriend – Fist Fuck (taken from Killekill 013)
6. Neil Landstrumm – Night Train (taken from Killekill 006)
7. Radioactive Man – Addict (taken from Killekill 010)
8. Affie Yusuf feat. Trevor Loveys (taken from Killekill 010)
9. Headless Horseman – Sleepy Hollow (taken from Headless Horseman 001)
10. Furfriend – Shepherd (taken from Killekill 013)
11. Cassegrain & Tin Man – Visitor ((taken from Killekill 008)
12. Eomac – Spoock (taken from Killekill 012)
13. Headless Horseman – Hessian (taken from Headless Horseman 001)
14. Alex Cortex – Troy (taken from Killekill 015)
15. Bill Youngman – HH3 (taken from Killekill 003)
16. Headless Horseman – Graveyard (Perc Remix) (taken from Headless Horseman 002)
17. Cassegrain & Tin Man – Athletic (taken from Killekill 010)
18. J.T.C. – Sonic Criminal (taken from Killekill 011)
19. Snuff Crew – Go Back (taken from Killekill 010)
20. Alex Cortex – R-Byte (taken from Killekill 009)
21. Snuff Crew – Eat This (taken from Killekill 004)
22. Hard Ton – Work That Body (taken from Killekill House Trax 004)
23. Eomac – No Name (taken from Killekill 012)
24. Alex Smoke – LiveOn (taken from Krake 001)
25. Lakker – Darcdub (taken from Killekill 010)