Carl Craig – Masterpiece: Created by Carl Craig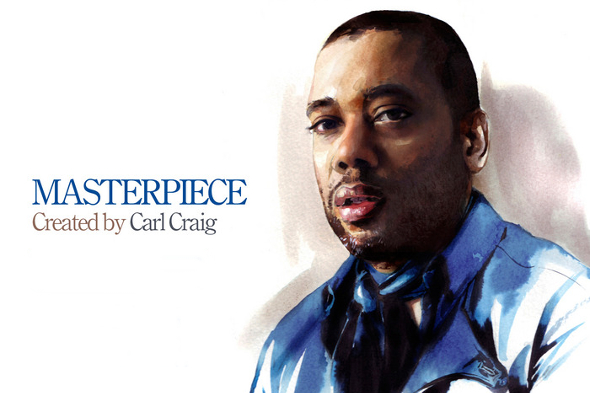 Carl Craig's handful of commercial mixes to date – most recently a Fabric installment in 2005, and 2008's Sessions for! K7 – have focused fairly narrowly on the sounds of Detroit's second wave. Unsurprising, considering his pioneering of those mournful synths and strings that have been aped ad nauseum ever since, but oddly backward-looking for a producer you could never accuse of being regressive.His new mix for Ministry of Sound's grandiosely titled Masterpiece series sees Craig joining luminaries like Andrew Weatherall and Francois K and is distinctly more forward-facing
A three-disc affair, it encompasses themes of 'Aspiration', 'Inspiration' and 'Meditation'; the first disc sees selections from Kyle Hall, Arkist, Tom Trago and Rick Wilhite, whilst the second veers through blues, dub reggae and avant-garde techno. It's the final meditative mix that should excite most considering Carl Craig's comparative production silence in recent years, featuring six movements of specially-composed abstract electronics. The latter is by some distance the most immersive; though ostensibly segmented, "Meditations" is an hour-long composition that veers between Vangelis style cinemascapes, trippy jazz noodling and subterranean drones – the closing movement is a 10-minute rumble, so deep you feel rather than hear it.
Craig's worked in these more abstract spheres before, most notably on 2005's The Album Formerly Known As…, and his collaborative reworking of Ravel and Mussorgsky with Moritz von Oswald for ReComposed three years later, but "Meditations" is a more coherent and, frankly, a more accomplished piece than either. It's saturated with anxiety, whether in the heartbeat click that beds paranoid synth washes in the second movement, the third's squeaking sequencer, which in a clamour of squeals evokes a more maudlin robot than Daft Punk have ever achieved, or the freeform percussion licks of the fifth, a chaos of jazz drums and plunging bass. "Meditations" is a challenging beast throughout, and demands close attention.
In comparison, the "Aspiration" mix of club-ready house and techno, which explores just how far Detroit's many tendrils have stretched into modern dance music, is somewhat underwhelming. Opening with the Wild Oats label boss Kyle Hall is a nice touch, but the freaky rhythms of his "Zug Island" collaboration with Kero promise a leftfield approach that's quickly abandoned. Huxley's and Burnski's steppers anchor a pedestrian trip through house music, and it's not until the blaring chords first of Sam Ball's "Handsome," then Craig's 20-year-old "Poi Et Pas," that the energy starts to ratchet up. The final third, though, is a masterclass; Craig's deft navigation between the SCB take on Arkist's "Rendezvous," the infectious, string-laden stomp of his own edit of Tom Trago's "Use Me Again," and bongo-addled classic "Drum Patterns and Melodies," before closing out with Drexciyan funk and lush deep house, is stunning.
"Inspirations" is a more subdued affair, but one that offers a glimpse into the musical history of the man that straddles techno like no other. Where exactly Muddy Waters' Delta blues has appeared in Craig's oeuvre is debatable, but the whomping bass pressures of African Head Charge clearly inform his experiments with low-end. The particular threads that make up Carl Craig may not be particularly surprising – Motown, jazzy R&B and first wave Detroit techno – but his choices are still revealing, with tracks like David Lynch's "Noah's Ark" showing an ongoing fascination with the avant-garde. Masterpiece is how multi-CD DJ compilations should be made; each disc could easily stand alone on its own merit, but together they provide a fascinating insight into techno's most enduring pioneer.
Tom Banham
Tracklisting:
Disc 1: Aspiration
1. Kyle Hall & Kero – Zug Island
2. Macromism – News From Barcelona
3. Huxley – Little Things
4. Burnski – Lost in the Zoo (Martinez Brothers' Bronx Zoo Mix)
5. Loco Dice -Detox
6. Sam Ball – Handsome
7. Maan – L1 (ROD Remix) / tINI – My Shine (Carl Craig Remix)
8. Technasia – Bastille Days
9. 69 – Poi Et Pas (ROD Remix)
10. Arkist – Rendezvous (SCB 2013 Dub)
11. Tom Trago – Use Me Again (Carl Craig Refix Mix)
12. Rick Wilhite – Drum Patterns & Memories (Moodymann Mix)
13. The Egyptian Lover – Egypt Egypt
14. Ben Sims – Straight from Bolivia
15. Lance Desardi – The Power of Suggestion
Disc 2: Inspiration
1. The Messengers – In The Jungle
2. The Temptations – Cloud Nine
3. Muddy Waters – Mannish Boy
4. Prince Jammy – 256k Ram
5. African Head Charge – Crocodile Hand Luggage
6. David Lynch – Noah's Ark
7. Freeway – All My Life
8. Erykah Badu – Fall In Love (Your Funeral)
9. Moritz Von Oswald – Cocoon Dark Dub
10. E-Dancer – Feel The Mood
11. Derrick May – Icon
12. DeBarge – Stay With Me
13. Melody Gardot – Mira
14. Tribe – Livin' In A New Day
Disc 3: Meditation
1. Carl Craig – Meditation 1 (Version)
2. Carl Craig – Meditation 2 (Version)
3. Carl Craig – Meditation 3 (Version)
4. Carl Craig – Meditation 4 (Version)
5. Carl Craig – Meditation 5 (Version)
6. Carl Craig – Meditation 6 (Version)