Win Token Introspective mix CD and 12″s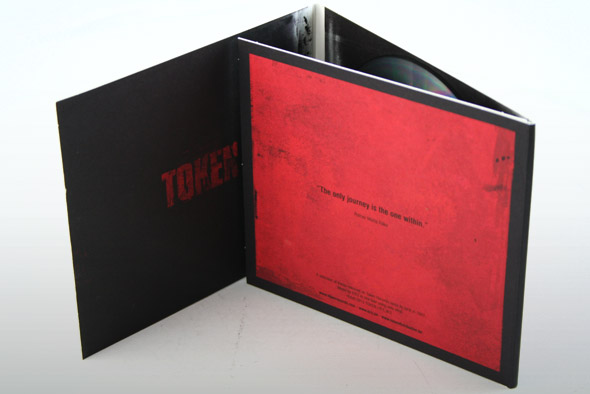 To celebrate the release of Token's Introspective, mixed by label owner Kr!z, we have a copy of the CD to give away, plus four Token 12"s – check our interview with Kr!z too.
Established in 2007, Token has earned a reputation for harder hitting, harder edged techno, becoming a home base for the music of London techno producers Inigo Kennedy – who inaugurated the label with his Identify Yourself EP – and Ashley Burchett's Ø [Phase] project. It's also bolstered its ranks with other heavyweight releases from Oscar Mulero, Xhin, Rodhad and Go Hiyama, as well as spawning the Ctrls project from Northern Structures' Troels B. Knudsen,. Adding to its reputation is the high standard of remixers Token regularly comissions, including Surgeon, James Ruskin, Ben Klock, Peter Van Hoesen and Planetary Assault Systems.
Moving into 2013, Token are stepping up their game with the newly released Token Introspective, allowing label boss Kr!z to show off both his DJing skills and the label's achievements to date. Beyond this, Token will also be entering the artist album market with Frames Of Reference, the debut album from Ø [Phase], out later this year.
In addition to offering up some Token releases, Kr!z was kind enough to give some insight into some of the pains and rewards involved with compiling, mixing and recording Introspective. Details on the competition at the bottom of the page.
How long did it take to compile the mix?
The selection took me maybe two weeks. Although I feel the Token catalogue is pretty consistent, it was still challenge to bring everything together into a story with a nice flow that would make sense to the listener. The mixing itself took me 77 minutes, just one mix. One take, no edits.
How was it recorded?
I chose to record the entire mix with vinyl, not necessarily as a statement, but just because I prefer the feel of vinyl when DJing, and I believe it adds extra tension and dynamics to the mix. I used a Rodec mixer, two Technics turntables and a small Pioneer EFX unit.
What was the process behind choosing the tracks?
I basically listened to every Token track ever released. From there I made a selection of maybe 50 tracks that were important to the label, but also to me personally, plus some tracks I felt people needed to discover – or rediscover. Then some tough decisions had to be made, as a few of my favourite tracks wouldn't fit the flow and I was never going to be able to get all of them to fit the CD format. In a way the restriction was helpful to make this a 'no filler' compilation, but I definitely would have been happy with an extra 20 minutes.
What are some of the tracks on Introspective that are particularly special to you?
Obviously "The Map" by Inigo, which – if I recall well – was the first track I signed for the first release. A timeless track, like the majority of Inigo's music. Next there's "Morodem" by Phase, his second release on Token. I had actually heard that track on his MySpace page and wanted that one for the first release, but he didn't quite trust me fully at that point, and that track was very precious to him, so he didn't want to sign it right away. I got other tracks instead. He was happy with how I handled things for the first release, so I got the track in the end, which meant a lot to me. Then there's the Surgeon and James Ruskin remixes. Both are long-time personal heroes of mine and had a major influence on myself as a DJ and my musical choices regarding Token.
Inigo's "Obsidian" is probably my favourite Token track ever, that track is just too much.. It might be an oddball in the Token catalogue, but I try to play it everywhere I possibly can. I feel it fits nicely as the closer of the mix. I also still feel very strongly about "Binary Opposition" by Phase, simply because it's a masterpiece and made a lot of heads turn our direction. "Socket" by Ctrls is special too because it was the first record of a new artist and it immediately put him on the map. The perfect start of an exciting future. I can say a lot of things about the other tracks too, as they're all special in their own way, but I'll just stick with this selection.
What's coming up for Token?
Next up is the first single for the debut album of Phase, which we'll release in Autumn. That's definitely the most exciting project this year. It will be the first Token LP. After that single, which will be released on the 24th of June, there will be a new Inigo Kennedy record. It's a return to a tougher style after the deeper excursions on the Cathedral record. I love the energy on the new release. I won't reveal too much yet about the plans after those two, but 2013 will probably be Token's busiest year so far. I feel very excited to share all the great music that's been coming my way lately.
We have a copy of the mix CD and 12″s from Rodhad, Mark Broom, Inigo Kennedy and Xhin up for grabs – the competition will run until 2pm Thursday June 28 and the winner will be notitified via email shortly afterwards.
[jp_comp question="Which Token release had a Surgeon remix on it?"]