Juno Plus Podcast 61: Joey Anderson
Sit back and enjoy an hour's worth of house music mixed by a modern master – Joey Anderson.
The New Jersey native has eased in alongside DJ Qu, Fred P and Levon Vincent to become one of the most respected selectors and producers who reside in the East Coast hinterland between house and techno. Rising through the ranks of the Strength Music label run by his friend Qu, Anderson's name graced several of the label's split releases in the period between 2008-10 before expanding his reach with subsequent material for Jus Ed's Underground Quality, the Deconstruct Music label run by Levon Vincent and Anthony Parasole, and most recently Amir Alexander's Annukai Cartel.
His capacity for productions filled with spirituality, psychedelia and an alluring darkness have really started to turn heads and charm ears this side of the Atlantic since Levon Vincent licensed two of his tracks for last year's Fabric 63 mix, and subsequently issued them on that aforementioned Deconstruct Music 12″. Anderson's become a regular DJ on the European club circuit in the aftermath of his appearance at last year's Freerotation festival, whilst his release schedule thus far this year hint that this humble Hoboken born producer is on the cusp of much bigger things. 
Already in 2013, Anderson has put his name to records on Amir Alexander's Annukai Cartel, fledgling Parisian label Latency as well as superb remixes of October and Marco Shuttle, with releases on own Inimeg Recordings, the newly formed Avenue 66 offshoot of Absurd Recordings as well as a debut album all forthcoming. The name Joey Anderson has been on our mix hitlist for some time now, so we were happy when the chance to welcome him into the fold arrived via London party promoters Secretsundaze, who will be granting the DJ and producer his London debut this Bank Holiday Sunday at their Oval Space event with Nick Höppner and KiNK.
As well as providing an impeccably mixed 60 minutes of unconventional house sounds, Joey was also kind enough to answer the glut of questions we sent his way about his start in club music upcoming project and where to buy records in New Jersey.
How are you doing Joey?
I'm good, happy, altogether blessed.
Thanks for taking the time to record this mix for us – how and where did you put it together?
I put the mix together at home, with two Technics decks, two Denon CDJs. Thanks for featuring the mix on Juno Plus, the honor is mine.
Thank you! Is this indicative of the current sounds in your DJ sets?
Sometimes, and some stuff according to how I felt that day.
We read that your desire to DJ and produce music came out of being a club dancer with DJ Qu back in the 90's – is that true? If so, can enlighten us with regards to this period?
Yes, Qu and I use to circuit the underground parties in N.Y. where dancing was centre of the parties. The clubs back then were like our gym where we enhanced our dance skills. Many would bring bookbags with a change of sweatpants and tee shirts inside of them and change inside the club, preparing for the DJ to take us on a journey. I remember always getting amped off some stuff I never heard before. Always thinking the type of music I was hearing had to be godly, or special, no kind of music have I ever felt connected to like this before.
Was there a specific moment where you thought 'DJ and make music, that's what I want to do!'?
One day Nicuri, David S, Qu and I were sitting in a car listening to songs. One track came on and I asked what it was. Qu mentioned it was "Warrior Dance", which later was released on Strength Music's first release, the To Eaches Own EP. I was amazed when he said he produced it . At that point I did not understand production side of things. That was the moment I wanted to start producing.
Are you a vinyl purist? It seems like most of the New York crowd are wax heads – is that a generational thing or more of a philosophy?
I love spinning wax, that's where the skill and art lies. But I use CDs also, it's an awesome tool. I'm not sure if its a NY thing or not, but personally if I'm playing CDs or laptop stuff all night and the next DJ after has a record in his hand I feel like I just did something wrong or something, or maybe betraying the art of it. It does not matter what you use, but it's just me.
You seem to be doing more and more European gigs at the moment – how was last year's Freerotation festival as an experience?
Freerotation was wonderful. I meet many talented people there. Positive vibes was everywhere. It was truly an honor to be there. I will never forget it, Steevio is the best and has for me one the best events for what we do.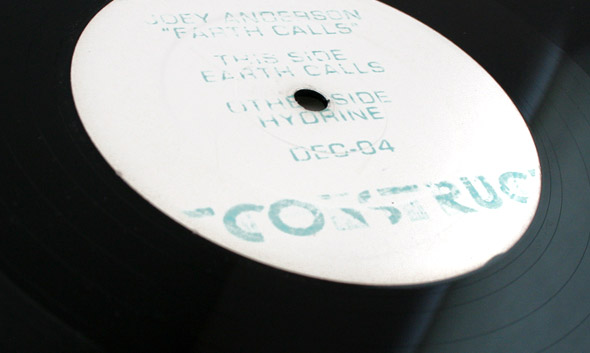 Have you noticed any discernable difference between US and European crowds thus far?
For me playing in Europe is totally different. In Europe everyone is totally in the party, having a good energetic time, whereas at home the DJ has got to be careful what he is playing. In New York it seems a bit more analytical when it comes to sets.
The Dekmantel crew seems to have welcomed you into their fold – what was it like performing at their recent Queensnight celebrations?
The Dekmantel crew are cool and Queensday was off the meter! It was my first time in Amsterdam and just by chance I caught them at a very important time in their country's history. That made it even more memorable. There might be some other things to come with Dekmantel, and I'm really looking forward to it.
There is an undeniable upsurge of underground house and techno music coming out of New York these days – which of your peers should people be looking to next?
It's an inspiring time for artists doing their thing right now. There are some labels and producers working on their craft. You have Nicuri, LoLa from Plan B, Cory and Arthur from Lag, Miguel (Jose ) Sequencias, Derrick Andrews, Sean from Voodoo Down and many more doing their labels and working on music…. but Nicuri, watch out for him….unique.
Let's talk releases; you have nice looking label debuts coming up – firstly there is the From One Mind To The Other 12″ with French label Latency. How did this come about?
I was really looking forward to working with Latency. You can see their passion for the music and the art form for what it is. When Latency approached me about a project with them I took them serious. They had already released their first EP which I thought was awesome. They also showed interest in my material that was a bit on my creative side so I was all for it .
Latency has a dedication to presentation that's truly impressive – is this aspect of a label integral to whether you choose to work with them?
Sometimes there is music that gives you a mental picture when you hear it. It makes you dream or imagine. Its intellect, its progression and it goes hand and with visuals. Latency has that attribute. I admire that.
You've also scored the debut release from Avenue 66, which is the new label from Absurd Recordings – was it your choice to ask Vakula to remix the title track?
Avenue 66 is again, an opportunity with creativity. It is an honor to be working with Absurd. They have released some of my favorite stuff from last year. I was kind of shocked when the opportunity came. When I was asked about Vakula I was all for it. This guy is one of the best out there and one of my favorite artists and he really turned the remix into something special!
Can you divulge what other Joey Anderson releases are forthcoming as the year progresses?
Well, be on the look out for my first album with Dekmantel later in the year. Soon I will release INMR 003 (Diagram Solutions) and some other very interesting projects with some talented guys and labels.
All your music to date seems to share a common patchwork of sound and a distinct familiarity with one another in terms of texture and raw emotion; is there a specific method that you adhere to in the studio?
I don't really have a certain method. I don't know what's really gonna happen when I'm working. But I do try and be honest to myself and my approach when working. Sometime I try and make something that I would dance to or want to dance to, hopefully it will work.
You are making your London debut at Secretsundaze later this month, aside from the honour of playing alongside Nick Höppner, what are you most looking forward to about visiting our fair city?
I've been to the UK but never London, so I guess I'm going with a wide open mind.
Finally, where are the best spots in Jersey City to go digging for records?
The best spot to go digging for records in J.C. is definitely Iris Records. You will find some of everything in those crates.
No tracklisting was provided 
Joey Anderson plays Secretsundaze alongside Nick Höppner, KiNK (Live) and residents Giles Smith and James Priestley on Sunday May 26 – more details here.