Separate Mind: A paean to the crumbling boulevards of totalitarian hubris
Last month's Separate Mind column focused on the enduring influence of a specific location. As this month's releases show, great electronic music no longer needs to have come from one inspirational home; it merely has to be going in a compelling direction.
This writer eagerly awaits the creation of a musical revolution spawned in its entirety from online interaction, a development that is surely only a short while away. Listening to the soon to arrive Actress remixes of Legowelt's Elements of Houz Music on Clone Jack For Daze, that notion doesn't seem quite so far-fetched. The story behind this pairing shows how technology can pair up diverse, seemingly incompatible artists, something that warrants a sociological study. The back story goes like this: Italo and analogue-gear obsessed nerdy Dutch guy makes a UK rave-inspired track for his latest – and arguably best – album. Clone, the label he releases it on, rather fittingly drafts in the maverick Darren Cunningham, an artist who is steeped and schooled in the art of melding techno, abstract electronics and bass pressure.
Given all of these influences and inspirations, the resultant remixes had the potential to be busy and messy, the many competing interests vying to be heard. Surprisingly, both versions are decidedly uncluttered. Actress' first take is straightforward, with Cunningham retaining Wolfers' rave stabs and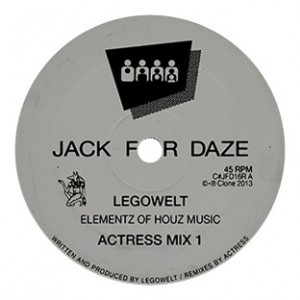 collage of samples – including a vocal snatch and possibly a snippet from T99's "Anasthasia"? – knocking out the flurry of breakbeats and replacing them with a tone-shifting bass and a shuffling, lopsided rhythm. 
Things start to get weird on the second Actress version. Clocking in at over twelve and a half minutes, it sounds like Cunningham has merely slowed and pitched down the first remix, with the result that it
comes across at first like that well-worn Hollywood plot-line where a character gets chloroformed and voices, sounds and movements gradually slow down before unconsciousness kicks in. Actress could so easily have kept on slowing the track down to its final grind, achieving the effect when one switches off a turntable as a record plays, but instead he keeps the funereal pace as is. It has the effect of lending the arrangement a sense of space, the bass now aquatic, rippling with extra layers, and the vocal sample haunting, bleary and red-eyed, like waking from a slumped state on the first train home. Actress put his own mark on the first remix, but on the second he has made something strange, detached and uniquely beautiful.
This sensibility is also audible on two new records  – DeFekT's Switch EP on Signal Code and E.R.P's Pith on Frustrated Funk. Geographical distance does not seem to have made a difference to the manner in which both artists approach composition and texture. While E.R.P. is the other project from Texas-based Gerard Hanson – Convextion being the pseudonym under which he released his landmark album, Convextion – and has graced labels like Semantica and Harbour City Sorrow, DeFekT is a lesser-known quantity, releasing only since 2010. This imbalance is likely to change soon; Matt Flanagan, the producer behind DeFekT (and also the excellent E.S.S. side project) makes music that is at once esoteric and multi-layered, but also more dance floor-based than what passes for electro purism.
This is borne out of Flanagan's love for techno and his approach to producing, where every track is jammed and recorded simultaneously, without recourse to an editing process. This mode of working is clearly audible on Switch: the title track moves from tonal bleeps and synth washes that veer on the lethargic into darker textures and choppy 4/4s, as if something irked Flanagan midway through the session. "Sunseq" is more linear, but nonetheless full of dreamy chord sequences and hushed
breakdowns as DeFekT plots a course paved by metallic drums, while "Bring Back CV" and "Trigger" revert to the anything goes approach; wiry rhythms lead into bleeding acid lines and wobbly b-lines get comfortable with icy Detroit pads. The common bond throughout is Flanagan's ability to maintain a groove that sits somewhere between the shuffling 808s of classic electro and the dull thud of straight club techno. That he manages to achieve this while moving seamlessly through so many moods and textures says a lot about this rising talent.
Hanson meanwhile is more reserved, restrained even. While DeFekT is full of boundless energy, Pith is a re-iteration and refining of the E.R.P. sound, classy and musical, precise and measured. When we speak about geographical location and music, E.R.P. appears to inhabit some grey zone, reflective and futuristic-sounding in the classic Detroit mould, but also lofty and precise, at times almost frosty and austere, a characteristic that pre-dates techno and was more common to Kraftwerk. That's not to suggest that Pith is cold or unfriendly, and its greatest strength, like the best of E.R.P. work is that it manages to sound emotional and robotic at the same time. On "Luctu" for example, the bubbling bassline serves to offset the droning central riff and the acid-flecked blips and bleeps are positively upbeat as they circumnavigate a darker than usual sensibility at play.
That mood lifts as soon as "Tuga" seeps through the speakers. This is classic Hanson music, pristine and dreamy without coming across as sopoforic or lazy; clipped drums roll in, bringing with them a lithe steeliness that underpin dreamy chords and later on provide the perfect counterweight to the sweeping cacophony of strings that is the E.R.P./Convextion trademark. Just in case there's any question about Hanson sounding too lush or dreamy "Pith" brings with it a heavy bass and ominous hooks, while cymbals crash and hiss. This being E.R.P. though, the percussion is left in the background, like lightning crackling over distant, grey hills.
From the furthest reaches of Texas to the streets of Chicago, there's a link between E.R.P. and Ike Release, and it centres on the synths. However, while Hanson conjures up a sensuous dream state, Release's latest record, Dream Sequencer, on M>O>S Deep, creates a sense of foreboding as chilling synths swoop in over raw beats.On "Cosmic Supreme", untamed, vaguely distorted and almost
monotonous in their repetition, the beats sound like the missing link between Basic Channel's scuffled aesthetic and Sound Signature's ruffness (Spektre's insane "Pipe Bomb" springs to mind).
Dream Sequencer also belongs on M>O>S. Aroy Dee's label has released everything from old school Chicago jams by Terrance McDonald to Morphosis' wonderfully gloomy abstractions, and somehow Dream Sequencer dovetails neatly into this classic Chicago and Detroit meets modern offbeat techno Venn diagram. Bolstering his case for being part of the equation is "Spells". While "Supreme" snarls grittily, "Spells" unfolds more slowly and menacingly, its grimy bassline and horror sound effects underscored by tearing acid licks. Eventually, when the suspense becomes too much to bear, Release switches into a linear groove, augmented by a chilling synth line. Then there's "Westview"; the deepest and most conventional track on offer, it too is driven by a rough and tumble, lopsided rhythm and a fathomic bass before the synths, this time in dreamy mode, kick in.
For whatever reason, Russia and its former member states have never made their mark in electronic music. Granted, there's DJ Vadim, the ubiquitous Nina Kraviz and the Kazantip festival as well as this writer's favourite Russian act, oddballs Fizzarum (check their excellent 2000 debut album, Monochrome Plural), but the subcontinent has yet to yield a major techno talent. Enter stage left St Petersburg's Sanys. The more astute DJ/listener will have noticed the Russian's Downfall Theory label and its analogue-based jams and this forthcoming fourth release is the best yet.
There is an attempt on Sanys' part to cross over into the Mike Dehnert school of techno, but really, she shouldn't have bothered. While "Down & Dirty" is in keeping with the Fachwerk sound, all stepping rhythms and gloomy bursts of dub textures, it pales compared to the rest of the release. "Grab Them Back In" inhabits a similar rhythmic space, but the drums crunch and grind and the chord sequence sounds like a tribute to a lost hardcore classic rather than the bastard offspring of Maurizio. "Plain Rude" meanwhile sees Sanys embark on her noisiest venture to date, as raw acid lines and lo-fi rhythms collide and a spacey vocal (the author's own?) hovers above the arrangement. However, she reserves her best for the title track; put it down to her disconnect from techno's nerve central, or just being a true outsider, but we don't hear enough of the kind of buzz saw bassline and pulsing acid that prevails on "Deadly Poison". Shorn of subtleties but powerful enough to stop a gang of vodka-soaked, rampaging skinheads in their tracks, is this Mother Russia's answer to Red Planet's Star Dancer?
In stark contrast to the former USSR, Berlin has produced a disproportionately high number of techno artists and collectives. The city is synonymous with names like Hardwax, Basic Channel and Berghain, but we should not forget Tresor and indeed Sleeparchive's contribution to the German city's electronic music capital. More than any artist, Roger Semsroth defines the techno city; apart from working behind the counter at Hardwax, his austere, reduced rhythms and hypnotic bleeps as Sleeparchive laid the basis for the Sandwell tide of the mid-00s. Semsroth's work is defiantly rooted in its location; it embodies Berlin's grey, faceless concrete architecture, right down to the anonymous sleeves and hand-stamps on each release. Sleeparchive standards like Hospital Tracks, Elephant Island and Radio Transmission are so brilliantly monochrome that they should only be listened to in the grey half-light of dawn or dusk and so disembodied from human emotion that they feel like a paean to the crumbling boulevards of totalitarian hubris.
Given his catalogue, Semsroth's latest release may surprise long-time Sleeparchive watchers. A Man Dies in the Street Part 1 may be inspired by 'the sonic sluices of post-war Berlin', as the label suggests, but the release feels angrier, more aggressive than previous work, including 2011's Ronan Point, also for Tresor. Indeed, A Man Dies in the Street Part 1 appears to take influence from 90s Birmingham sources rather than the Sahko and minimalism-derived approach of his previous work. "1" sets the scene with dense, slightly distorted beats occupying centre stage and insistent percussion crackling and spitting. "2" (you've got to love these names) features those distinctive Sleeparchive bleeps, albeit framed in a much harsher rhythmic framework than usual. There's a concession of sorts to Semsroth's linear, hypnotic sound on "4", but the pace is faster and the beats tougher, while "3" sums up the dominant feeling here – distorted kicks and slamming rhythms to rival classic Regis.
"Aroy Dee's label has released everything from old school Chicago jams to Morphosis' wonderfully gloomy abstractions, and somehow Dream Sequencer dovetails neatly into this classic Chicago and Detroit meets modern offbeat techno Venn diagram."
There are also mixed emotions on Dez Williams' The Angel Maker, the upcoming release on Sunil Sharpe's Earwiggle label. Following the unhinged Paul Birken and Freddie Fresh release, Williams had his work cut out, but he is one of electronic unsung heroes and over this four-tracker, provides a lesson in making no nonsense techno and electro. "Untitled Acid" is a dense affair, its harsh rhythms caked in swampy sound textures and sulphuric acid belches, while "Freedom" is a killer peak time track, its panel-beating rigid groove housing disturbed vocal samples and mind-bending synth lines. Both compositions show that Williams can bang it with the best of them, but what impresses more are his forays into less obvious directions. 
"Courtesy Call" is a killer electro track, its heavy 808 drums housing wiry riffs, wild analogue squeals and squaks and an ass-quaking bass, a sonic rendering of the deranged pig farmer in Deliverance having his wicked way with an unsuspecting out of towner. The highlight however is the brilliantly named "Underground Persistent". It sees Williams let down some of his defences and make way for a pulsing groove, clicky beats and the most infectious acid line since Tevo Howard's arrival. Williams even briefly segues into a naïve sounding synth sequence before coming to his senses and returning to the hypnotic acid line. If this isn't Earwiggle's biggest release then something, somewhere is wrong.
Anthony 'Shake' Shakir's remix of Portable's "Albatross" isn't a million miles away from Williams' "Underground Persistent". Issued on Lakuti's Sud Electronic label, the remix sees Shake at his most dance floor focused. Gone are the intricate breakbeats of Frictionalism, replaced by a stomping 4/4 and a searing 303 that screeches and squeals, overshadowing Portable's vocal, which Shakir has turned into a muffled slur. This earthy, intensely physical version is in stark contrast to the ethereal original. Whatever about his Bodycode project, Alan Abrahams' work as Portable operates at a different level to most electronic music projects. Maybe it's Abrahams' vocals, plaintive and doleful, or their combination with the bluesy keys and organic drums that sets this writer's spine tingling. On Knowone Can Take Away, his 2008 release on Perlon, Abrahams attains a status of all-seeing post-rave preacher, with hardcore-redolent vocal snippets and whoops and that funereal organ compelling the listener to worship at his altar.
"Albatross" isn't quite as captivating, but it nonetheless glistens and radiates, its chiming bells, featherlight melodies and rasping, crisp drums providing the basis for Abrahams' slightly out of focus vocals. Kowton toys with the arrangement, toughening up the drums and making them more steely while adding some extra atmospheric layers – but like all this month's other great records, the original is from an undefined place, not restricted by geography, travelling into the unknown at its own pace.
Richard Brophy