Joining The Dots: An interview with Bake All Caps
Tony Poland speaks to Bake, a rising DJ and one third of the All Caps collective who are making great strides to maintain Glasgow's rich techno heritage. 
"This was the first avenue I had that kind of forced me into taking music somewhat seriously and not just listen aimlessly, it was pretty interesting." All Caps co-founder Bake is telling me about getting turntables for his 17th birthday, a moment where he went from someone one who listened to music passively to someone who now consumes it rabidly. It certainly seems to be working for Bake, in the last twelve months he's matched Jackmaster and Blawan in back to back sets and played alongside Objekt, Joy Orbison, Machinedrum and Loefah, contributed to the LuckyMe mix series, been name checked as "the next Ben UFO" by Pariah, as well as playing the Hessle Audio Boiler Room session and Rinse FM show.
For a 21 year old who's only been DJing in clubs since 2010 this is impressive, and there's a lack of ego to go with it. Speaking to Bake on a Thursday afternoon via phone, after he's been busy signing off on the artwork for the label's imminent third release from Kowton, our conversation feels more like catching up with an old school friend who's doing genuinely exciting things rather than an attempt to rush through a bunch of questions.
The label grew out of the All Caps radio show Bake currently does with Ryan Martin and Matthew Muir, and the story dates back to the trio's teenage years, bonded by a love of music and hip hop specifically; speaking about these years, Bake is happy to admit that Martin and Muir were more heavily invested in music at this time. Martin in particular stood out as a head, "I think if it wasn't for him putting me onto so much different music, I wouldn't have really got into it at all" he says of Martin. After being exposed to Glasgow's nightlife as 15 year olds sneaking into clubs underage, Muir and Martin were inspired to start their own radio show on the long-running Subcity Radio based at Glasgow University, playing whatever they could off a laptop through a cracked copy of Traktor.

Bake's involvement in the show came a few months after that 17th birthday present, and having this platform to mix records in a studio and understand how one track sounds next to the other helped breed confidence in the trio, whilst dubstep's fracture around 2009 opened their collective senses to a wealth of music unbeknownst to them. An important by-product of the show's increasing popularity was the number of producers sending them tracks, and it was from this that the idea of All Caps as a record label was first born. Alex Coulton's music was the tipping point, the Mancunian's music sent to Bake by Coulton's brother Jack (one half of techno duo Szare) at a time when the young Glaswegian was beginning to feel the urge to start a record label in order to both contribute further to a scene they'd become involved in, and to represent their tastes. Noting that the likes of Ben UFO were already playing the muscular, spacious "Representations", it felt right for Alex Coulton to inaugurate the All Caps label.
"I went to see the Hessle guys at Fabric and I'm pretty sure I heard the first 5 DJs in the first room play "Stacks Riddim" – that was pretty crazy"
Despite this intent, Bake admits that the record label feasibly wouldn't have happened if there wasn't a network of experienced people to look to for guidance and advice; he credits the encouragement shown by the Numbers crew, calling them "the guys from my generation who really pushed Glasgow out there," but it was Rubadub who were integral in establishing the All Caps record label. By the time they were in possession of the Coulton tracks, Ryan Martin had been working at the Howard St record shop for a year, and being able to approach the elder statesmen of Rubadub for assistance proved invaluable, as Bake explains: "I'm really grateful they took a chance with us because if it wasn't for them, I'm not sure if we would have had the opportunity to put records out – we were pretty young and pretty skint."
Running a new record label has presented a steep learning curve for the trio despite All Caps only having released a pair of releases to date; the current generation of music consumers are perhaps a bit naive to various processes that go into releasing a record. Browse the gazillion YouTube rips that cull unreleased material from online radio, and you'll see eager comments demanding the release of big tracks, but there are inevitably certain hold ups; the second All Caps release, Stacks Riddim by Atlanta-based producer Helix, is a case in point. Released in May last year, both tracks from the 12" had been floating in the ephemera of the internet for nearly a year by this point, and Bake states that "a bunch of hold ups were key to the reasoning for why it came out so late, I think it was finding suitable artwork to go along with the music. It definitely didn't seem like a year to me though."
Despite these delays, Bake seems hugely proud of the record and the support it got from his peers, citing the record as justification for their decision to start the label, "we had all this stuff that we didn't think was getting enough shine in the industry and the kind of records coming out at that time – especially the Helix record." It began out of Helix – "the internet phenom" – sending Bake tracks through AIM after being introduced by mutual acquaintance Bandshell. Shortly after the Alex Coulton 12" had been released, Helix sent through "Stacks Riddim", a production which stopped Bake in his tracks, as he explains: "I was like 'what? This can't be real' – it probably took me a good while to get my head around." Not yet at a point where he was regularly DJing himself yet, Bake still managed to ensure "Stacks Riddim" reached a wider audience, sending the track to the Hessle Audio crew, Pariah and Blawan. A trip to London one night demonstrated to Bake how potentially successful the Helix record could be: "I went to see the Hessle guys at Fabric and I'm pretty sure I heard the first 5 DJs in the first room play it – that was pretty crazy"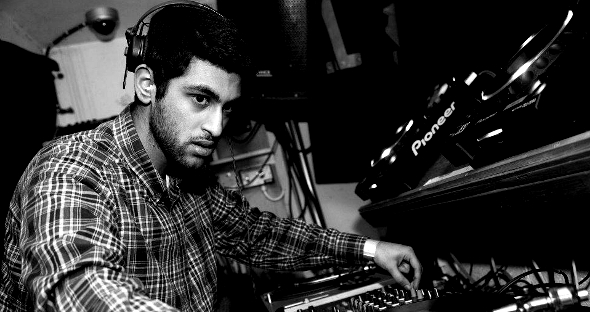 The next All Caps release comes from Kowton and is the end product of the Bristol based producer and Bake speaking over a long period of time, commencing in Christmas 2011 when the latter was laid up ill in bed. "I'm not too sure how our paths crossed, I think it was a mutual friend putting us in touch, but the stuff he sent through definitely brightened up the prospect of spending 3 weeks in bed", he
amusingly comments. Though this dialogue had been established, it wasn't until the pair met when Bake was invited to play back to back with Blawan at Bristol club Motion for the Idle Hands label last April that the idea of a Kowton release on All Caps started to gain momentum. The tracks Kowton sent Bake had the clear grime influence of "Des Bisous" or "More Games", but still didn't feel right for All Caps, and just when it seemed like the notion of artist and label working together might not pan out, a YouTube video of a grime classic changed it all.
"All our discussions back and forth and the material that came along with it was really strong, I didn't dislike any of the tracks, but there was something missing, I think it was the finding that momentum between the grime and techno elements. The track itself is based on 'Raw 2 Da Core' by Ruff Sqwad."
From this, Kowton was inspired to make "TFB", a rough and rugged production representing the perfect marriage of All Caps' dual love for grime and techno. Mindful that the track was so strong, Bake and his All Caps partners chose to break with tradition and look for people to remix the track, with the initial plan to include both a Karenn remix and one from DJ Stingray and Anthony Shake Shakir. Pulled out of the meditative reverie the interviewer sometimes falls into by this latter fact, I enquire how a 21 year old from Glasgow might have got into the position to commission a remix from two of Detroit's elder statesmen.
"Ever since I really started to understand and like all this music coming out of Detroit, Shake and Stingray were two artists I'd always come back to. I'm not too sure how I really got in touch with them, but for some reason, they are really easy to get in touch with via Facebook chat. After speaking to them for a while and finding out they were interested in working together, it seemed like a logical choice to try making it happen, but sadly things didn't work out this time due to deadlines – hopefully something comes of it in the future."
It's a shame that impending deadlines meant the curious possibility of the sonic cultures of four musically important cities such as Bristol, London, Detroit and Glasgow colliding on one record never occured. However, such intentions do demonstrate that All Caps aren't happy to be just another label putting out records that remain hot for a good minute before peoples attentions wander to the next thing. Throughout the time we speak, Bake mentions numerous times the idea of "joining the musical dots" across the slightly intimidating chasm of music that already exists, a notion this writer has palpably felt several times before.
It's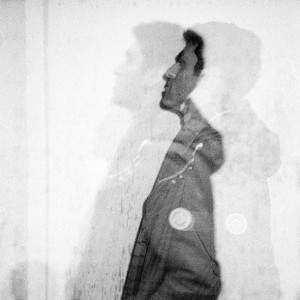 something Bake expresses when I ask if there's any tracks he's passed on for All Caps whose subsequent success elsewhere has caused him regret. Pausing to think it over, his Glaswegian brogue draws out a "Naw, not really", before stating: "It's more stuff from way back in the day that came out when I was like two or something that I wish I could release now – that stuff is untouchable."
This idea of mining the past is something that's evident in what All Caps have planned for the immediate future, with the label's next release consisting of "techno recovered from the depths of the 90s" from a Cardiff-based producer called Guy Evans. As Bake explains, "I was just looking around Soundcloud one day and somehow came across his page. I didn't really know what to expect as he had so much material available, but he has this unique way of labelling them and everything claimed to be made around the mid to late 90s. After getting in touch with him he sent me over 2gb of tracks and all of it was killer."
Though all you can hear so far from the forthcoming release is a minute's worth of hissing, smudged audio on the All Caps Soundcloud, there's a veritable trove of material from the same period on Evans' personal account that demonstrates how canny Bake was to approach him. The switch in focus from widely hyped young producers to an older, relative unknown whose music never got the audience it deserved genuinely seems to excite Bake; more so when any initial reservations that other people might not like this music as much as he did were dispelled once he'd asked his peers at Rubadub for their opinion.
Bake takes up the story: "I sent over the Guy Evans tracks to Richard at Rubadub and when we next met up he let me know that it's not often you hear (shop founder) Marty turn around and be like "what is this?". I think he was trying to put across that if Marty was feeling it, the music was doing something right"
It's through the label, the radio show and his DJing that Bake has established real life friendships with the likes of Karenn and the Hessle Audio crew, and Ben UFO in particular seems like an inspiration to Bake: "It's no surprise that I look up to Ben hugely, he's really paved the way for DJs being able to play a broad range of different music, from strange to functional, and still draw a huge following. It's very encouraging for aspiring DJs. He's a good guy." Bake's own DJ status seems on the precipice of being considered established as opposed to aspirational; he's just signed to a booking agency for the first time, been invited to submit a mix for a widely respected podcast series, and All Caps have joined an impressive line-up for the Numbers curated festival Pleasure Principle later this month. "I still can't believe I've been able to do what I've done so far. I'm very grateful." As he succinctly puts it, "it's a dream come true."
Yet Bake still places a huge emphasis on ensuring that the radio show remains the foundation of All Caps: "utilizing radio and all the aspects of it is something I'm really looking forward to concentrating on this year – it's something I've put a lot of thought into, just gotta put it into motion."
Interview by Tony Poland  
Bake and All Caps play the Pleasure Principle Festival in Cornwall on April 26-28 with Omar S, The Trilogy Tapes, LIES and more – full details here