Five Records: Paul Woolford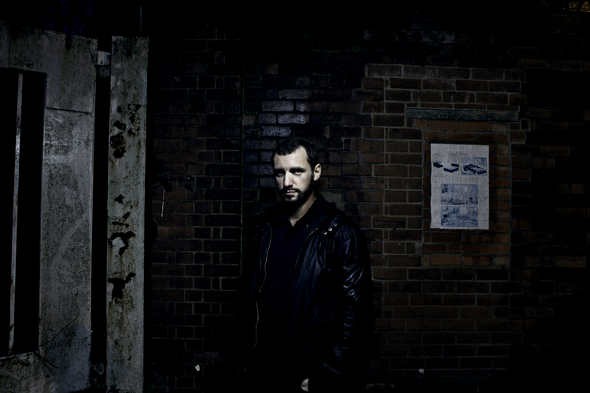 The latest edition of our Five Records feature offers some truly illuminating insight into Paul Woolford's musical tastes. The Leeds native is one of those names in house and techno whose output and achievements since his emergence render the need for a few introductory paragraphs somewhat null and void.
Although his career has spanned over a decade, and he has released on labels such as Planet E, 20:20 Vision and Hotflush, Woolford's current creative focus is the Special Request project, a gnarly concoction of classic rave breaks and booming basslines, which has to date manifested in several twelve inches and the odd remix. Currently working on completing the long awaited Special Request album, we invited Paul to dig through his collection for five records that resonate deeply with him, and the results speak volumes about his musical upbringing. Classic hip-hop from the late eighties sits next to under-appreciated UK techno, raw Chicago house and various strains of UK jungle. The subsequent depth of discussion for each record fully conveys how much the music itself means to Woolford, as well as offering some insight into what's on the horizon.
1. Neuropolitique "Artemis" (Applied Rhythmic Technology)
So why did you choose this track Paul?
Two reasons; First of all the track itself is stunning. The emotional content in this is pure techno – it's the absolute antithesis of the austere, blank-faced one-dimensional idea of techno that some people have. I feel that records with these components will always outlast the bland, more conservative things because they have so much depth, there's more to get lost in. My connection to this record is to do with those chords – I cannot articulate the mixture of emotions that I feel from them, so the power of the record is stronger. There is an ambiguity held within the walls of drums and the layers of chords that makes this record a true classic.
Secondly, Matt Cogger is a real unsung hero.
He went to Detroit and ended up engineering for Derrick May and assisting in his studio, he worked with Marty Bonds (Reel By Real), Anthony "Shake" Shakir, and he met Kirk Degiorgio in Detroit at Derrick's place when Kirk was over to buy records for Reckless in London. These records and these relationships have shaped techno music and yet so few are aware of this stuff. His catalogue deserves a re-release from somebody like Rush Hour or Clone as I think it warrants new focus.
He recorded for the peerless Irdial Discs label, he had material out on Peacefrog, Beechwood music did a collection of tracks called Nomenclature in 1996 that I'm listening to right now, 24 tracks. Kirk Degiorgio is another guy that should get way more credit than he does. A very knowledgeable talented artist, a super-skilled engineer – these people have shaped the world of techno as much as the Detroit guys and I think they should get more recognition.
What's most impressive about "Artemis" for me is how deeply next level it still sounds some 23 years on! We both must listen to a lot of what passes for contemporary techno and to these ears it all sounds very linear in comparison…
I think there are very few that are actually willing and capable of creating these kind of emotions and putting it out there – but I'll say that Laurel Halo cracked it on the track 'Hour Logic' – that is a modern track with a similar level of emotional investment in. I think the roughness of the production of 'Artemis' also ensures that this brooding, melancholic atmosphere is not washed over with too many other elements. Once things become laboured, the original intent can easily be lost and then you have the obsession of engineering – at this junction the heart can disappear from a track and all the ear hears is programming. To walk that line and stop before that point appears is the art.
Forgetting about techno for a moment – you could also draw a parallel with what Zomby does on some of his material, the emotional layers are there, but he stops before the main point of the track is lost. You are left with the sensations. I should also point out here that you can still get the emotions from a drum track if it is inventive enough, if there is enough of the person in, although that's a harder trick to pull off. One of the hardest. The greatest techno records have always been slightly rough, never over-produced.
Do you play it in your current sets? How does it sound up against contemporary releases?
I very occasionally close with it, only when there's no other record to sum it all up, the last time was about a year ago, but I always carry it with me. You need to keep a record like this back for the rare perfect moments that occur every now and then.
I imagine it holds quite some power over a dancefloor at the right moment?
It's a record that makes so much sense at that point where people are not talking anymore, they are either yelling at the end or are just a mass of smiles and sweaty bodies… the end of the night morass, the confusion is where records like this thrive.
Matt Cogger's story seems like one of the weirdest to come out of the Detroit techno explosion, leaving his South London home to work at Transmat with Derrick May, have you crossed paths with him on your travels?
We have never met but he did all the trailblazing. With every record I acquired over the years I felt more connected to the music, especially the Detroit stuff. The Irdial release 'Mind You Don't Trip' always reminds me of Detroit, even though I don't think it was one of the tracks he wrote there. But 'Artemis' is the one that takes the crown. Big respect to Matt Cogger. I know he's been quite ill lately and I wish him a swift return to good health.
(Here's a link to a story about a road trip he made to Chicago with Mike Clarke, Derrick and Art Payne )
I believe he's a tour manager to the pop stars now as well?
That's right, he worked for Madness, Robbie Williams and beyond – he's certainly experienced life.
2. Ultramagnetic MCs – "A Chorus Line" (Next Plateau Records)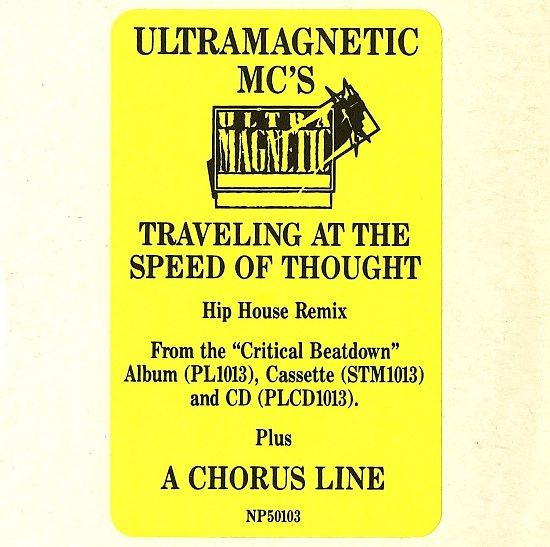 I fell into a Ultramagnetic MCs YouTube vortex whilst doing some research on this and I guess you could have chosen any number of tracks, but why this one in particular?
It's the one I love the most, it really hits me in the gut.
Set the scene for where you first heard this?
I heard this on a recording of Tim Westwood's Capital rap show that my junior school friend James Mitchell sent me on a cassette when he moved to London – that was when we were both 10 years old which sounds absurd. It's hard to articulate the excitement of listening to that tape now, but obviously when you are that age you absorb music differently, you swallow it whole and sometimes you don't realise how much it's a part of you until years later. Also on that tape were Chill Rob G's "Court Is Now On Session" and Public Enemy's "Night Of The Living Baseheads" – each of these hit me like a slap around the face. Gritty energy, very inventive production and excellent lyrical content. Three of the best hip-hop records ever made.
A lot of how I relate to hip hop music comes from not only the lyrics but the way the words fall across the rhythm, so even if you don't quite grasp what the MC is saying, the intonation can be what you connect to. At that age, I found it tough to decipher some of these lyrics – so much slang went completely over my head. You are looking through the window of culture into a world 6000 miles away. Around this time I remember catching the footage of Public Enemy at Hammersmith Apollo on BBC2 and getting goosebumps, it was insane. So much energy. I then saw films like Breakdance and Beatstreet.
I was knocking around with a kid called Nick Hart and we would hang out at his house and his older brother had all the Streetsounds Electro albums so we'd copy them tape by tape, and the years were going by and although I didn't actually know it, I was joining the dots. Those albums changed everything and of course on one of them is "Techno City" by Juan Atkins and Rick Davies, and that sounded really freaky. It wasn't the go-to track on that tape for the moment, but it got under my skin the most eventually. I remember thinking that it made me picture a city somewhere in the US, but at dawn – skyscrapers, empty streets. Still does actually. It's mad how music instantly creates a picture sometimes. I can't imagine this conversation if that compilation album had been sequenced differently, if Cybotron weren't on there would we be talking now? That's a mad thought. The lines and points of intersections between what became techno music and hip hop at that moment in time were because of those albums, for me and for so many others.
They were one of the first hip hop groups that realised the sample goldmine that was James Brown right?
Well everyone was sampling James Brown, literally everyone, every genre, whatever. I have acid records that I bought years later that were recorded around this time that are just a 909, 303 and James all over the shop. "Dog Dance" by KA Posse (K.Alexi Shelby), and about six Fast Eddie and Tyree Cooper tracks just pure James-ing their nuts off. There was that many, even James Brown himself ended up putting out megamix edit records cashing in on the trend ("The Payback Mix"). With a catalogue like that it's no surprise, the sheer volume of funk in those records is wild.
Ultramagnetics and many others were also ripping Fred Wesley and JB's to shreds at this time, but this beat is from James 'Can I Get Some Help' and a massive part of the character is not from the record, it's from the way the EMU SP1200 sampler sounds. It has such a low bit-rate that it adds this layer of crust to anything it sampled that gives so much weight to the beats. Low-res power. One of the cornerstones of hip-hop production, along with the Akai MPC of course – but the EMU sounded so raw, the original beat box. Entire albums were made on 2 of these machines, look at what Hank Shocklee was doing with the Bombsquad on those Public Enemy records, fucking wild…
That beat, sampled here, subsequently went on to be sampled a thousand times from this record and used left, right & centre in hardcore/jungle. Notably in Nebula II's track on Reinforced, "Anathema" – which pitches it up endlessly into an intense cacophony of noise, and also Acen's "Trip To The Moon Part 2". It's one of my favourite breaks, although in the Ultramagnetic context, rather than James' original.
Those grunts are well known these days but they must have "what the fuck are those" the first time round?
For sure, and especially as a kid – you're really questioning "is that really there?!" – you don't know what it means at all. Adolescence is such a confusing time.
From our exchanges it seems like Kool Keith is a personal favourite of yours?
He's the most inventive and creative MC for my money – listen to his records across so many aliases and you'll still be chewing over what he said 30 seconds previously whilst he's fired another 6 disses out. I can listen to him for ages without getting bored, which is one of my personal things with any MC, they have to keep the attention. If you can keep laying it down lyrically with a really inventive backing track then I'm hooked. There are talented MCs that bore you after 10 seconds never mind an entire album.
Have you made your way through his full 50 alias discography?
Honourable mentions go to Dr Dooom and Octagon, but there are not enough hours in the day – 50 aliases – he's probably done 2 more whilst we've been talking….
Do you still keep up with hip hop? For me it's something I was into during my formative years and still have plenty of classic albums that I can return to but current stuff just doesn't hold any appeal
Madlib is a producer that comes up with the goods, those Medicine Show releases are worth investigating but beyond that I don't have enough time to dig. I'm sure there will be more but it takes time to find. On the surface I don't see people like Cheef Keef and Lil Reese as being interesting at all, either musically or lyrically or even in terms of their flow, it just bores me. Occasionally I can look beyond the uninventiveness if there's an entertaining angle, sometimes Gucci Mane can be funny, but I have to say I connect to hip hop in a stronger way when the production is on the raw side and keeps that funk influence – I'm more interested in what Premier released than someone like Swizz Beatz.
It is no coincidence that hip hop music changed monumentally when producers realised they could have all the publishing if they didn't sample – there was a tidal wave of complete tripe, and then you had of course the incredibly talented Neptunes riding over the top of this wave due to their musical chops being up there, and they had an amazing run. Incredible records that combined the edges of hip hop with pop and they changed the story again on a commercial level. I go in cycles with hip hop, I will just listen to one producer obsessively for weeks on end and then switch, and strangely it's seasonal – I seem to listen to more of it around the end of each year, bizarre.
What is you favourite Madlib stuff beyond the Medicine shows? For me it's still the first Quasimoto album The Unseen – that's real unadulterated genius that I could get lost in and some of the sampling is inspired.
Yeah The Unseen is quality, and I liked Further Adventures… but he's another guy with so many pseudonyms, it's another foxhole to fall down.
3. The Rood Project "Thunder" (Whitehouse)
OK, this is where the jungle influence on Special Request comes from?  You've previously talked about getting exposed to jungle via pirate radio – is this where you first heard "Thunder"?
My contact with jungle music started with pirate radio and in particular a guy named DJ Shock who is still broadcasting in the Leeds area. He has basically devoted his entire life to this, community service essentially. How ironic that you can get arrested for pirate broadcasting and sentenced to community service, and yet that is EXACTLY what you've been doing on the radio itself? He had played from the tougher techno sound, right through hardcore and into jungle and it seemed like this was his music of choice, and I was exposed to so much from the work he did on various stations.
This is one of my favourite jungle records, and although it would be easy to lump it into the so-called 'liquid' sound, I don't feel it like that. To me it sounds like pure ecstasy-fuelled melancholic energy. There is a stark division between this heady kind of vibe and that semi-coffee table bleached-out sound, where the energy started to dissipate and the music was basically co-opted by brand advertising and ended up being musical wallpaper. This is completely sensory and it's how this music should be – no concession to anything other than the feeling of the track itself, and it's strong. Stacks of emotion again, as with the Neuropolitique track, but in a completely different way.
Was there a big drum and bass scene in Leeds when you were growing up?
There were a couple of events, but not really a scene, and usually those had Shock involved somewhere. I actually remember going to one at the Gallery in Leeds where he had Swift and Zinc play, and this was after he'd had them on his show, and it was strictly tearing amens, subs, the standard basics of this thing. Then of course Metalheadz started and that's where it started to come of age and take on truly futuristic qualities. You've got to keep in mind that to someone who was pretty introverted, these qualities within music are just the heaviest bits of inspiration. I spent years overloading on sci-fi culture as a child and reading about space and all these sorts of things, and then suddenly you are listening to music that sounds like it's from fucking Mars. The power of that is just insane. I went to see Kemistry & Storm in Leeds with an old friend who used to play on Dream FM and we were both just blown away with it. Aside from the odd event Leeds did not really have a jungle scene as such, that came later. We did have L Double though, who used to be in Unique 3 and who did that incredible Asylum track on Metalheadz "The Bass 2 Dark" …another stone cold classic.
Much like the house and techno tracks before, there's such an alien quality to "Thunder" that must have drawn you right in the first time you heard it?
Oh completely, it has that melancholic glow that it's hard to get – you never hear that in records now, and I think half of it was the limitations of technology combined with what people were sampling, but this kind of soulful "quiet storm" vibe, as Simon Reynolds called it, is so rare. This music is another branch of soul music – it's no coincidence that so many producers were sampling UK street soul records – Loose Ends, The Family Stand, Tongue N' Cheek or whatever – all of it is in order to get that sensory experience. Of course this makes so much sense when you are on ecstasy and that feeling of coming down from it the next day and having records that make even more sense in this state is well documented elsewhere. "Thunder" just gives me the goosebumps.
I love that it came with a warning that the sub bass could destroy your speakers – any experience of this yourself?
No, but you'd always hear people telling these kind of stories, or read about them. It became a selling point earlier when LFO came out, you'd read interviews in Record Mirror or Echoes or wherever and someone would always be saying "yeah we blew the studio's monitors with this one" as though that was something to be proud of – yeah, nice one lads. The stickers about sub-bass damage worked in a similar way those Parental Advisory things where they start out as some kind of pure intention before becoming inverted and rapidly becoming a marketing thing.
4. Risque 3 "Essence Of A Dream" (Stride Records Inc)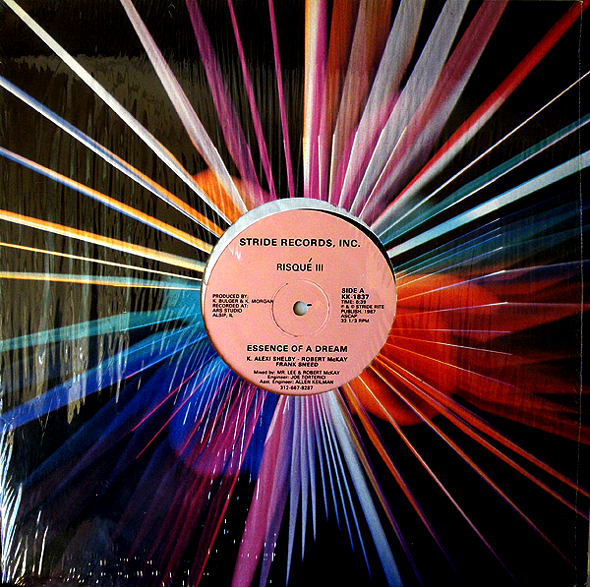 OK this is from 1987, but as you were listening to hip hop then I'm guessing you discovered it later?
It must have been 89-90 when I heard this, I had stumbled across the Jack Trax series of albums, purely because I was buying music from paper round money and I could get way more music for £10 rather than the £3.99 that 12″ singles cost. I was listening to Radio Aire in Leeds and there was a guy called Sheldon Lazarus that read out James Hamilton's column from Record Mirror basically on this Saturday soul show (although he just called it the Soul News) – I found out his source accidentally from buying the magazine, and from there I was hearing and reading about names like Mr Lee, Larry Heard, Rocky Jones, Harry Dennis, and so on.
This was the entry point, and then buying the Jack Trax series of compilations sealed the deal. I got number four first which was a double LP, and had Risque 3's "Risque Madness" on it amongst a mixed bag of house and some Detroit records like 'Strings' and Juan's "Off To Battle". "Risque Madness" showed me how nuts acid house really could be, and that artist name stuck in my mind. When I bought album three from Jumbo Records in Leeds and took it home, hearing this was just insane.
Was this one of the tracks where house music made sense for you?
Not so much made sense, as sounded completely out there. Take a listen to this now and I guarantee it sounds like nothing else. It's completely sleazy, quite narcotic sounding, and yet still subtle, and musical at the same time. It sounded intimidating as much as inviting, and I was still young, 12-13 years old – again I couldn't grasp a lot of these vocals, but I knew that I liked it and I didn't realise how much this record got under my skin until years later. Remember that the best house records do sound out-there. They are not the ones that are like fucking wallpaper. House music is absolutely more over-saturated than ever today, but you know if you make something with a fraction of this emotion in it will stand head and shoulders above the rabble, because that rarely happens.
This is Chicago house at its rawest, most unrefined and erotic – you spoke previously about classic techno being a bit under produced and the same must be said of house right?
Oh completely – that's not to say I don't appreciate beautiful production work from time to time because there is a place for that, but let's face it, house music has been co-opted by bullshitters, marketeers and the mediocre more-so than most other genres due to its simplicity, and yet it's actually one of the hardest genres to get right. It's easy to make mediocre beige house – it's fucking everywhere, we are overrun with it, but I always know if a new house record has got me because it makes me want to get in the studio.
How do you achieve that roughness with today's advanced tools?
Well you can approach it from two directions, you can put the veneer of filth onto things if you work in the box, or you can use hardware and by-pass that from the start. There are different things for different jobs, but the simple fact is that the more limited you are the more you have to push your imagination. In terms of my personal preference, I would rather hear a great idea realised quite roughly, than no idea produced beautifully…
You mentioned K Alexi Shelby previously in our discussion, are you one of those music fans that get obsessed with an artist off one track and dives right into their discography?
Absolutely – numerous foxholes on a weekly basis, but sometimes I can go through a career and miss things, and other times you completely connect with everything, so something needs to be said here about mood, context and time. Sometimes you are just not ready to get your head around some artists, with other people you can get it immediately – almost like it's a part of you as well which is why you connect, but time changes everything. You don't live your life in record shopping chronologically, you live it according to when you discover things and that is at the mercy of so many factors.
A good example of hearing things in reverse is that I finally got a copy of My Medusa, K Alexi Shelby's Transmat release about 5 years ago – it still throws me all over the shop when I'm mixing it in, you have to ride the pitch like a bucking bronco but you get there eventually. It's a key record in techno and especially for anyone that's into that whole minimal thing, but I just didn't get around to feeling it until then. If I hear his name I always think immediately of "Essence..", and I always will.
5. Dillinja "The Angels Fell" (Metalheadz)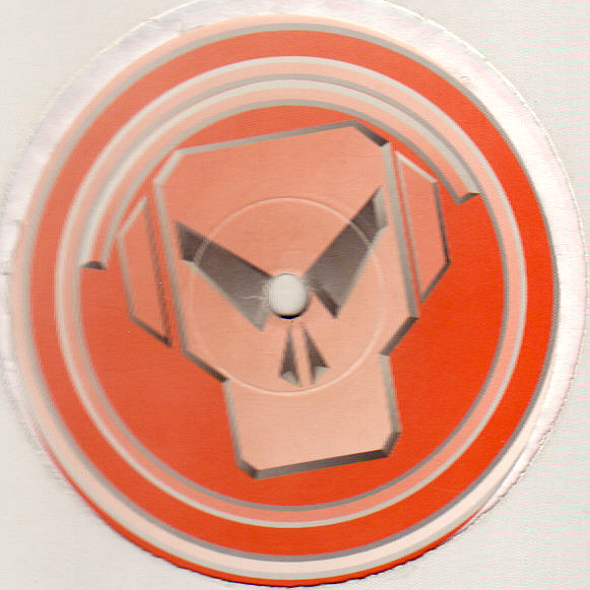 You mentioned previously Metalheadz is where drum & bass took on futuristic qualities, so I guess this is what you were talking about?
This is simply one of the best records ever made – irrespective of if you are into this sound or not, there is a peculiar balance struck in this record that marks it out. There is so much space in it – the samples from Vangelis' Blade Runner soundtrack that are subsequently pitched down, the tiny string note looped, some pretty standard-procedure apache & sub notes, and then….  THAT vocal sample of Rutger Hauer's portrayal of the Roy Batty android character in the film.. note the quotation is of key importance to the film because he says "the angels fell" and NOT "the angels rose" which is actually what William Blake wrote in his work "America: A Prophecy". And then the Amen beats circle in and lay waste to the rest…
Note how Karl clips and filters the amen breaks also, he keeps the space in the track even when it is at full-pelt. This creates a careful balance that is untypical of both genre and artist. In spirit this is almost a techno record – it is as futuristic as any of Derrick May's tracks, but with a completely different method.
Were you introduced to this by DJ Shock too?
No – Shock was playing more of the jump-up stuff, which I also like for different moments, but I didn't hear him go to this kind of level. What put me on to Metalheadz was buying the old dance music magazine Generator, and Goldie was on the front cover – I had bought the Angel 12″ on Synthetic Hardcore Phonography but I knew nothing of who he was. After reading that I started to fill in the blanks, but that 12″ was totally different to everything else out there – "You & Me" I could talk about for days as well, just so fucking out there with the almost jazz piano intro and the key changes, and THEN the hardcore drop…
So Goldie started the label and I went and bought this 12″ along with Wax Doctor's "Kid Caprice" on the same day – and I remember getting off the bus and walking to my house and just kept taking them out of the plastic bag to look at the labels again and again. When I got them home, they sounded so fucking futuristic. And as I mentioned before, when you are already really into sci-fi and films like Blade Runner and then someone scoops up the essence of it and puts it right inside a record like this, well then it's game over.
Again there's a melancholic edge that perhaps from my own (admittedly limited) knowledge of Dillinja I'm quite surprised by.
He touched similar heights on "Silver Blade" which also has this very intense melancholic vibe within it, but he had such a golden run though – things like "Friday" and "Acid Track" are just all-time hall of fame classics. In terms of this atmosphere, this and "Silver Blade" are the ones for my taste.
My abiding memory of Dillinja stems from a Jockey Slut feature on Valve Recordings which had him and Lemon D sitting on this sound system they used for their parties which looked about 15 feet high – did you attend any of their nights?
I've been to a couple – the last time was about 3 years ago, my friend Mark had booked them in Leeds at the University and it was just carnage. The low-end frequencies that they get from that system are just outrageous. To devote so much time & money to creating that system shows the level of involvement and it's so far removed from the lives of many – kudos to them for investing back into the music in such a way. I would still love to hear Dillinja forget about the current D&B market and just create work completely for it's own sake, his skills are so sharp.
I know you incorporate elements of drum & bass into Special Request but did you ever attempt it outright? Rhythmically it seems like a whole lot of fun to make.
Well the first track I ever made with Tony Senghore was a drum & bass thing, the second thing we did ended up being the first thing I released when I was 21, so you could say there is some unfinished business. I jumped back into it two years ago and started doing tracks in this area again, but I wanted to crack it properly and be able to fire out pretty fierce rollers as well as the atom-smashing breakbeat stuff, so I studied it in finite detail. I didn't want to do it in a way where I could be accused of being a dilettante. Chopping up drums and all the rest of it is easy, but making them roll and scatter so that you can have an entire 64 notes of different drum loops that will work fluidly is an entirely different question.
You would think that it took a big revelation or reading something to crack the code but I just realised this one simple rule I needed to adhere to one day, and since then I've been knocking stacks of them together. Of course the first few things you do are very standard, you are exorcising demons, and then once they are out of the way you can get to the proper creation and you realise what you are trying to summon.
What I'm doing now is making the tracks and then using an FM transmitter to broadcast them back, and then tuning into the signal with an old Rotel FM tuner so that I can alter how the strength of the signal is received, and then actually sampling this going in and out of range thing in itself and re-incorporating it into the track. This in itself is steering me down avenues that I would not have explored previously, and I'm at the stage where I have created a track with this in mind, sampled it back with all sorts of treatments and then actually sacked off the track itself and switched over to purely working with the samples of the track. It's almost an implanted false memory. There's a particular kind of compression that occurs through the FM process and this has it's own hazy effect. All of this has been during album sessions for Special Request.
Interview by Tony Poland
Header image courtesy of Shaun Bloodworth