Native Instruments – Kontrol Z2 review
We cast our eyes over Native Instruments' latest piece of Traktor compatible hardware, the Kontrol Z2 mixer.
Native Instruments' Traktor software is one of the industry's leading pieces of DJ software, with features that include up to four decks, built-in sound FX, looping functionality, hot cues, and, most recently, a set of remix decks that allow you to further tailor your DJ sets on the fly. There are already numerous controllers from the company made for Traktor; at the lower end are the Kontrol X1 which allows tactile control over the looping, cue and FX and the more recent F1 unit which has been designed to ease the use of Traktor's remix decks. At the higher end are the S2 and S4 units that incorporate jog wheels and a mixer allowing a DJ to integrate analogue vinyl decks and CD players into a tidy digital set up. However, these units lend themselves more towards the purely digital DJ, something that Native Instruments hope to rectify with the Z2.
For all intents and purposes the Kontrol Z2 is a two channel mixer with two further channels for Traktor's remix decks, with integrated control over looping and cue points, as well as all new macro FX. Like the S2 and S4, the Z2 allows a laptop to be plugged in directly without the need for an additional soundcard, but usefully also doubles as a USB hub with a further two ports on the back, meaning other controllers can be plugged in without the necessity for a separate hub.
The familiar layout is that of a simple two channel mixer including a source select switch, gain, three band EQ knobs, a filter knob with simple digital display for visual feedback on loop length and finally, toggles for both FX channels. The faders themselves are comfortable Innofaders that feel of similarly high quality to those found on similar mixers from Rane, Denon and Pioneer. The central panel features browse and load controls for each deck with headphone cue assign buttons, gain and mix assign knobs, all topped off with sync and quantise controls. There is also a seven segment meter to further aid your gain map as you balance your mixes, underlined by a crossfader with an adjustable curve.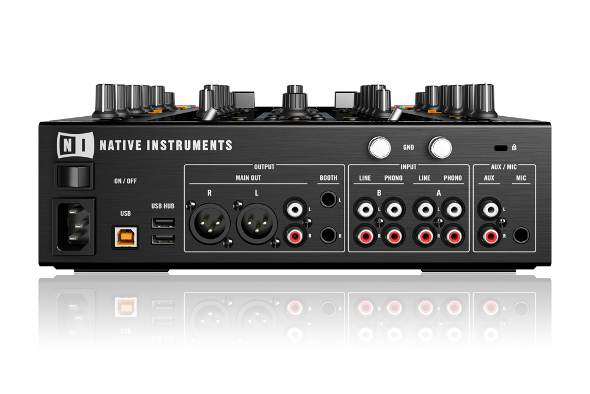 These more standard mixer features are flanked by the controls for the digital elements, with bi-directional backlit cue trigger buttons, flux button, loop encoder and FX control knobs on each side. The flux feature allows you to move cue points, loops and re-edit your music live whilst the original track plays on silently, leaving you able to throw the original track back into the mix at just the right point.
The top left side features control for either a microphone (which can be plugged in using ¼" TRS jack around the back) or an auxiliary unit, facilitated by stereo RCA type phono ports, while the opposing right top side gives you a master and booth volume knob. The front side gives you space for ¼" and 1/8" type headphone jacks, a crossfade curve adjust knob and a crossfade reverse switch. Unlike the slightly wider S2 and S4 units, the layout is not only suitable for club style mixing but should provide a more comfortable ride for turntablists and scratch DJs.
However, what sets this unit apart from a simple USB controller is that it functions as a standalone mixer too, toggling between these two modes when the sound source switch is in phono or line configuration. Using this unit like an old analogue mixer is comfortable thanks to its intuitive layout and typically luxuriant knobs and buttons, however, thanks to its dual functionality it's also possible to access Traktor's FX and remix decks whilst playing real vinyl or CD with the use of a shift button. It's a feature that can allow the user to grab loops from the music being played for later reference later and give a set an added cohesive dimension; holding down shift and turning one of the knobs (the filter or EQ control for example) stops the implementation of that control until the button is released, when the music will snap dramatically to the new configuration.
As with all Native Instruments hardware, the Kontrol Z2 works seamlessly with Traktor. However, if you are a lover of vinyl then the Z2 only really serves as a facility to incorporate vinyl into a digital set as the Z2's sound is very top heavy and lacking in the warmth you need to get the most out of the vinyl format. Those using the mixer primarily for digital use however will find that this excess of high frequency is less present when playing digital files in Traktor mode.
Overall the Z2 is an exceptionally well made piece of DJ equipment. The coloured and backlit buttons give you clear feedback in darkened situations, and the layout is simple and intuitive with enough dual level control to be useful without being overly complex. It's nice to see a professionally finished three pin IEC type power design with XLR's for the main outputs and ¼" TRS for the booth outputs, while inputs are all RCA apart from the dynamic mic input which is a single ¼" TRS. All of the faders, buttons, knobs and encoders feel just right and, at the very least, the digital sound is pleasant. Although it performs both functions, the Kontrol Z2 definitely feels more like a mixer than a controller.
However, it's not alone in the market if you're looking for a mixer with Traktor integration. Pioneer's DJMT1 also offers a two channel mixer with browse and transport control for Traktor and further control for loops, cues and FX. The Denon DNX600 is another dual channel mixer with built in FX as well as soundcard technology, and will work as a MIDI mappable USB controller to boot. However, the Traktor integration in the new Z2 is a lot slicker, and if you can overlook its shortcomings as a mixer for physical DJing, its digital credentials are highly compelling.
Rob Lee
Buy from Juno
Specifications:
| | |
| --- | --- |
| Channels | 2 program channels, 2 remix decks |
| Dimensions | 272x388x109 |
| Weight | 5.1 |
| Mix Control | 2 x prog faders, 1 x crossfader. Gain, 3 band eq, filter, fx assign, source select, fx,flux mode, loop, remix deck and cue control per side |
| Inputs | 10 x RCA, 1 x 1/4″ mic |
| Outputs | 2 x XLR, 2 x RCA main outs. 2 x 1/4″TRS booth outs. |
| Connections | USB |
| Featuring | Traktor Scratch Pro 2.5/Timecode vinyl x 2 |
| Power | 3 pin IEC (euro lead) 115-230V |