Adam F5 Active Studio Monitor review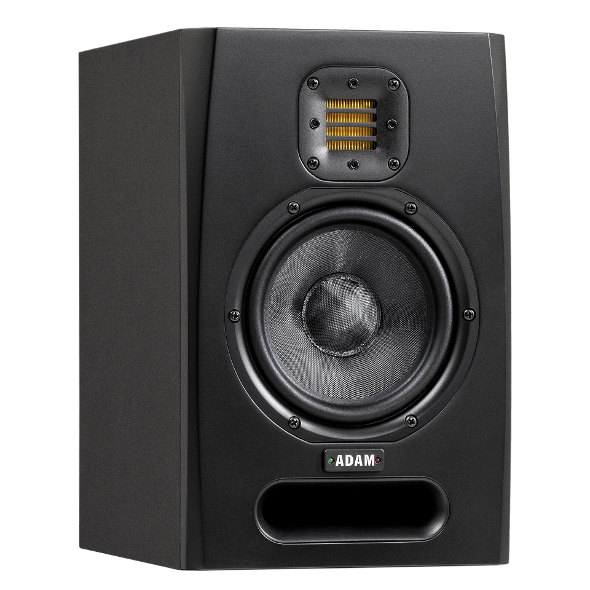 When it comes to high end studio monitors, ADAM have been a clear favourite for a while now. But somehow the high flying sound has eluded those of us on tighter budgets. Isn't it time that ADAM got down and dirty with the rest of us?
ADAM have been hurting the competition with their high class, pristine, studio monitors since Klaus Heinz founded the company in 1999. It comes as no surprise then that the birth of ADAM (Advanced Dynamic Audio Monitoring) was preceded by a long period of preparation and inspiration. Klaus Heinz is a physicist who had already invested decades of hard work into an improved tweeter design, based on the work of Dr. Oskar Heil, using accelerating ribbon technology, or ART for short, which is a design that allows the vibrating air to move more efficiently than conventional tweeters using ADAM's very own air motion transducer (AMT).
They went on to apply this new technology to the mid-range and now with the improved X-ART (extended accelerating ribbon technology) the top end now tips out of their masterfully crafted speakers at a sky cracking 50 kHz, which is well above what the human ear can hear. ADAM make no distinction between professional studio grade monitors and hi-fi speakers designed for home use. Needless to say, ADAM have been championed by audiophiles the world over, now supplying their products in over 45 countries to those that can afford the price tag. But things are about to change. With the introduction of the new F series, ADAM are offering their faithful near field monitoring at a much more affordable price.
It would seem that in their new entry level F series, ADAM have been benevolent enough not to compromise their cutting edge tweeter design, as the same tweeter found in their AX series can be found in the active F series. If there is a compromise in the design of the F5 however, it comes in the materials used to make the midwoofer. The F5 features a 5" midwoofer which is made from carbon and paper and with a 25mm voice coil it delivers deep and relatively tight bass. There is a difference in the crispness of the bottom end if we compare the F5 with the A5 but then again the A5 is made from the more expensive carbon fibre, rohacell and glass fibre materials.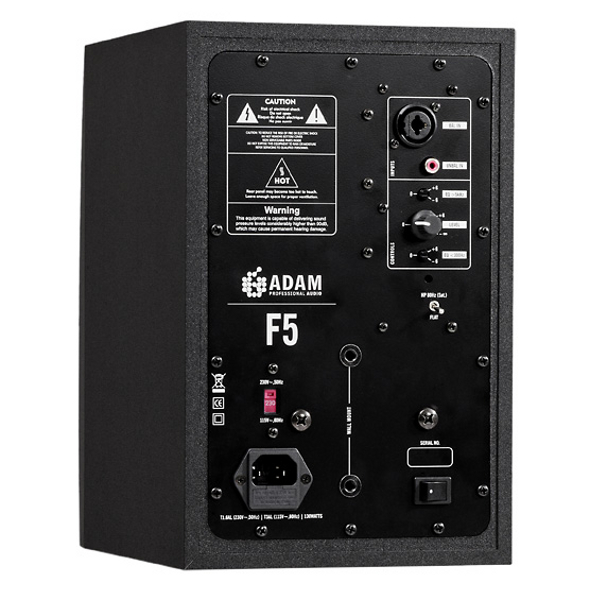 The F series also features a single bass reflex port as opposed to the dual ports featured on other ADAM models. When it comes to control, you have to turn the speaker around to find the power switch and you will find a single volume knob and two frequency controls to tailor the sound to the room you find yourself working in, as well as a low cut switch which is useful if you are using your speakers with the SubF sub-woofer. Other models from ADAM have the volume and power switches on the front of the unit, and reaching around and fumbling for the volume control can be difficult meaning there is a tendency for the two speakers to be set at slightly different volumes, and obviously this is a fairly undesirable quality when so much effort has been put into getting a faithful sound to your ears. However, there are no such complaints with the connections, as you can connect balanced XLR and ¼"TRS via the neutrik combo jack input or unbalanced via the RCA input, along with switchable power and well placed wall mount sockets completing the back panel.
However, although the F series is an ideal choice for the DJ or producer who works in a limited space that needs near field speakers to monitor with improved clarity, ADAM have got some competition in the form of other active studio monitors like the RP6 and RP8 models from KRK. The F5 doesn't have the low end of the RP8 but seems to make up for it with superior mid-range. The HS80 from Yamaha is also a great sounding monitor but it doesn't quite live up to the high specifications laid out by ADAM here. It's generally the case that in a monitor DJs want power and producers want quality and if there is a middle ground then surely that area must be covered by sonic range – something that ADAM have achieved with these speakers, which go down to around 50Hz on the low end and up to a stratus smashing 50kHz on the top.
Having listened to ADAM speakers in a showroom next to other comparable brands, this writer found that there was a big difference in clarity between ADAM and their nearest rivals. Further to this we compared the F5 to the A5, and although the A5 had the edge, we found the difference in definition to be minimal.  If the F5 is slightly too small for your needs, then there is also is the F7, which features a larger 7" woofer, and a SubF monitor allowing you to get your ears around the deep end of your mixes. If you are not satisfied with the monitoring in your current setup, it's well worth giving the new F series from ADAM some consideration.
Rob Lee
Buy from Juno
Specifications:
| | |
| --- | --- |
| Dimensions | 29cms x 18.5cms x 23cms |
| Weight | 6.8 kgs |
| Power | 230v-115v switchable |
| Frequency Response | 52Hz-50kHz |
| Connections | XLR/1/4″TRS (balanced), phono (unbalanced) |
| Controls | Volume, Hi Shelf (+5kHz), Lo Shelf (-300kHz |
| Midwoofer | 5″ glass fibre/paper |
| Tweeter | ART |