Novation – MiniNova review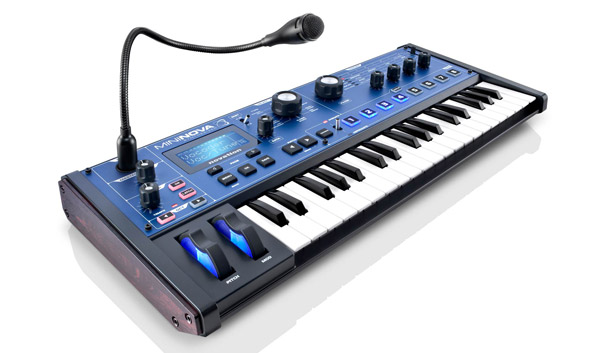 They gave us the SuperNova back in the late 90s and it became a big hit with producers, then they offered us the UltraNova, with its updated sound engine and hands on tactile control. Now, Novation have given us the MiniNova which carries all the weight of its predecessor in a smaller package, with some added surprises.
The UltraNova was introduced two years ago and was built around the sound engine of the 1998 rack-mounted SuperNova, with added extras such as wave table synthesis and an innovative new touch performance mode as well as a software editor, not forgetting the built in vocoder and microphone. Novation have clearly pondered the design of the MiniNova carefully, making sure that this new synth has all the benefits of its older brother, with some nifty improvements thrown in.
After unsheathing the synth from its box, the first thing that strikes you is its size; the MiniNova is a mini synth with a three octave mini keyboard and it's impossible not to compare it in some way to the mini synths from the Korg's microKORG range. They both feature three octave mini keyboards with a microphone for vocoding as well as a pitch bend and modulation wheel, pre-programmed and user patches as well as an arpeggiator, with small mini keys which feature touch sensitivity but not after touch. The first thing you want to do is play, but considering the action of these tiny keys, there is no getting away from the fact that playing this type of mini keyboard is not a pleasing experience. However, in comparison the keys on the MiniNova are far more comfortable than the rather flimsy button-like action found on its competitor.
The face of this mini synth is good enough to look at too. The pitch and mod wheels are back lit with a tasteful blue hue and all of the backlit buttons are perfectly designed for darkened studios, clubs or live stages. It's also surprisingly well laid out and uncluttered for such a small unit and you never feel like you are about to hit the wrong button or tweak the wrong knob.
Novation have clearly pondered the design of the MiniNova carefully, making sure that this new synth has all the benefits of its older brother, with some nifty improvements thrown in.
In fact, the nine knobs are a real improvement on this new machine. Large and stable with just the right amount of resistance, the bigger two found on this unit control the selection of browsing options on one side and the filter cut off on the other, whilst a matrix-type editing table with six types of parameters including amp envelope and filter envelope can be tweaked by four smaller knobs found underneath. The parameter types are selected via a switch to the side and this design seems to work better than scrolling through using a button system.
There are fourteen filter types to choose from and it's possible to implement two at the same time with three LFOs and along with the fourteen classic wave forms as well as 36 wavetables and a further 20 digital waveforms. There are plenty to be getting started with if you are a sound design aficionado, and for those that aren't then there are two banks of 128 pre-set patches to start with and further space for 128 of your own programmes – vastly more than the microKORG. If 256 doesn't quite hit the spot for you then further patches can be downloaded from the Novation website via the sound editing software especially designed for the MiniNova. All you need to do is connect your mini synth to your computer via USB and you can access a different way of programming your synth which allows the saving and recalling of patches; integration is further enhanced by the fact that you can access the editing software via your DAW of choice. If you'd rather stick with editing on the synth itself then you are allowed that option as well by accessing the menus on the LCD display, which this writer finds a slightly tedious operation as there are so many menus to navigate.
The eight step arpeggiator however is a breeze to operate, with eight backlit rubberised pads to help you mute any sixteenth notes to create new and interesting patterns as well as the option to latch and hold your creations. You can adjust the tempo with a dedicated knob, the bpm of which will show in the LCD display. You can further warp your sound using the same eight pads but this time in "Animate" mode. Some of the patches have added performance parameters that can be momentarily implemented using any backlit buttons once you have switched into this unique performance mode, whilst it's also possible to create your own animations for later use.
The vocoder from the UltraNova is also present here along with a brand new vocal tune option that allows you to tune your own vocals. It feels like the idea you might find on an old voice box and although this is a nice addition, some of the patches work better than others and the vocoder itself takes some getting used to. It's been said that to get clear sounds from a vocoder or a voice box takes a bit of practise and this is definitely the case with the MiniNova's effort.
In comparison with the microKORG, the Mininova outdoes its main competitor on many levels. It has a large sound library that is growing all the time. It has a useable vocoder with a mic that ships with the unit. You can edit the synth using either a software editor or the front panel itself. It has MIDI I/O, a pedal sustain port, headphone output, stereo ¼"TRS output as well as an external input so you can warp the sounds of other instruments such as guitars using the MiniNova's filters. The knobs are surprisingly good for a synth in this class and along with its arpeggiator and added performance mode in the shape of the "Animate" mode; this is yet another product that both djs and musicians will find a convenient and powerful tool.
However, despite its undeniable prowess and potential studio and live performance power, there are those that may be put off by the way the MiniNova seems to be positioning itself.  The genre groupings on the large selector knob features genre names such as "rock/pop", R&B/hip-hop" and "dubstep", suggesting the MiniNova is the kind of toy you might end up finding at your local community jumble sale five years later. There will be plenty of beginners who will find no problems with this, but those more serious producers willing to overlook this will find that this mini synth has a lot going for it under the hood.
Rob Lee
Buy from Juno
Specifications:
| | |
| --- | --- |
| Power | USB/9v DC |
| Dimensions | 56cms x 75cms x 25cms |
| Weight | 2.52kgs |
| No. of presets | 256 |
| Keyboard | 3 octave/mini keys with touch sensitivity |
| Polyphony | 18 note polyphony |
| Oscillators | 3 |
| Filters | 14 |
| Inputs |  XLR (dynamic mic), 1 x 1/4″ jack |
| Outputs |  2 x 1/4″ main outs, 1 x 1/4″ headphone outs |
| MIDI |  USB, I/O |
| Controls |  9 x knobs, 8 performance pads, 3 x switches |