Scratching The Surface: Re-record, Not Fade Away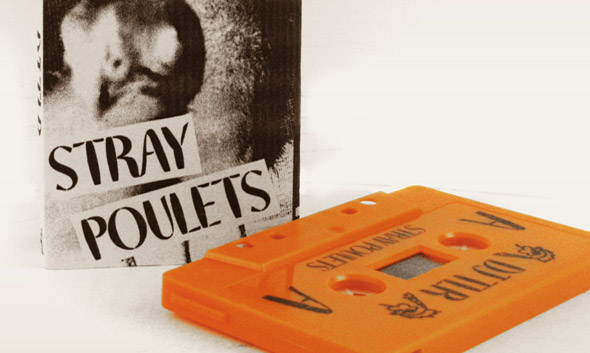 I'm not really a person to make new year's resolutions that I can't keep, but this year I've decided that on those rare weekend mornings when I'm not wishing to scrape the contents of my own alcohol soaked brain out, I'll be listening to music for pleasure. Whether it's the deluge of digital promos, the urge to mix some records together or just using it as a means of blocking out the incessant drone of London life, I find the amount of time I spend properly listening to music greatly reduced. Part of this is undoubtedly the prevalence of MP3s; without a certain physicality listening becomes something we can do anywhere, and not necessarily for the better. As a way of countering that, I've been delving into the murky world of cassettes, taking my chances on whatever has the nicest artwork, or the more enticing description and simply waiting for the delivery of a small plastic box contained in a jiffy bag. Confined to the kitchen where my sole cassette radio player resides, I'm locked into one place for as long as it takes the tape to play.
I'm acutely aware that there has been a thriving underground network of artists and labels disseminating their material through tapes for some time, particularly in the synth and drone scenes. But over the past few months I've found tape releases increasingly crossing over into my current musical interests, turning them from things I read about to things I want to buy. Of course the same tired arguments will be dragged out when discussing limited tape releases – the difficulty of playing them, the supposed elitism – but the fact is that more effort goes into the average tape release than the average download-only collection of half-baked remixes, and if you're willing to put the effort in, you will undoubtedly be rewarded. Besides, if you really wanted to be frustratingly elitist, you'd start a Mini Disc or Betamax label.
Undoubtedly one of the most high profile names in this area is The Trilogy Tapes. Although the label run by designer Will Bankhead started out as a tape label (as its name suggests) its recent success in the vinyl market has taken some of the attention away from its still burgeoning tape discography. It's something of a shame, because these are where Bankhead can truly take the risks, putting out anything from reggae and punk mix tapes to experimental electronics from the likes of Bee Mask and Headboggle. DJ TLR's entry however is one of the more straight up entries, consisting of two 45-minute sides of brilliantly mixed techno, hip-hop, electro and acid. It's name Stray Poulets is presumably a play on "Stray Ballets", the track by underground hip-hop duo Organised Konfusion which opens Side A, though the lack of tracklisting and a limited musical knowledge means that most of it's contents will go unknown by me. I can say it swerves through recent Creme banger "I've Heard It All Before" from The Parking Attendant, as well as JTC's "Beats In Space" and Legowelt's "Elements Of Houz Music". If there's a mix that's nestled somewhere between the kind of party mix you'd find in the glove compartment of a second-hand Vauxhall Nova and a mix of classic house music recorded from pirate radio in 1991, Stray Poulets would be it.
In discussing Madteo's entry into the TTT discography in a recent Hyperspecific column on The Quietus, Rory Gibb said that in terms of its cassette format Marshall McLuhan's phrase "the medium is the message" is quite an apt way to approach it. It's something that's particularly applicable to Gorgon Grime, a mixtape of classic grime compiled by Bristol duo Kahn & Neek and released on the Bristol-based No Corner, whose releases can be found at the excellent Rewind-Forward store. As the pair responsible for the incendiary "Pulse X" homage "Percy", this 40-minute set comprised of tracks taken pirate radio broadcasts is expectedly raucous. My knowledge of proper grime however, is minimal; as such I couldn't hope to assemble a tracklist, but most of the enjoyment is derived from the format and the way the duo use it. In the course of trying to find a tracklisting I came across this thread on Grime Forum, and I was surprised at some of the comments being levelled at Gorgon Grime, from accusations of hipsterism to those suggesting that the duo charging for a compilation is tantamount to stealing money from the original artists. If we're going to talk semantics, then perhaps it is, but the breakneck nature of the mix, which sometimes only plays a few bars before moving on to the next track is more collage than compilation, with tracks that occasionally fizzle with radio static.
As such, cassette couldn't be more appropriate, offering a definite canvas on which to splash their ideas. Listening to it on the knackered cassette radio in my kitchen that has played host to many a South London pirate broadcast in its time felt particularly appropriate, as if I'd wandered onto something illicit between FM frequencies – which I suspect is half the point. Those who think "Percy" was a half-baked rip-off of a classic should listen to this mix, as it's depth demonstrates that Kahn & Neek are certainly no cultural tourists.
That same Bristol outfit who put out the Gorgon Grime tape have been putting out some brilliant stuff  from the city's Young Echo crew, so good it's frustrating that some of it isn't issued on vinyl – particularly El Kid's Labyrinths EP. The Young Echo member released a couple of impressive 12"s on left_blank and Immerse in late 2011, mixing house and techno with considerable abstraction; although much of his music is ostensibly 4/4, his kick drums feel incidental, merely there to hang increasingly experimental textures from. The Labyrinths EP is easily his best material yet. It comes with its own evocative concept, described by the label as recordings "from a skeleton radio crew inside a critically damaged nuclear submarine listing in the deepest Arctic waters".
Throughout the 30-minute four track suite the increasing water pressure is reflected in all manner of crumpling, creaking sound effects, leading to the finality of closer "We Need Mirrors", where an underwater bell tolls with a grim inevitability. As far out as it sounds however, my frustration at its lack of a vinyl pressing comes from this being some of his most danceable stuff to date; "Quixote" in particular obviously owes a considerable debt to Kassem Mosse, but with the creeping plunderphonic textures of Demdike Stare. It may have been intended as a soundtrack for an imaginary narrative, but there's serious dancefloor potential locked within.
Of course no exploration of contemporary tape releases would be complete without the inclusion of one of the scene's recent success stories, Opal Tapes. The burgeoning imprint – profiled on Juno Plus earlier this week by Oli Warwick – have already released a staggering 14 tapes in the past year, ranging through the crusty techno of MCMXCI, the heaving ambient of confrontational, caps-lock abusing Twitter weirdo WANDA GROUP and the lysergic synth work of Portuguese producer IVVVO. The one release that's really caught my attention however is Function Trax Vol 2, a collection of slamming ghetto rhythms from DJ Ford Foster, who remains an enigma to me.
It caught my attention because of how much it reminded the similarly thumping house output of recent L.I.E.S. discovery Delroy Edwards, but if anything, DJ Ford Foster's productions are even more unrelenting. Like the release's name and the track names suggest ("Jack Basics", "Wall Stomp" and "Stings"), these are drum tracks at their most functional. With the rubbery sound of an old Drew Sky record, they're the kind of thing you'd expect to find on a Dance Mania warehouse find, making this tape pretty exhausting thing to listen to. But given its artwork, a confrontational sigil of a black panther, you perhaps feel like it's meant to be exhausting. Jamal Moss once told of how he almost left a demo tape at Trax Records; it's not hard to imagine Function Trax Vol 2 as a similar such artefact, handed to a DJ and left forgotten behind the 1210s of a local dive bar before turning up again in a Chicago thrift store.
In his interview, Opal Tapes boss Stephen Bishop also said that we're currently "in a phase at the moment where techno and house and musical tropisms are just being blown apart by punks essentially". It's a statement that couldn't be more appropriate in the context of the final tape on my list. Antagions is the debut album from Philadephia's V. Hold, and comes released on well-established DIY label Further Records, who have been putting out tapes from heavy-hitters like Lerosa, Aybee and Donato Dozzy since 2009. V. Hold is of a similar pedigree, being one half of Morphine duo Metasplice, who put out what rather belatedly became one of my favourite EPs of last year. Their noisy and atonal techno doesn't just jut out at right angles, it threatens to take your limbs off with its chainsaw-like edges, and this solo effort is no less threatening.
It's also the perfect example of a noisier movement in techno Dave from the defunct mnml ssgs blog talked about in 2011. Using the move from punk to post-punk outlined in Simon Reynolds' seminal Rip It Up And Start Again as a counterpart to the laptop-based dearth of techno ideas in the mid-2000s and the genre's subsequent rengagement with hardware, he describes this current movement of underground techno (which he calls "post-techno") as a return to the genre's "core ideologies", not just ignoring new technology, but rejecting it outright. In the context of these ideas, the name Antagions – which is filled with screaming hardware scuzz – couldn't be more appropriate, an antagonistic suite of tracks that defy your will to dance yet make your body convulse involuntarily anyway. Like recent offerings from Powell, V. Hold's music threshes like a corpse that's been invaded by a demon whose vices are post-punk and industrial music, with rough textures that sound like sinew and bone being ripped apart in an industrial mincer. Even his closest contemporary Container doesn't sound half as troubled.
The piece makes the point that much of the artists it cites as making this new kind of techno – including Container, Vatican Shadow and Mark Lord – have emerged out of the cassette-based synth and drone scenes, bringing the tape with them as a means of distribution, and as an influence on the sound of their new output. However, if the more dance-focused output of Opal Tapes, and the accessible mixes of The Trilogy Tapes and No Corner are anything to go by, we can only expect the kind of music being released on cassette to diversify. An obsolete format the cassette may be, but the music contained within is undoubtedly driving music culture more than may be immediately obvious.
Scott Wilson