Various – Hemlock Recordings Chapter One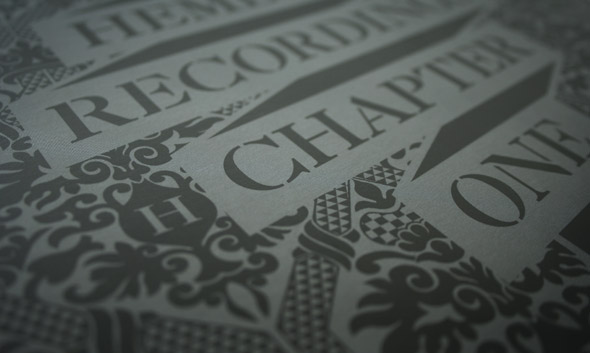 "I hope dubstep continues to be hard to pin down, disobeys its manifesto, gets called stupid names, gatecrashes other scenes, and spikes the punch, elopes, and has lots of children."
Jack Dunning's words from 2009 still resonate today, especially because his prophecy was fulfilled: dubstep has gone through its share of ridicule, having adjectives like "wonky" and "anal-fissure-inducing" applied to it by YouTube commenters and journalists alike. Almost just as cringeworthy was the reactionary attempt to distinguish new variations of dance music from the "d-word", giving way to a bucketload of unsatisfactory descriptions for new trends – greyzone, futurestep, bass music, lovestep, all used up and quickly discarded like a snot-filled tissue by those looking for a quick spike in marketing buzz or self promotion.
But now 2012 is ending, and four years after its formation, Dunning and the Hemlock Records clique are emerging from the fog of  war, not only unscathed, but with a spring in their step and a twinkle in their eyes. Dubstep, or whatever the hell Hemlock Recordings has been releasing for the past four years, has done far more than endure. It's set a standard.
The Chapter One compilation serves not only as a loosely chronological collection of some of the label's landmark moments (the inclusion of James Blake's bewildering remix of "Stop What You're Doing" serves as a good reminder that most of us did stop whatever we were doing the first time we heard the thing), but also as a reminder that this is dance music, the stuff they play in clubs to animate bodies. I'm not sure why this is surprising, it might be my own experience listening to Hemlock releases primarily on headphones, or perhaps something about the studious dissection that their releases are subject to on dubstep message boards across the world that suggests a distance from the sweaty, sometimes inarticulate space of the club. But hearing Dunning weave together an invigoratingly fresh and danceable tapestry from the sounds of his label is a big reminder that, yes, this is much more than music for chin stroking. It's a testament to both Dunning's mixing and the Hemlock catalogue that such conceptually unique and challenging music can sound so raw, immersive and danceable.
Kicking off with Fantastic Mr Fox & Rich Reason's "Plimsoul," the mix begins surging along at a pace that doesn't let up for the next hour – otherworldly choirs and surges of thudding bass bleed efficiently into Mount Kimbie's "Beacon" remix, which employs pan flute so effectively it actually makes you dizzy. Dunning's mixing is clean and concise throughout, focusing just enough on blends to cross smoothly from track to track. It's a wise move to take a backseat and let each track shine through on its own merit – newcomers to the Hemlock catalogue will understandably be floored by the devastating singsongy punch of "Air & Lack Thereof" or the chest rattling thrum of Untold's "Discipline" without any mixing tricks.
Halfway in, Ramadanman's "Tempest" does its best impression of a faulty home security system getting blown apart by baseball bats, and Falty DL presents an original piece of dancefloor paranoia, tense strings and dissonant wind chimes carried along on an industrial techno-influenced percussive thwomp. It leads into Guy Andrew's new contribution to the compilation, which sounds deep, immersive and dangerous, a bassline you could feel running the length of your body on a good system. Hemlock's content has always gravitated to the darker corners of the dance floor, and these new originals feel borderline threatening, foreboding cuts of submerged percussive muscle. Randomer's "We Laugh, We Scream" dips out of the seriousness and back into full on party territory, swirling acid patterns slowly spreading overtop a surprisingly straightforward "We f*ck a lot, we dance a lot" vocal line. The sometimes-hard-to-contextualize mystery producer Joe's "Studio Power On" sounds much more at home among likewise sounds, etching out a blippy morse code dance pattern out of barely anything at all.
Three 12″ releases of original material accompany the mix, and there's some gold in there as well – Joe's "REJ Bit" is a slice of surprisingly maximal (well, comparatively) pop-dance indulgence that loops what could possibly be Wendy Rene's "After Laughter (Comes Tears)" but is probably something more obscure. Piping organs sitting on top of a fully fleshed out piano arrangement and a familiarity with drum patterns that would make Steve Gadd blush make it an instantly accessible track, and its exclusion from Chapter One's mix is a bit puzzling. Bringing things home, Nautiluss & Lord Skywave conduct what might be Hemlock's version of a pop ballad, slow-motion maracas, handclaps and creeping organ sounds fleshing out the piece so that the vocals can take prominence. At its peak, it sounds fantastic, and sounds like a morbid R&B experiment conducted at a funeral ceremony. Is it dubstep? Is the punch spiked? I hope so.
Brendan Arnott
Mix tracklisting:
1. Fantastic Mr Fox & Rich Reason – Plimsoul
2. LV & Untold – Beacon (Mount Kimbie Remix)
3. James Blake – Air & Lack Thereof
4. Untold – Stop What You're Doing (James Blake Remix)
5. Untold – Discipline
6. Ramadanman – Tempest
7. Cosmin TRG – Béton Brut
8. Untold – Under
9. FaltyDL – Artemis
10. Sei A – Hyphen
11. Guy Andrews – Resistivity
12. Randomer – This Train
13. Randomer – We Laugh, We Scream
14. Pangaea – Fatalist
15. Joe – Studio Power On
16. Untold – Motion The Dance
17. Nautiluss & Lord Skywave – Ultraviolet