Two Dogs In A House – Eliminator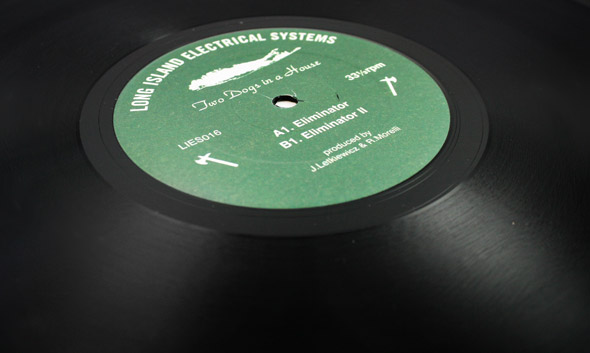 The phrase Long Island Electrical Systems and its immediately recognisable collection of stamps and DIY calligraphies seem to be just about everywhere these days. Within the space of just two years, the label run by Brooklyn's Ron Morelli has released 24 records – something which deserves a pat on the back in itself. But the story doesn't finish there; amidst the heterogeneous medley of electronic styles and various sub-labels (a new black label offshoot has just arrived) that is the L.I.E.S. catalogue, Morelli is single handedly showcasing a consistently impressive collection of otherwise unknown talents.
Names like Svengalisghost, Terekke, Bookworms or Vapauteen – all of which are now monitored by Discogs junkies with a hawkish eye – are just some of the culprits making this label so enticing. The latest official L.I.E.S. release sees Morelli reunite with Jason Letkiewicz and give us some of their murky, downright nasty sonics under the Two Dogs In A House alias. Much like the grainy, saturated and sexually explicit promotional video that accompanies the EP, both "Eliminator" I and II are a clamourous fusion of sludgy and irresistibly seductive audio porn. A near 14 minutes of introverted drum arrangements and effect-driven synth stabs on each side point to an interesting change of strategy; their previous collaboration, "Dog House", itself a fine pastiche of raw-as-hell dance floor infusions and sunken beats, remains easier to pin down and musically decipher.
"Eliminator" fits somewhere in the vast wasteland between electro and acid, with the main bass tone not quite capable of enough happiness for the former, nor built with sufficient 303-laden grit to be considered part of the latter. The pair have conjured quite a spectacle, with a near three strains of bass line occupying the granulous texture of the whole track. A fuzzy, mutating undertone scurries roughly beneath the more playful melody riding above it. It's a piece of electronic music that may not cater to everyone's taste, but will certainly provoke and challenge the listener while providing a captivating sound experience, be it in a club or on a pair of headphones.
The aptly named "Eliminator II" is the other side of the coin – a further exploration of synthesizers, drum machines and improvisation, this time adopting a comparatively more uplifting mask to shade the furious hodgepodge of deranged melodies spawning from its core. The rawness of its various percussive elements, especially the omnipotent and driving bundle of hi-hats, not to mention the almost Drexciyan synth lines creating an aqueous semblance, are the track's vital elements. The Dogs have devised a smart formula here, one that allows them to assemble a fierce beatdown groove against a backdrop of more experimental melodies and effects, and offers a glimpse at a blossoming studio partnership.
Pietro Barbieri-h
Tracklisting:
1. Eliminator
2. Eliminator II