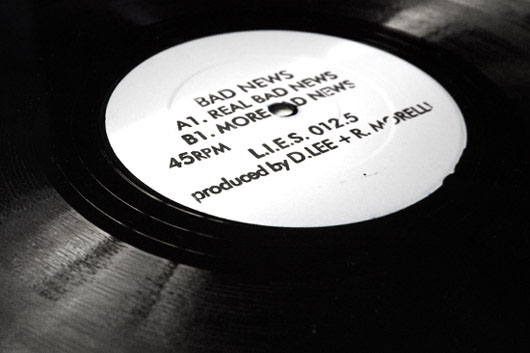 In the midst of a traditional summer slump for vinyl, some good news masquerading as Bad News arrived in the shape of the epic and much anticipated Ron Morelli and Lee Douglas collab on L.I.E.S.
There's quite simply no messing with the monolithic synth riff that appears midway through "Real Bad News", which sees Morelli and the weirdly underrated Douglas doff their collective hats at the imaginative but primarily jacking early 90s sounds of The Hague, or the spicier "More Bad News" which veers into the realm of jagged experimentation that rewards the brave. Check the full review of Real Bad News from Oli Warwick here if you remain cautiously unconvinced by this most incendiary of L.I.E.S. drops.
Two of our favourite releases this week arrived in dashing ten inch format with the first release on the new DBA Dubs series complemented by the latest glowing example of Scott Fraser's musical renaissance. The new sub-label from Don't Be Afraid is based around a simple yet all too compelling concept – commission an original house dub from a UK producer and enlist a transatlantic counterpart to deliver a more techno flavoured remix. Claws For? occupies the former category with the shamelessly summery boogie indebted slice of analogue house "Profumo" whilst in the US corner was West Coast heat shaper Gosub who delivers a heavily greased Miami electro remix. Surfacing on Neapolitan imprint Etichetta Nera with Origin & Mass, Weatherall's studio buddy Scott Fraser was on fine throbbing form with both "The Grip" and "Eta Carinae" deftly working the textural modulations of his analogue arsenal over fully primed drum arrangements, with  the latter just shading it in the blow your mind away stakes.
In the strange genre wasteland between house and disco Lectric Sands returned with some more Zoovox goodness from Tropical Jerry and Ben Gebhardt on Gymnesian Nights with the gentle, sprawling title track very much on a similar outsider house slant to that recent excellent Heatsick 12″ for PAN, whilst Japanese label Jazzy Sport dropped some typically mutant remixes of disco-funk excursionists Cro-Magnon from our recent feature stars Idjut Boys. 100% Silk dropped two twelve inches this week, with the debut Mr Fingers style sounds of Melbournite Roland Tings complemented by a four tracker from Jonas Reinhardt that veered into Legowelt territory on "Hot Black Mastic" with pleasing results.
Keysound Recordings introduced the first volume of what we hope are many Keysound Allstars 12″s with a contribution from Hyperdub's Mancunian correspondent Walton complemented by some virulent bass from Gremino, the dextrous "Come In" from Visionist and Vibezin switching the mood into soundtrack territory. Other notable releases in the genre that has a preponderence of bass included the Well Rounded drop from Spatial, Bwana debuting on Somethinksounds with Baby Let Me Finish and the latest vinyl accompaniment to Jon Convex's debut LP Idoru.
Over at Juno Download, Thom Yorke debuted his supergroup project with Flea and Nigel Gidrch (among others) with a slippery single for his favourite German techno fiends, Modeselektor. Interestingly, one side of this record is given over to a remix of an Other Lives track, which finds the Atoms in a skippy, reduced techno furrow which sees pops and clicks swinging around while the vocals and plaintive notes hover in the background. LuckyMe meanwhile came up trumps with a quite startling new ten-tracker from little-know Viennese producer Cid Rim. A jazz drummer and a producer who matches the intensity of Rustie, HudMo and Machinedrum, Cid Rim really knocked it out of the park with stunning post-jazz laptop madness and shimmering melodies as on "A Fall Four Two" or the delirious juke of "Danger Ranger". Equally raucous was the latest offering from hyperactive London imprint Unknown To The Unknown, with 5kinandbone hooking up with Sinden and Babe Rainbow for some murky and dubby business.
Elsewhere, with more than 20 years in the game, there's still no crew doing it quite like Underground Resistance, as this week's release from New York's Mark Flash ably demonstrated. "King Of Light" is a colourful piece of funky techno in the vein of the classic Galaxy 2 Galaxy track "Hi Tech Jazz", while "Dark Symphony" is full of wayward strings rolling forward on a lean groove.
On the CD front, Matthew Herbert resurrected his long dormant Wishmountain pseudonym for Tesco, which was loosely inspired by a trip to his local supermarket, with every track inspired by a particular item of shopping. It's typical of his more experimental work, delivering a set of oddly driving tunes that pop, rumble and shuffle with spliced-up intent.