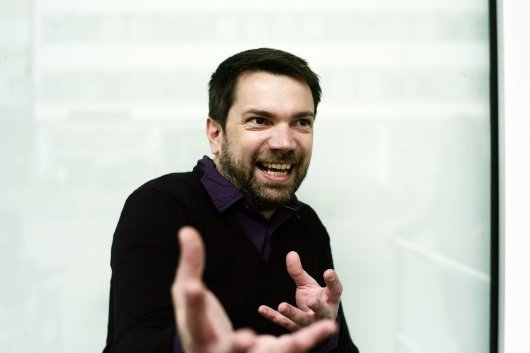 Techno is an international music, but the characteristics that shape its identity are often rooted in location-specific naunces. As Richard Brophy recently discovered, this proved to be the case with Rene Pawlowitz, the producer who works as Shed and under numerous other house and techno-related projects including Wax, EQD and WK7.
Our first attempt to interview Pawlowitz was by email, a process that yielded a set of short but humorous answers – the most entertaining being the explanation that the production for his recent WK7/Head High record involved leaving the pressings "in a chicken coop for two days…to absorb the aroma… maybe you can smell some fragrance of chicken shit".
Seeking less giggles and more substance from Pawlowitz, this writer dusted down his German and instead called him up at home. What emerges from this new approach in his mother tongue is a frank, sometimes contrary, yet inspiring exchange.
With a new album, his third as Shed, The Killer, out now and his storming, old school WK7/Head High release turning into a slow-burning summer crossover, Rene is one of the most creative and on-form techno artists. Yet as the email exchange hinted and the follow-up conversation confirms, he maintains a healthy level of cynicism with the form, which occasionally slips into ennui.
"Techno is 20-25 years old, when I was a teenager, when I was young (laughs), it was my music," he explains. Originally from the former East, his teenage years coincided with the break-up of the Eastern Bloc.
Rather than attempting to tie in his coming of age with the rebirth of the German nation or the emergence of a new musical form, his recollection of that time is more prosaic. "My time as a teenager was very exciting and maybe exhausting (for me and my parents), but this I guess has nothing to do with the reunification of Germany or the fall of the wall," he says.
Nonetheless, the early 90s retain a particular resonance for Pawlowitz as an artist. While The Killer sees him move in different directions – more about that later – projects like WK7, EQd and Wax are firmly rooted in this period, which Rene says remains the form's creative height.
"I guess by about 1995 techno stopped being new or innovative and since then it has stayed the same. That's why I like the past so much, nowadays there is no big change in techno," he believes. So why does an artist who named his debut album Shedding the Past persist with a form that, by his own admission has hit a creative wall?
"I keep making it because it's my music," comes the simple reply. This doesn't explain why he'd make a type of music that is boring? "Boring is the wrong word; there are some artists that are still bringing new ideas to it, but let's say a lot of modern techno sounds the same. That's because techno is very simple and easy to make and there are not a lot of possibilities to introduce something new to it," he says.
Yet despite techno's limitations, Rene believes that it has endured longer than other electronic music forms and will continue to do so. "Look at the Beatles; that music is 50 years old, but people still listen to it because it's timeless. Drum and bass and dubstep are both over, but techno lives on. It is different, but I can't tell you why, I really can't say."
We discuss whether it's the straight kick drum that captures listeners, but Rene believes that if there is an explanation, it has more to do with techno's propensity for travelling in circles, returning to familiar points and allowing artists the chance to add their own signature.
Does this mean that the shift from minimal house back to classic techno a few years ago helped to put the spotlight on his then emerging Wax and EQD projects?
"There wasn't a big change from one day to the next, but there was a period where minimal was more popular. Now old school techno is back, but I'm sure minimal will come back in ten years' time," he says. "Hardwax and Berghain kept the classic techno sound alive all those years when minimal was popular; I'm trying to keep my releases interesting and bring out music that people don't have pre-conceived notions about. I can do this because I am so close to Hardwax," Rene believes.
While the Berlin store has provided Pawlowitz with a platform to the rest of the world, he is less than complimentary about the glut of anonymous-hand stamped techno releases that have emerged in the recent years.
"When I do a project, everyone knows I'm behind it, but the reason why there are so many of these releases is simple; when a producer puts out a hand-pressed record and it's not successful he can say 'it has nothing to do with me', but if it is successful, he can take all the credit for it and we hear all about it. To be honest, I don't really care," he adds.
As The Killer demonstrates though, Pawlowitz is pushing further away from functional, dance floor techno. "STP3/The Killer" and the hissing calm of "Gas Up" follow the suspenseful, atmospheric ambience of recent single "The Praetorian" (included here in its album format), while "Silent Witness" sees Rene fuse loose break beats with dreamy pads. Like previous Shed albums, it was recorded in a short period. "It took four weeks because I have my own vision for the sound and I want to see it through as a quickly as possible," he explains. "I see it as another project and finished it quickly."
The Killer also marks another change for Rene, as it is released on Modeselektor's 50 Weapons rather than the Berghain-affiliated Ostgut. He explains that switching to another label was a relatively straightforward decision, but that it supported the album's artistic direction.
"For me and my music it was better to go with 50 Weapons, it was a really easy decision," he explains. "The Ostgut name is associated with techno and Berghain. When I play live, people expect that I play heavy techno and it's something that I want to get away from," he says, but adds that "I would like to keep working with both labels".
Berghain's popularity and reputation has its downsides and Rene believes that it is impossible to replicate the spirit and feeling of the club in other locations. "It just doesn't work to get the resident DJs to play at Berghain nights in other countries, it just doesn't feel real. This problem is also one for me because it's got to the stage where the Berghain/Ostgut name is bigger than mine on the flyer. It's not Berghain's problem but the promoter of the club where I'm playing," he believes.
Artists like Shed may feel like they are victims of the club's success, but Berghain and other Berlin venues have bigger issues right now, namely the prospect of having to pay punitive charges to GEMA, the German music rights organisation.
"I'm not so involved with it, and the clubs don't play such a huge role in this story, but these organisations aren't telling the truth. There is a lot of money involved and these organisations are trying to get their hands on it," Rene says and echoes the venue owners' claim that "the problem is that the artists who get played don't get paid and it will only benefit pop stars".
Unlike the people behind Berghain and Watergate however, he remains optimistic that a solution will be found and that this iconic part of Berlin's cultural infrastructure will not come tumbling down. "My feeling is that there will be some sort of deal, maybe everyone has to pay an extra euro entry, but the people who own the clubs won't shut them, even though it costs a lot to keep them open," he feels.
Back to The Killer: While portions of it focus on ambience and experimental sounds, it also retains some links to Pawlowitz's other musical projects. This is audible on the insistent slamming breakbeats and searing, sinister synths of "I Come By Night" and sees him adopt a more considered, teased out approach to Detroit techno on "Phototype".
"The album is an escape from heavy, functional techno, but is still a techno album through and through," he maintains. In case the listener is in any doubt of Rene's allegiances, he explains that its title is also derived from his close association with Hardwax.
"The shop always uses words to describe good records like 'Killer', 'Tip' and 'Recommended', so I thought why not just one of those for my new album," he explains. Was he not tempted just to call it 'Tip!' a phrase which has entered techno's vernacular? "Ha, no (laughs) – maybe for the next album!"
The arrival of The Killer coincides with the winding down of some of Pawlowitz's best-known aliases. By his own admission, he has a low boredom threshold and the classic house and tracky techno-inspired series that led to so many trying to emulate his work have ended. "EQD is over and there will be one more Wax 12" and the compilation and that'll be over too and then we'll see what happens next," he says ruefully.
In their place comes the possibility of an ambient project focusing on music similar to "The Praetorian" and the double-headed WK7/Head High project. While Rene's previous aliases had interpreted techno from the 90s, the WK7/Head High records even look like they were issued back then, with the kind of inlay design, font and label name – Power House – that was common during that heady period. Rene says that Kevin Saunderson's early 90s releases and US house producer DJ Duke are the main inspiration for the project – "they are the reason for Power House" – and hopes that the releases will serve to shine a light on their work.
"Duke is one of the real heroes of house music and I love (Kevin) Saunderson's E-Dancer project. I'm not such a huge drum'n'bass fan, but that short period in the 90s before jungle developed, when it was a mixture of breakbeat and Detroit techno, it was really great," he enthuses.
The success of the WK7 and Head High records took Pawlowitz by surprise. While he pressed up 400 copies of the first WK7 release in 2010, they sold over a period of a few months. "I didn't think I'd have to repress it but I did and exactly the same thing happened with "Do It Yourself/Rave".
Originally available only at Hardwax in ultra-limited quantities, it sold out with lightning speed and left techno DJs and spotters all over the world desperate to acquire its pile-driving rhythms, vocal-laced chords and naïve melodies.
"I had no plan with this record either, I didn't want to press more copies, but in the end I had to," he says. The demand for these releases would appear to contradict the claim by many labels and artists that vinyl sales are in further decline. Pawlowitz also doesn't believe that this is the case.
"That's not true. Falling sales have a lot to do with the quality of the music being released and also the distribution companies charging more for releases, which then pushes up the prices in shops," he believes.
But is Pawlowitz's opinion not a skewed one as it is based on his experiences at Hardwax, the world's most famous techno record store? If he were to look at sales in other less-known shops around the world, surely it would become clear that sales are falling?
"No, the problem is that the distributors charge more and try to release more and more titles," he says. "They think it's sensible to bring out a greater volume of music, but that's just misguided marketing – less is more."
A quick look at Pawlowitz's own catalogue confirms that he adheres to that principle. There was only one Wax and EQD release per year and whenever a new one arrived, there was demand for Rene's take on dubby US house and chord-driven lithe techno. While he admits that he chose names for his projects at random, he acted judiciously to ensure that no sub-standard music appeared under any of these aliases. "There is so much music out there that one has to be careful not to put out too much. People who really know techno will always find the good stuff, but I want to make it easier for them," he says.
Seeking out The Killer would be a good start.
Richard Brophy