MOTU Track 16 – Desktop Studio review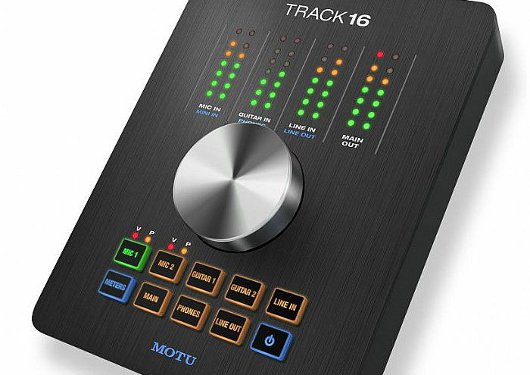 MOTU promise a balance of connectivity and quality in a box that will sit nicely on your desktop, or indeed wherever else you might choose to make music. But how does their new Track 16 audio interface shape up?
Most of us have come to know the Cambridge, Massachusetts based company for their massively popular MOTU 828 audio interface, which seemed to be the choice interface for mid level studios and producers everywhere for a while. But they have a deceptively longer history than that; they were the first company to develop Mac based music production software back when the world of MIDI was first opening up a whole new range of possibilities for composers and producers alike. Fast forward to the present day and there are now more music production software choices and audio and MIDI interfaces available than you can shake a USB cable at. In the Track 16 interface, MOTU (which stands for Mark of the Unicorn) have delivered a solution for computer based music production with 16 inputs and 14 outputs in a neat and lightweight box. Its black brushed aluminium casing is both lightweight and durable and the simple single encoder and ten backlit rubberised buttons are presented in a logical fashion (without the sensory overload that you tend to find on equipment of this sort).
There are four pairs of light meters, with seven stages each, which will help you keep an eye on the level coming in or out of your computer, and these are all presented in a simple and spacious faceplate. One thing that sets this interface apart from other similar machines is that it doesn't come in a rack mountable form – so instead of hunkering down into the depths of towers of rack mounted gear, you can access everything you need on your desktop. If you are continually changing the environment in which you work – a common occurrence in modern music making – not having to go through the chore and inherent inertia of unscrewing it every time you want to work will help immensely.
But the real draw of this machine is its connectivity. There is a DB25 connection on the back panel that allows you to hook up the supplied breakout cable. This allows the box itself to remain compact while simultaneously offering access to two XLR mic inputs, with adjustable phantom power that can be accessed either from the front panel or the supplied CueMix software. There's also an added Hi-Z guitar input that enables you to record guitars at the correct impedance level with the main TRS guitar input actually living on the front side of the box itself. There are two balanced quarter inch line inputs that are ideal for connecting keyboards; on the main box there is also a 3.5mm stereo jack input, so if you feel the need to hook up an iPad then you can do so (MIDI in and MIDI out are also available here). A power connection and two main TRS outputs and two independent TRS line outputs complete the breakout cable connections.
The option of fully independent outputs means you can control two sets of studio monitors at the press of a button or, if you're in a live environment, send a separate monitor mix to the stage. There are both 6.33mm and 3.5mm headphone connections which can be independently mixed from the main outs, further expanding the monitoring capabilities present in this interface. If you find yourself in a situation where you need more inputs or outputs, then the digital optical ports will allow you to connect a device such as the MOTU 8pre – this gives you a further eight mic inputs, in effect allowing you to record an entire band, drum kit and all, through a single expanded interface. If the DB25 breakout cable doesn't appeal and you feel in need of something a little more solid, MOTU have designed a breakout box with the same I/O as the cable, although this doesn't ship with the unit itself.
The 24 bit audio converters and the option of sample rates up to 192 kHz deliver a sound that is in line with MOTU's lofty reputation. The unit ships with CueMix software, which completes the all-in-one digital mix solution in your computer, and allows you to create up to eight separate mixes if you're using the digital optical outputs as well as the outs on the box and the breakout cable. If you're part of the crew of a touring band that uses backing tracks, then why not import your stems into the AudioDesk software (Mac only) which is also included. You can fully edit your arrangements and if you're feeling exceptionally brave, then you can save on outputs and mix your stems down to a single stereo pair, with a click track going to your drummer's separate mix. You can tweak your front of house balance by using an iPad with TouchOSC software over WiFi to control the CueMix software.
The unit itself connects to a computer via firewire 400 type B, and it will use the bus power to get what it needs without any external power – unless you decide to connect using the high speed USB 2 connection, in which case you will need to make use of the 9V DC power adapter that is included. Curiously, the power connection is part of the DB25 breakout cable, and although this writer was careful to separate audio cabling from power cabling when setting up the unit, you couldn't help but think that you were running the risk of picking up some sort of hum from the mains power. Quality shielding on the cables – a feature that is present here – will certainly help in the event of such an occurrence.
All the controls on the front panel work very well and the backlit buttons give clear indications in both bright studios and poorly lit live stages and clubs. One push of the encoder will mute the selected in or out – a trap to be aware of. Overall the MOTU track 16 performs very well in a variety of settings; it looks a lot like the Apogee duet, especially as they both have the same type of single encoder on the front. But that is where the similarities disappear, as the Apogee unit doesn't have the connectivity that is present in the Track 16. In short, MOTU have made a quality audio/MIDI interface packed with flexibility and presented in a simple, tough little box.
Robin Lee  

Specifications:
System Requirements:
Mac:PowerPC G4 CPU 1 GHz or faster (including any Mac with a PowerPC G5 or any Intel processor)
1 GB RAM; 2 GB or more recommended
Mac OS X version 10.5, 10.6, or 10.7; v10.5.8 or later required
Available FireWire or high-speed USB 2.0 port
A large hard drive (preferably at least 250 GB).                PC:1 GHz Pentium-based PC compatible or faster equipped with at least one USB2 or FireWire port
1 GB RAM; 2 GB or more recommended
Windows 7 or Vista, 32- or 64-bit; Vista SP 2 or later required
Available FireWire or high-speed USB 2.0 port
A large hard drive (preferably at least 250 GB
Dimensions:
Weight:
Power:
Firewire/9V DC included
Featured software:
CueMix FX, AudioDesk, MOTU SMPTE Console
Sample/Bit Rate:
44.1 – 192kHz/24 bit
Inputs:
2 x XLR Mic with phantom power, 2 x 1/4″TRS hi-Z, 2 x 1/4″ TRS (balanced/unbalanced), 1 x 1/8″ stereo line (unbalanced), 8 channel ADAT optical (4 channel SMUX or 2 channel TOSlink)
Outputs:
2 x 1/4″ TRS (balanced), 2 x 1/4″ TRS (unbalanced), 1 x 1/4″TRS headphone, 1 x 1/8″ headphone, 8 channel ADAT optical (4 channel over SMUX, 2 channel TOSlink)
Connections:
Firewire 400 (type B) or USB 2.0
Controls:
1 x large encoder, 10 x backlit buttons