JoMoX Moonwind – Analogue Filter review
Synth designers and manufacturers JoMoX understand the power of sound design in this age of digital and soft synth modelling. Sticking firmly with their analogue circuitry, and controlled digitally, they bring us a new filter, the Moonwind.
Founded by Jurgen Michaelis and based in Germany, JoMoX is one of a number of smaller companies producing boutique analogue instruments. Working out of a small yard in Berlin, Michaelis is clearly passionate about the creation of sound, like a kind of modern day bohemian poet of synthesis pouring over the minutiae of how he can control the analogue with the digital (and actually getting down and dirty and soldering the tiny connections himself). With an exhaustive knowledge and understanding of electrical engineering and an impressive array of music making products going back to the 1990s, the Moonwind arrives on the scene with high expectations. What JoMoX essentially offer is a professional grade effects unit with stereo analogue filter, two LFOs, envelope modulation and a top grade digital FX chip to top it off. After unpacking the desktop styled unit, we are presented with a box that looks decidedly digital. The minimal black metal box has generously spaced knobs, buttons and LEDs, with a digital display in the lower centre half topped off with the Moonwind logo above. It has an oddly reassuring flash of the 1980s about it; no doubt this is partly because the inner workings of this machine are digitally controlled. It's not a digital sound coming out – it's a true analogue sound that is being made – it's just the control and interactive side of the Moonwind that makes substantial use of digital technology. In fact the entire unit is controllable by MIDI via the MIDI in, out and thru jacks on the back panel.
Being a stereo machine, it makes sense that the left and right sides of the Moonwind are completely independent from each other. In fact they have their own separate filters with dedicated cut off, resonance and q parameters controlled by three sturdy knobs on each side. It's also possible to link each side, and further information on this is clearly shown on the digital display. One look at the display shows you which preset sound effect you are using, along with information on what the effect is made up of and which kinds of filters are being implemented; Low Pass, High Pass, Band Pass and Notch shapes are all present here. Editing is easy as there is a button for changing the shape of both the left and right filters. It's also possible to edit the routing of the filters so they feedback on themselves, or are in serial rather than parallel, which is a nice, if surprising, touch. The buttons on the Moonwind are reminiscent of the buttons found on a Korg M1, further adding to its retro allure. Scrolling through and implementing the presets is all done with one push encoder, and navigating through the edit pages is done using the left, right and up and down buttons. Getting a good working signal coming through the unit is helped along by the three knobs at the top that control the input gain, the balance between your dry and effected signal and the final master output.
The digital FX are split into two sections, the first of which consists of eight built-in algorithms including reverbs, chorus/reverbs and pitch shifters with a single test FX with no parameters. The second set can be updated via the operating system and they include a bit crusher, formant voxer and a stereo delay among others. All of the digital effects have three editable parameters and an FX feedback parameter, which are indicated in the digital edit display pages.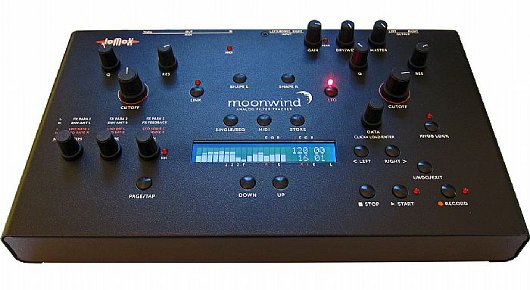 There is a choice of nine different waveforms for the LFO section of this unit – in addition to sine, triangle and two saw tooth types, there are four separate rectangle waves with varying percentages of duty cycle. Of course, the rate, intensity and envelope amount are again independently assigned to the left or right output of this unit, offering the possibility of some very interesting sounds with plenty of scope for dovetailing motions. The flexibility of the Moonwind is evident here as it is also possible to play the waveforms using the self resonating filters via the MIDI input, turning this effects unit into a synth, albeit a very limited one.
The filters are smooth and are reminiscent of Moog filters, with a frequency range that stretches from 16Hz to a sky cracking 35kHz. You can really get a lot of subtlety out of them but the real magic occurs when you open up the step sequencer: hit the single/seq button to turn on the sequencer mode, and from here you can edit the BPM (in up to tenths of a BPM) or sync the Moonwind to your DAW of choice through MIDI, either slaved or as a slave. This makes timing the sequencers much more of an accurate procedure, rather than guessing the best place to hit play. There are the obligatory preset sequences but it's much more fun to make your own; with the cut-off parameters shown on the digital display as bars of varying heights it becomes pretty self-explanatory where your parameters are set. Hit the record button and twiddle and experiment with the resonant and Q knobs to create patterns up to four bars long with sixteen steps per bar. Once you've put in a basic pattern, you can further edit the sequence in step sequence mode. Remember that you can record the cut off, resonance and Q parameters in the sequencer and it is possible to clock divide to get 32nd notes as well. This allows plenty of scope for you to unleash a variety of abstract bleeps and noises built out of your input signal.
The quality inherent in this effects box is truly impressive in terms of sound. You can really make the Moonwind sing and undulate, or really scream and roar, depending on what kind of a sound you require. However, digital interaction has always been hard to grasp, and the navigating pages on the digital LCD display inevitably take an aspect of the fun out of using it, but JoMoX have navigated this by providing a substantial but easy to understand manual. With that in mind, it only takes around half a day to become competent with the unit's extended functions. There are a couple of products out there that could feasibly do what the Moonwind does, such as the Moog MIDI Murf, which has eight separate filters controlled by faders that can be programmed into 24 step patterns. But without the added splosh of the digital FX present on the JoMoX machine it doesn't really have the same polished feel. There is also a machine from Dave Smith, of Prophet Five fame, called the Evolver; it's actually a synth/sequencer that allows you to process external sounds via the stereo inputs. But once again Moonwind has the edge, this time with its unique stereo filtering.
Realising the influence that equipment has in shaping musical genres in the electronic music world is something that underscores the entire JoMoX operation, and with the passion and intricate attention to detail that is present in this high-end FX unit, unique creations will no doubt follow.
Robin Lee   

Specifications:
| | |
| --- | --- |
| Dimensions | 32cms x 19cms x 8.5cms |
| Weight | 2.2kgs |
| Power |  10.5V AC 1.2A |
| Controls | 12 knobs, 1 encoder, 17 buttons |
| Inputs | 4 x 6.33mm TRS |
| Outputs | 2 x 6.33mm TRS |
| MIDI | In, Out, Thru |
| Fx | 2 x multimode filters, 2 x LFO, digital fx chip |
| Sequencer | 64 step dequencer with Clock divider |
| Display | 2 x 24 character LCD display |