Juno Plus Podcast 39: Gifted & Blessed
The focus switches to the West Coast of the USA for our 39th podcast, as Gifted & Blessed comes through with a selection of his own productions.
Gifted & Blessed is perhaps the most recognisable alias of Gabriel Reyes-Whittaker, a Los Angeles based producer who was one of the first artists to emerge in what's now commonly referred to as the city's 'vibrant beat scene,' releasing his debut album on the influential Sound In Colour imprint in 2004, whilst also gaining productionand remix credits for artists as varied as Up, Bustle & Out, J*Davey and Steve Spacek. Since his emergence, Reyes-Whittaker has adopted several different monikers across numerous releases – amongst them GB, The Abstract Eye, Julian Abelar and The Reflektor – and what links them all intrinsically is a particular sound and style; his is music made from machines but filled with soul.
It makes for little surprise that Reyes-Whittaker surfaced on Eglo Records earlier this year with The Abstract Eye 12″, as the producer's distinctive stylistic approach seems perfectly suited to the ever blossoming London label. Indeed when speaking to Alex Nut earlier this year, the Eglo Records boss was vociferous in his praise for the work of Reyes-Whittaker citing him as inspiration for all at the label. That record is one of several releases this year from Gifted & Blessed that have caught our eye, with a full release on the All City following his contribution to the label's Los Angeles series complemented by the rather stunning looking EP The Provider and the Steoples collaboration with long term collaborator fellow Los Angeles based musician A Race Of Angels – both released on his own Gifted & Blessed label.
In accepting the invitation to provide our latest podcast, Gabriel chose to show a mellower, laid back side of his production pallete with a forty minute selection of mostly unreleased material that provides some welcome contrast to our rather banging last podcast ftom Gesloten Cirkel. He also took the time to answer a few questions for us.
From reading previous interviews, I gather you've had a very musical upbringing – was there a particular moment in your life where you decided there couldn't be another way for you?
I've always loved music but I don't think I've felt that there couldn't be another way for me. I do feel an urge to express myself musically in ways I can't verbally or otherwise, but also there's plenty more to be done in my life and many more things that are of interest to me.
Equally, from these interviews you don't seem necessarily concerned with modern day musical trends, though this doesn't in anyway make your music antiquated – could you give us some idea of what music has historically inspired you?
Hip hop and funk-leaning pop music were my two main sources of inspiration from the beginning. I've also spent most of my life listening to the jazz greats. I've surely been inspired by plenty of electronic music from the last few decades…house, techno, downtempo, ambient, etc., but I'm more interested in earlier electronic music like Tom Dissevelt, Morton Subotnick, Mort Garson and others, which has more of  a compositional aspect to it. Lately I've been revisiting a lot of classical music that I overlooked for a long time.
You've got quite a distinctive sound that manages to fill machine made music with a sense of soul, how did you arrive at this?
I just try to convey what's in me using the tools that I know and understand. If I was using strictly acoustic instruments I'd be doing the same.
As someone with little to no musical ability, I'm always intrigued by the studio and recording processes of those that I interview. Do you have any standard approach to laying down a track, like focusing on crafting a beat first and going from there or is it more freeform and whatever thought you have first you go with?
Both approaches work for me at times. Some tracks come together spontaneously, and others are more or less arranged by the time I'm ready to record. I don't have a go-to approach that I stick with all the time…most often I let the moment dictate for me how the process will unfold.
Are there any particular bits of kit that always find their way into a Gifted & Blessed track?
Not in particular. You'll definitely hear some common sounds amongst some of my tunes but my setup is always evolving.
You've been officially releasing music for nearly a decade now under various names, how would you say the music scene in Los Angeles has developed and mutated over this period?
When I first started putting out music we didn't have social networking on the level where it is now. That aspect of it seems to have taken over for the majority of folks. The beat scene also wasn't as oversaturated then as it is now. Music is not as specialized now, nor is the audience for it. Everyone has a computer or an ipad or whatever, so anyone can call him- or herself a DJ or "producer" now. There's a lot less practice and skill required to be taken seriously these days. In short it's been dumbed down.
Do you have any kind of network of fellow producers in LA that you talk to about your music or collaborate with? It seems from our point of view that what you are doing is quite unique from the LA beat scene of FlyLo et al which get most attention in that corner of the world…
My network isn't necessarily localized in L.A. I have a lot of friends in music here for sure, but my community is everywhere. I collaborate with folks all the time, it's just most of them aren't producers or aren't involved in the beat scene, though some are.
I'm interested to see how people interact and react to Gifted & Blessed in other countries, you undertook a European tour back in 2010, how did that go and what were the highlights for you?
Yes I also toured Europe in 2011 and am overdue for another round before the year is out. It's been love everywhere.
You have a history of working in radio, and more recently performed on the London Boiler Room, what are your thoughts on this internet club phenomenon and have you attended the LA edition yet?
It's a cool thing to have this platform to share live music with a much larger audience than who's in the room. I haven't attended the L.A. edition yet.
We recently spoke to Alex Nut from Eglo, who was quite effusive in his praise of you saying you are an inspiration for all at the label – following your Abstract Eye 12" do you have any further plans to work with the label?
Yes, you'll be hearing more from me on Eglo.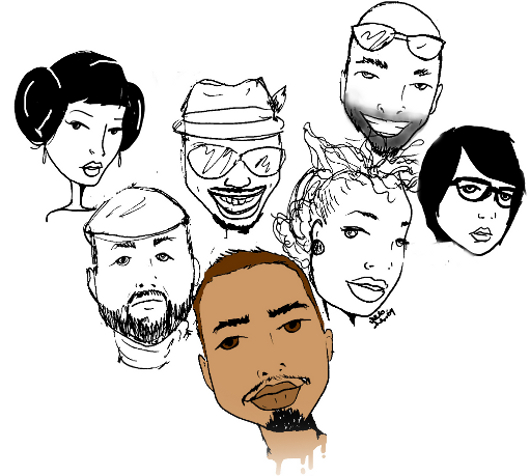 GB Interprets His Contemporaries is one of my favourite releases of yours – any plans for further installments?
At this time, no, but maybe down the line. A lot of folks in L.A. know the unofficial remixes I've done over the years. KCRW has been the platform for sharing most of those (via my friend Garth Trinidad). I've done maybe 50+ remixes in that vein so some of them may see a release one day or may not.
Finally, could you tell us the concept behind the mix you did for us?
This mix is a collage of productions of mine from these last several years, most of which have remained unreleased so far. I feel like the Juno Plus audience knows me best for my dance tunes, so I wanted to show a bit more of the spectrum of my output here by including more of the tonal and downtempo tracks.

Length: 39:36
No tracklist was provided