Reloop Terminal Mix 4 DJ Controller review
The all-inclusive controller for the Serato DJ has arrived, carrying with it more features than you can shake a pair of headphones at.
Of course, the Terminal Mix 4 DJ Controller by Reloop isn't exclusively for use with Serato. Along with said software it also ships with Virtual DJ LE and, as a MIDI controller and a sound card, it is possible to remap the controls to suit whatever your preferred software may be, including NI's Traktor. This impressively sized controller has similar dimensions to the Kontrol S4 (which was designed primarily, but not exclusively, for Traktor) only it's carrying extra weight and has larger jog wheels. The outer shell of this controller is metal with a black, aluminium face, and it feels and looks like it's built to last, weighing in at 4.8kg.
The layout is intuitive, with a four channel mixer section at the centre of the faceplate, and each channel getting three band EQ, gain, filter and headphone cue control. Cutting the four channels down the middle are the master, booth and phones volume knobs, with a control for mixing the amount of cue or master coming into your headphones. Although the knobs look and feel very plastic to the touch, they are installed firmly and don't wobble easily; a notch is also in place so you know exactly how you're configured at all times. The navigation section consists of a simple push type step encoder, designed for finding your music without having to touch a mouse or a track pad, and loading it onto any of the four decks/channels is one button push away. The navigation encoder is a bit of a let down here as it doesn't have the same solid feel that the other knobs do, even though it's made out of metal.
Both sides of the central mix section are a mirror image of each other, as you would imagine, and the biggest feature here is the jog wheel. At first glance this pair of simple controls might not seem much to write home about, but comparing them to other controllers they are quite big – 15.5 cms in diameter – and feel very solid, with three different modes of control: pitch bend, vinyl mode and a quick search mode. The transport controls consist of large rubberised buttons that have been optimised for precision. There is a cue and slice performance section split between four cue point buttons and four sample triggers in the first layer of functionality; the second layer allows you to use all eight buttons for hot cues or triggering a battery of samples you have loaded into your software of choice. The comprehensive FX section offers four knobs to change parameters, with four buttons to toggle your desired FX on or off. With a smart loop control section just below, you have the ability to customise your sets in a very hands-on way. With 10cm high resolution pitch faders bookending the layout design and discreet shift/delete function buttons in each corner, the Terminal Mix 4 is easy enough to navigate for anyone who has ever used the most basic of set-ups.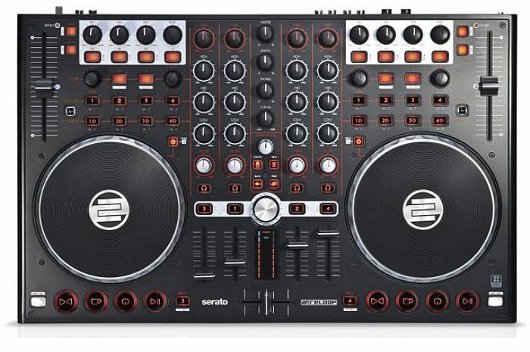 Thankfully, around the back there are balanced ¼" jacks to output the master as well as unbalanced RCAs and Booth RCAs, which covers any environment this controller might find itself in. There is a single line/phono RCA input as well as ¼" mic input on the front with level and tone controls, making it possible for you to route your sources through your software to make use of the internal sound FX, or, alternatively, bypass the software and act as stand alone inputs. This unit can also be powered from a separate 6V DC supply which doesn't ship with the unit, making it difficult to verify the exact nature of the mic and RCA inputs in our testing. There are two headphone outputs, a 6.3mm jack and a smaller 3.5mm type jack, which can come in handy when your headphones decide to die on you mid-set. The headphone section has a tone control as well, which is a little perplexing, as I can't think of an instance when I have needed to filter out the bottom or top in cans; on the other hand, any extra bit of help to make your DJing experience more comfortable has got to be a plus. All the controls on the front side (aside from the cross fade assign switches) can be pushed in so they are out of the way and safe from damage when the unit is in transit – a nice touch.
There are some concerns with this instrument – the VU meter only shows the level of the master output, it's not possible to split between cue and master and, most glaringly, there are no line or phono inputs to allow you to plug in a set of analogue turntables or CD players to fully integrate this into an all-in-one mixer/controller utilising the well laid out mixer section. Also, not all of the many dedicated buttons can be put to use in the cut down version of Serato this machine ships with, along with the fact that you can't use all four decks in Serato DJ Intro. Having a four-deck version of Virtual DJ LE does go some of the way to redressing this problem. When all is said and done, Reloop have made a controller that sounds good and is laid out in an intuitive way – an essential ingredient in any DJ controller. It's a versatile MIDI controller and would be a good choice for an intermediate DJ looking to for a simple USB controller that will allow him or her comprehensive access to four decks of music as well as samples, loops and FX.
Robin Lee 

Specifications:
| | |
| --- | --- |
| System Requirements | Windows XP/Vista. Mac OS X |
| Dimensions | 51.5cms x33.7cms x 6.25 cms |
| Weight | 4.8kgs |
| Power | USB 5V 500mA or 6V DC 1.5 A |
| Connection | USB |
| Controls | 60 x buttons, 7 x faders, 7 x push encoders, 31 x turning knobs, 4 x switches, 2 x touch sensitive jog wheels |
| Channels | 4 |
| Inputs | 6.3mm Mic input jack (volume and tone controls). 2 x RCA inputs. |
| Outputs | Balanced 6.3mm jack, unbalanced stereo RCA, stereo RCA booth.6.3mm and 3.5mm headphone outs. |
| Software Included | Serato DJ Intro/Virtual DJ LE |