Pioneer RMX1000 Remix Station review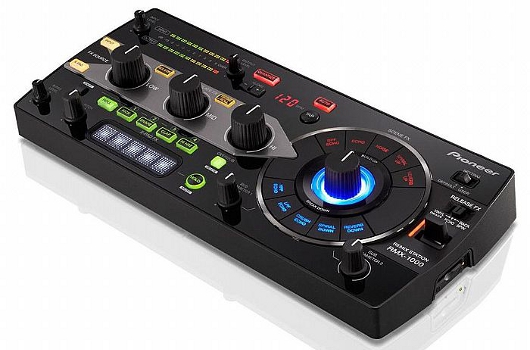 Pioneer show us why they are the industry standard when it comes to DJ equipment by delivering their newest and most exciting fx unit to date.
Christened the RMX 1000 Remix Station, you could be cynical and suggest that perhaps with the popularity of their ground breaking CD players, and the recent EFX1000 DJ fx unit, success may have gone to their collective heads. After all, the sturdy black plastic box with DJ friendly large encoders and buttons is only 13.14" x 6.18" x 2.24" and weighing 2.86lbs, this unit promises an array of DJ fx, Isolator, Auto BPM detection and what is known as the X-Pad fx device which allows you to add and sync up to four samples at any one time. Finally they have named it a remix station, a title that would insinuate bold things from such a small package.
But, then again, why shouldn't they make these claims. Pioneer have always stuck to their guns, famously not jumping on the VCR bandwagon in the late 1970's in favour of developing laser disc technology and being rewarded for it decades later when DVD and Blu Ray technology finally gained popularity. It would seem that it is Pioneer by name and by nature in this case as this is a company that doesn't shirk its self imposed research and development responsibilities, pouring a large amount of its revenue back into creating new and exciting products, with the RMX1000 they have also shown that they have their fingers firmly on the DJ technology pulse. Offering a product that can be utilised in three different ways to satisfy the different styles and tastes of the modern DJ.
There is a very simple and logical flow to the design of this machine starting with the physical input of the audio signal, with both audio input and output level encoders with corresponding meters in the top right hand side. The BPM detection has been improved upon with a new algorithm and syncing having been implemented. There is the option to turn off the auto detection and tap in the tempo yourself and if your using the X-Pad fx section then you can turn on the quantize mode and nudge the tempo around yourself by hand. The tempo display is simple and shows only three digits in simple red LED and it might have been nice to have had the added peace of mind of tenths of a BPM being included as used in the more recent of their CD players but nevertheless the syncing is impressively tight, difficult to achieve through simple analogue inputs alone.
There are three large knobs for controlling the four different isolator modes. Simply roll of the low, mid or high frequencies once you have selected the mode that you prefer. In addition to a simple eq, there is cut/add which adds echo when the encoders are thrown to the right, trans/roll which auto transforms the frequencies when pulled out to the left and rolls them when pushed to the right. Finally there is gate/drive mode which implements the gate to the eq when turned left and driven when turned to the right. This simplification of some complex fx control makes a big difference in minimising your workload. After you've manipulated this section of the fx control, your almost thrown headlong into the inviting large dial of ten scene fx that are split into five break down and build up sounds, with the build up sounds backlit red and breakdown sounds backlit blue with the large encoder in the middle being, to all intents and purposes, a huge wet/dry control surface. The various echo, reverb and white noise sounds are of a high quality and if you need to modulate these sounds on the fly then you are also given the option of changing two pre selected sub parameters using additional encoders below. But this is all to be expected from the makers of the EFX1000 unit and although these functions are more than adequate to shape the sound of your set, do they deserve to be called remix tools?
Well the answer to this comes in the final section of this box of tricks. The X-Pad control section allows you to play, loop and quantize up to four samples in a rhythmic pattern. Traditionally kick, snare, clap and hi hats, you can create rhythms to go against your current track by either using up to four banks of four sounds that are built in or by importing your own samples from an SD card using the slot on the side. You can even capture a section of the inputted analogue audio to loop and manipulate as you please. Turn the input signal down, turn the X-Pad level up and warp your loop out of recognition by adding your own kick, snare and hi hat pattern and once you've maxed out your break down and build up section simply hit the fx release key to automate a reset and let your original track play on. The fx release key has three preset automated fx break options (simple vinyl breaking, spin back and echo). Apart from the obvious functional uses of this machine, it's also loads of fun and the interface is simple enough for really complex fx to be created in the thick of a sweaty basement mix session or on a huge festival stage.
The second major part of this package is the Remixbox software that allows you to change various parameters and settings of the fx such as the echo delay speeds or the db cut of the isolators and various patterns of the transform and gate functions amongst others. It's here that you can also easily add your own samples to the sample banks. I would have liked to have been able to change the type of fx in the main section but maybe this is something that Pioneer will allow in the future. Thirdly and finally, the RMX1000 also comes as a VST and Audio Unit plug in so you can capture that same atmosphere you got from your DJ sets back in the studio and apply them to your tracks or digital mixes as well.
The connectivity of the Remix Station is of a professional standard with stereo phono and stereo ¼" jacks for the audio inputs and outputs. When it comes to power, this writer prefers a good old solid euro lead but as this is a small unit will make do with the small-scale 5-volt power accessory. You can connect to a PC or Mac using a USB cable and next to that are switches for differing set up configurations and the option of putting the machine in standby mode.
Pioneers have been at the cutting edge of DJ technology for over a decade now and they have continued to innovate and improve without getting stuck in a rut. Embracing the needs of both the laptop based DJ as well as the more traditional of us, and bundling their products in a useful and versatile package. But the overriding factor when it comes to their latest fx product is that you are always itching to get your hands on the controls because it's really enjoyable to use. Whether this is a good thing for the audience or not is completely in your hands but one thing is for certain, your going to have a good time finding out.
Robin Lee

Specifications:
| | |
| --- | --- |
| Dimensions | 13.14″x6.18″x2.24″ |
| Weight | 2.86 lbs |
| Features | Improved Bpm detection, Four banks of four preset samples or user samples |
| Controls | Four modes of Isolation, 10 x fx with sub parameter control |
| Connections | Inputs RCA x1, 1/4″x1. Outputs RCA x1, 1/4″x1. USB B x1. SD card slot |
| Power | 5V DC |
| Software | remixbox, RMX-1000 plug in |