Heart strings and the neon-lit allure of the night: Going the distance with Royalty
"I think the best time for an artist in the music industry is when they are just about to come up." So states Chesca, one half of production duo Royalty, who are in the throes of the very position she describes. 
With her boyfriend and studio partner Yorke, she is on the cusp of breaking through to a sizable audience off the back of just two EPs for fledgling London label Five Easy Pieces, with a third set to follow next month. There's no denying these are exciting times for the pair, as their distinctive slant on contemporary beats finds them hovering at a junction between straight dancefloor aesthetic and esoteric listening fodder, and each release finds them spreading their wings and surprising at every turn.
The origins of Royalty date back to a night at London's Cargo in 2008, where Trus'me may or may not have been playing. "Yorke was there and he looked good, and I thought that I wanted to talk to him," Chesca intones coyly. "We just kept talking and now it's almost four years later and we have three EPs together!"
"I remember when I met Chesca, she told me, 'I listen to the dopest shit' and I was like, 'oh really?'" chimes in Yorke, perpetuating the notion that his better half is a girl brimming with confidence. That "dopest shit" Chesca was referring to has become the cornerstone of the Royalty sound; the warm, punchy electro funk that fuelled feel-good parties in the early to mid-80s.
"Boogie is definitely the unifying element of everything that we do," Yorke confirms. "People always ask what kind of music we make and I find it really difficult to describe it because it is heavily influenced by 80s boogie, but essentially it's just synth music." It doesn't take long to draw the comparisons when you listen to the output Chesca and Yorke have issued forth so far, as squelchy basslines and raw, punchy beats get greased up with slick washes of melody. The tempo can shift from low-slung slow jams up to nagging peak time electro, but all the way through the same sonic aesthetic applies.
The roots of the boogie fascination that informs Royalty's manoeuvres come from Chesca's parents' record collection and an ensuing love of DJing indulged for two years in LA before she relocated to London in 2007. "I've been DJing since I was in uni originally," Chesca reveals. "I'm not a great DJ in terms of technical stuff, but I love to make people dance."
Once Royalty took off, Chesca stepped up to represent the duo at most gigs by throwing down her favourite slabs of funk, with Yorke occasionally providing on-the-fly effects to bolster the experience. "Since we put out the first Royalty stuff the DJ gigs have really come alive," Chesca beams about the progress the duo have already made, although she's the first to see admit the shortcomings of the London scene she was coming up in before the first record got released. "It's much easier playing in Europe because people really appreciate it and it's really refreshing. People in London are very spoilt with music because they really have the best of everything."
There's no doubt it's hard to stand out from the crowd in the bustling nightlife of the Big Smoke, but the timeless appeal of analogue soul music finds a home for itself in some unlikely places. "I do a lot of gigs in Norway because they love boogie over there," Chesca says of her experiences on the continent, arguably reflecting the Scandinavian culture that could give rise to a niche phenomenon such as Skweee. "I've done fashion parties where I think no-one's going to dance, and you have all these fashion industry people getting down, and I played some jazz festival with an older crowd and they were going insane about boogie."
Chesca has been performing most Royalty gigs solo up until now, and, with Yorke often been tied to other musical endeavours, time has been an all too precious commodity.  It's an inescapable pitfall of the working musician's life, only exaggerated when two equally ambitious individuals intertwine and try to achieve in every aspect of their lives. "We want to be good musicians," Chesca proclaims with intent, "and we want to be good DJs, and we want to do well, and sometimes you just need to sit back and say do you know what? Let's just be."
It's easier said than done when the opportunities are flying in thick and fast. With their third EP Eroica already causing a stir ahead of its July 16 release date, the chance to take a more considered performance to clubs is becoming ever more apparent. "We haven't done any live shows together so far because we haven't had time to rehearse," explains Chesca, once again highlighting the difficulty in fitting everything in. "This summer we have some time off so we're going to go to my house in Italy with some instruments and we're going to work on a live set."
Yorke seems marginally more sceptical about how much they might achieve after they had attempted the same master plan last year. "When we go to Italy there tends to be not much work going on, we're too busy sunning ourselves on the beach!" he chuckles, "but we're putting things together and taking time to build something that's going to be really special."
The momentum Yorke and Chesca are experiencing with their production venture hasn't let up since they first met, even if their intentions were never clear on starting Royalty. "When we first met, I was really into analogue gear," Chesca explains, "and Yorke got that fever off me and we bought loads of stuff together and started making music at home, but it wasn't like 'yeah we're gonna get together and make a band'."
Aside from Chesca's love of boogie, a big informer in the forging of the Royalty sound was a party that took place at Plastic People in London for some five years. Nonsense was hosted by Benny Blanco, Judah and Josey Rebelle, and provided a unique meeting point for lovers of all kinds of beats derived from black music. "They'd play a lot of Detroit techno," recalls Yorke. "They'd play a lot of boogie, they'd play a little bit of whatever you want to call modern beats. It was all those people who appreciate those kinds of music, and when we started writing beats we were thinking about people getting down in that scene."
Having gathered together a collection of machines that would in turn define their output, it wasn't long after Chesca and Yorke started making tracks that people started showing an interest in releasing their music. "We were thinking maybe we should wait and make more songs before we started putting everything out," Chesca says of their hesitation in moving too quickly on their initial experiments, and yet one of their earliest productions ended up becoming a centrepiece of sorts for their first EP. ""Twilight Fades" was literally the third song we ever made together, and it did really well."
It was Five Easy Pieces who jumped at the chance to release the first Royalty output, and they have issued all their material to date. The partnership comes off a thoroughly reciprocal one, as Royalty's music has come to set the tone for the label just as Claudio and Tom at the imprint's helm have been exacting in the way Royalty have been disseminated and presented to the world. "To have that kind of ethos behind you," beams Yorke, "someone who wants stuff that stands out, someone who is particular, someone who pays attention to every small detail; that gives you a certain confidence to do what you need to do."
In truth it's not hard for Royalty to stand out. Their music possesses a healthy balance of brawn and brains, sleaziness and sophistication, and through it all they never sound like anyone else. Out of the historic dance music styles that get revisited these days, boogie has tended to give rise to the most unusual updates and variations, from Dam Funk's woozy, cosmic romanticism to James Pants' angular wobble. As Yorke would have it, Royalty's own kinky sound comes from a maverick approach innate in Chesca's musical decision making. "She has a very particular ear," he states proudly, "and she always comes with ideas that take it to a level that I wouldn't have thought of."
"I think Chesca has a certain touch, I don't necessarily want to call it a feminine touch…" he continues, before Chesca darts in with, "a midas touch!" from across the room, punning a previous discussion about the classic Midnight Star jam.    If you needed a stark example of the unconventional imagination that Chesca channels into Royalty, the bass line on early track "Heat Ray" could be a good place to start. Stabbing in from the side, on a rhythmic plane at odds with the rest of the track and purposefully jarring with the lead melodies, the "rowdiness" as Yorke puts it makes it the key hook of the track. "When she first put that bass line down I really wasn't sure if it worked," Yorke admits. "I walked out of the room and when I walked back in I was totally switched around. I would never have thought of that melody, that's completely her."
Royalty also provides an opportunity for Yorke to indulge his own artistic tendencies. "I've been rhyming since I was 11 and I'm 32 now," he points out. "Ever since I was a kid all my school teachers said I was going to work in music, going back to nursery times. I feel like rap is a certain part of things, but then there's the rest of the music scape. I always wanted to fulfil that side of things. I think I've got a lot more to say than what you can say with words."
"I come from a hip-hop background and that's a side of me that I cant deny," Yorke explains. "I'm crazy about all the Brainfeeder stuff, Hudson Mohawke, and that's something that I try and feed into Royalty as well." You can certainly hear Yorke's root influences in Royalty. On tracks like "Hayley's Trail" and "Royalty", the low-slung groove shows how the boogie fundamentals of their music translate naturally to a downtempo setting. In that sense their music has a lot in common with the amorphous movement of producers operating under the "beats" banner.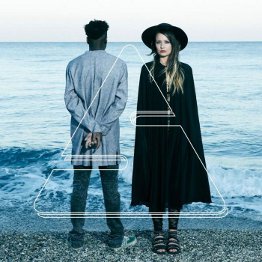 Likewise, Chesca has her own particular vice that she wants to find another outlet for. "I actually really want to make a house record," she admits, almost sheepishly. "So far I've been really scared to go there, but I have my own idea of house music as well." Much like Yorke's beats, Chesca brings her 4/4 tendencies to bear in many places. On the first EP, "Heat Ray" made for a perfect addition to the canon of modern hybrid house music, while latterly "Heart Strings" was nothing short of a peak time belter. What becomes apparent is that, between their distinct characters, Chesca and Yorke bring very definable different elements and atmospheres to Royalty.
"The more uptempo vibe comes from me, partly because I DJ and he doesn't," Chesca agrees. "Yorke lets a lot of his energy out. He's on stage four days a week, so it means that when he does make music he becomes more introspective, and then to me Royalty is actually the main outlet of energy and creativity."
What strikes you listening to the third EP on Five Easy Pieces is just how vast the potential for Royalty's sound is. When you hear the heartfelt bombast of "Eroica" (which features guest vocals from Swedish artist Kissey Asplund), it's a clear step away from the angular funk of the earlier tracks and towards coolly delivered pop. For contrast, on the same EP, "Vector Glide" paces about with a slow, menacing intent and yet still smacks hard like any dancefloor cut should.
"Now it just feels like we know our sound and we want to experiment a little bit," Yorke explains. "We're still heavily 80s influenced and very analogue because that's what we're doing at the moment, but we thought that we could break out of that a little bit. We feel confident in our sound now."
It seems as though Yorke and Chesca are starting to realise the directions they can take their music in, and with more time freed up to further the music, they find themselves at that point where just about anything could happen. "I'm focused on trying to up the production levels and spread the name," Yorke states calmly, "but I would like it to grow organically and blossom into what it's going to be. That's why, if you listen to all our tracks together, there's quite a few different styles there. I don't think either of us is shy to experiment."
In that sense Royalty are a likely example of why the point before you break through can be the most fruitful time for your music. Spurred on by the warm reception to their releases to date, Chesca and Yorke are using the opportunities afforded by that support to experiment and push their sound further. It does seem inevitable that a sound as instantly likable as theirs will break them through to a wider audience at some point, but you get the feeling that through whatever lies ahead, the boogie will see them right.
Oli Warwick