Juno Plus Podcast 36: Djs Pareja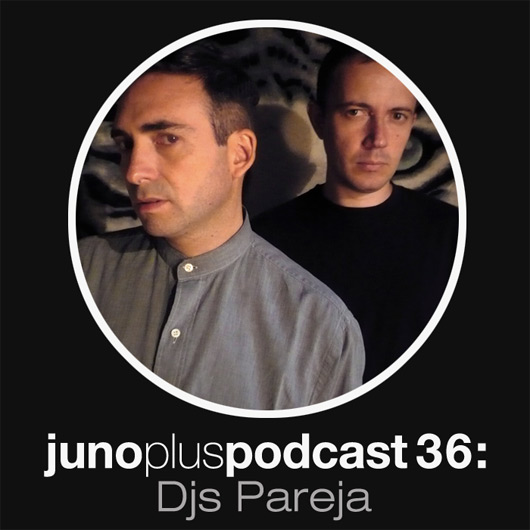 The Juno Plus radar switches destination to South America with a killer inclusion from Cómeme's self styled neo minimalist lunatic jammers Djs Pareja.
Since it was established back in 2009, the label overseen by Matias Aguayo and Gary Pimiento has grown into an imprint whose output has successfully created a unique niche within the world of house and techno. Its sonic identity is wholly distinct and apparent on each and every Cómeme 12″ thanks to an idiosyncratic merger between the well established principles of the genres and the various rhythmic nuances of South America. Buenos Aires duo Djs Pareja have been there from the start too, contributing to one of the first few Cómeme releases, though their contribution to the Argentinean music map stretches much further back than that.
Mariano Caloso and Diego Irasusta, the duo behind Djs Pareja, have been friends since the early nineties after meeting on the dancefloor of their favourite night club and found themselves inspired to take up the sound that propelled the Buenos Aires underground. As producers, Djs Pareja already have two Kompakt influenced albums to their name, while also contributing the excellent Spanish Is Beautiful 12″ to History Clock and there is further material from Caloso and Irasusta due out on Cómeme and Huntleys & Palmers. It is as DJs that the duo built their reputation, and across their 55 minute mix for Juno Plus they prove it's a fully justified one, slipping some of their own material and unreleased exclusives between classic Jeff Mills, AFX and Can. Mariano and Diego also proved to be eminently verbose when discussing their music and their lives to date.
So let's start with the genesis of DJs Pareja; where are Mariano Caloso & Diego Irasusta from, where did you meet and what was the impetus to form a duo?
We are from Buenos Aires. We met in the early 90's at the Age Of Communication, one of the most exciting underground clubs the city has ever had. There the DJs would play loads of Murk and Strictly Rhythm stuff, mostly deep house and diva vocal house. As kids, we used to love that club! We have always been real party goers. We would go to every club and party around town as well as to see indie bands and contemporary art exhibitions. We got to meet many interesting people and became part of the local underground scene. We kind of nourished our minds as much as we could, gaining lots of information and of course buying piles or records. We started Djs Pareja to dominate the planet! No really, it was a way to share with others our love for music. We were encouraged by our friends, and since then, we have never stopped.
You've been DJing and producing together since the late nineties, how has your own sound developed over this period?
When we started DJing we were very much into the new minimal sound of Cologne – it was a big source of inspiration. We used to mix that with rather obscure and bizarre tracks which we still like playing now and then. But we have also been inspired by a lot of music, 80's techno pop, Chicago house, UK acid house as well as Argentinean indie pop; and you can hear all these early influences in our first two albums Versatil? and Marcha. They both contain Spanish vocals. After such catharsis, we decided to orient our productions towards a more dance-floor and rhythmic sound in order to unify our music with our DJ sets. It was then when we had the chance to release the split with Matias Aguayo, and later the EPs on I'm Single Records Germany and History Clock. "Tacha", our latest track on the new Cómeme release, is a lunatic jam of neo minimalism for 2012. That's how we like to define it.
Let's toast Matias Aguayo and his label Cómeme, who first brought DJs Pareja to our attention when you featured on 2009 release. How did this relationship start?
We met Matias in 2002 when he came to Buenos Aires to play with his ex band Closer Musik, actually we DJed alongside them that night. It was a brilliant party. It took place in a club called Boquitas Pintadas, where we were resident DJs. We were very much into the Kompakt sound then and we became good friends. He fell in love with the city and his visits became more frequent, getting involved into the local music and art scenes. After that, he and Gary Pimiento started to throw the BumBumBox street parties.
And what is your role within the label now? You were also involved with the BumBumBox parties Aguayo runs correct?
Our role is basically music making. We make music and we share it with other Cómeme artists, so that we get our stuff out to be heard and danced to in other parts of the world. In a way, we also try to spread the label sound, in Buenos Aires, Santiago De Chile, Rosario, Montevideo, anywhere we play, together with fellow Cómeme musicians from the region such as Diegors and Ana Helder. We are also involved in Radio Cómeme, which is the label's new project. We have a monthly radio show and we are very happy about it. Regarding the BumBumBox parties, we were there from the very beginning, recording DJ mixes or just dancing in the streets with our friends. But as far as we are concerned, they are no longer happening, they are now part of the Cómeme history.
How important a role has Cómeme played in opening up South American talent to a wider, more receptive audience?
Very important, because there are so many talented people in South America, there are many interesting things happening, new artists making great music, people whose productions hardly get to be heard in other parts of the world.
You've toured Europe several times now, how do you find the contrast in clubs and crowds between South America and Europe?
In our opinion, if the party and the music is good, there are no big differences between clubs in Berlin and Buenos Aires. When it comes to clubbing, we believe the world is already quite unified. But of course we are better known in Argentina because our background, our roots are here, and we have more followers here because of what we mean to them. Although Glasgow clubbers are one of the wildest crowds we have ever played to; we played there last year and wow – we had lots of fun!
After last year's debut for History Clock, you are now sharing a release on Cómeme with the label owners Jonathan "Capracara" Burnip and Nathan Gregory Wilkins under his Cowboy Rhythmbox name – how did you come to release on their label?
We met Jonny "Capracara" in Cologne during a Cómeme tour in 2009. We got on well with him immediately, he is such a nice guy. Then he came to visit Buenos Aires and we played together in a few unforgettable house parties. We also guided him through the city's best second hand record shops, hunting for rare records, something we adore doing. When he left, we kept in touch. A few months later, he wrote asking for material for his own label History Clock, and that's how we came to release the Spanish Is Beautiful EP in 2011.
And what else do you have on the horizon? A third LP perhaps?
We haven't thought of an album yet, but we do have a lot of stuff we would love to have released. We are releasing a 10" single with two tracks on Huntleys & Palmers later this year, and a couple of remixes on vinyl for Latin American artists Mkrni and Isla De Los Estados.
Tell us where you recorded this mix and what your aims were for it.
We recorded this mix in our beloved flat. This is our sound, it's the music we enjoy playing. There are a couple of our own productions, some unreleased tracks from friends mixed with classic tunes we love, and some new stuff as well. We don't really have any rules. We like to think we adhere to that Summer Of Love 'anything goe's principle. We are not DJs who say "I only play techno" or "I only play nu disco" We love eclecticism.
If you were to give us the guided tour of Buenos Aires where would you take us? Bear in mind we like to eat and drink like champions and bask in the culture of the people as opposed to trail the tourist path.
We would definitely take you to some of the classic pizzerias on Corrientes Avenue, in the heart of Buenos Aires, to try one of their pizzas accompanied with a glass of moscato, a wine made from muscatel grapes. Or maybe to a parrilla lost in one of the barrios porteños to eat the famous Argentinean asado. It's said to be the best meat is in Argentina.

Length: 53:45
Tracklisting:
1. Rony Douglas Is Dead
2. Cowboy Rhythmbox – Shake
3. Djs Pareja – Tacha
4. Jeff Mills – The Deep
5. Raudive – End Of The End
6. Christian S – Jagos
7. Djs Pareja – De La Cabeza
8. Bobby Konders – Let There Be House
9. Beresi – Yes I Can
10. Raheem Hershel – House Of Hershel
11. Unknown – Boogie Edit
12. AFX – PWSteal.Ldpinch.D<
13. Can – Vitamin C