Príncipe – Discovering Lisbon's Hidden Nobility
At the turn of 2012 a new label appeared with little prior fanfare in the form of Príncipe, sporting two incendiary twelve inches from Photonz and DJ Marfox, whose magical yet diverse sounds were matched by striking sleeve design. Compelled to find out more about the people behind the label and their motivations for founding Príncipe, it became immediately apparent the two releases so far are the culmination of a community project that's been long brewing and promises much more.
Four individuals with fingers deep in Lisbon culture have been intrinsic in Príncipe coming to life: visual artist Márcio Matos and journalist, DJ and sound artist Jose Moura, who both work at Lisbon record shop Flur form Príncipe alongside the Gomes duo – Nelson of Gala Drop fame and Pedro, a fellow musician and self professed "retired journalist" – who can be considered brothers in everything but blood. The latter two both work for Filho Único, a non-profit arts structure that programmes and promotes shows in Lisbon, with the likes of James Ferraro, Hype Williams and Blues Control and Laraaji & Arji recently appearing on their calendar of events.
Upon making contact, it is Pedro and Jose who stepped forward to engage this writer with some illuminating insights into how Príncipe came to be, going into great detail to describe the cultural momentum that's been building in Lisbon for some time.  Pedro in particular demonstrates a real passion and conviction for what Principe stands for, describing the label as "a cumulative effort built on mutual respect and admiration" between the four of them, and he reveals it has taken some two years for them to realise the label from conception.
Pedro says each member brings to the fore their own unique input, with Moura's detailed knowledge of techno and house complemented by the instinctive vision and "indescribable charisma" of Marcio – a man recently described by Photonz to Juno Plus as "an amazing DJ with the most creepily spot-on dancefloor intuition we've ever seen – he's that guy that switches off your deck, plays the weirdest tune and everyone goes wild."
Nelson and Pedro's remit of working with national dance music as part of Filho Único seems intrinsic to Príncipe; their connection to the music pouring out of the suburbs and slums of Portugal allows them the unique opportunity to provide a "platform, a structure where it could fully blossom and reveal itself in all its glory – worldwide, for the first time in many, many cases to come."
Jose Moura reveals his own motivation behind getting involved in Príncipe began when noticing a sea change in Lisbon night life after the turn of the millennium. Local DJs and musicians no longer shared the derivative mindset that permeated 80s and 90s club culture in Lisbon, with "globalization and better access to information meaning that those of us more dedicated to making a contemporary mark with music could do so if sufficient time and ideas were invested." It was towards the latter part of the last decade where this started to bear fruition, with a swing in the creative balance between local DJs and their more celebrated foreign (mostly UK) counterparts noted by Moura: "for the first time in my music fan life, not only were the locals perfectly up-to-date but even outran guest DJs in terms of edge, the latter often resorting to "conservative" tunes that were already hits in a club like Lux."
Noting this change, Moura was inspired to form a night club with local DJs whose talent for mixing and sequencing a night was not recognised. Alongside Photonz and Marcio Matos, Zonk was formed in the spring of 2008, making for a notable footnote in events that would lead to the foundation of Príncipe. The four residents of Zonk presented themselves collectively as Escravos de Zonk (Slaves of Zonk) and maintained a far-reaching music policy that eschewed an emphasis on contemporary fads in favour of "travelling back in forth in time in search of certain rhythmic patterns, a primal energy" that took in everything from rock to the various strands of house and African music with "a general Jack vibe" at the core.
Alongside the emergence of Zonk, Moura credits the cultural significance of the ZDB gallery at this time; a space in the Bairro Alto neighbourhood that allowed local rock based music movements the space to build momentum and prosper on their own creative terms without recourse for outside inspiration. This also lead to belated cultural recognition for some of Portugal's forgotten musicians, as Moura tells it: "names like Sei Miguel, Manuel Mota or David Maranha, highly important figures from the Portuguese experimental underground that never had a supportive scenario during the previous decade and a half were now respected, their influence recognized".
Nelson and Pedro began an embryonic version of Filho Único at the ZDB gallery, programming events as well as performing in bands themselves – Pedro in Caveira, described by Moura as "a seminal band bursting with primal energy". Nelson founded Gala Drop along with Tiago, widely credited by the likes of Tim Sweeney as Portugal's best DJ.
Sensing a similar outlook and desire to document the vibrancy of local music expression, the Slaves of Zonk approached the Gomes boys with the intention of discussing "a cooperative based on mutual respect and common principles of locality, heritage, expression, realness and a constructive vision of the future not really oblivious of market considerations but keeping them well at bay". Moura is at his utmost modest when stating there's an element of nobility at the core of Príncipe; its founding intention was "to discover hidden nobility, true nobility to counteract the mostly insipid royalty out there."
The diverse nature of Príncipe's output to date is only a small reflection of the multi-faceted sounds that permeate Lisbon's streets, something that the four aim to reflect in their future releases. The Príncipe mission statement aims for "house, techno, kuduro, batida, kizomba, funaná, tarrachinha or any other new aesthetic development" to be covered, pressed up and shipped and again Pedro's depth of understanding shines through when discussing some of the genres that the label aims to open up to a wider audience.
"Kizomba is a name for a specific brand of Capeverdian and Angolan Zouk. They are mainly romantic tunes, built for dancing real slow," Pedro states before revealing they are working on a sped up and highly political Kizomba project that he describes with sensationalist humour as "Martin Hannett on fruity loops". Continuing, Pedro describes Funaná as extremely fast traditional music from Cape Verde. "Historically it's also regularly been used as a lexicon for songs of struggle, lament and of positive mobilization of people," he adds. Intriguingly, the Funaná Príncipe aims to release is a contemporary version that "is mainly electronic, probably very craftily compressed; it has gradually adapted itself technologically to the contemporary and future dancefloor."
When questioned about the importance of having Photonz – a duo whose recognition reaches far beyond Lisbon – on board team Príncipe, it transpires Marco and Miguel were originally part of the label when it was still in gestation. As Jose Moura explains; "Photonz were part of the early discussions about forming a label, but in the meantime things opened up for them and they had the chance of curating their own label – One Eyed Jacks – in a way that reflected their musical personality 100 per cent. But we wanted to have Photonz on board. They had reached a point where their sound was distinctive, and through them we felt the local house culture of the 90s coming back as a positive influence."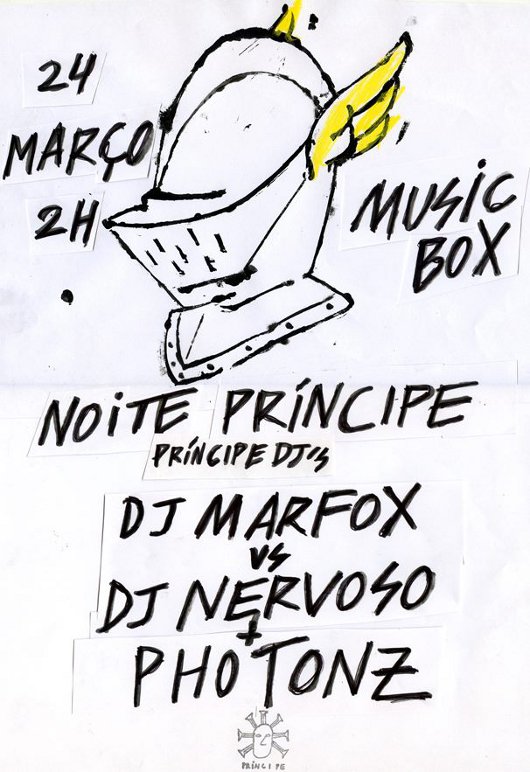 The other Príncipe release to date saw a long overdue debut from DJ Marfox, a key figure of Lisbon's Kuduro scene, a genre that took root in the city during the 90s. Established in Angola in the early 80s, Kuduro arrived in Lisbon amid a wave of immigration as Angolans fled their civil war torn homeland and brought with them the high tempo polyrhythmic sounds on cassette. It's not disingenuous to say Kuduro wasn't given the wider appreciation it deserves outside of Lisbon. Discarded with far too much haste by a fad-hungry internet eager for the next niche genre on offer, it's perhaps timely for Príncipe to usher in Marfox's debut release; with the frenzied polyrhythmic sounds that rippled through his Eu Seiquem Sou EP more suited to the current boundary-eschewing climate.
It comes as little surprise to hear that Pedro is best placed to emphasise the enduring cultural significance of Kuduro, a genre that has taken on many lyrical, production and civic manifestations over the years: "Kuduro, as the blues, hip-hop, or any other popular vocabulary that has been part of a whole culture and time, should never ever be dismissed. Similar things can be said about the B-more sound and juke music – they're both part of very important continuums, and should be addressed in the grander scheme of things. If they get used up and tensely stylized for immediate, decontextualized, "globalist" consumption, then that manifestation of the music and culture will give the illusion that that's all these genres and cultures have to offer, which couldn't be further from the truth."
Given their strength of conviction in documenting the current state of Lisbon's bubbling musical underground as well as the fact two of them work in record shops, Principe's dedication to releasing on vinyl is to be expected and the undeniable artistic talent of Márcio Matos lends the imprint a strong visual identity. Describing working with Matos as a blessing, Pedro goes on to reveal that the artwork shown on the Photonz and Marfox records is part of an overarching visual theme: "As the release schedule advances you will be able to understand better what's been designed as the artwork. We won't be giving too much away, as it's more fun for everybody if we don't."
Committed to a process of individually stencilling and hand painting each record reminiscent of the equally exhaustive presentational endeavours of RVNG Intl, Pedro and Jose are equally effusive in their praise of the vinyl format. The former speaks of its "mystifying qualities and amazing potential – in terms of narrative, non-narrative; in terms of telling a story; of having an arch, an internal and aesthetical balance in the sequencing." Jose goes on to reveals how the label has turned to a seminal figure of Portuguese music to help engineer their releases, a move that encapsulates how they see Principe in the grand scheme of things: "We got Tó Pinheiro da Silva to work with our sound engineer. He's been doing it since the 70s with Portuguese prog and pop bands. He was also a musician in several of those bands, and he's been involved in so many key moments in Portuguese pop music of the past 30 plus years that he ends up representing much of what we want for the label, namely our inscription in a local timeline that inspires us and which we wish to contribute to."
Tony Poland
Header image provided by Ana Luzia/Time Out Lisboa