Interview: Scuba vs. Ben Klock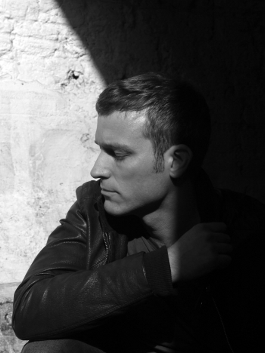 Scuba (aka Paul Rose) and Ben Klock are two of Europe's most in-demand producers; the former has exploded into 2012 with Personality, a divisive but undeniably bold third album, and an increasingly varied release schedule on his Hotflush imprint, while the latter continues to tour the world as a DJ and maintain a now legendary residency at Berghain.
With the Berlin-based pair both in London ahead of this Thursday's Ostgut Ton x Sub:stance showcase, we asked the two producers to interview each other, continuing a sporadic series that has so far seen JR Seaton grill Milo Smee and FaltyDL lock horns with Blockhead. The results were enlightening, with everything from personal trainers to "real" instruments  in techno and Berlin's relentlessly evolving club scene up for discussion, with Klock also revealing he has a new album in the works.
Part 1: Scuba interviews Ben Klock
I heard you're a good pianist – do you think "real" instruments are compatible with techno? To what extent do you think the machine element and atonality are part of the whole aesthetic ?
I haven't played piano for such a long time now I'm not sure if I'm still a good pianist, but yes, I learned to play piano from an early age, although I was always more into improvisation than reading notes. There are two sides to it;  it always helps if you know a bit about harmonics to find the right notes and chords, but on the other hand a classically trained ear can totally stand in your way when producing techno. Some of the best techno tracks have a weird atonality and you can actually hear that the producer is not a musician in a classical way. But this "wrong" element in the music can give it more of an edge and in the end it's that edge which makes it so special and sexy. Also the essence of techno is the loop. A repetitive drumbeat is the basis. In the same way that showing off a sax solo can take away from the pure essence of techno, I try not to put too much into a track and send the "musician" back to the corner sometimes.
As someone who is releasing music and runs a label, do you think what has happened with piracy and record sales devalues music as a whole? I'm sure like most DJ/producers you make most of your money from DJing… is that the right way round?
You have to be aware of the fact that you are a performing artist nowadays. I used to find it pretty unfair that the music itself was decreasing in value, especially for artists who are producers in the first place. Some of them start to perform as a DJ or as a live act even though they don't really like it. But that's what you have to do now if you want to make a living. Personally I don't see it as a problem anymore; I love playing and I can say that I love it more and more each year. I don't care as much anymore about the money I make from record sales. In a good way that also frees the production side from the need for everything to be a top seller and you can focus on your creativity instead of worrying about the numbers.
It's been a couple of years since your last album, are you planning another one? How do you think the album format fits with techno? And relating to the last question, is there any point in making albums these days since the majority of sales increasingly come from single track downloads?
I am planning to make another album, but it's not really scheduled yet. For me the album format is a wonderful thing. It's the Holy Grail. It's like writing a novel instead of just a short story. You can get closer to the listener and take them further into your world, even if there might be less people who really take the time or effort to experience the complete album. I see it as an art even if there are now fewer people who appreciate it. We have to keep the album format alive. It's part of a culture, otherwise we might just become a sell out industry. Take Kate Bush's Hounds Of Love album for example – especially the B Side. I say B Side because it was still released in the days of vinyl and the B Side  had a different, deeper approach than the A.  The complete beauty of the concept is only really revealed when you listen to it as a whole. Albums like that really shaped my love for music – I felt very intimate with the artist. The album format can be really challenging for a techno artist however, but if you have a wider approach that's where you can show what you usually keep inside.
You must have seen huge changes in Berlin in the last few years. I guess there must be upsides and downsides, but how has club culture in Berlin changed since the 90s? And have outsiders such as myself brought anything positive or are we just a bunch of opportunists?
Yes I've seen a lot of changes, from the old West-Berlin with the wall around it to what it is now, it's a different place. I remember we "real" Berliners used to be so proud. We thought we were better and cooler because we were more underground. Now that doesn't matter anymore. And that's a good thing. I like an open society and I feel more comfortable now that it has become such a magnet for people from all over the world and that it no longer has this small town feeling. I think one of the main reasons why the club culture is so vibrant here is because of all you outsiders. Essentially, there were two major things at the beginning of the last decade that had a huge impact on the Berlin club scene and helped to refresh the electronic music world: One for sure was that a very unique and inspiring place called Berghain opened up, and two, that people from elsewhere moved to Berlin like Richie Hawtin and Ricardo Villalobos. They brought new energy, impulses and life to the scene and of course also some hype.
It's only in the past couple of years that I've started playing what I would call long sets… but your sets at Berghain put my best efforts to shame. How do you approach a 10 or 12 hour set? Is it something you can plan out or do you just see where the mood takes you?
When I started my career in the 90s I had my residency at Cookies every Tuesday. I usually played all night long there, so I grew up with that culture. I'm happy playing two hour sets and I really would not be able to do 10 hour sets every weekend, but there is a magic about long sets and I need this to keep my passion alive. Otherwise I would just become a performing artist. Two hour sets are performances, but 12 hour sets are journeys. I love the feeling of not performing but really getting lost in the music and letting the waves just carry the boat. I still hold the wheel because the boat needs direction but actually I'm just enjoying the sea. A bit too romantic? Maybe, but I don't care.
Part 2: Ben Klock interviews Scuba
Of course the first question has to be about your fitness status, since we both have the same personal trainer at the same gym. Do you still enjoy it? How often do you manage to see him, once or twice a week?
Haha well I think I can confidently say that I go more often that you! Actually when I get there I do quite enjoy it but it's quite difficult to get myself out of the house sometimes… that's one advantage of having a trainer I guess, it's harder to get out of going to the gym when you don't feel like it. I only started doing it because I had some problems with my back a couple of years ago that I was having trouble sorting out on my own, and I only later realised that it was from spending hours on end leaning over slightly while on the decks, but actually I have to say that I've learned a lot from doing it. Monday sessions are pretty tough sometimes though…
How long did it take to work on your new album? And in general, are you fast when you work on music? I know it's not easy to squeeze in something big like an album between all the gigs, travels and daily business. Do you make loops or drafts when you are on the road?
Most of the new album was done pretty quickly in September last year, but what I think was the actual process of doing it was more like 18 months of messing around with different styles and trying to develop approaches that I hadn't taken before. So I can be pretty fast when I know what I'm doing, but working out what I want to do usually takes a lot longer. And I have to be in the studio when I'm working, I'm not one of these people who works on a laptop in the airport or hotel room or whatever. I've got to have a good few hours on my own in a room with no-one bothering me to really get into it. When it was really getting serious and I knew I had to finish it last year I pretty much blocked everything else out and just got on with it. It can be a pretty intense way of going about it and it can get pretty stressful but it's just the way I have to do it.
During the week, are you a night worker or do you prefer the daytime?
I can't work at night at all. Very rarely I'll do an evening session up til like midnight or something but usually the best work I do is in the morning. If I can get up, have breakfast and be in the studio and getting down to it by about 10.30 then the next 3 or 4 hours are usually the most productive time for me.
How long have you been in Berlin now? Does it feel like home to you? Or is it just a convenient place to be at the moment, because that's where the electronic music scene is based right now? And do you have a favorite restaurant in Berlin?
It's going to be five years in September… which is really crazy when I think about it, it's gone so fast. It does feel like home I guess, I'm certainly used to being here, but in the last couple of years I've been away so much I don't really feel like I'm properly in touch with the city. When you're away every weekend and in the studio on your own all week you kind of lose perspective a bit, but I guess you know all about that. It clearly is still a big centre for the scene, and when I moved over I thought I was really late on it, but more and more music people keep arriving… I guess it's partly because it's still pretty cheap but it has obviously been getting quite a lot more expensive. The only other place I could see myself living is London and I really don't see myself moving back there any time soon. Although it would be nice to live somewhere with better weather… maybe Spain. I've got a few favourite restaurants to be honest, but if I had to pick one it would probably be ETA Hoffmann in Mehringdamm – that's for special occasions only as it's pretty expensive. Actually I also have to mention Bar Raval in Kreuzberg, for when I'm craving a bit of sunshine (aka jamon iberico and manzanilla).
What inspires you? Classical music? Art exhibitions? Horse races? Harley Davidsons?
I had classical music forced on me when I was a kid, and it's only in the last few years that I've been able to get into listening to it again. But actually I can't say it has a huge impact on me. I'm more interested in African music, especially guitar stuff as I'm a guitar player mainly. I still listen to Ali Farka Toure all the time, and his son Vieux Farka Toure is doing some really good stuff now as well. Some of the forms and aesthetics that you find in African blues and traditional stuff is quite compatible with electronic stuff, and just on a personal level I find a lot of that kind of stuff really relaxing to listen to. In terms of visual stuff for me it's more films than art. I've been playing around with 80s influences in my music and that comes from 80s films as much as the actual music I think. And with my first couple of albums I was quite influenced by sci-fi films, although maybe not in a completely conscious way. One of the things I want to do at some point is score a detective movie, I'd love to have done LA Confidential. Maybe in a few years.