Pinch: Cracks In The Pleasuredome
Pinch, otherwise known as Rob Ellis, occupies a position within the history of dubstep that has been oft recounted. After watching Kode9 DJing at FWD>> at London's Plastic People in 2003, he returned to his hometown of Bristol with the desire to start a night that would capture some of the essence of FWD>>, resulting in the inception of Subloaded, the dubstep night that arguably made his name as a DJ and made a mark on Bristol's musical psyche that still resonates today.
As well as a sizeable body of solo material, most notably the 2007 album Underwater Dancehall, he is responsible for the running of Tectonic, one of dubstep's most enduring labels, one that is not afraid to step out of the genre's comfort zone whilst remaining almost resolutely faithful to what makes the genre work from the inside. Speaking to Ellis on the phone from his house in Bristol, we start by discussing Ellis' recent entry into the Fabriclive mix series canon.
Comprised heavily of his own productions, as well as several offerings from Tectonic, Ellis's offering sits somewhere between a Shackleton or Omar S style "album" mix and Four Tet's more conceptual entry, with the mix taking the form of a continuous loop, beginning and ending in the same place, which Ellis explains: "It's a funny time for dubstep – it's no longer the new kid on the block, it's now turning into a moody teenager, so it's an interesting crossroads that I think that we're at. Part of the idea of having the whole thing loop is that it's a self-contained snapshot, something sits in its own little world."
A vinyl purist at heart, Ellis recorded the mix in one take, using only vinyl and dubplates: "A lot of the upfront material, I'd just got cut to dubplate, so I wanted to play them the first time that they were played – that's the best they sound as a dubplate, so I knew I couldn't faff around practising lots of different mixes". It's something that comes through whilst listening to it, constantly breathing with a sense of urgency – acetate dubplates disintegrate at a rapid pace. "I kind of went in dubhunting and getting tunes finished to put together for the mix, because I wanted to give it my best shot," he explains. But rather than painstakingly craft the mix to perfection, he explains that he "just wanted to capture the essence of a really good DJ set which wasn't planned out to an absolute tee".
The Equalized (aka Shed) track "EQD 005-B" comes as an early highlight, ripping through the mix with its savage textures. This track was given to Ellis by the producer ahead of its release, and though some may find Pinch's love of techno a surprise, it's something he appreciated before dubstep. "I was really into the Basic Channel and Rhythm & Sound lineage, so it's something that I was into pre-dubstep if you like, and I still pick up what I would consider good quality pieces of interesting minimal, or dub techno". It's something obvious in Ellis's remix of Henry & Louis' "Love Like", which follows Shed's track in the mix; though filled with heavily oscillating low end, its rhythm has a particularly grounded feel, whilst his ear for reverb and texture obviously owes as much to dub techno as dubstep.
However, despite the nicely chaotic feel the mix has, he approached the finished result with the mind of a producer, putting the whole thing into Logic and adding subtle atmospherics and vocals from MC Jakes: "I pitched them down, added some heavy reverb and some subtle little sounds like phone ringing, just to give the mix more of a completeness, and to give the DJ experience a home listening twist – you can hopefully pick out details, like I put in my own productions, or like Burial might do." It's these subtle sounds, which people may not pick out on a first listen that he explains will hopefully give the mix "longevity". It works nicely, transforming something that could easily have been another enjoyable, but ultimately transient mix into a product that feels finely crafted. Cryptically, he also reveals there is a sonic secret hidden somewhere on the CD version of the mix: "There's something in there that is inherently unique to the CD, and there's a little secret in there. That's all I'm saying".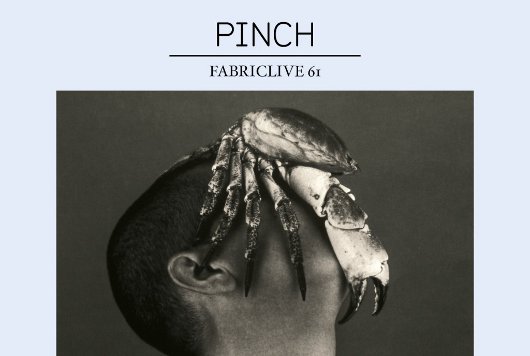 As a mix, it's characterised by a pull between light and dark elements – something that Ellis has long had an interest in. The placing of the airy melody of his collaboration with Quest "In Dreams" for instance, between the darker, heavier tones of Deleted Scenes' "Natural Law" and Boddika & Joy Orbison's "Swims" is a prime example. But his juxtapositioning of different sounds is something he's keen to downplay as considered, as he explains: "I think placement is a very important thing when making percussive music especially. But it's an instinctive thing – it's more a case of when you get to a certain point what's perhaps the most appropriate mood to follow, and I think that's only really something you can learn from years of DJing".
Despite being a seasoned DJ, Ellis has also been producing since 2005, and although he has scores of solo releases on labels such as Tectonic, Planet Mu, and Deep Medi, his most high profile project of late has been the collaborative album with Shackleton, released to much surprise and adulation last November.
"It's probably either directly or indirectly through Appleblim how I got to meet Sam (Shackleton) some years ago", Ellis explains. "I went down to one or two of the early Skull Disco nights, and in later time we obviously had a vaguely similar affinity for some of the elements of music we were both interested in". The collaboration began with a few sporadic recording sessions: "In between some gigs he stayed at mine, we started working on some music and it grew from there really". "In total the process was about 18 months. The bulk of it was written by me going over to Berlin and staying there for a couple of weeks at a time, or a week, or a long weekend, sometimes around gigs, sometimes not. Towards the end we did bounce one or two bits and pieces back and forth, but by and large it was pretty much all done when we were sat together".
Some reviews of the album had highlighted that, due to its palette of sounds, the album was perhaps more Shackleton's work, but this is something Ellis is keen to dismiss: "I think it's a nice refection of both our inputs. I've read some comments online where people have heard the palette of drums being predominantly bongo based and assuming that means Sam's done all the work – but I'm sure you would agree it's been a fairly even split". It's obviously an experience that Ellis enjoyed and is especially proud of: "I just found that the music came out of us quite easily and naturally and fluidly – we enjoyed making it, and hopefully in some way or another it's reflected in the output".
The album with Shackleton is by no means his only collaborative work; in fact his discography is peppered with collaborations with the likes of Loefah, Roska, and Distance, under the name Deleted Scenes. It was working with Distance that really opened Ellis up to the idea of collaborating, as he explains: "If you're making two people happy without compromising you ultimately end up making something that's stronger. If you've got two discerning pairs of ears going over it with a fine tooth comb saying 'let's take take that out', you might have a few disagreements, but then we'd get rid of it and find something else that we both liked – the result in the end can be a lot stronger."
But despite his obvious love for working as a pair, the reasons for such collaborations can sometimes be pragmatic. "To be honest, I find it difficult to make time for myself to write music, but I find when someone else is in town – a friend who's DJing or whatever – then it's very easy to hang out and get in the studio and get on a track. And I find as well that if someone has invested their time, then I'm more likely to want to get it finished because I don't want to let that person down, whereas I might put myself to the back of the queue!"
Although Ellis admits his solo output has been sporadic of late, two of most most recent solo efforts, the Croydon House and Retribution 12"s on Loefah's Swamp81, have been very well received. Perhaps what makes them most notable in his discography are the forays on these releases into a slower, 128bpm tempo zone, far outside the 140 area that had been his mainstay.
The story behind Croydon House, the first of these releases, is an interesting one, which Ellis shares. "I'd written the flipside that it became, "Elements" – at the time Pete (Loefah) was still playing a lot of 140 stuff, and he really liked it and asked if he could have it for Swamp81". With the pair having a mutual admiration for each other, Ellis was happy for the track to be released on the burgeoning label. However, without a B-Side, Ellis decided to write a track specifically for the release, and decided to take a freer approach offered by the track's B-Side status: "Pete had been talking about taking Swamp in directions of different tempos, and it kind made me think, I've got a 140bpm track that I like, so there's a bit more room to breathe with the B-Side. I thought I would write a house tune if Metalheadz had been releasing house music in the mid-90s – that was my thought process with it – or something that I was quite interested in exploring as an idea anyway".
Despite its more experimental nature, it impressed Loefah sufficiently to upgrade it to the title track: "On the day he went to get the actual vinyl cut at Transition he phoned me up and he said "Rob, I think "Croydon House" should be the A-Side, so it's up to you". Inspired by Loefah's enthusiasm, Ellis made the change, and it's one he seems pleased with: "In a way I actually think "Elements" is possibly a slightly stronger tune, but the impact of "Croydon House" was much stronger – the fact that it did drop in tempo from the dubstep pace had a really good impact. I've seen a few things where people have written online about how they thought this was a really interesting direction to explore and that it's nice hearing me loosening my shackles from the 140 zone."
With the 128bpm tempo resonating with him "quite strongly" as he describes, he went on to write the visceral Retribution, released in December last year, again on Swamp81. But Ellis is keen to emphasise that although the music is at 128bpm, he's not sacrificing any of his core sound as a result: "I didn't want to make house music at 128bpm – I wanted to take the tempo and the groove and make my own space with it, and reintroduce what I would consider the core aspects of the original cinematic elements of dubstep into this zone." It's something he seems keen to continue working with: "I'm not gonna lie – the success of Croydon House has definitely spurred me on to pursue that, and I'm enjoying it".
Of course, even in the past two years the musical landscape has changed massively, especially in Ellis's hometown of Bristol. As fractured as it may be now, his role in shaping its current form is undeniable. Mentioning artists like Kowton, Julio Bashmore, and the Young Echo collective including Kahn, Zhou and Vessel as examples of those making up the current generation of producers in the city making waves, he explains that this kind of experimentation is something he's fully supportive of: "I think its great – it's something we'll see growing and sprouting up in more and more in other places. But I think that the key aspect for anyone getting involved in this kind of thing is to make sure that they bring their own space and sense of originality to what they do, and I think that all the Bristol guys are certainly doing that, they're kind of carving their own space within their respective niches".
However, these developments in Bristol and London have led to the terms "bass music" or "post-dubstep" being used as genre tags to describe music inhabiting a hinterland between dubstep, techno and house. Ellis is vehemently suspicious of these terms: "I mean I like bass, and I like music, but I don't like very thin genre tags for the sake of people internally tribalising within genres. It's unnecessary".
"I do think there is very much a generalising trend emerging with the likes of the Hessle boys, Ben UFO and so forth, putting together music from techno, house, dubstep and different scenes and combining them in a certain way, but there's a common thread that might run through Ben UFO's selection that I don't necessarily see in this catch-all term".
For Ellis, attitude seems key in why the term falls flat. "It seems a bit faceless – it doesn't really say anything to me, it doesn't have any kind of mood or attitude to it. Jungle – jungle had attitude, garage, 2-step, funky, grime, dubstep – they all kind of carry some kind of essence of what the music's about in the energy, but bass music to me sounds like – eh, whatever".
However, to Ellis, the blurring of boundaries between distinct scenes seems as important to why it fails as the attitude behind it: "I think more so now than ever, dance music is not as tribalised as it used to be. People are more and more looking for a mix of things. I mean, if you're going to spend a whole night in a nightclub, maybe you don't wanna hear just one thing all night – I don't think there's necessarily anything wrong with it. The danger with that is, that it's harder to make a focal point".
Perhaps most insightfully, Ellis suggests this lack of tribalisation is down to the way the internet shapes dance music now: "The thing with dubstep was that it was lucky in the respect that although the internet was around, and that was one of the things that helped it grow and spread everywhere – in essence, people weren't quite using it in the same way. Social networking and the kind of general globalisation of scenes wasn't really to full effect, so it was able to brew, and stay self-contained. It was able to be very focused on one specific thing, and that allowed it to grow and develop into something that became a noticeable scene".
"I do worry that perhaps in the near future that its going to be harder for genuine microscenes to develop like that, because they tend to get exposed now before they've really set root, and that just means that they're less permanent". It's a bold statement, but coming from a man who was instrumental in developing one of the past decade's truly revolutionary musical movements, it's hard not to hear some prescience in his words.
Words: Scott Wilson