Stones Throw announce The Minimal Waves Tapes Vol. 2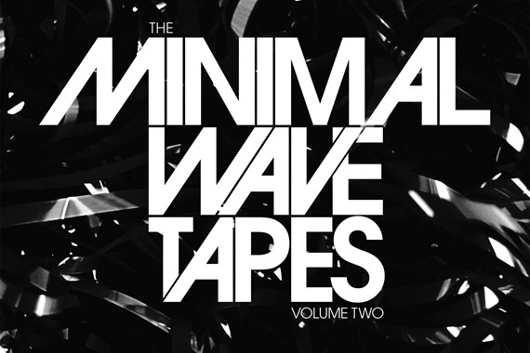 Full details have been revealed of the second volume of The Minimal Wave Tapes compilation jointly curated by Peanut Butter Wolf of the Stones Throw imprint and Minimal Wave's Veronica Vasicka.
Released back in January 2010, the first volume introduced many to the good work the New York based label Minimal Waves was doing in reissuing rare and obscure synth-based electronic music from across the globe from the late seventies to mid eighties. Founded in 2005 by Vasicka, the Minimal Wave label has become renowned for the loving attention to detail that adorns each of their releases and were rightfully named amongst our labels of 2011.
Due out late next month, The Minimal Wave Tapes Vol 2 is a typically cross-continental selection, featuring remastered material from artists that span Europe, North America and Australia and lists names familiar to followers of the recent Minimal Wave output such as Philippe Laurent and In Trance 95. Whilst the focus is naturally on music that surfaced in the mid to late eighties, there is an anomaly on the tracklist in the shape of self confessed Beach Goth Geneva Jacuzzi with a track taken from her self-released 2008 album Rat Killer.
The Minimal Wave Tapes Vol 2 will be released by Stones Throw and Minimal Wave across vinyl, CD and digital formats on February 27 – peep the below stream of Philippe Laurent's typically crunchy contribution for an idea of what to expect.
Tracklisting:
1. Hard Corps "Dirty" (UK, 1984)
2. In Trance 95 "Presidente" (Greece, 1988)
3. Philippe Laurent "Distorsion" (France, 1984)
4. Das Ding "H.S.T.A." (Netherlands, 1982)
5. Subject "What Happened To You?" (Belgium, 1982)
6. Ohama "The Drum" (Canada, 1984)
7. Geneva Jacuzzi "The Sleep Room" (Los Angeles, USA, 2004)
8. Antonym "Cinnamon Air" (UK, 1983)
9. Ruins "Fire" (Italy, 1984)
10. Ende Shneafliet "Animals From Outer Space" (Netherlands, 1981)
11. Felix Kubin "Japan Japan " (Germany, 1985)
12. Class Info "Out Of Line" (USA, 1984)
13. In Aeternam Vale "Annie" (France, 1984)
14. Aural Indifference "Theme" (Australia, 1981)