Orphx: Industrial Revolutions
In the middle of the summer a few years ago, a record by an act called Orphx was released on Sonic Groove. Orphx was not a household techno name, but the fact that Division was released on Adam X's label and contained a remix by Surgeon brought them to the techno community's attention.
That said, nothing could have prepared listeners for the sound that flowed through the speakers once the needle hit the groove. Here was the malevolent intent and rhythmic menace, the oppressive and barely controlled sense of fury that nearly all of the producers who had recently tried to explore techno's dark side had failed to achieve.
Orphx followed their Sonic Groove debut with the Black Light and Traces EPs, teeming with more effortlessly dark and sleek techno for the floor and the mind. This trilogy exposed all of the drone and tunnel releases for what they really were – tokenistic stabs at industrial electronic music. But who are Orphx and how come they were in a position to arrive at Sonic Groove with three zeitgeist-altering releases?
The reality is that Orphx have been making music since the early 1990s in one form or another. Formerly a three-person act, they now consist of Richard Oddie and Christie Sealey, who were also a couple and have a son together. Hailing from Toronto, their path initially followed the trajectory of alternative music during the late 80s and early 90s. As Richard explains: "Christie and I first started working together in a high school band that was inspired by the UK shoegaze scene – My Bloody Valentine, Slowdive, Ride – but I was also very excited about industrial music, primarily due to an obsession with Skinny Puppy, and when the shoegaze band broke up we started a new project with our friend Aron West," Richard explains.
"Together, we discovered the Japanese noise scene (Merzbow, Masonna, MSBR, Aube) and learned more about the early roots of industrial, especially SPK, Swans, Einsturzende Neubauten, Coil, Zoviet France and Clock DVA. These were some of the major influences for starting Orphx," he adds. "Industrial and post-punk from the late 70s and early 80s is still a big source of inspiration."
In the beginning, the Orphx set-up and even the format that they chose to release music on was strictly DIY. Richard recalls that "in the early years, we used Aron's (West, the former third member) basement as a practice space and gathered together whatever instruments we could find: an 8-bit sampler, a Yamaha synth, an Oberheim drum machine, reel to reel tapes, power tools, scraps of sheet metal and microphones, some effects pedals, and an early Mac computer for doing basic sequencing. We would improvise for hours and then edit out the best parts for our first cassette releases. We started a tape label and distribution to network with other labels in the Japanese, UK and US noise scenes."
But Orphx's members and their influences and methods didn't exist in a vacuum: the early 90s was a time of huge musical change and cross-fertilisation, a period when artists and producers took chances. Unsurprisingly, Toronto came under the influence of the house and techno sounds of Chicago and Detroit, which prompted Richard and Christie to explore the nascent rave scene.
"At that time, in the early 1990s, there were lots of warehouse parties happening and we were really excited by what we heard, especially the darker forms of acid house, like Teste (who put out the classic record "The Wipe") and early Plastikman, and the heavier stuff from people like Jeff Mills and Underground Resistance," says Christie.
"We found the same kind of dark psychedelic atmosphere in some of this music that we loved about industrial and we started bringing more of these elements into Orphx. A little later, we discovered Sahko, Basic Channel and Chain Reaction. Those labels have had a major impact on us and led us into incorporating more dub and techno elements into our music."
As this (b)rave new world dawned, the third Orphx member decided to jump ship and three became two. What happened to Aron West and why did he leave? "Aron was particularly interested in the improvisational aspects of the project and wanted a wide-ranging aesthetic that wasn't always dark and serious, while Christie and I were moving more into rhythmic compositions and wanted to stick with the industrial aesthetic, so he started Tropism with our friend John Hodge," Richard explains.
"They were more directly influenced by Japanese noise, especially early Boredoms, and by experimental metal acts like Earth and The Melvins. They recorded hundreds of hours of material. Much of it is amazing and sometimes really funny. Aron has been steadily recording new material and now does more ambient and electro-acoustic work under the name Tropizm."
But the split from Orphx was an amicable one and Richard and Christie have recently collaborated with Aron again. "We started a new project together called Oureboros that combines this electro-acoustic approach with elements of shoegaze and black metal. The first album has just been released by Ant-Zen," he says.
To an outsider, it would seem that Canada is a hotbed for creativity in electronic music. It's where Richie Hawtin and Akufen come from, it boasts one of the finest and most established annual electronic festivals, Mutek, and it has a reputation for allocating generous state funding to left of centre artistic endeavour. Despite this, it appears that once the initial all-inclusive thrill of the rave explosion petered out, fragmentation set in.
"We have been pretty disconnected from the techno scenes in Toronto and Montreal, although we recently performed at Mutek and have started making more connections in both cities. There has always been a strong division in North America between the goth / industrial scene and the techno scene, and our earlier work was more accepted by that industrial world, through the labels that we have worked with," Christie explains, adding that moves to legitimise the party scene ensured that these cracks widened.
"With the move to legal, club-based techno parties, Toronto became oriented around tech-house and minimal and it became difficult to find support for the harder, darker and more psychedelic music that we are interested in. So we really concentrated on performing and networking in Europe. The rhythmic noise scene there during the late 1990s was very exciting to us because it was also interested in combining industrial with aspects of techno and electro – so we felt very much at home there."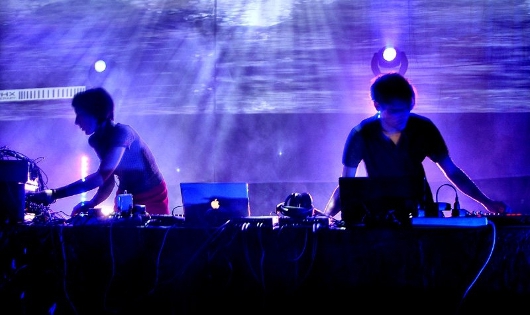 However there were some kindred spirits in Canada whom Richard and Christie could relate to. In some cases these are artists they have worked with and others are producers whom they were inspired by. These include "Huren, the brains behind Teste and an early pioneer of industrial techno on the Zhark label, The Infant Cycle  – electro-acoustic genius who runs the Ceiling record label and distribution – and Vromb, an unsung master of minimal electronics who has been active since the early 1990s – his work sounds like a fusion of Raster-Noton and Stroboscopic Artefacts but has been largely neglected outside of the rhythmic noise scene. These three artists have been some of our most important influences," says Richard.
As for the notion of Canada being a haven for creative types, Orphx feel that this status is changing. Although Christie points out that "we have been fortunate to receive a production grant and some travel grants from the Canada Council for the Arts", Richard is less positive about Canada's support for the arts and feels that political developments mean that the future for state-sponsored creativity may be bleak.
"We now have a far-right federal government that has cut deeply into arts funding, not to mention environmental legislation and social programs. Obtaining that kind of support was a challenge in the past and I think it is even more difficult now," he believes. Not that this has made a difference to Orphx's output. Since the early 90s, the act has put out 12 albums – either on CD or cassette – and was successful in partnering with the German Hands label, which acted as Orphx's beach-head into the fertile European touring and festival scene.
Looking through their catalogue however, there is a six-year gap where, with the exception of a 'rarities and remixes' title, no albums were released. It was during this period, between 2005 and 2011, that they prioritised other activities.
"During that time our son was very young and we had less time for music. Also, I was completing my PhD and Christie was working on a number of exhibitions for her visual art," Richard explains. But there was another reason for Orphx's silence – they engaged in a re-evaluation of their approach.
"There was also a bit of shift in direction as we worked on a lot of new material that was more explicitly bringing in aspects of techno and dub. That took some time to experiment with. And we put a fair bit of work into Teletai, the rarities and remix release that came out in 2008 on Hands," Richard adds.
This period also laid the groundwork for the three EPs on Sonic Groove, as Orphx had made contact with remixers Surgeon and Sleeparchive, but the final piece in the jigsaw was Adam X, another artist whose work sees him flit between the worlds of industrial and techno. "We had been heavily into harder techno and electro for many years and over time those elements have come more to the foreground in our music. Adam heard one of our concerts in 2008 and was very enthusiastic after the show. We talked for a couple of hours and it was clear that we were both on the same wavelength, both interested in the overlap between techno and industrial and in pushing that further," Richard says.
"So it was perfect for us to meet and start working with Sonic Groove. And it was good timing as we'd just commissioned the remixes from Surgeon, Fluxion and Sleeparchive for the Teletai release." The same remix by Surgeon that appeared on Orphx's double CD retrospective was also part of their first EP, Division, for Sonic Groove.
While it might seem like a daunting task to tap Anthony Childs for a remix, Richard's approach was straightforward, simply writing to the British producer who agreed to do it. "I'd been enjoying his music since the beginning and thought the British Murder Boys 12″s were excellent. I really wanted him to be part of that retrospective release. Adam asked if it could be re-released on the first Sonic Groove 12″ in 2009, along with the mix from Substance, who we knew from a few visits to Hardwax."
2011 was notable for the number of techno producers exploring abstract and industrial sounds and styles, but given that they have released three EPs for Sonic Groove, do Orphx feel that a diametrically opposed trend exists – namely that of industrial producers flirting with techno?
"I can't think of many examples, aside from William Bennett's "Cut Hands" DJing. Whitehouse is still not very club oriented to my ears, though one of the best moments I've experienced in a techno club is Surgeon ending his set with "Wriggle Like a Fucking Eel", Richard says, adding that "there are other artists from the European rhythm noise scene that should have much more attention from those interested in dark, experimental techno and electro."
But despite Richard's reservations, Christie feels that the crossover from industrial into techno is widespread: "In the rhythmic noise scene there have been many artists using techno-style rhythms – Winterkalte, Imminent, Synapscape, Vromb, Iszoloscope, Monolith. You could say the whole genre is essentially a mix of industrial and techno. We've noticed that these artists influence a number of people in UK techno circles, but otherwise they seem to have been overlooked in the recent turn to industrialized techno. But you could play some of these tracks back to back with Berghain-style techno – as Adam X and others have been doing – and they would fit perfectly. I'm not sure if they would agree, but I think you could also describe Pan Sonic or some of the artists on Raster Noton as industrial producers making techno music."
So what about looking at the crossover from the opposite perspective: a number of labels and producers in the techno sphere have taken on industrial influences, with everyone from Blackest Ever Black to Perc citing 80s industrial, goth and post-punk influences. Is this bandwagon jumping or is there a more genuine desire to reflect the fragile state of western civilization and produce dark music for dark times?
"Yes, that may well be part of it," says Richard adding that "some prominent artists within techno, especially Surgeon and Regis, have been drawing attention to the connections between techno and UK and German traditions of industrial music and post-punk for many years. This is the music we've been immersed in for more than twenty years so it is hard to know why more people are now discovering and drawing on those traditions. But we hope it continues!" On the basis of the three EPs for Sonic Groove, the techno world has noticed Orphx, but they also feel that a mixture of good timing and luck also played a role in the releases' success.
"We were hopeful that they would be well received but often these things come down to context," says Christie. "It is doubtful that we could have released those records in the rhythmic noise scene and had the same reaction. Adam X also had a hard time getting his new work heard until he released it under a pseudonym," she adds, referring to the US producer's Traversable Wormhole project.
Unlike Adam X however, Orphx say that the EPs for Sonic Groove were written and recorded without them knowing anything about the influence or importance of the Berghain club or without an understanding of the context within which techno had swung towards darker, more austere sounds.
"At the time, we weren't aware of the growing popularity of darker and harder techno associated with Berghain and the Berlin scene, but I think that helped promote interest in our records," he claims. "Not to mention the remixes from Surgeon and Substance, and Adam's connections through Sonic Groove. For the last few years, we have thought that our work could find a larger audience within techno circles and we were happy to find a way of reaching more of them."
Apart from proving popular with techno DJs, the Sonic Groove trilogy has also opened doors to Orphx as collaborators, remixers and performers.
"We have been enjoying the opportunity to mix with other artists and to play more techno-oriented events," says Christie. "I think that we still remain on the fringes [of techno] but we are figuring out where we fit in and the direction in which we would like to push our sounds. We have also been working on some collaborations with Ancient Methods, Nick Dunton and others, based on jams that we did during our last UK / EU tour," she adds.
"We've completed remixes for Svreca, Obtane and Giorgio Gigli, Guise, Systemic, and Nomeansno. Much of this has come from the Sonic Groove releases and meeting more people within the techno world. We'd love to do more," offers Richard.
The distance between Orphx and many techno producers' abstract tendencies becomes even shorter on Radiotherapy, their recent studio album for Hands. Dispensing with the straight thud of the 4/4, tracks like "Future Past" have the swinging, broken beat feel of artists like Surgeon or Perc or even the Monad series on Stroboscopic Artefacts – do Orphx see a similarity between their latest album and these producers' work?
"I've only recently discovered Stroboscopic Artefacts but really like what I hear. And Surgeon has been an influence for a long time. But Radiotherapy was influenced primarily by Conrad Schnitzler, Suicide, Drexciya – and all of their side projects – and some of the recent output from Raster-Noton," believes Oddie. "Broken beat elements have been creeping into our work for the last few years and I want to keep pushing that. I was living in the UK during the recording of this album and I was also taking influence from what I was hearing out in the clubs."
Radiotherapy is less club-focused than the Sonic Groove EPs; but from the dead-paced, humming bass of "Compulsion" to the wall of feedback and murderous subs on "Contamination" and the evil stepping rhythms and nauseating, screeching riffs of "Tensile", which sound like someone taking a chainsaw to a 303, what the album sacrifices in dance floor focus, it makes up for in sheer sonic intensity. Put simply, if you've admired the innate menace and sleek functionality of the Sonic Goove EPs, Radiotherapy provides the opportunity to experience Orphx applying the same sense of fury to less immediate, more experimental structures. Was this deliberate?
"We've always used our albums as documents of experiments in progress and we liked the idea of continuing to do that while having the 12″ releases be more explicitly dance floor oriented," explains Richard. "Radiotherapy is still very much a techno album but we were really interested in bringing in more electro and broken beat elements."
Another common feature on the album is its gut-wrenching, ferocious basslines. From the nauseating, oppressive subs on "Radiotherapy 2" to the droning low end on "Lost Again" and "Contamination", Radiotherapy is driven by its powerful, swaggering bass. Richard has already expanded on his love for all Drexciya-related music, but are there other acts that helped to shape Radiotherapy? "Some other long-time and recent favourites: Liasons Dangereuses, CH-BB, Il.ek.tro, Senking, Kangding Ray and T++. Maybe not electro in the strict sense but all have elements that are inspiring. And I've been getting into some UK bass the last few years: Burial, Kevin Martin, Appleblim, Loefah, Pinch and Shackleton are some favourites," Richard says, while Christie adds: "For me, some other recent inspirations have been Mika Vainio, Byetone, Vex'd, Kode 9, ESG, Bernard Fevre / Black Devil Disco, Harmonia, and the ultra-low bass sounds of self-oscillating filters."
But the key difference between Orphx and the cohort of techno producers who recently discovered that a little bit of menace of goes a long way is that there is a deeply experimental side to their work. This is audible on album tracks like "Radium", where there is an effect that sounds like glass shattering into a million pieces and which is reminiscent of the Velvet Underground's feedback freak-out "European Son".  Was this a byproduct of years listening to art rock?
"That's one of my favourite moments on one of my favourite albums," Richard exclaims when I point out the similarities to one of the Velvets' most visceral compositions. "That's not a deliberate reference," he continues, "but many of my favourite artists are from the more experimental fringes of rock and punk: Velvet Underground, Neu, Can, Throbbing Gristle, SPK, Cabaret Voltaire, My Bloody Valentine. That is the sound of glass being shattered with a hammer and then processed. We've always used location recordings and homemade samples like this in our recordings and I'd like to push this further on our next releases."
Christie is also keen to point out that such methods were Orphx's stock in trade right back to the days when they rehearsed in Aron West's basement: "Our sounds are often derived from field recordings, malfunctioning equipment and analogue synthesis. We're definitely inspired by a range of older industrial and experimental artists. I'd also mention Steve Reich and No Wave artists like Glenn Branca and early Sonic Youth," she adds.
Has this sense of experimentation served to exclude Orphx from the techno sphere? After all, while there are similarities between contemporary industrial and techno, it's hard to imagine a dance floor producer smashing a glass with a hammer instead of simply searching through a bank of samples.
"I think it's because they have relatively different roots and have developed in different directions," Richard says about the fragmentation between industrial and techno. "The first wave of industrial was born alongside the extremes of performance art and proto-punk in the mid-1970s, with a dystopian aesthetic and politics, while techno was more directly inspired by the electronic music of the 1970s and characterized by a more open-ended futurism."
Of course it wasn't always this way: Orphx's own experiences of the Toronto rave scene during the early 90s are testament to the fact that boundaries did not always exist, while techno from this period was often as politically loaded as industrial, be it Underground Resistance's openly militaristic stance or the more vaguely anti-authoritarian Robocop-sampling rave of Silver Bullet's "20 Seconds to Comply". Richard believes that industrial and techno were compatible bedfellows but that increased fragmentation within both sounds magnified the differences.
"You can see different points where industrial aesthetics have influenced techno – the sound and politics of Underground Resistance for example, or the early output from Aphex Twin – and techno has certainly influenced later waves of industrial music. I think another factor is that industrial music has splintered into a wide variety of different forms and distinct scenes – EBM, rhythmic noise, power electronics, rhythmic noise, martial industrial, ambient industrial, industrial rock and noise."
However, Christie believes that there are other, more subtle reasons why industrial and techno have remained apart and she points to "style associations" and age demographics as well as the CD being the preferred format for industrial fans, while vinyl was for a long time the format of choice for techno. Richard explains: "Both crowds tend to be fairly young, though I guess it is a bit more common to find older people within the industrial scene, and perhaps that is simply because there is a longer history to that music." Orphx also believe that stereotypes help to fuel the fragmentation, with the common perception being that industrial gigs are full of black-clad, pale-skinned people –  like the way that techno clubs are meant to be solely populated by baldy-headed guys in combats and hoodie tops. As Richard notes however, the problem with stereotypes is that they are born from half-truths.
"Both stereotypes are fairly accurate though there are always exceptions," Richard says.  "It's certainly true that there are a lot of people in black and fetish gear at rhythmic noise shows. Some friends in Germany even call it "black music" though we tell them not to. I think both scenes are relatively diverse. And I think with industrial it's important to be specific about which sub-genre or sub-scene, because each can differ a lot from the other. There are significant differences between the crowds at rhythmic noise shows, industrial rock shows, and the more recent wave of "noise" associated with groups like Wolf Eyes and Black Dice. In general, I find the industrial concerts in Europe to be larger and more diverse than in North America, where the term industrial usually refers to B-grade industrial rock or, worse, disposable EBM. I don't really care what people look like as long as the music is good."
In spite of these differences, Orphx intend to flit between both worlds. With a new EP scheduled for Sonic Groove in March and a tour of Europe planned for April, 2012 also sees them release the debut 12″ on their own label. "We're working on new elements: incorporating vocals, more modular synthesis, more use of found sounds and location recordings. I'd also like to mention that we've been developing our live show for the last few years, using a combination of software and external gear. The live set is now more improvisational than in the past and we can modify what we are doing in response to the energy of the crowd," Christie says.
"It's only in the past few years that we've moved our sound more in that [techno] direction and actively tried to make more connections in that world. Before that, techno was one element of our sound but we were much more interested in the rhythmic noise scene and other industrial sub-genres. Now it seems possible to inhabit all of these worlds and make connections between them and that's what we intend to keep doing," Richard adds. Long may their industrial revolutions continue.
Richard Brophy