The music scene of 70s and 80s New York was one of the most active and tightly bound the world has ever seen―as well as, in hindsight, one of the most analyzed, assessed, discussed, and revered. That said, few members of the era are still living in the metropolis they made their mark on, and even fewer are still active members of the communities they helped launch into existence.
Liquid Liquid's percussionist and vocalist, Sal P. is a rare exception. The man has been in Manhattan for over 30 years. Originally from New Jersey, he had a brief stint in San Francisco, and finally made his way out to NYC in '77, where he's been ever since, first on the Upper West Side with the rest of the Liquids, and, eventually, in Greenwich Village, near Washington Square Park, where he's been since the early 90s.
While Sal's been a musician for the entirety of his adult life, he still holds on to the passion that came before it: cooking. In fact, the vegan amateur chef has honed his skills so well to the point where he started offering casual one-on-one cooking classes at his apartment. So, in an effort to chat with the legend in a slightly more intimate setting, we sent out New York based scribe Nik Mercer along with his girlfriend, Tiffany Bainbridge, for an evening of homemade pizza, gazpacho, plenty of wine, and enough time for a thorough, in-depth Q&A.
Tiffany Bainbridge: Where are you from?
Sal P.: I'm from Perth Amboy, New Jersey, which is a small town, the southern most of the northern industrial towns [in the State]. There's Newark and Bayonne, Elizabeth, Cateret then my home town. It's connected to Staten Island by a bridge. I spent a lot of time at the Jersey Shore, too, because my grandfather and my uncle built what we called the Bungalow in Toms River, New Jersey in 1960 or something. We spent a lot of time there. It was, like, half screen-in porch and a couple of rooms. I was raised on Wonderbread McDonald's and Sugar Smacks, but, I also had this deep Italian peasant food [culture]. I used to go out with my grandmother and pick dandelion greens and come home and make salads, or pick blueberries and make blueberry muffins, or go fishing and catch eels, cut off the heads, gut 'em and skin 'em, and then my grandma would bread and fry them in oil. So I had that rootsy feel for food; I had this thing for tantalizing taste, but also for earthy naturalness. My grandfather had this huge Sicilian garden in which he grew everything.
T.B.: Is your grandmother first-generation American?
S.P.: No, no, she's from Naples.
T.B.: And your grandfather?
S.P.: He was Sicilian.
T.B.: Have you been to Sicily?
S.P.: No, I've never been, but I know, everyone always says, 'you have to go'. Another thing about my grandfather – you know, he used to always have the vino de casa―the house wine―and that'd be two dollars a gallon! And what he'd do is drink it cold. He used to have this carafe with a glass bowl in it that you'd put ice in so you could keep your wine cold [without the ice melting into it].
T.B.: You're vegan, right?
S.P.: I cook vegan and I'm mostly vegan, but when I travel or when people are inviting me over, I'll eat dairy or fish. Or if I go see my dad, I'll have some cheese or whatever. When I go to Europe, I end up living off of cheese and egg sandwiches.
T.B.: I was vegan when I went to Sicily, which didn't really go over so well. [Laughs]
S.P.: Yeah, that's why I eat fish―as a compromise. If it was my world and I could control everything, then me and everyone else would be vegan. But it's not that way, so I just [sort of go with it]. If I have a girlfriend and she really loves cheese, then I end up eating cheese again. It's never good to be a fundamentalist, but it's good to do what [you believe in].
T.B.: You've been in this apartment since '93, right?
S.P.: Yeah, I mean, I've seen New York. [I wound up in this apartment] because I was living with a Catalan girlfriend in the Upper West Side, then we broke up, and it was really horrible when she went back to Barcelona. I was still living in the apartment, and I was like, 'Fuck―I gotta get out of here'. I guess I really loved her, ya know? Her roommate who was Catalan, too, and her friends owned this [building], so it was easy for me to move in. It was $485―which, even in '93 was awesome. Now, my neighbor probably pays something like $2,500.
Nik Mercer: Are you working on anything new right now?
S.P.: Yeah, I'm doing a remixes for Canyons and also for Command V, the new project of members of the Bush Tetras and Raybeats, and for an all-female Japanese band, Nisennenmondai. A 12" just came out on Interdemensional Transmissions out of Detroit, it's Sal P/BMG and it's called "Credit Card". I contributed to the Bison project, which is the brainchild of Paul Murphy on Claremont 56. We went into the studio with Jeremy Campbell and Beppa Loda the other weekend and that was fuckin' rad, so we might have a couple of tracks coming out of that session.
N.M.: Where is your studio, then?
S.P.: I don't have one. I have a live rehearsal space, but that's it. When I do my remixes, I work with a guy, this guy named Sean B., who works at Sony.

N.M.: So, all the stuff you're recording now, it's all―
S.P.: Side projects.
N.M.: And what are you playing, exactly?
S.P.: With Beppe Loda, I was playing bass and some percussion stuff. With BMG, I was playing my Roland Handsonic and vocals. He was writing in Ableton in real time and his partner Erica was playing analogue synths.
N.M.: You've got so much stuff going on, so how do you approach it all and make sense of it?
S.P.: I don't plan on it―it just happens. Like, the whole Beppe Loda thing―he was coming to town and  Jeremy Campbell, a DJ and producer friend ,had this concept to have two Italian dudes―one Italian-American and one Italian―make something.
N.M.: Going back a bit, what drew you to move to New York?
S.P.: Well, I came to New York when I was a young guy. I graduated high school and I didn't do a very good job of it; I was freaked out and had no idea what was going on. I come from a pretty working class family―my dad's a cop, my mother worked in the unemployment office. They tried to be supportive, but there was no template for what I wanted to become. So I was kind of having a hard time of it there. I did a bunch of menial jobs, but at a certain point, I was just losing it. I knew someone who lived in San Francisco, so I just drove out to the West Coast and stayed out there for a couple years.
N.M.: And what did you wind up doing there?
S.P.: It was incredible. Like I said, I felt the world coming in around my head. This was around 1977. I arrived a month after the Sex Pistols played there and punk rock was huge; the scene was so vibrant. I wound up going to three or four punk rock shows a week. Back then, compared to the East Coast, things weren't so on top of you, and I was able to sort of figure myself out a little bit. And, believe it or not, the city college of San Francisco was free at the time, so I took some literature courses, some acting courses. I had a couple of jobs, I worked for a Marxist economist who started this direct mailing house. Basically, I worked for a left-wing direct mailing company as the secretary to the woman who was renting me my room. I kept the books. It'd be, like, 10,000 Mother Jones names for 20,000 Greenpeace names―you'd just trade names and I'd write it all in this little ledger. But, to me, it was so empowering because it was like, Oh my god, I can do something! I can earn a living and deal with these incredible peoplewhile also going to all these punk rock shows. I've always considered myself a sort of literary person―a poet or a writer―and back then, any [sort of artist] was also playing music, they were always in a band. So I started writing music. And it just so happened that Richard [McGuire]―the bass player from Liquids―his brother, William, was living out there, and we started writing music together. I know Richard from out here―he's from Perth Amboy, too. When I was here, we hung out together. I met him through mutual friends when we were really young. But then we had this job together, sweeping the streets of Perth Amboy to keep the youth busy and out of trouble. We'd all have these incredible discussions―it was the first time I'd had any sort of intellectual discussion. Anyway, all the other guys in the band went to Rutgers which was located in New Brunswick N.J.―where I moved for a minute―and we had a performing group there, a sort of artsy thing. We performed at the Cambridge avant garde festival and played with Allen Ginsberg at P.S.1 when it first opened in '76 or '77.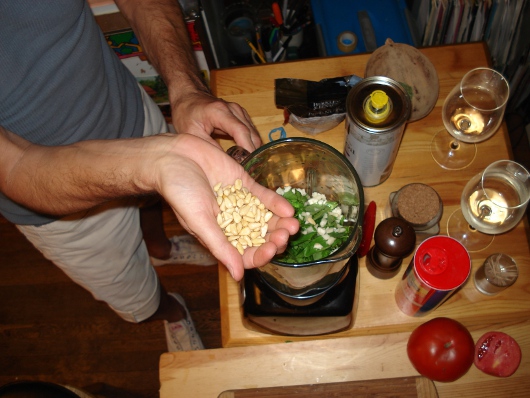 N.M.: Where did you live in S.F.?
S.P.: In the Richmond [district], right around 32nd Ave, by the Golden Gate Bridge. Then I moved downtown a little bit, sort of by Fillmore, Pacific Heights maybe. I actually made a movie when I was there, too. I wrote a poem that was long and looked like a film script, so I went out and rented a bunch of film equipment and editing equipment and got the two people I knew―which was William McGuire and my friend Lindell Brookhouse, who I'd just met there―and made a short film. I was empowering myself – trying to write music, making films, working, going to school a little bit, starting to think, Ah, okay―I'm beginning to see how I can be Sal P., and fit into the world. When I was on the East Coast, I had no idea―I was just freaking the fuck out. I came back to NYC for a couple of weeks of vacation in the summer of '79, and the guys had graduated from Rutgers. Scott [Hartley], the drummer, and Richard [McGuire], the bass player, had moved to Manhattan. They were living on the Upper West Side, right by the Museum of Natural History. I was like, What kind of fuckin' hood are they living in out here!? This is crazy! So, anyway, [we agreed] that, before I went back, we would get a gig at CBGBs, so we went and saw Hilly [Kristal] with our little cassette tape and all. [Richard and Scott] had songs, they were writing and performing at that point, too. After the performance group and after I'd left, they started drifting towards music. In my mind―and I don't know if they'd all agree with this―the first song that was associated at all with Liquid Liquid was the theme song for the performance group that we had.
T.B.: Wow. What year was that?
S.P.: That was, like, '77… maybe '76. So we went down to CBGB's, told [Hilly the owner] our name was Liquid Idiot―which it was originally―and he gave us, like, the fifth slot on a three-band bill [Laughs]. We played that gig and I didn't even go back to S.F. to get my stuff. It was a crazy summer. We had this place on West 80th St and I don't know how we got away with it, but we'd practice there, all of our friends lived there… I remember sleeping with my head in the bass drum and stuff. [Laughs]
N.M.: So you never went back to S.F.?
S.P.: Not to live. I got some of the 7-inch singles I'd bought there [sent to me], but most of the stuff is gone. Whenever I go to San Francisco now, it feels like I'm visiting my mother.
N.M.: So, this was '79―
S.P.: Yeah, and sometime around 1980, we hooked up with 99 [Records], dropped a cassette off with Ed [Bahlman], and he was, like, 'Oh―it sounds good, I'd love to see you play!' So we asked him to get us a gig, and he got us one at Tier 3―it was this club in TriBeCa… more of a bar, really. There was Max's Kansas City, CBGBs, and then Tier 3. So we played there and Ed came to see us. We knew about him through Glenn Branca or Bush Tetras, or maybe ESG. So, he came to see us and he became our manager, our producer―our Uncle Ed.
N.M.: Do you have any background in music?
S.P.: I never had a background in anything aside from trying to have a good time and get conscious or be happy. No training. I never had a proper education, not because I wasn't given the opportunity, but because I didn't take advantage of it. Like, I had ADD or something, and that's probably why I sometimes self medicated. When I did that, I'd think, 'Wow―I can have a thought in my head that I can keep and pursue'. I went about educating myself, seriously reading some of the classics. I'd read two, three hours a day. And I did that for 20 years or something. I just wanted to make myself an informed person in every way. Back then, I used to go to the library and watch all these arty films with  homeless people and the seniors.
T.B.: So what's it like living in New York now compared to 1979 and that era?
S.P.: Well, it's not so much about the music―it's about everything! I wasn't here just to play music, I was here to live life, and playing music was part of that. So, what's the difference between living your life here now as opposed to back then? It's a bunch of things: I was young and optimistic and not incredibly experienced, so New York was this vast, explosive bombshell that could teach me something or hurt me a lot. It was a very scary place, but it was also very easy to feel as though it was my place. I never felt so comfortable in the world. In time, in retrospect, things come together in a much more coherent way. Back then, personally―and I think this is true for the rest of the band―I didn't feel like I was part of a "scene." We didn't feel like we belonged to anyone; we just were really into what we were doing. We didn't know how to look, what to do, how to present ourselves. There wasn't that self-consciousness that there is now. There were probably people around then who did know that, but it wasn't us. And I know it sounds so old-fashioned to say, but there wasn't even MTV then. The only way you knew how to be a rock star was to go to rock concerts and see how to pose, how to talk. You had to discover that stuff for yourself. Youth today, young people today, they're so much more empowered than we used to be. When I moved to New York, you weren't some groovy young person. You sort of felt like that, but you were amongst people of all ages, all economic backgrounds, all orientations―and it wasn't all about you. But now, it's all about you, because you're the number one demographic that advertisers [reach out to]. You come to New York, you're 23 years old, you have, like, 75 friends―you'll get corporate sponsorship, dammit! Back in the day, no one cared about your young ass. Now it's, what do you think about everything? What are you Tweeting? What are you doing? Back then, it wasn't that. Young people were struggling to integrate with the general culture – you were at the bottom of the world; you had the world on your shoulders.
(Editor's note: this interview took place before Occupy Wall Street, which Sal P says has substantially changed his view of some of the young people in New York City)
N.M.: Alright, so we were talking about the formation of the band and the first release. The thing is that you didn't actually put out a tremendous amount of material…
S.P.: That's what's funny: we put out an amazingly small amount of material that has, for one reason or another, some kind of resonance. We probably released, like, 17 tracks at most. And they weren't slick – some of them weren't well produced, some of them were.
N.M.: Well, you also got sampled quite a few times.
S.P.: Yeah, but that wasn't the plan. It was arbitrary. When we walked away from the band, it wasn't like we weren't leaving this monumental thing; it was a [relatively small] part of my life, and I was just getting on with it. I thought, 10 years from now, no one will know about this!
T.B.: Why did you walk away?
S.P.: Uh, it was internal stuff. It was a shame since we were doing quite well and sort of at our peak, playing at Paradise Garage and Fun House and Roxy―really big gigs.
N.M.: I'm always surprised at how short of a time you guys were around for.
S.P.: It was like a shooting star. I mean, we were well-regarded in certain circles, but we weren't, like, posing. We didn't have a style, we were just dudes. Not even dudes―we were these crazy, ephemeral artists who just did our thing. It's funny how time comes to define things.
N.M.: How did the first resurgence come about, then? The Grand Royal reissue…
S.P.: It happened through Mo' Wax first, then came Grand Royal. Richard McGuire set it up. In my mind, what I'd say is, it was a trainwreck that we walked away from. But we kept hearing the samples and this and that, and, one day, I heard Duran Duran on Letterman, and they did "White Lines," and I thought, this shit is not going away. When I heard that, I thought, Oh, fuck―this is something that isn't going away. So, after that, we went about settling our business.
T.B.: Okay, so, pardon my ignorance, but tell me the whole story on "White Lines."
S.P.: So, we released the "Optimo" record with "Cavern" on it in '82 or '83, and, sometime around the fall of '83, I was at one of the free shows they used to have at Tompkins Square Park, and someone came up to me. Okay, but first―"Cavern" was a club hit for us, it was mostly championed by people like Afrika Bambaataa, Afrika Islam and Larry Levan. I heard it on WBLS, WKTU… and, I don't know what happened, but, anyway, this guy comes up to me at the park―and this is a little bit after "The Message" by Grand Master Flash, which was so huge―and says, "Hey, have you heard the new Grand Master Flash?" I said I hadn't, and he said, "Sort of sounds like Liquid Liquid." I don't remember the first time I heard ["White Lines"], but that was certainly the first time I heard of it. It's funny because we used to joke about people doing cover versions of our songs because we're so fuckin' quirky. And "White Lines" was a cover version of our song!
Interview by Nik Mercer and Tiffany Bainbridge
Sal P's pizza recipe:
"Place a package of baker's yeast in a bowl and an equal amount of brown sugar. Add about a cup of warm water that's just below the threshold of hot (if the water's too hot or cold the yeast won't activate). Wait about 5-10 minutes until a thick foam covers the surface of the water (if that doesn't happen after a while then start again).
Now, the thing about bread or pizza dough is that you can always add flour if it's too wet, but not the other way round. First, add a bit of salt and a couple of splashes of olive oil, then slowly add large spoonfuls of flour (I use a combination of ½ whole wheat and ½ unbleached white). A large tablespoon of vital wheat gluten is optional – it adds elasticity.
When it becomes possible to form a dough ball in your hand, flour a wooden board and start kneading the dough, adding and integrating the flour until it's just on the dry side of wet. When you knead dough, do it firmly but not harshly – I like to just keep rolling the dough into itself.
When the dough is elastic and fully formed, coat in a little olive oil and place in the bowl with a cloth over and let it rise.
Now for the basic tomato sauce recipe. When I make my sauce, there's few things I use out of a can, but quality whole plum tomatoes work quite well when tomatoes aren't in season. I start by mincing as many cloves of garlic as taste demands – also I like to use a hot pepper (as it don't mean a thing if it ain't got that sting). I then clean a bunch of basil and roughly tear it, before blending the tomatoes into puree.
Heating a fair amount of olive oil in a pan (or in my case I like to use a wok), sauté the garlic for just a short time. Add the chopped hot pepper, then pour in the tomato puree, a little red wine, fennel seeds (muy importante), oregano, salt, the basil and cook down on a low flame until a sauce forms (i.e. when no visible water or thin moisture is seen).
Pour a thin layer of corn meal on the wooden board and start shaping the pizza dough with your hands. I like to do the classic spin the dough in the air (be careful not to tear it), but you can use a rolling pin. Coat a pizza tray with a thin layer of oil, work the dough on the tray completely covering it – don't worry about forming a crust, it generally forms itself.
There are a lot of vegan cheeses (and products in general) on the market, some great, some really bad. I choose to use an almond cheese that isn't strictly vegan because it uses casein as a starter, but it is non-dairy. It's delicious and it melts.
So, we have our dough formed on the pizza tray; I pour some sauce on it. Spread it around to the edges, you don't want it too wet but you do want it tasty. Then put the shredded cheese on it or whatever other topping and place in an oven, preheated at 425F degrees. Bake until brown with slightly burnt edges (it will initially appear more cooked than when it cools).
Amen!"