Ones To Watch (No 21): Alex Israel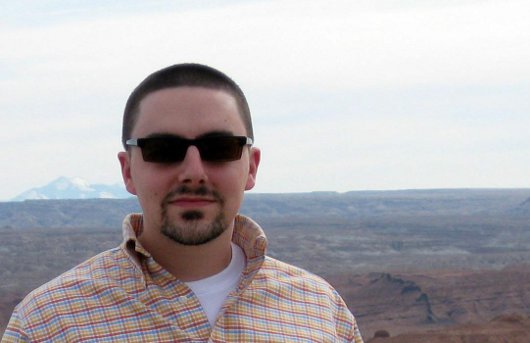 The name Alex Israel first came to our attention when we popped the Walking To Guntersville 12″ on the Juno Plus office turntable earlier this summer. Arriving via Spectator's WT imprint – which had previously introduced our ears to the sounds of Berlin-based South Korean Hunee – the four track EP of drum machine funk inspired us to track down the Detroit-bred producer for a chat. What's more, we also managed to coax an exclusive mix out of Alex for your aural pleasure.

You grew up in Detroit, is that right? Would you say your proximity was instrumental in terms of forming your musical identity?
Yeah, I grew up in the northwest suburbs. I listened to the Wizard and all the other stuff people talk about when radio in Detroit was good, and that got me interested in a lot of different music. My dad got me very interested in jazz at a young age, and I got the opportunity to do several jazz workshops with famed Detroit guys like Marcus Belgrave when I was in middle school. I certainly don't think I would have been devoid of influence if I had grown up in Nebraska or something, but I did get to see people like him, Griot Galaxy members in different groups, and tons of other people whose original pressings fetch upwards of $50 play at Montreaux Detroit and free shows at libraries with my dad.
How old were you at the time you started going to those shows? Were you going to clubs or parties, and are there any memorable stories you can tell us?
I started going to some Detroit "raves" when I was about 16, but that was kind of toward the end of the glory days of underground parties in Detroit at that point. I did get to go to some seriously dirty parties at some of the famed spots that lots of people still can't seem to shut up about to this day. Oddly, the most inspiring experience I had at an underground party happened on a trip to Israel when I was 15. There was a group of Israeli kids that joined the trip for a week or so, and I got to spend a long weekend with the family of one in Nazaret Illit. He and his friends took me to a place which was most likely not a legitimate venue and they played acid house all night. He gave me some acid mixes on tape too, one of which I still have and will have to respool one day because my car at the time ate it after about 1,000 plays.
Were you coming into contact with any producers we might know?
As most will tell you, Detroit has a small community of very well connected people. I don't think I could have coincidentally made so many friends who have since become world famous for music anywhere else. I think the most noteworthy thing I witnessed directly before ever considering making music other than for personal enjoyment was due to my friendship with Sam Valenti, whom I met in middle school (at 11). We coincidentally lived in the same hall in college, and ended up at a party where we met Matt Dear, who was playing crazy techno in the basement on a JX305. A couple of those tracks still randomly pop into my head. I used to tease Sam and Disco D for using MPCs because FastTracker II was so much more versatile – though I have a 2000XL now. I remember when the first Ghostly pressings showed up, stacked almost to the ceiling in Sam's tiny dorm room. To have seen Ghostly become what it is now from inception is pretty amazing.
I understand from your Soundcloud page that you have another alias, Rich Heebner, which seems to be an outlet for your interest in hip-hop and are influenced by the likes of Dilla and Dabrye – could you tell us a bit about that and where your love of hip-hop stems from?
Ha, yeah. Dilla's name gets tossed around a lot, but I was into him before I ever even knew who he was. I wore out so many copies of Beats, Rhymes, and Life, and I used to get so annoyed when I heard people say it wasn't as good as their previous stuff cause to me the beats, and mainly the drums, were so unbelievable. I had been buying records for a while, mostly jazz, but Stakes Is High was the first 12" single I actually waited in front of the record store to buy. I remember hearing a Pharcyde Jay Dee remix around then and thinking "damn, this guy's doing that Ummah stuff". I had a tape of Fantastic 1… I remember tearing into a new Busta joint to check which tracks were produced by Jay Dee cause those were the ones that were gonna be on repeat anyway, with the Nottz tracks next up. I actually had to order my second copy of Ruff Draft (the first time it came out) from Australia because nobody had any left in the US by the time I decided to jump on doubles. But really, throughout the 90s I was grabbing every decent piece of hip-hop I could get my hands on until Puffy started doing the shiny suit garbage. My real staples were anything produced by Muggs, DITC guys, Organized Noize, Pete Rock, Shock G, Erick Sermon, Premo, and Quik. At that point I bought a lot of crap records at garage sales to try to find samples, but I was really mainly listening to hip-hop and jazz. When I was in college I used to dig at Encore where Tadd worked, plus we were in a lot of the same circles anyway due to tastes and proximity. All of Tadd's music was mind-blowing to me, and at the same time I was getting so frustrated with the music I was making around 1999 or 2000 that it wasn't giving me any satisfaction and I just quit. I didn't really regain inspiration until I moved into the city years later, after graduating. I lived across the street from Tadd in Ann Arbor when he was deep into the Dabrye stuff, and I had the pleasure of hearing a couple things in progress that ended up on the One/Three and Instrmntl albums.
And which is your first love, hip-hop or house? How and why did you find yourself making your first proper release a house EP?
To me, if it's good, it's good. Man, there's so much crap hip-hop and dance music out there. Even the good stuff I often have a hard time listening more than once or twice. I wouldn't pigeonhole myself either way but I can always go back to jazz, and especially free jazz, when I get sick of everything else. As far as putting out a house record, I've always made hip-hop primarily for my own enjoyment, and with my dance stuff I usually want to know that others enjoy it. House music is serious business.
Do you find hip-hop influences seeping through into your housier productions?
I don't usually try to dictate where a song goes, but I'm usually pretty phasic, so I guess no. I'm not often making hip-hop and dance stuff at the same time. If I hear a sample I just gotta flip, that will become a hip-hop track, but unless I'm really sick of making dance music, I won't sit down and make a synth hip-hop track .
Your recent single (which was a big hit with us here at Juno Plus) came out on Speculator's W.T. Records – can you tell us how the connection with him came about? Did you feel a particular affinity for their earlier releases?
My friend Sanys sent me a link to Clone's preview of the first WT record, the $tinkworx/MKB split. I listened to that MKB clip so many times before the vinyl finally came out. I was making almost nothing but hip-hop for most of 2009, so when I finally broke into some dance stuff, I found Will on MySpace – it was a while ago! – and sent a few tracks. I had sent tracks to a handful of vinyl-only labels where I thought they would fit, and most of them said "nice tracks" or didn't respond, so I switched it up and sent to a label I just really liked. Will listened and responded, I think within a day, and gave me a brutally honest evaluation and that those tracks weren't for him, which was exactly what I wanted, even if he had told me it was total garbage. After that I did a few dance remixes and got sick of making house again, made a bunch of spacey hip-hop, some of which was released on the Ugly Boy compilation Star Hustlers, and sent him some more dance stuff like a year later.
Let's talk about the EP itself – what kind of producers and sounds influenced its gestation and eventual creation?
The four tracks span something like a year and a half in age. It's funny, because I was really trying to break out of my house slump so I did a couple of sample-based tracks. I really made them just to get the juices flowing, but they both ended up on the B Side. I did not want to put out that "Nkisi" track because I felt like I did it just as an exercise, but Will insisted. I was making very complicated tracks at the time, especially the ones I threw away, and you can hear how much stuff is going on in both of those tracks. "GAZ-13" was spurred by a track Sanys Etiku couldn't finish, and I took a synth line and his hats and finished that track in under two hours. And "Guntersville", the newest, was really a breakthrough in being able to simplify my sound after I scrapped some of my then standard techniques.
The thing that really struck me about your debut EP was the colour and warmth of your sound – what kind of gear are you using to produce your tracks?
I use all kinds of stuff. I've been slowly accumulating gear for 15 years and I have a lot of respect for the guys that strictly use gear, but I use software frequently. Hopefully nobody can tell which I used on what tracks because the end product should be what's important.
And finally, could you tell us what you've got planned next?
I have an acid house release upcoming on Muzique which I am very excited about. I have a remix coming out on the second record on Sanys Etiku's new label, Downfall Theory. Will and I have been talking about what to put on the next WT record, and I have a lot of material I need to start sending out. In other genres, I have some funk/boogie stuff under a new alias in the works, some of which has been blessed with vocals by the ever ebullient Lavell Williams (of Record Time fame, for the non-Detroiters). The Heeb is producing the entirety of the debut hip-hop album from WarrenPeace, a long time friend and cohort. So, a couple things I guess!
Interview: Scott Wilson
(This mix has now been archived. You can still stream it via the Mixcloud player above)
Tracklisting:
1. Virgo Four – Let the Music Play (Rush Hour)
2. Theo Parrish – Kites on Pluto (Sound Signature)
3. Africans with Mainframes – Inscription (Mathematics)
4. Legowelt – The Soul of a City (Self-released)
5. Willie Burns – Windows Down (Crème)
6. Kevin Reynolds – Port (Nsyde)
7. Kinoeye – Mean Old World (WT)
8. 2 AM/FM – Give This World (M>O>S Deep)
9. Black Jazz Consortium – New Horizon (Soul People Music)
10. Felix – Tiger Stripes (Extended Version) (Sleeping Bag)
11. Petar Dundov – She in Purple (Music Man)
12. Saturn V – The Fresh Heir (Nation)
13. Virgo – In a Vision (Radical)
14. Risqué III – Essence of a Dream (Stride)
15. John Tejada – Pivot (Palette)
16. Mr. Fingers – Amnesia (Jack Trax)
17. NY House'n Authority – Dyckman House (Nugroove)
18. Neuropolitique – ? (Irdial)
19. Two Dogs In A House – Scream in the Night (L.I.E.S.)
20. Faces Drums – Faces Drums 2 (Muzique)
21. Alex Israel – Mansfield Ballcock (Unreleased)
22. Alex Israel – Moving to the Suburbs (Muzique – upcoming)
23. Jared Wilson – Losing Myself in You (Unreleased)
24. Sanys – Ice VII (Downfall Theory – upcoming)
25. Mzungu – The Third (Unreleased)
26. Blue Mathue – The Vision (Uniton)
27.Alex Israel – Witchetty Dreams (Unreleased)
28. Late Invitation – The Late Invitation Theme (Mathematics)
29. Maxmillion Dunbar – Lemon & Lime (Ramp)
30. Shafiq Husayn – Dust & Kisses ft. Noni Limar (Plug Research)
31. Rich Heebner – The Quiet Space (Ugly Boy Music)
32. Virgo Four – Let the Music Play (Real Slow Funky Version) (Unreleased)