Setting The Tone With Ossie
Upon meeting Ossie in a crowded North London tearoom, it's quickly apparent that this young producer has been well served by the opportunity to make music from an early age. Intrigued by the sounds of the late 90s hip-hop and R&B's most revered production outfits, Ossie grasped at the chance to emulate them at secondary school: "The period of Neptunes productions around '99-2000 was key for me. I was moving from primary to secondary school, listening to lots of their music and the new school had equipment I'd used on a music course I had attended, like a Cubase VST with a little MIDI controller." Looking back at this chance, Ossie confidently remarks, "I feel like I know a lot for my age production-wise, simply because I've had so much practice."
And yet, this confidence regarding his production is tempered by a seemingly never-ending urge to discover, or as he says scholarly, "research" different forms of music, both new and old, which will help influence and direct his own musical production style. This dates back to the time he heard the Bugz In The Attic album Back In The Dog House, one of the many West London broken beat albums, EPs and tracks his Ladbroke Grove based uncle fed him. "Yeah, Bugz! They were my turning point round 2006 when I was at college. I'd listen to this music and think, this is what I want to make! Around this time my music was hip-hop beats, none of it was dancey so my eyes were opened," he says. It's an album that still resonates with him today, with Ossie claiming at least one track from it features in every one of his DJ sets.
Given the influence the Bugz In The Attic crew have had, the presence of Ossie alongside Seiji on a remix EP for Joe Goddard's Gabriel left him understandably elated, claiming it was "crazy, to be on the same record as him is amazing." Elaborating on the circumstances behind the commission to remix the track, Ossie reveals both Joe Goddard and his 2 Bears cohort Raf Daddy are the latest to be intrigued by his sound: "I'd been chatting with Raf from 2 Bears as both him and Joe Goddard had heard my tracks. So I think they'd been discussing working with me in some capacity and Joe emailed me about Gabriel to see if I'd be interested in remixing it, and I was like "Yes please! Definitely!"
The track would seem the perfect fit for Ossie, with the vocals from Valentina tenderly riding a throwback late 90s 2 step swing, and it's obvious the chance to work with vocals is something he relishes, saying it's "much easier and more enjoyable when there's a vocal to work with – I'm like a kid and love to mess about with them – it's easier and more enjoyable." He later professes the chance to work with vocalists himself is something he would like to explore.
Of course, his progression to this point was helped by two key releases; that illuminating debut for Lightworks and the more recent turnout on Kode 9's Hyperdub. All this has occurred whilst Ossie is still doing his music technology course, and despite previous protestations that no further releases would arrive until he'd finished the course, a little glint and a smile emerges when I quiz him, revealing only: "I want to have a release out by the end of the year. I'm just working on finishing them first before I present them to some labels."
Speaking further on Hyperdub, first contact from the label arrived at a time when Ossie was only just beginning to appreciate the label: "Kode emailed saying he'd been checking my MySpace and wanted to know if I'd released the tracks in question and whether I was interested in doing so with Hyperdub. I was like, yeah! I only really became familiar with their output a month or so before this happened, I was researching music and came across them."
Purists might smirk at this late arrival to a label as revered as Hyperdub, but it forms just part of Ossie's recent wider appreciation of music outside of the UK Funky circle he occupied in his youth. "I guess that was the only thing I knew at the time because that was my circle so I was just making that as well as incorporating influences from the Bugz stuff."
In those early days he was fully immersed in the Funky sound, drawing on his peers and later US producers like Kerri Chandler and specifically Karizma: "For me the early Funky tunes stemmed from him, before the UK Funky thing came along, you'd go out and see Karizma track after Karizma track destroy the club. So then I guess you kind of idolize that, and think he's the kind of guy you want to emulate."
The Baltimore DJ was the turning point for Ossie to move towards a more house-centric sound, and when quizzed as to whether his listening influences have broadened to take in other styles, such as Chicago house or Detroit techno, his response is typically illuminating. "Yes, but only recently because I've seen my own music described and compared to these sounds. I did my research about these genres to see what they were about as I'd literally not heard of them before and I can understand and appreciate the resemblance now. I've even started listening to German techno, because I always wanna have the capacity to make different stuff."
His approach to investigating music seems pleasantly stripped of the hype-driven way people devour music these days. For example when discussing his belated appreciation of Hyperdub, and his feelings on Burial, Ossie admits he's late to the phenomenon of the reclusive producer, but emphatically states he loves both albums. He prefers to find music at his own pace, purposefully avoiding hyped albums until months after when he can appreciate them for their own qualities.
Furthermore, he is at pains to show his musical tastes are not engulfed only by house music, revealing that the tube journey to meet me was sound tracked by Frank Ocean. Retaining an interest in his roots in hip-hop and R&B seems key for Ossie, and he's fully onboard the Odd Future juggernaut: "Crazy, I've heard all the albums and they're amazing, I guess I try not to surround myself with the music I make, I listen to other genres to escape….."
There's a pleasantly down-to-earth aspect to Ossie, a grounded nature that will serve him well. He seems just as happy about the feedback for his music he got from his peers, as the countless emails of praise and support from strangers across Europe:
"For Tarantula the feedback was mainly people in the scene I was in; which for me still means a lot as these are my peers and they're playing out and I was stuck in my bedroom making tunes! So for these people who are doing well for themselves to approach and congratulate me means a lot. But I was even getting emails every day from people I didn't know who lived across Europe; people in France, Croatia, Poland and Italy were sending me emails, telling me they loved the track. This wasn't happening before, and even my mum was saying to me "you're making this music in your bedroom, what are you actually doing with this stuff? Find out what you need to do to get it heard and do it!" And now that's happening and people are now hearing my music and coming back to me with praise, which is quite moving."
This stretches to his new found engagement as a DJ, something he has been doing for little over a year and is already comfortable with, claiming the technical side was easy to pick up: "Technically I grasped how to mix tracks together quite early, which surprised me," he says when asked about his confidence behind the decks, before sagely adding: "I guess its all about reading the crowd and not getting personally affected by any change in mood when you're playing."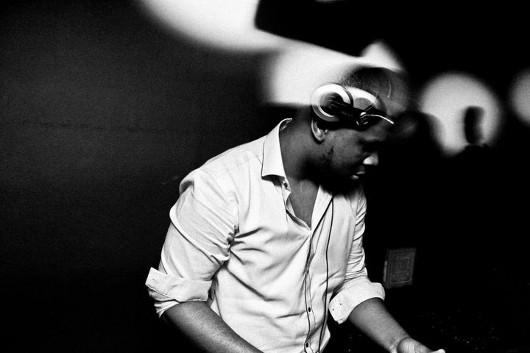 Two hot releases in a short time means that Ossie finds himself with weekly DJ bookings across Europe, but he says the main impetus for getting into playing at clubs was the urge to have his music played the way he wanted it. Alongside this, playing on quality sound systems has helped fine tune his production. " I did a remix of Moloko's "Sing It Back" before a gig at Cable, working on it all day from 9am to 6pm. When I dropped it that night, the reception for it was great, but I was cringing as the highs were too high, there weren't enough low frequencies on it and it just sounded tinny. So I made a few tweaks afterwards and now it sounds much better."
This DJing schedule has seen Ossie play across Europe, having just returned from a MUTEK event in Berlin at the Blumen bar space set in a disused swimming pool. London through and through, I ask him for his thoughts on the German capital and the other European cities he's visited, and the most obvious disparity between them and London is calmness: "Berlin was peaceful, and calm, and so were Amsterdam and Turin, such a contrast with the hectic nature of London."
A chance to belatedly tuck into our lunch without the mic running and Ossie details how he'd like to get involved with doing club nights, offers his thoughts on the forthcoming Olympics – revealing both humour and candour on an event that few in his area look forward to – as well as quizzing this interviewer on any house producers he should keep an eye out for. The latter shows Ossie's insatiable hunger to satisfy a seemingly never ending appetite for new music.
Feature by Tony Poland
Photos by Kieran Pharaoh