Celebration of Curation Podcast: Sir Stephen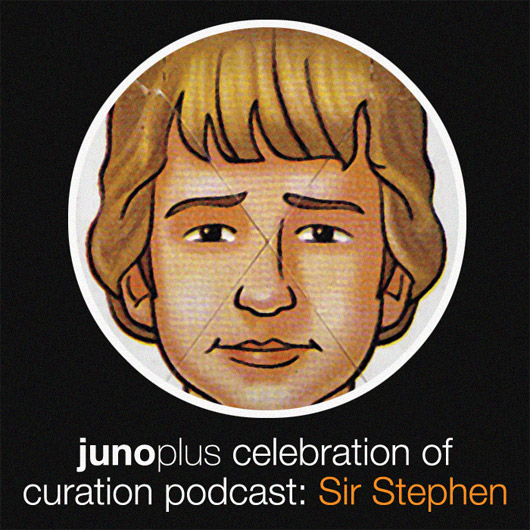 Mixcloud invited us to participate in this year's edition of their Celebration Of Curation series. Instead of using this opportunity to let our own (questionable) mixing skills hog the spotlight, we instead turned to New Orleans based producer Sir Stephen to take care of business.

Coming to our attention via the By Design EP, released last month on the ever impressive 100% Silk label, Sir Stephen immediately captured our ears thanks to the ease with which he made his own claim on the early blueprint of house and techno. This mix, recorded live at the New Orleans Museum of Art last month, veers between his own productions (some of which are as yet unreleased), a mixture of classics and a sprinkling of newer material.
In addition to the mix we also managed to grab five minutes with Sir Stephen to discuss how he arrived at 100% Silk and what we can expect from him in the future.
Tell us, how did you come to release on 100% Silk? Your 12″ seems to be the most overtly 'dancey' release on the label so far.
An old friend and former band-mate, Jon Clark, co-directed the "So Unreal" video for LA Vampires. He put in touch with Amanda as it seemed to him like she and I might want to collaborate on something. I had been working on this "By Design" project for quite a while and sent it to her – she took to it right away! A couple of other labels had expressed some general interest in particular tracks, but I always wanted to release them as a unit. 100% Silk apparently understood and appreciated my concept and desired aesthetic for the EP – a 12″ corporate merger of techno, pop-culture, house, high-fashion, and Revlon commercials – and thought it was a good fit.
What was it about the label that attracted it to you?
I suppose it was the people and our common interests in certain dance music styles.  The label has been very warm and a joy to work with. Their eagerness to put out such a record so quickly and fearlessly was cool.  I'm also an L.A. Vamps fan.
The tracks on By Design feel so familiar yet fresh at the same time…what kind of records/artists did you have in mind when you were putting together these tracks?
To be honest, other than "Move That Body", which was the last track I made for the EP (just before its pressing) and heavily influenced by Kevin Saunderson's Inner City (I used the same chord patch sample he did for "Good Life"), I didn't really think about specific artists or songs.  I just wanted to make a fun set of tracks that incorporated as many aspects and vibes as possible from my favorite era in electronic music; when techno and house were gradually becoming more dominant forces in the mainstream.  "Good Life" was such a great and novel release that perfectly embodies what this EP is about so I had to put my own little spin on it.
There seem to be nods to Kraftwerk, Inner City and even Robyn S?
Of course, I realized that "NY Boogie" had a "Planet Rock" style beat and direct correlations with a lot of Tommy Boy or Pretty Tony releases. But I wasn't thinking 'Crystal Waters' when I laid down the organ on "Milk n Honey", only that it felt right and sounded like something I would want to hear.  Still, I was immediately aware of how similar the DX7 organ line was to "Gypsy Woman".  That was okay with me, all the better actually because it invokes a more specific or potent sense of that nostalgia which I hope makes people feel good.  I do love all the artists you mentioned –  I suppose it's hard to swing a keyboard without hitting Kraftwerk!
Whereabouts are you based? we noticed you had a release on the excellent WT label (we loved that Hunee release a while back!)
I have lived in New Orleans since 2007.  I spent a few years in New York before that working as an A&R rep for a major record label (yuck!)  While in NYC I befriended William Burnette of W.T. at the fabulous weekly party he put on at the Tribeca Grand Hotel.  He's a great DJ and producer with a unique but highly informed taste for music.  His latest release by Alex Israel has an amazing title track.  It's on my mix along with tracks from the Pagan Future EP on W.T..
There's also a unreleased track from Willy Burns that bangs.
What have you got coming up release wise?
Right now it's something more for 100% Silk/NNF as well as something for Jay Shepheard's Retrofit Records.  I also really like what Long Island Electrical Systems (L.I.E.S.) has going on. Their Two Dogs in a House record could be my favorite 12″ release from 2010. We've spoken briefly about maybe doing something in the future. I'm generally pretty open to new things when it comes to making and releasing tracks.
(The download of this mix has now been archived. You can still stream it via the Mixcloud player above)
Tracklisting:
1. Sir Stephen: "The Casual Touch" – Coming Soon
2. Sir Stephen: "Move That Body" (100% Silk Records)
3. Innergaze: "Shadow Disco" – Coming Soon (100% Silk Records)
4. Kevin Saunderson: "Forcefield" (Kool Kat Records)
5. Sir Stephen: "Persons of Leisure" – Coming Soon
6. Mark du Mosch: "Pacifix" (Cyber Dance Records)
7. Sir Stephen: "By Design" (100% Silk Records)
8. Ron Hardy: "Sensation" (Trax Records)
9. Gladio: "Slave of Rome" (Bunker Records)
10. Sir Stephen: "Vibrapole" – (Angelmaker Records)
11. Sir Stephen: "Ancient Ritual" – (W.T. Records)
12. Alex Israel: "Walking to Guntersville" – (W.T. Records)
13. Nitro Deluxe: "Let's Get Brutal" – (Cutting Records)
14. Sir Stephen: "Milk n Honey" – (100% Silk Records)
15. Neud Photo w/ DJ Niteline: "Chanticleer Tears" – (Pylon Records)
16. Victrola: "Maritime Tatami" – (Electric Eye Records)
17. Willy Burns: (Unreleased)
18. Blake Baxter: "When We Used To Play – Remix" (Incognito Records)
19. Lil Louis: "French Kiss – Original" – (FFRR Records Ltd.)
20. Steve 'Silk' Hurley: "Jack Your Body" – (Underground Records/DJ International)
21. Perc: "1909 – Derek Plaslaiko Remix" – (Perc Trax)
22. Sir Stephen: "Prsm.Splntr" – Coming Soon
23. Funky Family: "Funky Is On" – (Third Label)
24. Sir Stephen: "Good King's Crusade" – (W.T. Records)
25. Alden Tyrell: "What Your Eyes Can Do" – (Moustache Records)
26. Duff Disco: "I Need Ya" – Eddie Cs Summer Remix" – (Composite Records)
27.  Outro – "Sir Theme" – Pagan Future EP (W.T.)