Mixvibes U Mix Control with Cross 1.60 review
The DJ controller market is sufficiently crowded these days to question any manufacturer's motives to join this features-against-price arms race.  But credit where it's due to French manufacturers Mixvibes, who have stepped up with a unit that still manages to feel relevant, not to mention singular, in the current climate.

Combine this with the fact they've been plugging away with the development of their DVS system since 2003, and you've more than got enough reason to check these guys out. The U-Mix Control Pro is a USB bus powered DJ controller that also boasts a 2in/2out audio interface armed with phono pre-amps. It's optimized for Mixvibes Cross DJ software and is widely used by Traktor fans, but will also work with all other software platforms due to its 133 MIDI controls.
At first glance it doesn't look too dissimilar to a Reloop or Denon controller, sticking to the now seemingly industry standard two mini jog wheel (75 mm non-rubberized), loop and effects players with centralized mixer style design. On closer inspection, however, it becomes apparent that the craftsmanship is solid, with all external components being well mounted on a hardened plastic exoskeleton covering a brushed aluminum chassis. This not only increases durability but reduces shock whilst weather-proofing the underside against the sticky moisture often to be found in DJ booths. It sits on the block at 375 x 43 x 193mm, making it more than portable and compatible with most standard sized DJ luggage.
Up on deck, each of the players sports a 60mm pitch control slider featuring a very light dent at zero with corresponding +/- bend keys. Above each of these is the mode key which is used to select the behavioral characteristics of the pitch slider, toggling between "speed' (as with a normal turntable), while "tempo" adjusts the pitch without affecting the tonal key and "hybrid" is a combination of the two for syncing up tracks of vastly different speed without comedy results. Moving inwards, the jog wheels are multifunctional – you can either use them to cue/scratch (use vinyl key to select this), adjust the pitch or search/seek either in real time or high speed with the shift button depressed. The sensitivity of these can be calibrated by means of a brace of sunken rotaries on the back.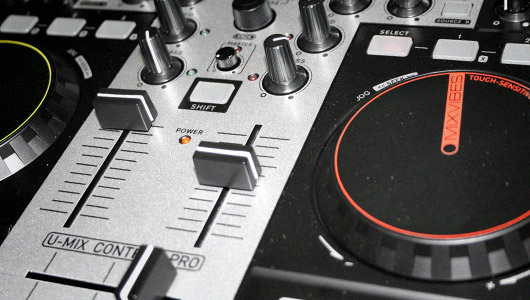 The transport functions – namely cue and play/pause – are laid out as expected, with BPM sync on the same row to sync each player. Directly above the wheels there are three physical buttons which can be used to select up to six hot-cue points, toggling between layers 1-3 and 4-6 by means of the select switch. Running along the very top axis of the controller are 0.5 cm diameter step rotary encoders for loop length, which sit alongside the adjacent effects encoder (Cross ships with 2 x hi-pass, 2 x delay and 2 x flanger which sound solid enough) and an amount knob so you can be as delicate or robust as you wish. The mixer section is well spaced with decent sized controls for the 3 band EQ, which are also 'push to make' for a total kill, sporting their own indicator status LED.
The two channel faders and the crossfader are 6cm in length and don't raise any suspicions regarding component quality. There is plenty of space for a VU LED output meter between the faders but Mixvibes have opted out. A shift key, master volume knob, browse encoder plus load and monitor keys make up the remaining controls. All buttons are backlit, illuminating in fluorescent green for player A and pink for B. Connection-wise, the front panel houses your microphone control room with 1/4″ RCA input plus level control, and three part selector switch for on/off and talk-over (14dB attenuation to existing playback). To the right of this, there's the monitor section which graces us with 3.5 mini-jack and 1/4″ RCA options with cue/master mix select and level. Out back, from right to left there's a Kenton anti-theft lock, turntable ground nut and two RCA stereo inputs with line and phono selector switches. In the middle of the panel there's a crossfader curve adjustment knob and two touch sensor levels for the jog-wheels. The final module contains two RCA stereo output, a Type B 2.0 USB socket, 6V 1.5A DC input for optional power adaptor (not included) and on/off switch. So how does it fare and what's the software like?
Well, we're using Cross 1.60 which puts us at ease appearance-wise, with everything being laid out logically, corresponding more or less visually to what you have in your hands. The preferences panel is well laid out with seven menus for general, audio, vinyl/CD setup, recording, keyboard, MIDI and remote. No surprises here either, with the general tab taking care of things like BPM detection range, pitch bend sensitivity and end of track alarms. The audio tab is for sample rate, buffer size and routing; the real money shot being the vinyl/CD setup which is quicker and more informative than its two rivals. The remote function is also a talking point, allowing you to control the software via an Apple iPad through the U Mix remote app. You can use the unit in standalone mode straight out of the box, with turntables (in DVS mode or with your regular 12″s going through the pre-amped line) or CD decks/MP3 players either in internal mode or with the aid of an external DJ mixer. Browsing and organising your music is straight forward and synchronizes with your iTunes playlists as well as allowing you to create smartlists (lists of tracks with similar characteristics), prepare files with tags or just set up autoplay with your own designated fade time between tracks.
Over a four hour period we were happy with the performance and workflow of the software. The ease in which you can cue, loop and effect your audio makes for some genius on-the-fly maneuvers thanks to the close proximity of the physical controls paired with the snap on the loop points. We were also impressed with how simple it is to flip between playing wax, DVS control vinyl or jam with the jog wheels, plus you'll barely need to touch your mouse or trackpad once you're familiar with the system. The waveform display was super accurate and easy to zoom right in for military precision. On the downside, there was a bit of hanging from the software visually from time to time, despite our calibration of the buffer size and our pimped up iMac, plus you have to actually stop audio playback of a player before loading a new file – although we didn't experience any audio drop outs. Under Traktor we found operation to be practically faultless.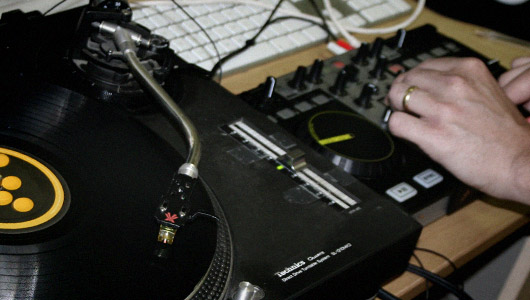 Then there's the sound quality which is loud and punchy – a vital factor as essentially this is one of the most important qualities of a DJ interface. The EQs don't display any information regarding the frequencies they are set at, or indeed the dB range that you can cut or boost, but that's no problem as they all sound great. If you look at what you are  getting – which is an extremely well built controller and audio interface plus incredibly promising native software for £236 – and compare it to the other market alternatives, you'll see that you're onto a good thing. [Find out more at Juno]
Specifications
USB DJ MIDI controller
Layout and features optimized to match with MixVibes' CROSS software range
Integrated 4-channel audio interface (2 stereo inputs/ 2 stereo outputs)
2 x stereo RCA outputs for connection to loudspeakers, hi-fi or to a mixer
Outputs
2x headphones jack output connections (6.35 mm & 3.5 mm) for direct monitoring
Inputs
2 x stereo RCA inputs (with phono pre-amplification) to connect turntables, CD or MP3 players
6.35 mm microphone jack input with automatic talk-over function
Features
Integrated 2-channel mixer with 3-Band EQ and frequency kills
iTunes® integration & smart media management
3 audio effects per deck to customize your music
6 locators per deck
Automatic beat synchronization
Automatic on-beat loops
On-beat smart seek and loop jump
Up to +/-100% pitch range
Compatible audio formats: AIFF, WAV, MP3, FLAC, OGG and AAC
System Req
PC: Windows XP SP2 or Windows Vista SP2 or Windows 7
Core 2 Duo / 1.8 GHz or higher
1 GB RAM
1x available USB port
MAC: Mac OS X 10.4,
Intel Core 2 Duo / 1.8 GHz or higher
1 GB RAM,
1x available USB port