Label focus: Pictures Music
London based Pictures Music began life in 2010 with a dubstep and garage infused EP from fast rising trio Dark Sky.  This was closely followed by the Tourist EP from Seams, filled with colourful and minimal electronic tones in the vein of Four Tet or Gold Panda, and the debut release from Chairman Kato, a more claustrophobic EP of expansive bass-filled techno. These three releases couldn't have been any more disparate, and quickly set out the label's position as one that was not going to settle releasing one style of music. The release of Koreless' 4D/MTI single, championed by Gilles Peterson and Jamie xx, saw the label propelled into the consciousness of a much wider audience.
Run by two childhood friends, Alex Clapworthy and Matt Chlebek, both 25, the label is operated primarily out of Alex and Matt's respective homes in Peckham, South London, and their local, Bar Story. It's in Alex's flat, on a leafy street close to Peckham's bustling Rye Lane, that I meet the pair for tea. It's a label that exists within spitting distance of Goldsmiths University and one of the most interesting community of artists and musicians outside of London's wider East End, and you'd be forgiven for thinking that the label, with its DIY approach, came out of this nascent scene, but as it transpired, the pair came to it from a totally unexpected place.
"We met when we were 13 at school," Matt begins. The two grew up in Shrewsbury, where they were involved in a number of bands together, and like a lot of guys their age, grew up on an early musical diet of nu-metal, something that they obviously have fond memories of. "We still occasionally get drunk and listen to it," Matt laughs. Matt has a long standing love of hip-hop, citing a Madlib show at Fabric as one of his favourite nights spent at a club. The pair shared a mutual admiration of The Cinematic Orchestra, whilst Boards of Canada are also cited as an early electronic love.
Things really kicked off when they reconvened in London after Matt completed a biology degree in Bristol, and Alex chose to leave behind a potentially lucrative career as a doctor to chase his musical ambitions. "I didn't take my first job up because I would have had to move to Scotland, and I didn't want to leave all the music stuff I had been doing in London," he explains.  "I left a structured sensible career plan, and now have committed myself trying to make a living not really working for anyone else". The music path they have followed is one that many would be envious of; Alex currently works at a music consultancy agency, prior to this he worked in the Ninja Tune stockroom where he met Tom Edwards from Dark Sky, while Matt interned at Warp Records where he met current Pictures Music artist Seams. During this time they helped out with a label run by their friend Ross Tones, aka Throwing Snow. But despite all this, the reason for starting Pictures Music was partly pragmatic, as Alex explains: "Entry level music jobs are a bit bleak in labels, so it was easier to set some thing up ourselves and get all the pleasure out of it".
The strong releases on the label thus far show that Matt and Alex obviously have a keen ear and unique and strong sense of curatorial style, and I ask them what their approach is when looking out for potential artists. "Generally stuff that doesn't sound plastic. There was a lot of dubstep stuff around a year ago which sounded really mechanical. There's a lasery sound around which I don't personally like," says Alex. "I think the people that we've released," continues Matt, "all of them have the ability to make a record that sounds really good.  They know how to produce. They know how to make a sound that sounds full, and dense. Even Koreless, which is the most sparse thing we've released, has a real warmth to it." The pair have known each other for 13 years, and constantly send each other things; they give the impression, that, despite their differences (Matt's love of R&B being the primary example) they work well together in terms of quality control.  They are sent a lot of music via Soundcloud, which they admit is of wildly varying quality, but the Chairman Kato release came through a chance meeting Matt had with him at a club.
The releases on Pictures thus far have all been quite unique, and I ask if there's anything they look for in their artists. Matt begins: "Initially I was of the impression that everything we've released is wildly different, but when you listen to it all, they all seem to have a certain sound". Matt doesn't elaborate on what this is, but all their artists thus far have shared an inherent sense of melodicism with a very full sound that utilises space in an interesting way. As Alex elaborates, "the thing that I like about Dark Sky is the way they make the music work within a space, and it's all really nicely mixed, Koreless does that too, and Lapalux also" Alex says. This comment is particularly enlightening. Lapalux's Many Faces Out of Focus is an incredibly accomplished EP of sample based music in a Flying Lotus vein, where a multitude of musical elements jostle for attention without it ever getting cluttered.
As far as the running of the label goes, duties are split solely between Alex and Matt. Alex oversees press and finance and has a particularly hands-on approach, often going to the studio to oversee the mastering work. As he explains: "I'm quite into working with artists, rather than just getting tracks and releasing them". This seeps through into his other role as manager for Pictures Music artists Lapalux, Dauwd and Rudi Zygadlo. Matt meanwhile, is primarily responsible for the design. Despite the label's strong visuals, Matt is obviously a perfectionist, lamenting missing the chance to create a unifying identity for the label from the very beginning: "I might have said that I'd have done it differently had I been given the opportunity to start again, because I'm a big fan of labels that have really strong identities, with things like a house label, but it didn't work out like that because we started out doing digital. I'm trying to rein it in a bit more now".
The subject of the label's name is brought up, and I enquire about the Pictures Music website, which incorporates a photoblog, wondering whether the name was something that came out of their appreciation of photography. "We've both got a bit of a habit of buying old cameras off Ebay," says Alex. "We're not very good at taking photos, but we like the idea of it!" Matt continues: "Initially we were thinking, how can we get people to come to our website to listen to our music? Y'know, what's going to make our website different from other blogs?" So was the label's name a response to the idea of including pictures on the site? "Yeah. But I don't know if the name came first or the photos came afterwards."
"We knew a lot of photographers whose stuff wasn't being seen," says Alex. "There's no real place for fine art photography on the internet, it's all party photos". Matt adds: "As it stands, there's probably no real link between the photography and the music, but I like to think that the photographs we put up have some kind of common feeling to them. I don't know if our site is a go-to place for people who are interested in photography, but I think if you do end up there then there's something to click around rather than just buy links". This keen interest in visual culture that the two share comes across in the label's strong design, be it the hazy aesthetic of the Chairman Kato and Lapalux covers, or the strong graphic style of the Dark Sky EP and label logo.
Starting from such humble beginnings meant the label began life offering only digital releases, but recent sell out runs of the Koreless 4D/MTI 12" and tape copy of Lapalux's Many Faces Out of Focus strengthened the pair's resolve to offer a physical product to their fans. "If we could have done it again we would have done everything on vinyl," says Alex. "It's just that initial amount of money" says Matt, "but now we're in a position where we can offer all our artists physical. I wouldn't go back to solely releasing on digital now." Of course despite this, the financial reward for the pair isn't huge. "We don't take any profit from it, because we just can't," Matt explains. "Everything goes back into the label. Single vinyl and 4-track EPs is where we find things to be manageable. I reckon it's more worthwhile for an artist to release two EPs a year rather than an album, because then you have twice a year where you're going to press, and more times when you're getting coverage out of it."
Given that Dark Sky and Koreless have been embraced by DJs involved with the contemporary UK bass scene, I ask where they see themselves fitting within the current wave of young UK labels doing similar things. They obviously have a great deal of respect for these labels, as Matt explained. "I was shocked to read recently that Hessle have been going for five years. I don't think we're on the same level as guys like Hessle, Numbers, Night Slugs – especially Night Slugs and Hessle, they've got a sound which they stick to, and they do it well, no one else can touch them on that. We've found that there are a lot of people doing that kind of thing better than we can. We didn't grow up listening to garage for five years, or house music. They have a better sense of taste than we do with that kind of stuff."
I ask about R&B, having seen some mixtapes that Matt has been putting quietly onto Soundcloud. "I just really like the production of it," he says. "Someone like The Dream has come into his own because he's really good at production and songwriting. Alex doesn't feel quite the same way: "I'm going to it backwards because I don't like R&B, but the stuff I've listened to over the last few years is drawing me back through the samples". Despite this, he is willing to concede that "it's the pinnacle of electronic production right now, really high budget." Matt reveals his current obsession for Dipset's Trance Party mixtapes, which take commercial trance and turn it into, as he says, "the hardest hip-hop production I've heard". It's not exactly what I expected, but this revelation turns out to make sense. Dauwd's "Could It Be", (released for free via their website), has a fast tempo and colourful melodic quality with an almost commercial sensibility, and a real hardness to it in terms of the beat. Throughout the interview this track played in the background occasionally, with Matt seemingly unconsciously mimicking the sound of the track's bass drop when it happens.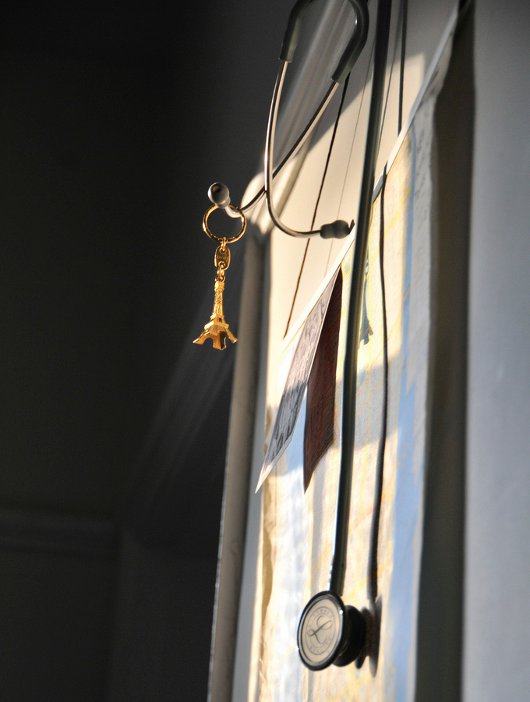 Despite the electronic focus of their releases, they are currently shying away from DJing and promoting duties themselves, despite having dabbled in the past. "We both started out DJing when we were 14, and I was playing happy hardcore because that's what a friend of mine told me to play", laughs Matt. "I've got a bit of a problem with DJing now," says Alex, "because it makes me think of myself being 15 in my room and dancing". But the primary reason seems more to be technical. "People actually want us to DJ at parties," says Alex, "but it seems a cop out to do a set on Ableton". Matt has a similar attitude. "I can't set my turntables up in my flat, so I'm not going to step up and do a set on vinyl when I haven't touched a set of turntables for two years. Hopefully that'll all change soon and we'll do a lot more". In terms of clubs that they enjoy, they cite South London based Trouble Vision and Off Modern as great parties, where they recently programmed room 2.  They also have a great deal of respect for the London underground broadcast crew Boiler Room, who recently asked the label to curate a night. "They've been amazing," says Alex, and internet radio station NTS, who he says have "stepped up and raised the bar in internet radio". Given their proximity to the nascent Peckham scene, I wonder if this, and the people that they have met inspired them in some way to begin the label. "No," they both emphatically answer, "but we meet a lot more people here". "What's nice about Peckham is that there's a scene, but it's not a commercial scene," explains Alex. As Matt elaborates, "I can go to the Bussey Building on a night, and there'll be no famous names but it'll be a bunch of kids who play good music".
Despite this, Alex's flat contains a well equipped studio, where they dabble in their own productions. As I look around it I ask what kind of music they make, and let me in on an unexpected story. "We made a track that was kind of housey and put it on the internet, and somehow, through a chain of emails, it was sent to a promoter in Austria," says Alex. "We got booked to DJ at a festival called SoundFrame in Austria, which was amazing," says Matt. "We always said we wouldn't link Pictures to anything we were doing production-wise," explains Alex, "so we had pretend we weren't from our label!" They don't reveal too much more about any future plans for making music, but it wouldn't come as a surprise if something did come from the pair under a pseudonym. But the experience is one that they obviously enjoyed, as Matt explains: "We'd love to be in a position where we can go with all of our artists to Europe and do a few dates. It's cool to go somewhere that isn't London – even just Bristol, and meet people there who you don't know who appreciate your music".
In terms of the label's future, the pair have already pencilled in their next few releases. Seams has just released his second single, Focus Energy, with the label, whilst the remainder of the year should see a release from newcomer Dauwd and an EP from Rudi Zygadlo, who released an album on Planet Mu last year. The pair obviously has a particular enthusiasm for him. "No one else has made music like it," says Alex. "People need to get to know about him more". But plans beyond the end of the year aren't mapped out, and this is something that doesn't seem to worry them. "The label will go where it goes I suppose," says Matt. "If the next few years go how the last one has gone, then we can't really go wrong." And although the label may not be a cash cow, whatever financial success it does enjoy will keep it alive, as Alex explained. "There are a meaningful number of people buying the records now. It's gotten to the point where we've realised if we do things the right way, we can sustain the artists and musicians we work with". I ask if there have been any other labels they have been particularly inspired by. "Transparent. They just help other people out," Alex says. It becomes clearer by this point that Alex and Matt have no real desire for financial reward; the label is run out of a desire to simply promote artists they have a strong belief in.
To say Pictures Music doesn't have as strong a musical identity as Night Slugs or Hessle is perhaps doing the label a disservice. It may not enjoy the same level of status, but their artists undoubtedly share a sense of originality that goes beyond any current musical fads, occupying a unique space between club music and something with a rich musical depth. A few days after the interview I noticed James Holden tweeting about how much he was enjoying the new Seams release, and for an artist as esteemed as him to be a fan of the label suggests that Pictures Music have the potential to enjoy a long and prosperous future.
Interview: Scott Wilson
Picture credits: Gareth Spencer