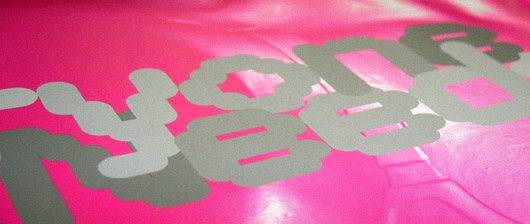 It was a landmark week for the editorial team at Juno Plus as we not only launched our podcast series in fine style with a selection of deep heat from We Play House dons FCL, but also further dipped our toes into the procrastinating waters of social networking with our very own shiny Facebook page. We did listen to some music too!
With Jim Blake's debut album dropping alongside the first releases from Visionquest and PMR Records, it's fair to say the past seven days have been about anticipation being met and matched. If you've spent a cursory amount of time on the internet of late, you will have already read far too much about young Mr Blake's album.  So we'll spare you any more analysis and instead insist how excellent the Benoit & Sergio and Julio Bashmore releases are, not least because they don't rely on the additional buzz of name remixes and come wrapped in some excellent artwork.
Elsewhere two of the Berghain residents were active, with Marcel Dettmann dropping two Factory Reports for Kontra that were a fascinating example of how he's expanding his sonic template to include Donny Dozzy style techno ambience. In addition The Vested One introduced us to the mysterious techno explorations of Rod on his Klockworks imprint. Fans of the Mills Something In The Sky series should check "Malmok One" for some unsettling sonic architecture. Speaking of unsettling, the emergence of electronic music flushed with bleakness and menace shown by Raime and Demdike Stare, was further demonstrated on the second volume of End Of All Existence post apocalyptic guttural throbs from Milton Bradley.
Approach with caution….
Bringing us back towards the light was the new Lee Foss EP on Culprit, which demonstrated the Hot Creations honcho is further honing the distinctive sound that brought him and Ruud Gullit lookalike Jamie Jones so much success last year. On a similar note the new Double Standard twelve was a bit of a Marcy Hotel love in with No Regular Play's Greg Paulus getting remixed by Soul Clap, Slow Hands Denis Kurtel and Gadi – don't wait on this vinyl only release!
Oh and On The Prowl spoilt us and you with two releases, label boss Marcos Cabral getting busy with the fifth edition of their Party Breaks and Andy Ash adding to his rising stock with the early morning warehouse jack of "Another World" backed with remixes from Nicholas and that man Cabral.
For the disco heads we would have recommended the new Truth Is Light twelve inch for the humongous end of night anthem that is the gospel cover version of Sylvester's "I Need You", but typically Juno customers are just as switched on and it sold out in record time. Thus, amidst the usual wave of disco twelves that flood the Juno warehouse we'd suggest you check out the Grooveman Spot Running Pizza album sampler on Jazzysport along with the latest Onur Engin edits and some great Mark E style muggy chuggers from The Tortoise on 3rd Strike.
Those of a digital persuasion should check the full album from the aforementioned Grooveman Spot along with the much overdue debut album from Croat disco don Ilija Rudman on Bearfunk and the 14 Tracks From Planet Mu compilation. If albums are not your thing but a warm, woozy, synth-drenched journey through gradations of funk, R&B, house and dubstep is, then you want to check Arp101's Flush EP on Eglo which has finally translated to mp3 format.
Alongside Jim Blake's aforementioned album, this week also brought Yours & Mine, the debut album from Panoramabar resident Steffi filled with old style Chi-town and Motor City sounds as well as the keenly anticipated and really rather good Trax Re-Edited compilation on Harmless – you need to hear that Twitch edit!