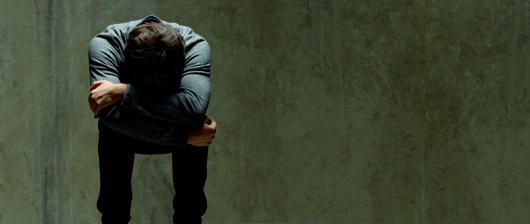 Sébastien Devaud, known to sweaty dancefloor throngs as Agoria, has released nearly 30 singles and EPs in a sparkling career that spans a decade. His fourth studio album Impermanence is due out imminently, he owns and runs the InFiné record label and has bagged himself the rather legendary role as the next fabric mix CD curator. His role within InFiné is particularly interesting; rather than using the imprint as conduit for his own productions, he's used the platform to push a broad range of artists, from the classical leanings of Aufgang to the indie techno of Danton Eeprom, via the sultry house of jozif and more besides.
The night before Agoria played what panned out to be a storming set in London's fabric, kicking off an mammoth 24 date Impermanence album tour, Juno Plus writer Hannah Briley sat down with the very affable – and very French – Sébastien Devaud to talk about his special relationship with Farringdon's most famous nightspot, inspirational love and all things InFiné…
Hey Sébastien. First of all thank you for taking some time to talk, and happy birthday for tomorrow! It is tomorrow, right?
Aha, yes, it's tomorrow night, well Sunday at 2am.
You're kicking off a big tour tomorrow night in fabric's room one alongside Mr.C and Sascha Dive. fabric is an institution for us here in London, and a club that you've played at many times. How does it feel to celebrate your birthday and start the tour there?
It is very special to kick my tour off there and also because fabric is really like my home, like my family in London.
When was the first time you played for fabric?
Wow, I think it was when I released La 11eme Marche.  Judy from fabric asked me if I was interested in playing there.  She was one of the first people to support me and since that very first day she's continued to do so.  Judy is really amazing, she's just one of a team of course, who really take care of every artist, making sure they get treated in the best possible way.  We are all human, everyone has good nights and bad nights, and regardless of that Judy is always there supporting us.  We, as a group of artists are all a little bit like the babies of fabric who have grown.  There is such a respect between the babies and their mother (laughs).
In a sense it's probably because Judy has been there for so long that you've all gone on the journey together…
Exactly, it's exactly that! For me fabric is really special, I'm also doing a fabric mix CD soon which brings me a special type of happiness and is a big privilege.  And also because I'm French!
Why does you being French make a difference?
Well, I think because France as a country doesn't have that much of a club culture, because we don't have that many clubs.  Paris has two good clubs, I live in Lyon and we have one good club.  We have one good festival, the Nuit Sonores and one or two other clubs but that's all.  For a country like France it's just ridiculous.
You created Nuit Sonores didn't you?
Yes I created the festival around eight or nine years ago.  Literally, I was with a friend in the kitchen and we came up with this crazy idea. Now I look at it and last year we had 80,000 people there!  The team working with this festival is amazing, I no longer work every day with them in the office but I still contribute in every way I can, suggesting artists and labels amongst other things.
Let's talk about your label InFiné. You started it up in 2006 but never released on it yourself until 2010. When most artists are asked why they started their own label, the general answer is that it's because they didn't want anyone else dictating when or what or how their music should be released.  This clearly has to differ slightly with you considering the lack of your own work released on InFiné until recently…
I really wanted people to know the label for the artists that we were signing before anything else. I want them to lead first, rather than having a big DJ that's very well known.  I don't think this is the right reason to sign someone or to run a label.
You have a very eclectic set of artists on InFiné. If you look at someone like Danton Eeprom for example who's brought out indie stuff or jozif who's very much disco and house based, and then Aufgang who are heavily classically influenced. It's very extreme in its diversity and certainly not solely an 'electronic' label…
It's music! Even if I'm a DJ and I play a lot of DJ tools, it doesn't mean that as a label owner I only want to release food for my sets, or other people's.  The most important thing for us is to find music that touches us, the three of us, myself, Yannick Matray and Alexandre Cazac.  Alexandre has a very good ear for finding different things.  Every time we choose something we come together and discuss our individual ideas and then go from there.  Basically we started InFiné because one day Alexandre was listening to Francesco Tristano, the pianist, and he called me and said, "Seb, I've listened to this fantastic artist and we have to create something for him to release his music through."  Then came Danton, Clara Moto, Cubinex, Arandal and so on and so on – it all started like that. I'm really proud of the album from Arandel and I'm not sure if that many people have listened to it but it's just amazing.  Also, the Lebanese singer Bachar Mar Khalife, who is also really…well, when I listen to his music it's immense. The track "Distance" is fantastic! My god…
"I know that the French are quite arrogant, but what's going to follow is not supposed to sound pretentious at all. I think the main reason I made this album really quickly, really easily, is because I fell totally in love"
That's what impresses me about InFiné, when you look through the catalogue of music that you've put out there's this huge array of styles and emotion to grab on to and, for want of a better word, it's a really 'musical' label.
We say musical because what we as DJs generally play is designed to make people dance. The first reason for the existence of music was to make people dance, to put them in a 'trance' and to give them a hedonistic, higher feeling. So the danceable aspect is obviously important but it's not the first reason for home listening.  I wanted to go in this home listening direction because amongst other things, there are so many good records for DJ tools that have already been made.  I didn't want to make another Kompakt or Crosstown Rebels.
There are enough labels out there doing that as it is…
Exactly. And it's not really me either. I've been surrounded by classical music all my life. The first record I brought was from Inner City – "Good Life".  I was twelve years old, it was a major hit on the radio and I remember bugging my dad for it. My dad is a fantastic record collector, and my mum was a modest opera singer, so I've been surrounded by this musical diversity all my life. I always loved the beginning, the early part of electronic music and the rave parties. It was forbidden to organise these parties and there was an attraction because of the fact that it was forbidden. And then there was the flip side of this classical thing within my family, which explains why I'm very eclectic in my taste and don't have any boundaries. And when I say I don't have any boundaries, I really don't – sometimes maybe it's too much. It's possible sometimes that we (InFiné) make mistakes, but the most important thing is to release music that touches us. At the moment, with the label it takes me a lot of time because I really hope to develop all of the artists.  It's nice because with this album (Impermanence) people are surprised and are saying "Oh! InFiné is your label!?" And I'm actually really happy that they didn't realise before. Normally when an artist creates a label it is to, as you said, put their own music out.  I like the idea that people discover the artist first and then the label second.  I'm not here to be an angel, that's not what I'm saying, but you know, to push them.
Let's talk about your upcoming long player. Impermanence is coming out on February 7. Tell me about the process of making the album?
I know that the French are quite arrogant, but what's going to follow is not supposed to sound pretentious at all. I think the main reason I made this album really quickly, really easily, is because I fell totally in love, and that's not a cliché.  I reached a moment in my life where I pressed stop and I was just contemplating what was happening, the world, I was enjoying everything and it all just came to me.  I remember when I was making The Green Armchair it took me maybe two years to work on that album. It was really difficult for me to find the right arrangements, to make everything work.  I think that experience even helped me on this album because of the struggle.
So because it was a romantic time in your life you think the creativity poured out of you more easily?
This was the first reason, yes. And the funny thing is, I don't think I realised it until talking about it after it was finished. When you are actually doing it, you don't realise and then six months after, when I was speaking to people, just as you and I are now, it becomes apparent that the album is quite intimate and romantic and that I made it very quickly – and it's true.  And the second reason is that I think maybe I overworked other albums before, trying so many different things and struggling to find the right way. With this album I already knew more or less what was right for me.
When you are writing an album,do you have it already in your mind what message you want to convey – or are they a collection of tracks for you, that have no specific link to each other?
That's complicated because most of the time I make tracks specifically for an album, but then 90 per cent of the time after I finish a track I think…nope, it's not right for the album.  And this is why this album was great to assemble, because I would make a specific track to go after the previous, or to go in between two already made tracks and somehow it just fell perfectly in order, and felt like a real album. Maybe it's a bit dated to speak about an album because the perception of 'album music' has totally changed these days, but I really wanted to build an album to listen to from beginning to end.
That's not dated! That's what an album should be – to listen to from beginning to end – if not it would ruin the story…
Yes, but we all go so fast these days, I am the first person to skip everything! I advise people to play it in the car when you have an hour…or while making love is perfect…I tried! (laughs)
I wanted to ask you about the title – Impermanence. If I'm not wrong, Impermanence is one of the three marks of existence in Buddhism and stripped down, means that we, and everything in our universe, is in a constant state of flux. Why did you title the album that?
Yes that's right, that's what it means. There are many reasons, the first one is the fluidity of the album, every track is arranged to flow from the one before.  And the second is this concept of contemplation.  I pushed 'stop' for a while and realised that sometimes we have to slow down and reflect, but also that nothing is ever stable, everything is constantly moving and changing.  And the third reason is that I'm very into anticipation. For example because I run a label I'm really focused on trying not to be too arrogant, trying not to get an ego because that's something that's a real problem in music, in this industry. You are forced to have some of that trait to do it, to get on stage in the first place. But, now that I meet a lot of artists all the time I see that it's something that really doesn't help and so Impermenance is exactly this idea – to stop thinking too much about yourself.
Carl Craig does some vocals on "Speechless". I wanted to ask you about the vocals, because they are, erm, interesting. Did he write them as well as being the the vocalist?
Yes Carl wrote the lyrics.  And I think they are perfect, I love them! I mean, my girlfriend loves me when I speak like that! (laughs) I don't like to take everything too seriously in music.  Some of my friends told me, "ahh, come on Seb, why these lyrics?"  But I think it's funny!
(At this point Sebastien and I succumb to a fit of giggles and inappropriate jokes about whiskey in bellybuttons, hotel rooms and other things, and our interview goes slightly off track.  Once composed, we carry on…)
I guess they are quite contrasting as well, because if you look at the rest of the album it's very poignant, and as you said romantic, so this is a nice contrast. Not everything about romance has to be serious, there has to be some humour inside…
Indeed, and the lyrics help me to relax as well. In English, words aren't so easy to put across – it's more about the way he says them, the inclination he gives, the way he builds them. For me anyway.
"I think Carl (Craig's) lyrics on "Speechless" are perfect, I love them! I mean, my girlfriend loves me when I speak like that!"
You've also got guest vocalists Kid A and Seth Troxler on the album. Kid A's vocals on "Kiss My Soul" are particularly haunting to me – really beautiful.  Tell me a little more about her?
She's from Washington, you'd think that she's Swedish or something! But in fact she's a black woman, more Nina Simone than Björk! There's a huge gap between her voice when you listen to it and when you actually meet her.  She's very charismatic, over talented, she's just brilliant. And she's only 20 years old too.
Do you have upcoming projects with her for InFiné?
Yes, we're gonna work on her full solo album on InFiné. Hopefully.
Can't wait.You've got a 24 date tour coming up which is some pretty intense on the road time.  How do you cope with that?  Do you enjoy it?
Well, I promised to the one who influenced this album that I'll have a break with her at the end of the year. But yes, actually touring is something that I really love. Producing and being a DJ can be a pretty lonely occupation, so in fact when you're touring and travelling you meet a lot of people. fabric and my experiences there is a good example of how touring can bring you together with people. There are some places where very good moments and connections are built. When I go to Tokyo for I feel at home because I've been going to the same places twice a year for the last six years, so it's like going home and being with friends.
Because of the type of industry it is, the fact that it's parties, entertainment and art, I guess there's always good vibes and happiness to be shared…
Yes that's true, but you know it's not the actual performance itself that I mean. It's the times before or after the gig for example when we have more time to really share.
When you realise that we are all real people, not just bodies and strangers dancing in the dark, connected only by the music…
You're exactly right! In fact, it reminds me of actors who after they have finished playing the representation of a part on stage – come together as their real personalities.
Interview: Hannah Briley