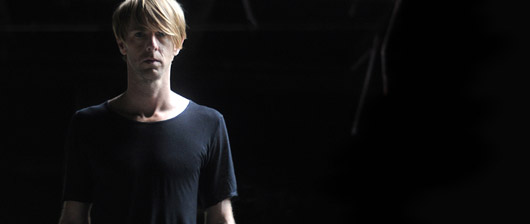 You get the feeling had Richie Hawtin been born 200 years ago, he would have been one of those intrepid explorers, sailing the high seas in search of untold treasures, spices and cultures, or perhaps a canny inventor tinkering in his basement. Thankfully for us, he's chosen to devote his life to exploring the nether regions of electronic music. It's brought him many things – fame and notoriety, a swelling legion of fans few in the industry can match – but never has he strayed from his singular vision.
2010 saw the somewhat unexpected (but very welcome) revival of Hawtin's most revered project: Plastikman. A host of well received live shows were performed at major festivals across the US and Europe, offering a new generation of electronic music fans a glimpse into one of techno's most enduring pseudonyms . Anyone lucky enough to have witnessed one of these shows will remember the new material showcased alongside many a classic, with the timeless drumroll of "Spastik" teased in before being fully unleashed.
Juno Plus editor Aaron Coultate recently caught up with Richie – central to discussion was the Arkives 11-disc boxset, which compiles the finest moments from the original Plastikman era alongside remixes from some of the artists who inspired Hawtin most.
Plastikman was back with a vengeance in 2010 – how did you find the response to the live show?
I like the word vengeance, and it was a bit of a vengeance, because part of the point of Plastikman live was to bring a really full-on, energetic experience to the stage. There's others like the Deadmau5's and the Chemical Brothers doing it, but I thought there needed to be something more visceral and dark, and I believe that people who saw the show got the point. Some people said it blew their socks off, some people just couldn't explain it. With Plastikman, if you talk to the people who were at the original parties in Detroit, everyone says something different about their experience. It was a case of, you just had to be there. That's what I want Plastikman live to be now.
Was it a challenge to impress both your established fan base plus a new generation who didn't grow up on Plastikman?

I wanted to reintroduce the old tracks and that kind of feeling, and do something that was respectful to the heritage of Plastikman. We did a show in Detroit – we wanted everyone out there who was at Spastik in Detroit in 1995, to be like, man this is totally different, but still on point to Plastikman. It had to work in that context because only then would I be sure that all the new people who are watching would fully understand what Plastikman is supposed to be about. I think we achieved it, because when we were in Detroit we had a magical show. I had my friends who were out there at those shows, and their heads were spinning and they were coming back to me after saying there were kids next to them who were 18 or 19 years old asking 'who the fuck is this guy!?'
"I had my friends coming back to me after Plastikman shows in 2010, saying there were kids next to them who were 18 or 19 years old asking 'who the fuck is this guy!?'"
You've got the immense looking Arkives project out. Why did you decide to release such a comprehensive opus?
I've been thinking a bit about something like this for the last one or two years, and then going back through all the archives for the live show – it just seemed like, it was time. I don't know what it is, but Plastikman always happens when… there's a certain feeling to it. It may sound really dumb, but I wake up some mornings and think, it's time for Plastikman. I think in 2010 this whole scene has exploded – it's now big again in America it's starting to grow larger, and part of the push of growth is created by the underground, but a lot of it is also created by a new generation of more popular electronic music. I've always been kind of in the middle, so I thought now is the time to come and give a bit of the history – from my perspective – of what I'm doing now and bring this Arkives project and Plastikman live. It won't be for everybody, but it's the whole story. Read it, like it, love it, hate it, it's there.
I'm personally fascinated by some of the commissioned remixes on Arkives: Moby, Francois K and Severed Heads in particular. How and why did you choose them?

To me a generic remix collection of Plastikman would be really boring. Replikants, which is a remix collection, is about me going back to the people who, in my mind, started the Plastikman project. These are people who, when I was 16 or 17, I was listening to their records and just being blown away. And it was later, when I went back to listen to those records again, I started to notice they were using some of the equipment that became the standard equipment of Plastikman. It was a subconscious thing – this is why I love the 606 drum machine so much, because I spent two years of my life listening to Severed Heads records – I mean it's all over them. So what I do right now when I'm playing, and with M-nus, I hope I can inspire the DJs out there and also the next generation. The remixes on Replikants are the people who inspired me to start my journey. Severed Heads, Francois K, Moby… some people might say, OK why is Moby there? You guys seem totally different. But in 1990 and 1991, Moby and I were young kids making electronic music, hanging out and just trying to do our own thing. We both went in slightly different directions, but I believe we still have great love and respect for the electronic music scene, the heart of it.
What direction can you see your label M-nus taking in the future?

M-nus in 2010 was seeing the label come into adulthood in a way. M-nus really started out as a label for me. It was called M-nus because it was going to be my project, not for other artists, because I was leaving Plus 8, and it organically grew into this melting pot and test bed for new artists. Ten years ago no one knew Marc (Houle), and to finally in the last two years to have Gaiser, Troy Pierce and Magda albums, it's at the point where M-nus is about this whole group of people and they all go off individually and have their own unique M-nus sound.
"I thought now is the time to come and give a bit of the Plastikman history – from my perspective. It won't be for everybody, but it's the whole story. Read it, like it, love it, hate it, it's there."
Tell me about the Burn Studio project, your latest venture, announced at the Amsterdam Dance Event in October. What is your involvement there?

Burn studio is – in my opinion – the first real online cloud studio, specifically made for online music. It brings together the drag and drop mentality to music and it's a great first step into music creation. So many people right now are inspired and interested by watching their favourite DJs and listening to their music, I think people want to try their hand at creation. So Burn Studio is there for that – to teach, to mentor, to collaborate, show different ways of making and creating. I'm involved, some of the other M-nus artists are involved, we're doing a mentoring class with Gaiser, Marc Houle, Magda and Ambivalent, where we talk to 20 kids and discuss how Gaiser does his live performance, how Magda and Marc collaborate, how JPLS does special vox-plosion experiments with voices. Electronic music is so wide and varied – the important thing is to show that if two artists pick up the same guitar, it's not about the guitar, each one of those is going to play it differently, and whether you have a 303 and a drum machine, the individual is the important factor. So the studio has this array of options and we can plug in kids form all around the world, collaborate and see where the magic begins.
Interview: Aaron Coultate
Live pic credit: Stefan Solf