Discodeine's debut album details unveiled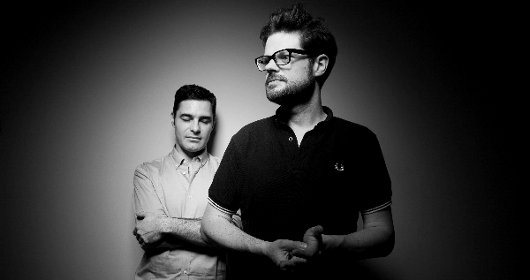 The details of the eponymous debut album from Gallic duo Discodeine (aka Pilooski and Pentile) have been announced, with a release date set for March 2011.
The news comes amidst much swooning in the Juno Plus office over the delectable 10″ single release on D*I*R*T*Y of Discodeine's Extended EP, which showcased the the hook-up with Pulp legend Jarvis Cocker and came packaged in suitably lush artwork (an illustrative rendition of The Divine Comedy by Gustav Dore if you're asking). The instantly winning combination of Cocker's distinctive voice and an orchestral discoid thump instigated by Pilooski and Pentile marked "Synchronise" as an instant classic (waddle over and check out Tony Poland's full review here), and of course is given pride of place on the album, along with the collab with Kompakt stalwart Matias Aguayo, which also featured on said vinyl release.
A quick perusal of the tracklisting reveals a further hook up with Closer Musik's Baxter Dury, and we're pleased to report that the album art matches the epic visual aesthetic reached on the Extended EP. Check it out below.
Tracklisting:
1. Singular (Feat Matias Aguayo)
2. Falkenberg
3. D-A (Feat Dury)
4. Antiphonie
5. Ring Mutilation
6. Depression Skint
7. Grace
8. Homo-Compatible
9. Relaps
10. Invert
11. Synchronize (feat Jarvis Cocker)
12. Figures In A Soundscape