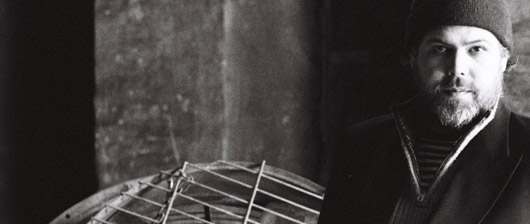 2010 is the year that Ostgut Ton came of age. The record label celebrated its fifth year in existence with a compilation entitled Fünf, which saw the Ostgut family of artists make tracks using field recordings gleaned from within the walls of its associated club(s) Berghain and Panorama Bar. It capped a fine year which began with Scuba's Sub:stance mix and was followed by stellar 12″s from Steffi, LB Dub Corp, Marcel Fengler, Tama Sumo and Prosumer, plus albums from Marcel Dettmann and Shed, as well as Ben Klock's impressive Berghain o4 compilation.
The man at the helm of the good ship Ostgut is Nick Höppner, who has been in charge of the imprint since it launched in 2005. A former resident DJ at Berghain's predecessor club (which was called Ostgut), Nick is also a producer of considerable repute – he chipped in with a 12″ on the label back in March – and was until recently one half of My My with Lee Jones, although studio time is at a premium these days. Juno Plus caught up with Nick at last month's Amsterdam Dance Event to discuss Ostgut Ton's past, present and future, the art of label management and his passion for UK bass music.
The idea behind the five year compilation is fascinating – how did it come about?
Well actually it wasn't really my idea. I've been good friends with Emika since she moved to Berlin, and the idea was born when I invited her over for dinner one night. She told me about an incident she had at the Panorama Bar on a Sunday afternoon while I was DJing; at one stage tripped and touched something that was heavily shaking, and she noticed that the whole building was moving and vibrating because of the music. At this stage I was starting to plan a concept for the fifth anniversary compilation, so the timing was perfect. Because Emika has a background in creative music technology and has done sound installations, she bounced off the idea. She suggested doing field recordings in the venue and recording the space without the mayhem of the weekend – just day to day business. She made a library and we distributed it amongst our artists. It was initially something we call in German a Schnapps idea, you know, when you have one too many shots (laughs), but pretty soon we turned it into something serious. She came down and did some serious recordings in the space over two weeks.
Were all the recordings taken during the day?

Pretty much. She came down one weekend during the evening but never recorded the main rooms. There's one dressing room backstage with a huge panel of mirrors, and she stuck huge microphones behind it as they were vibrating heavily from the booming in Berghain. Other than that, most of the recordings weren't affected by the music at all, just empty spaces. She also recorded impulse responses, by playing a short, loud sound in Berghain and recording the reverb – that was turned into a reverb plug-in for us to use. She had access to the whole infrastructure – the cooling rooms, fridges, storing rooms, whatever. She got a tour of the building, and took notes down about what she thought was interesting. She took a massive amount of raw source material home, did editing and selecting, and a few weeks later we were given a 4GB DVD chock full of sounds; some of it already processed but most of it really natural, the way she recorded it. Some of it was edited into short, percussive bits, or sometimes the fridge was humming in a musical way so she made it a bit longer. That side of things was done by the end of last year, so at the beginning of this year we began.
Did everyone get the same collection of sounds?
Yeah, we didn't restrict it in any way. It was a case of, here are the sounds, go ahead and use them. The source material was quite industrial, and because the spaces are generally quite huge, and of course the place is mostly built from concrete and metal, whatever you hit is quite hard. The sounds you get from it aren't very musical in a certain sense. So everyone was free to make up their own mind; if they only wanted to use the percussive bits to build a beat out of it, but in order to come up with their signature sound they needed to rely on different stuff, they were free to do that.
You mentioned it started out as a 'Schnapps idea', but the idea of a compilation inspired by a club seems like a perfect fit for Ostgut Ton/Berghain…

Totally, it turned into something very serious very quickly because it was so fitting. It was playing with the whole notion of Berghain influencing music, and vice versa. There's this saying that you never see anyone dancing to architecture – I don't know exactly how it really goes – but ever since Berghain people have been talking about the cross pollination between architecture and music, so of course it was a perfect match. There's just a little tongue-in-cheek element in there as well, it's playful and light, although the result is rather heavy. It's not deadly serious Berghain concrete techno, you know? It's quite a playful approach, but one that still fits the general aesthetic of the label and the club's heads down, serious vibe.
"It's not just deadly serious Berghain concrete techno. It's quite a playful approach but one that still fits the general aesthetic of the label and the club's heads down, serious vibe"
Can you give us some insight into how you went about making your own track for the compilation?

My production process in general is always pretty random and quite jammy in a way. I'm sharing a studio with Steffi and she brought in a  lot of outboard gear – external stuff, analogue synthesisers and drum machines – whereas before I was very much in the box, so now I have a lot of stuff to play around with. It always starts with a beat for me, because hip-hop and jungle were my first electronic music loves, before house and techno. Through jungle I got in touch with 4hero, and 4hero had this big Detroit techno influence, and I took it from there. For Fünf I had the idea that I really wanted to create sounds that weren't percussive or abrasive. I tried to build little bits that were like a pad or a synth – but to be honest that was the only rough idea I had when I approached my track.
And how long you been the label manager at Ostgut Ton?
Since the beginning. I was a resident DJ at Berghain's predecessor, Ostgut, and even back then there was an idea for a label. When Ostgut had to close down at the beginning of 2003, there was already a mix CD by Andre Galluzzi, which referenced the tiny garden at Ostgut next to the train tracks, which is where the O2 Arena is now. So there was a CD already linked to the predecessor club, but that CD came out on Galluzzi's label, which he was running with a partner from Frankfurt back then. After that it wasn't clear for a long time if the guys who ran Ostgut would do something new. But when I was told about the plans for Berghain, I hooked up with them and got a tour of the abandoned building. I mentioned the label idea again, and because I wasn't really happy with the job I was doing at the time I offered my help. And that's how it started – roughly a year after the club opened, we released Galluzzi's Berghain 01. There was no master plan at the time. Kompakt were running a label night once a month on a Friday, so we asked them if they would distribute the CD without us having to prepare a big business plan without laying out ideas for upcoming releases and things like that.
How did things develop from there?
One day one of the owners told me Ben Klock and Marcel Dettmann had given him CDRs full of great music so we put them out on 12 inch. And then two months later Paul Brtschitsch, who back then was Andre Galluzzi's label partner, gave us some music and we put it out. It was all very slow, and there were big gaps between each release. It wasn't until the end of 2006, early 2007 that the label really got serious. The fourth release we had was Len Faki, and that was one of our best sellers. That was when we thought, we've got something going on here, although the Dettmann and Klock releases did well considering the label wasn't established and we didn't do any promo at all. Importantly, we had total financial freedom, the label didn't have to carry itself because we were emdebbed in the club infrastructure. That meant if we lost a couple of hundred euros it wasn't bad, as the club was doing well. It was the perfect situation; I could learn step by step, because I had experience in label work but not at that kind of level of responsibility.
Are you surprised by the progress the label has made in that period of time?

I think it's amazing of course – I still can't quite believe it. Of course Berghain being a beacon for serious club culture helped tremendously, especially in the early days of the label. But right now, it's a balanced relationship, because the label is the branch that is much more accessible. I'm doing interviews, whereas the owners still don't do that. They are staying reclusive, which is an amazing policy or stance. You see what they do every weekend, there's no need to brag or boast or explain. You could do the same with the label, but it's probably even tougher than doing it with a nightclub. I never thought that Ostgut Ton would become so popular, and that I'd be in a situation like this. It still feels like a surprise, but on the other hand everyone involved – the artists, myself, the layout guy, the club management – is very serious about their work and puts in a lot of work. As long as you think for yourself, you are bound for success without doing shitloads of PR and being vocal and loudmouthed. I think that has paid off for us, letting things grow in a natural way. And we were lucky with Ben Klock and Marcel Dettmann, they hit a nerve with what they were doing; it was a special case of right place, right time.
Have you had problems expanding the label's reputation beyond the realms of Dettmann and Klock techno?
That's one of the difficulties we face at the label, because they are so well known and so much in demand. There's a lot of assumptions from the outside, like when the Barker & Baumecker debut got slagged off, with people saying it was Ostgut trying to sound like Border Community five years ago, and let's wait for Marcel Fengler, he's the next one up…that will be true Ostgut. That's neglecting the fact that we have released very versatile music in the past. You can't compare Prosumer and Marcel Dettmann, they are the same in their dedication, but musically the represent opposite ends of the spectrum. And we have everything in between, from dubstep remixes to tech house and minimal, and that's one of the aims of the label, because the aims are social, not musical. We really want to create a platform for our family of artists.
"About half of the records I'm buying at the moment are post-dubstep. I'm not necessarily playing them out, but for inspiration it's more important than regular techno and house"
So where can you see the Ostgut sound going?
We are opening up a little more next year, without compromising the general idea of the Ostgut family. We have started to work with Ryan Elliott, who lives to Berlin now and has a strong affiliation with Ben and Marcel. He's part of the anniversary compilation and will be doing a release next year on Ostgut. And then because she's such a long time companion, we'll do a 12 inch with Dinky. It never quite felt right until now. In general we've been so lucky with the attention brought to us, and the mostly positive hype. There's a tiny backlash going on, but its not too malevolent. Of course we'll stick to the rest of the crew too. There will be loads in 2011, with Tama Sumo going solo, plus ND_Baumecker and Boris doing releases. We'll most likely release more 12 inches next year than we did in 2010, and of course we run the risk of overloading things, but everyone has the music, so we'll give it a try.
Can we expect a growing dubstep influence in Ostgut releases? Many artists on the label are known UK bass obsessives.
Anything goes – that's the policy. When Marcel Fengler or Ben Klock come up with a brilliant dubstep record we will release it. And there's a strong dubstep influence on Fünf too, because all of us have been buying that genre for years; staying in your own genre is boring. And there's been this talk for a while now about the marriage between dubstep and techno and it's getting crazy – major dubstep DJs are playing anything but dubstep! About half of the records I'm buying at the moment are post-dubstep. I'm not necessarily playing them out, but for inspiration it's more important than regular techno and house. I've got a history with British music – jungle was my first proper club music, and I had a love affair going on with 2-Step around 2000. I went to the first FWD parties at the Velvet Room in Tottenham Court Rd in the early 2000s and ran weekly a UK garage night in Hamburg when I lived there too. So I feel a connection with what's going on in that field anyway – it wasn't important to me as a DJ for a long time but now UK funky has started to sound a bit more mature, I'm very much interested.
Which artists are you feeling at the moment in particular?
I just bought a Julio Bashmore record, and Pinch's Croydon House. I really like Night Slugs, that's one of the best labels this year for me. I loved the Cooly G release on Hyperdub too – "Phat Si", it's really random, bleepy and abrasive. I also like the Cosmin TRG 12″ on Rush Hour, which is leaning on the classic house side of things.
Let's talk about your own productions – are you still working with Lee Jones as MyMy?

Lee and I aren't actually working together anymore. He just put out the Watergate mix CD, and that features our final track. But my time with Lee was amazing, it gave me a glimpse into what it means to be a 'global DJ', so to speak. We travelled to 23 countries, to Mexico, Brazil, Japan, China, Canada and the US – all amazing trips, amazing experiences. It's been super lovely doing it all with Lee, and we're still friends, we're still meeting. But musically, we grew a little apart, and with me becoming more busy on the label job, and him focused on his solo career, it got harder and harder to come up something we could both agree on and be happy with. Of course working as a duo always needs compromise, but those became harder to find.
Will you continue to work on solo productions?
Yes but on a small scale. The job doesn't allow much time in the studio, plus I'm a married man and I've got a few friends, and I don't want to neglect them too much either (laughs). Every March for the past couple of years I've put out a 12 inch on Ostgut, and that will continue. I've also been asked to put out a 12 on a British label but that's not quite decided yet – I hope that'll happen next year. I also got asked to do a collaboration with a French artist for his album – I'm not sure if that will happen but I'm working on something for that now. I will also do a solo track on the Aus Music compilation – that's with Emika on vocals once again, and a couple more remixes.
Interview: Aaron Coultate