10 Best: Christmas gifts for DJs
Everyone with a DJ or music obsessive in their life knows they are as hard to please in the present department come December 25 as sulky teenagers. For that reason the team here at Juno – ourselves tired of receiving garish jumpers and socks when all we want is the latest KDJ 12″ – have put our heads together and compiled a list of our ten favourite xmas-friendly gifts. We've included a wide range of items, from the esoteric to the accessible, from books and music clobber to gadgets and DJ accessories, across all prince ranges. And if this selection doesn't fill your stocking, check out our full list of 100 gift ideas over at Juno.
The Sennheiser HD25 is considered by many to be the holy grail of headphones.  Their accurate sound, robustness, changeable parts and fair price have made them a staple for DJs, sound engineers, cameramen, hi-fi enthusiasts and anyone who wants that little bit extra from their mp3 player. For this collaboration Sennheiser have ensured crystal-clear highs, deep bass-heavy lows, and a closed-back design that keeps outside noises out. Meanwhile Adidas have kept their side of the bargain by providing the good looks, including limited edition blue leatherette ear pads, wiring and headband support.  The discreet Adidas branding on the cups and carry case makes for a boutique style finish ensuring that the DJ in your life is clearly the coolest cat on the block.
Surely one of the most popular of Korg's analog synthesizers was the coveted MS-20, famous for its dynamic sound creation capabilities and its fat, snarly, expressive filter. You can now experience the glorious, evocative MS-20 filter along with true analogue synthesis in Korg's new Monotron analogue ribbon synthesizer.  Powered by two alkaline AAA batteries, the compact Monotron can be held in one hand. Despite its modest size, the Monotron is packed with KORG's famed technology, generating thick and powerful sounds. The Monotron's circuit is radically simple: one voltage-controlled oscillator, one voltage-controlled filter, and one low frequency oscillator.  The VCF cutoff knob sets the frequency or tone of the filter and the VCF Peak knob adds emphasis.  Just as on the original MS-20, the Monotron's filter can be "patched into," allowing any external audio source to be processed by the Monotron's filter. Concentrating on the most important sound parameters, the controls have been streamlined as much as possible; the panel contains only five knobs and one switch. With this level of simplicity, now anyone can easily enjoy the world of analogue synths.
Motor City Drum Ensemble is one of our favourite producers here at Juno, with the Raw Cuts series from 2009 still getting a regular run on the office turntable. This year Danilo Plessow has continued to set the deep house world on fire, most notably with a killer remix of the Archie Bronson Outfit's "Hoola", and expect more of the same in 2011 via his own MCDE imprint. These limited edition MCDE shirts are available exclusively through Juno, and look rather stush if we do say so ourselves. They come in men's and women's sizes in blue, grey and white.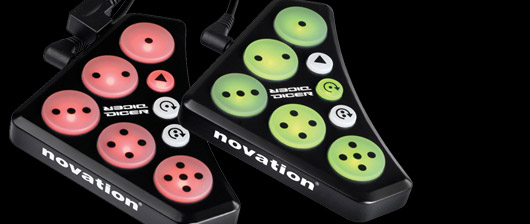 The Novation Dicer is a palm sized USB midi controller which allows DJs to set cue points and use them to trigger hot cues. Or, flip Dicer into auto-loop or loop-roll modes to trigger loops, or roll sections of the track to create climaxes, drops and glitchy breaks. The dicer fits directly to your turntable, CDJ, mixer or laptop and although it has been designed primarily for use with Rane's Serato Scratch it will also work with other DJ systems such as Traktor Scratch Pro.  You can assign different FX to the pads, or trigger samples over the top of your mix, or even browse tracks in your iTunes library.  The Dicer works straight out of the box with no driver-installation or set-up required. They ship in pairs and require only one USB socket for power, the second Dicer links to the first by means of a (supplied) mini-jack cable for the simplest of set-ups. Easy and loads of fun.
The SynthStation25 transforms your iPhone or iPod touch into a portable music production studio for music creation. This MIDI keyboard controller gives your handheld device a two-octave set of piano keys and professional audio outputs, and it works with the Akai Professional SynthStation app. The SynthStation25 is powerful enough for professional musicians, yet virtually anyone can use this to create music. This 25-key synth keyboard features a built-in dock for iPhone or iPod touch. The SynthStation25 has a stereo pair of RCA line outputs and a headphone output for connection to recording and sound reinforcement systems. You can use it with Akai's SynthStation Studio app as well as virtually any MIDI music software on your computer or with MIDI hardware devices such as sound modules, samplers, and MPCs. Available exclusively through the Apple App Store, SynthStation gives you three powerful synthesizers for creating and modifying sonic textures used for melodies, chords, and basslines. Built around Akai Professional's history in synthesis and drawing on the newest MINIAK synth, the SynthStation Studio app sounds great and offers wide-ranging sonic flexibility with its virtual analog synthesis. These beauties will have you knocking out the 2011 version of "French Kiss" in no time.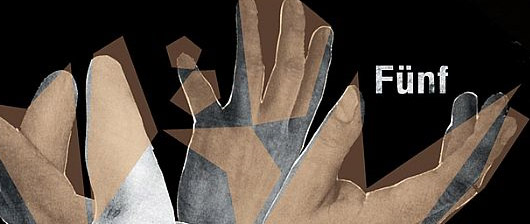 The fascinating (and wholly appropriate) concept behind Ostgut Ton's fifth anniversary compilation was conceived by British born, Berlin based artist Emika. On a night out at the label's legendary affiliate club Berghain she noticed the walls were moving and giving off their own frequencies, such was the ferocity and energy of the music and revellers within. And so Funf was born; with Berghain and Panorama Bar's extensive family of artists given four gigabytes of field recordings taken from within the club after hours – be it humming fridges, creaking doors or unseen footsteps – and asked to make a track using these sounds as their foundation. The results are absolutely stunning, with a disparate yet inexorably linked selection of tracks that range from subtle soundscapes (Emika's "Changing Room") to experimental dubstep (Fiedel's debut production "Doors To Manual"), minimal house (Dinky's "Twelve To Four") and banging techno (Shed's "Boom Room"). Split across seven 12″s, this is an absolutely unmissable slice of contemporary techno history. You can also check out loads more boxsets at Juno here.

Traktor Kontrol X1 was the first official Traktor controller to provide super-intuitive control over Traktor's looping, syncing and effects. With precision designed knobs and plug & play functionality, this sleek hardware is the perfect controller for all Traktor versions and any DJ software. Whether you are a DVS timecode or software DJ, simply connect the Traktor Kontrol X1 to a computer running Traktor (or other performance software) for instant control of your decks and effect parameters. Robust rotary knobs with a heavy-duty feel and backlit buttons provide precise visual and tactile status feedback- letting you delve deep inside Traktor without having to touch your computer.
The perfect coffee table accompaniment for the music boffin in your life. As the blurb rightly states, some of the artwork that has adorned releases down the years – particulalry hallucinogen-fuelled 70 psychedelia – can be more interesting than the music itself. The second volume of the Cover Story series, curated by the folks at Wax Poetics, delves through some of the most obscure, fascinating and downright weird pieces of cover art known to man.
Putting on our motherly, caring hats for a second, these earplugs are a must for anyone serious about their music including DJs, musicians or indeed anyone exposed to high levels of music for prolonged periods of time. All should take heed as contact with loud music can lead to hearing loss and other physical problems. The MusicSafe Pro has been developed especially for attenuation of music and is a generic earplug that will fit into any ear comfortably. The plugs come with three different filter settings that lower sound levels and prevent the user from excessive exposure, whilst keeping the frequency response of the music the same. The filters are totally dependent on your listening environment, so select the filter you need to use carefully to ensure you get the right protection.
Bored with sitting around in airport departure lounges with nothing to do? Need something to occupy you during those long and tedious road trips? Then look no further than Gforce media's Vintage Synth Trumps, the card game of the (techno) gods. You can you use your skill and judgment to win the whole pack from your opponents and become the undisputed champion of vintage synth wisdom. Playing is easy: simply divide the cards between the number of players before taking it in turns to read aloud a statistic from your card. For example, "Korg PS3300 – Collectability = 5 out of 5". Everyone then compares the card on the top of their hand and the highest scoring instrument in that category wins that round, and the person who gains all the cards wins.  Vintage Synth Trumps includes some of the rarest synthesisers ever built – if it's not included then it isn't worth knowing about.