PMR launches with Julio Bashmore EP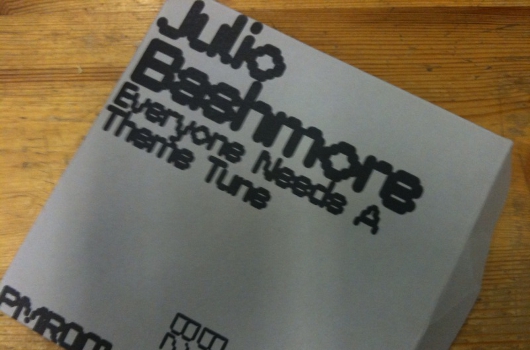 Yet more reason to feel excited about music in 2011 comes in the shape of new material from Bristolian Julio Bashmore with his Everyone Needs A Theme Tune EP the inaugural release on fledgling imprint PMR Records.
Plucked from blog land and introduced to the record buying public in impressive fashion when Claude Von Stroke released Bashmore's self titled debut EP on Dirty Bird in December 2009, the young producer has since excelled with releases for Soul Motive and Doc Daneeka's Ten Thousand Yen imprint (the latter being a particularly pretty 10 inch). Complementing this have been a raft of choice Bashmore refixes for the likes of Buraka Som Sistema, Mosca, Delphic (remember them?), Zero 7 and The Martin Brothers.
Recently unveiled along with Hyetal as the mysterious producers behind the excellent future sex jams of Velour, Julio Bashmore is set to step up his solo game in 2011 with the release of the amusingly titled Everyone Needs A Theme Tune for the PMR imprint thats so fresh and so clean there's nothing more than a twitter account.  This is an EP that fully demonstrates Bashmore's growing class as a producer of idiosyncratic club music that leans of house, techno, R&B, dubstep and even disco with the thrilling flex of "Ask Yourself" particularly impressive on first listen.
Adding a further sheen of oh-my-goshness to proceedings is the promise of remixes from Hessle Audio's Ramadanman and Aus/Phonica newcomer Midland who both personify the best in what makes clubland shake as we approach the end of 2010.
Julio Bashmore's Everyone Needs A Theme Tune will be released on January 10 2011 via PMR Records.