Featured DJ Chart: Drums Of Death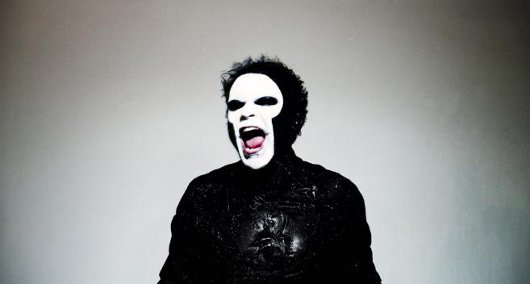 Drums Of Death recently released Generation Hexed, a musical tour de force showcasing the electrified energy that courses through the Scotsman's veins. It was the perfect culmination of years of incessant recording, touring and makeup reapplication for the man with close ties to the Greco Roman imprint.
Indeed it's been something of a rollercoaster ride for the man from Oban, real name Colin Bailey, who had a "one to watch" tag slapped on his forehead by all and sundry when he first emerged onto the scene. Tours with Hot Chip and Peaches and remixes of Franz Ferdinand, Alphabeat and Tricky followed, and a reputation as one of electronic music's most individual and interesting artists was cemented. As a solo performer, he's entrancing – both because of his highly recognisable (and pretty damn scary) stage make-up, but also because of his one-man ravecore beats that are energetically sung over, and sometimes completely shouted over.
His Juno Plus featured chart is one of the most diverse collections of music we've seen in this series to date, with the producer offering a fascinating insight into his musical tastes. His choices range from the melodic Japanese disco of KZA to the looped up techno throb of Robert Hood, via an old school Tresor banger and cutting edge new material from the Numbers imprint.
(Those who want to check out DoD this weekend – and let's be honest, there's no one else better suited to playing a Halloween gig – should check him out at this Friday's Data Transmission party in London, where he'll be performing live. )
"I love this track, it's so melodic and deep. Not what I usually make but I've become a big fan of Japan's KZA. I think he makes some different styles, but these types of tracks by him are outstanding."
"My track of the moment. So so good. Percussive and mad funky, Bok Bok and Cubic smashed this. It's hard but not heavy, with the sickest groove. Night Slugs are killing it right now with dope parties and great records. Check out Egyptrixx too, my buddy from Toronto, his album's going to drop on Night Slugs next year I think."
"Real lush tune… Shepheard's music is great. This track is really fun, built around a simple, fast release arpeggiated synth and it goes from there. It reminds me of old Underworld tracks. There's something very 'classic' sounding about it. I don't know so much about this guy but loving this track."
"The B-Side on the Power To Prophet 12″ is a strong work-out of old-school techno with syncopated echo slams and a frantic girl breathing heavily. I prefer this to the A-Side, it's a dope tool yet not merely functional. A really funky drum session from the master."
"Ms Evora has a beautiful voice and this remix by CC is possibly the best he did this decade. Every time I play it people ask what it is, it's such a crafty and respectful remix. The slow build up is that trademark of modest flair from Carl Craig, this never reaches a climax as it were… one minute you're swaying to the percussion and sweet Portuguese vocals then the next you find yourself in the midst of a fierce bass tearing along, yet they run together so smoothly. Awesome."
"I love this… the original is so good but Thomas reigns in the sprawling loose funk and attaches it to a machine that winds this up and up into some kaleidoscope of yells and bells. The sort of tune you remember hearing out at Optimo and the place going wild."
"New 12″ for my home-town friends and family Numbers. They're releases are pretty much beyond reproach, great music and the artwork is consistently awesome. So much so I got Adam from the label to co-design my album cover with me. L-Vis' rmx is good but the original is the one. Big and subtle at the same time. Numbers are about to drop Jamie XX's new track so get into the label now before they get massive so you can tell your friends you were there from the start."
"One remix of his music and one original. Matias is making some great music right now, his productions are really inventive. This track is ridiculously funky… his trademark mouth pops and rough beatboxing open it up then it tips into a mean, metallic bassline with Matias coo-ing over the top. This is minimal in all the best ways possible."
"Classic bangers. The Tresor 12" collects two of it's best. "I'm a man, baby!" This is so funky and so Tresor at the same time. One of the best records they put out and I suspect they only compiled these two tracks together from previous releases. There's a dope DJ Rush remix too. All in all, the best of machine funk."
"Sick beat with JME over the top. Pretty straightforward but Zinc's production is smart to not go too far, this is a big roller. This is on the Crack House Vol 2 pack."