Ones To Watch (No 16) – LOL Boys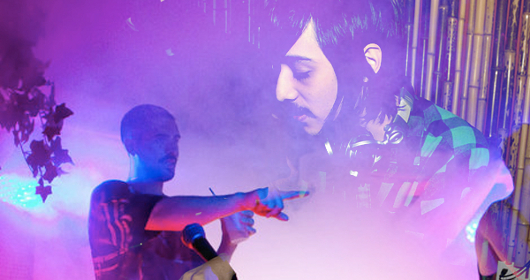 Jerome Potter and Markus Garcia make up LOL Boys, and the obvious reference to the internet in their like-it-or-lump-it name stretches to the role it plays in the creation of their music. The former resides in Los Angeles and the latter in Montreal, yet this distance has proved little boundary to the duo making a mark on the collective impressions of musical taste makers.
A distinctive name is matched by a sound that draws from a rich pallette of influences to create something wholly unique and of this time. This is more than apparent in an increasingly impressive array of remixes for a disparate range of artists. Florrie, Gold Panda,  Samo Sound Boy, Midnight Juggernauts and Apache Beat have all benefitted from the LOL Boys touch in 2010 .
In addition to this, 123, a recent release on the NYC imprint Palmsout, demonstrated a willingness to step beyond the remixes and showcase their own sound. The duo are set to follow this up with more original material in the coming months, so now seemed a pertinent time to sit them down and chew the fat.
You both used to produce under different names – brntpno and Sirhan respectively. What prompted the decision to work together under this new name?
We met because we both frequented the same message boards, and we really enjoyed and respected each other's taste in music. After talking a bit we shared some tracks and found it that we were also fans of each other's music and wanted to take elements of our separate productions and apply them together in a new format.  LOL Boys was originally just us trying to see how much music we could make together using the internet as our main tool. It was really something fun and exciting for us because we both love making music, and this was an entirely new approach to the creative process.
Who does what on a LOL Boys track?
One of us will start a sketch and we will send it back and forth until we are both happy with it. It definitely is a bit of a process but using Ableton Live allows us to share things back and forth really easily.
Given the mileage that separates the two of you, do you think LOL Boys would work if you lived a block away from each other?
The group would definitely still work if we were a block away, but it's tough to say what the differences would be, since we have grown accustomed to our work flow.  Sometimes, though, it would be so much easier if we were both in the same room.  Luckily, we both like to spend time in front of the computer and even being in different time zones we can work done. We definitely hope to spend more time in the studio together, we are just trying to work with what we have right now.
Your music seems an amalgamation of styles. How would you describe your sound to a complete stranger?
This is a really tough question. Trying to explain it to strangers or even family member s can be a bit difficult. The most frequently used word is probably "percussive," since we really love working with drums. But since we both have so many influences, sometimes we can make a track that sounds nothing like anything else we have made. We're pretty okay with that, because it can get a bit boring when you get stuck in once place musically.
Logo by Logan Bay
I'm intrigued to find out what you listened to in your formative years and what lead you both to make music.
Markus: I spent a lot of my teenage years listening to punk and underground music. I lived in the southern part of the Midwest, so I also was into a lot of rap. My first foray into music was trying to play Pixies covers in my basement with my buddies. From there I just kept trying to join bands playing in mostly punky/hardcore bands. As my musical tastes developed and changed I got into different ways of making music.
Jerome: I remembering buying a burned copy of Dre's "2001" when I was in 7th grade, and that really changed my way of thinking about and listening to music. I first made music when I was about 15 on my parents' PC using Cool Edit Pro and recording an old keyboard and random guitar sounds.
It's clear a ravenous appetite for new music and sounds affects the two of you. What other producers/labels/bands keep you on your toes and inspire you to do better?
We are both guilty of being a bit fanatical about music. We're diggers too; always researching and asking friends about old sounds and new. Right now we're loving Delivery, Glass Actor, Dubbel Dutch, Samo Sound Boy, Jacques Greene, Leon (UK), Lone, Jay Weed, Babe Rainbow, all of Club Cheval, and a lot lot more.
You already have a slew of remixes to your name along with a debut release for Palmsout, what have you been proudest of so far?
Markus: It's hard because they are all our babies. However, I always enjoy playing "123" at DJ gigs.
Jerome: I'm really happy with the Crystal Fighters remix we did that should be coming out sometime soon.  I just really love the original and I'm glad we didn't change it too much but just added some new percussion and arrangement.  It was just an honor to remix them.
Following on, what does the near future hold for  LOL Boys?
You should see an EP on Discobelle and another on Palms Out before the end of 2010 and a few new things in early 2011.