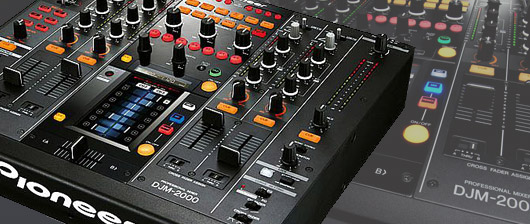 The Pioneer DJM-2000 is touted as the world's most forward thinking digital DJ mixing console. Designed in collaboration with a small group of elite DJs, the DJM-2000 is fully integrated with Pioneer's flagship CDJ-2000 and CDJ-900 players and comes replete with an impressive (if slightly daunting) list of features. The most notable innovation is the 5.8-inch multi-touch screen, which enables the might of Pioneer's EFX-1000 and additional new remix effects to be manipulated at the stroke of a fingertip. Another key feature is the LAN hub that enables up to four CD players to communicate with each other; combine this with Pioneer's new database and set management system and Rekordbox, and the possibilities are just about endless.
As you'd expect from any Pioneer product the basic features are nice and functional, with four audio channels and one mic channel. Input terminals are 6 x CD/Line alongside 2 x Phono plus a very handy 4 x digital coaxial in. Output terminals are 2 x Master Out and 1 x Digital Out. The sample rate has been increased to 96kHz and harmonic distortion has been reduced to less than 0.004% in total.
Anyone whose preferred DJ rig consists of a couple of dusty 1210s and a two channel mixer may be a bit intimidated when confronted with Pioneer's new flagship mixer. We suggest it would be wise not to adhere to convention when it comes to new purchases and discard the manual. Don't fear – long gone are the days of needing a sound engineering degree to comprehend these things; it's obviously geared towards excited individuals who want their mixer up and running as quickly as possible without any fuss.
"We suggest it would be wise not to adhere to convention when it comes to new purchases and discard the manual, but don't fear – long gone are the days of needing a sound engineering degree to comprehend these things"
On close inspection the mixer is very sturdy – you can instantly feel the rugged build quality that we've come to expect from Pioneer. There is no movement on any of the RCA connectors, it is impossible to pull any of the knobs or faders off and it sits flush on the table. The back panel is clearly labeled and features XLR & RCA master outputs, the booth output is ÂĽ inch jack and RCA, and there's a record output with an RCA connection, as well as a S/PDIF digital output. The unit has two send and return channels which use ÂĽ inch jack connections. The USB socket is a USB-B type, and a battery of six ethernet sockets make up the ProDJ LAN hub for CDJs and laptops. It's also worth noting the addition of a 5 pin din MIDI output port on the unit too. The top panel meanwhile houses the mic input which is delivered in the form of a XLR/Jack combo. The controls are very well laid out in modular fashion, with a 15 segment type level meter which is more than adequate. The centrepiece is the 5.8-inch multi-touch screen which is flanked by two channel strips either side. Inside there's also a 24-bit, 96kHz, eight-channel soundcard, meaning that the DJM-2000 easily connects to a computer and can be used as a multi-output soundcard and mixer without the need for any additional hardware.
We've opted to test the mixer with one Pioneer CDJ-2000, one Technics SL-1210 plus a PC running Pioneer's Rekordbox software in order to get as realistic a performance as you would in a typical club set up. Making the connections was very easy – a LAN cable connects the CDJ to the mixer, a USB cable to the computer and the Technics connects as usual. After installing the necessary drivers and software it's up and running, from sealed box to full operation in under 30 minutes.
The basic operation is very smooth – the faders have a stiff satisfying feel, the crossfader is nice and loose, and within seconds you can set the curve to your preferred value. The channel EQ knobs have a rubbery finish making it very difficult for your fingers to slip and you can choose between 3-band or 3-band isolator. The microphone control room also houses a 2-band EQ with its own level and talkover switches.
Moving downwards from the mic, the first key feature is the all new INST FX system. The DJM-2000 boasts six kinds of effects (HPF, LPF, JET, ZIP, Noise & Crush), with a control knob for each channel. They all sound fantastic – the filters have the upper hand on Allen & Heath although they lack some of the precision parameter modulation of their silver counterpart.
Next up it's the Evolved Beat Effects, as Pioneer like to call them. It has everything you'd ever need to manipulate your sound with a 3-band EQ on the bus, which is a very useful addition. These EQ knobs are reminiscent of those on the Rane MP2016A rotary which is ideal if you need to make very fast adjustments –i.e. if your phaser starts overloading the bass frequencies. You can create tension buy building up delays then cutting them out, create drum rolls on the fly, coat the whole mix, specific channels or the mic input in reverb: the possibilities are endless. Our only gripe was a slight loss in gain when passing a signal through this bus, however on a club rig this would never pose problem.
Now it's time to get to grips with the all new touch screen, and after playing about for a few seconds you can quickly distinguish between the three main modes of operation. The first of these is the frequency mix, which allows ultra precise mixing within seven frequency ranges. Feel free to quietly imagine a screaming crowd of adoring fans as you isolate each band, one by one leaving only a pulsating sub bass. Nice, very nice.
"Take time to familiarize yourself with Rekordbox – it's like iTunes with the basic features of a CDJ, but better"
Then there is the Sidechain remix mode which gives you access to four different audio envelope triggered oscillators, plus a pitch shift and a gate with Kaoss Pad screen style modulation. These effects are very enjoyable to use, however unless properly mastered caution should be taken in a club situation as the outcome can often be a little on the experimental side of things. There's a very intuitive sampler included that really takes this feature to the next level, allowing the master or mic output to be sampled and triggered with the touch screen or sent to a CDJ-2000 for playback via the link button. There is a waveform display in this mode for ultra accuracy.
That just leaves MIDI mode which lets the user assign the control functions displayed on the LCD screen to Pioneer's Rekordbox software. Ableton Live, Rane Serrato Scratch and Native Instruments Traktor can all be used as well via MIDI. Take time to familiarize yourself with Rekordbox – it's like iTunes with the basic features of a CDJ, but better. Everything works as it should and is seamlessly integrated with the mixer.
Once you consider yourself pretty good on the DJM-2000, chances are you'll start getting greedy and wishing for another three CDJ-2000s to attach, which is really where this unit shines brighter than anything else on the market. Allowing a computer with Rekordbox (or equivalent) to be connected to the mixer via a LAN cable enables music to be shared across all four players from a single source. The DJM-2000 is elegant, sexy and intelligent – the undisputed heavyweight of the digital age. It's a pleasure to use in every sense, giving you the powers that were once only available to DMC champion turntablists.


Review: Dicken Lean
DJM-2000 FEATURES
Digital Out x 1 (Coaxial)
Terminals: Send x 1 (1/4-Inch Jack)
Return x 1 (1/4-Inch Jack)
MIDI Out x 1 (5p Din)
Control x 2 (3.5mm mini-jack)
USB B Port x 1
Link Terminal x 6
Power Supply: AC 220 ~ 240V (50 Hz/60 Hz)
Dimensions: 430 mm Ă— 409 mm Ă— 107.9 mm (W x D x H)
Sampling Rate: 96 kHz
D/A Converter: 32 bit
A/D Converter: 24 bit
Frequency Response: 20 Hz – 20 kHz
Total Harmonic Distortion: 0.004% or less
Signal-to-Noise Ratio: 107 dB (LINE) or higher
Head Room: 19 dB
Power Consumption: 40 W
Weight: 8.5 kg